Calavera: Day of the Dead Collector's Edition
She said yes! Alan was finally going to marry his sweetheart, Catalina. She only had one small request before the wedding, to ask for her father's blessing. The young couple travels to the small town in Mexico where her father is from, arriving just in time for the annual Day of the Dead celebration. But when he doesn't meet them at the train station, that's only the beginning of their problems. Is it just the heat, or did that book talk to you? And that guy is definitely wearing a skeleton mask, right? Cross the border between life and death in this festive Hidden Object Puzzle Adventure game.

This is a special Collector's Edition release full of exclusive extras you won't find in the standard version. As a bonus, Collector's Edition purchases count toward three stamps on your Monthly Game Club Punch Card!

The Collector's Edition includes:
Festive collectables and achievements!
Quirky atmosphere and funny characters!
Travel to the Land of the Dead!
Unlockable arcade mini-games
Game System Requirements:
OS:

Windows XP/Windows Vista/Windows 7/Windows 8

CPU:

1.0 GHz

RAM:

1024 MB

DirectX:

9.0

Hard Drive:

1615 MB
Game Manager System Requirements:
Browser:

Internet Explorer 7 or later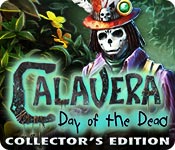 The Big Fish Guarantee:
Quality tested and virus free.
No ads, no adware, no spyware.

Reviews at a Glance

Calavera: Day of the Dead Collector's Edition
0
out of
5 (
0
Reviews
Review
)
Customer Reviews
Calavera: Day of the Dead Collector's Edition
109
109
Don't Forget to Listen to your Book!
Talking book, extreme heat (why don't they put out summer games in winter & vice versa?#, slightly stupid male, female in trouble #not new#. The SG is good, hints are good #as long as you keep an eye on your book). It's a little bit slow. The tools you use move slowly, as is proper in summer in the Land of the Dead. As long as you don't mind the heat or the books sense of humor, this is a great game. Guess that's all the Guide Book bribed me to say. *giggle*
June 22, 2013
Special humor
Cute HOPA game that had a specific touch of humor ? that was fantastic.
July 4, 2013
Very good. Could have been better.
This game was lots of fun, for the reasons other reviewers have described. It was also refreshingly different. I have one major peeve, and that is that the developers didn't take the trouble to have an English speaking person review the strategy guide. Many times the wrong words were used. For example, on the train, the strategy guide said "go to the cabin". I couldn't figure out what they were referring to until I asked the Guide for a hint. The "cabin" was actually the engine room. Then it said to go to the "coupe". Huh? That turned out to be the passenger car. Also, some of the voice actors had terrible fake Spanish accents. Maybe that was intentional, to add to the humor? Anyway, I'm nitpicking because the game was so good overall, that I wish developers would take the extra step to have native English speakers review the guides and HOS item descriptions! It can't be that difficult!
July 15, 2013
Original and fun!
I'm no fan of HOGs but I paid for this as it is truly original. Good long game so you feel you have your money's worth. Has a map and a long bonus game. Get it and enjoy
July 12, 2013
Play for the Great Graphics, Humor and Fantastic Color
Worth it for the wonderful graphics, characters and beautiful colors. Don't be put off by "Dead" in the title. This is a fun, humorous game - not grim, dark or morbid at all. Artistic graphics, creative mini puzzles -different from the usual. Lots & lots of backtracking & running back & forth from here to there -which I'm not a fan of. But I didn't mind as much because the rest of the game is so cool. My only complaint is the operation (the pointer) is slow to react or inconsistent: needing to be very precise in some areas and then broad in others. Maybe it's better on a PC (I have a MAC).
June 27, 2013
Calavera
Just an FYI - the spanish word for skull is "Caravela". So don't know if game title on purpose or maker didn't know how to spell it.
June 24, 2013
No steam for me
For some reason I ran out of steam on this one. Not really bored, just meh. It was different, but the same. I guess I was really hoping for more variety of games within.
July 3, 2013
Calavera: Day of the Dead Collector's Edition..NOT TOO SHABBY
This was going to be a mildly negative review as I wasn't at all pleased with the opening and graphics. But as I played.. the darn game grew on me and now I'll probably buy it just to see what's going on and collect all those creepy skulls. Who would have thought a game about death could be amusing and even fun? The graphics are cartoon like and the HO's are clear but very cluttered, making some small items harder to find. The setting at first seems more than a little weird but as you come to understand the concept of the Day of the Dead, it becomes clear and in many spots, even funny! The Guide #aka Hint button) is a wacky and helpful book. Ya gotta play the thing to get what's going on and see if this is your type of oddity. It has all the usual bells and whistles. There's a strategy guide that's detailed, helpful and keeps your place. Three play levels and collectables. There are trophies too and even they reflect the game's oddball humor. Give it a try and hang in there in the beginning as it may grow on you as it did me. It's a lively romp through the Land of the Dead! I RECOMMEND THIS GAME!
July 26, 2013
It's Definitely Different - Review Of Completed Game
Story: You take on the role of Alan who has asked his girlfriend Catalina to marry and she says yes but must get her father's blessing so off the two of you go to meet her father at the train station but he's not there Then she is kidnapped on the day of the dead !! Up to you to save her, find the father, and deal with the deads' world and if possible remain alive. You also meet up with a talking book whose name is Guide to help you along. CHAPTERS: 7 along with collectibles: 26 skulls and 16 papers. 20 achievements all a part of the main game. 3 play modes: Casual, Advance, Hard. I played advance mode has sparkles along with black bar tips. Hint which is the "Guide" book is slow in this mode. Takes more than a couple of minutes. As for being helpful outside of HOS if you are not in the area where something can be done it will tell you where you need to go and direct you there. WIDESCREEN: There is an option for this however didn't work for me. I had to change resolution for it to fill my screen. There is voice overs JOURNAL: This is the talking book named "Guide" which holds the map, shows your skull collection and achievements along with some story. MAP: This is transporter and has a "green glow" indicating where you are and the areas with exclamation points are the areas where there are things to do. HOS: Found by word list. These are mostly Sanford & Son junkyard piles to me but I got through them with little problem. Just a couple of hints here. Puzzles: Some of these are like an "arcade" type style along with some the usual run of the mill. The skip is also slow. Some I found kinda fun. Most downright annoying and frustrating. The skip couldn't charge up fast enough especially the first puzzle a lock picking type puzzle. Definitely if you have arthritis which I do. My overall impression: This started off really great. I was very intrigued by the story and all the way to the end of the main game. While the kidnapped fiancee story has been done many times however I found this to be quite different with some humor in there while quite cheesy and silly. I really liked the graphics as they are quite cartoonish along with most of the characters and voice overs. The game also has a nice balance of HOS, puzzles and adventure. Quite a bit to do and places to go. I loved the map. Now for where this went down the hill: No working widescreen. The year is mid-2013 no excuse for this. Shouldn't have to change resolution. This has been around for quite some time now. I deducted one star just for this. The robot voice overs I found downright annoying. The music after awhile grated on my last nerve so I had to turn that down as that just went in a continuous loop. Some of the scenes I noticed when it was a magnify glass usually that's a scene where you have to view something but instead there was something to actually do with inventory. Usually it's when "gears" come up you use the inventory. Also some scenes didn't auto close when I was done doing what I had to do and nothing else to do. I had to click on the X to get it to close. There was also one scene with downright annoying noises like somebody sawing. The main game doesn't come to a satisfactory conclusion in my opinion. You need the bonus chapter to find out what happened to one of the missing characters. I won't say which one. The bonus chapter: This is all new areas and had a nice balance of HOS (Sanford & Son here), puzzles and adventure however I thought the story here was pretty lame but it does address the "one missing character" as I mentioned. The map is also not available here at least it wasn't for me. I honestly couldn't wait for this to end. CE extras: Strategy Guide Music Wall papers 2 printable 3D projects to fold Main game: 5 hours. Bonus Chapter: 1 hour. Your time may be more/less. Overall 3 stars from me. Started out really great and ended not so great. I also don't recommend this since you don't get a complete story with the main game. Need the bonus as I mentioned. Thanks though Big Fish and developer. As always, give it a whirl and decide for yourself.
June 23, 2013
It was DOA. It Came to Life. It Died Again.
To my amazing disappointment, after reading a plethora of positive reviews, I conclude that this game is neutral. Not bad. Not good. In the middle. And that's the worst. If it were terrible, I'd have junked it. (And I came close). If it were great, I'd have played on with considerable speed because it's compelling. It was neither, so I played on, and did so slowly. What happened? The game begins very slowly. Clearly, early on, it's apparent that this game will be amusing. It does not disappoint in this regard. Along with the amusement factor, however, comes alarmingly slow game play. Every action is slow. Performing an action causes a reaction. The reaction takes FOREVER to happen. It's not snap, snap, snap. For example: I put a key in a lock. I know it's the right key. But it took way too long for the key to turn and then the box or chest or door or drawer to open. This probably seems nit-picky and not an important obstacle as you read this. But when you play the game, you'll find the rhythm is really interrupted because of the snail's-pace timing. So, again, the beginning of the game, the first third, approximately, is VERY slow. Actions are performed and it's not really clear why. It's not clear what to do next. (I have never consulted a guide as often as I have the one in this game). Then, MIRACULOUSLY, I got to a point in the game which was concise, thematically, and flowed perfectly. The mission was clear, how to achieve and succeed was fun. It was challenging but that's OK. I like that type of challenge....the challenge of a great game with puzzles that take time to understand and solve. This middle section of the game, which took me to the end of regulation play was GREAT and exactly what I'd hoped for. This section ended abruptly, though and really had to go on. So to that point I would say, if there is an option between a SE versus a CE definitely get the CE. WARNING: though you need the bonus content to complete the game satisfyingly, and despite the fact that I'm saying you must get it....it is not good: the bonus play returns to the slow paced, seemingly not-well-thought-out first third of the game. In addition, it's interminable. It is constant back and fort. Fun Factor: As I said, it's amusing. VERY. So I really liked that. The audio-visuals are good. Much better than average. The Voice Overs are amusing on their own. The voice actors are hams...and it's really cool...so funny, affecting stereotypical accents (Spanglish). I hope game players won't find it offensive or insulting. I didn't, and I'm very sensitive to that sort of stuff. I just thought it was funny. The level of challenge was adequate. At times, though, there were challenges that resulted from poor directions or, in one case, such a back and forth playing mode, that the challenge was trying to remember what you were really trying to accomplish. The storyline was clear, funny, propelled throughout the game (even though sometimes I forgot what what I was doing and why). I recommend the game because I think the best part, the middle part, is so good, it overwhelms the opening and closing parts. But this recommendation comes with all the caveats I have detailed in this review.
June 29, 2013
The Apple logo is a trademark of Apple Computer, Inc.