Rite of Passage: Child of the Forest
Exclusive
The town of Willow Ridge has long lived under everlasting night. Surrounded by a violent, dark forest, its only protection is the Great Lighthouse, which keeps the nightmarish trees at bay. Your husband Alan has been haunted by dreams of a ghostly woman beckoning him, believing she knows how to save the town. As he goes to investigate, a fire consumes the lighthouse! Was it sabotaged from inside the town - or by some darker force? Your search for answers will uncover the history of your town and the Forest Rite that has been a tradition for countless generations. Hold onto the light in Rite of Passage: Child of the Forest, a fantastic Hidden-Object Puzzle Adventure game!
Game System Requirements:
OS:

Windows XP/Windows Vista/Windows 7/Windows 8

CPU:

1.4 GHz

RAM:

1024 MB

DirectX:

9.0

Hard Drive:

789 MB
Game Manager System Requirements:
Browser:

Internet Explorer 7 or later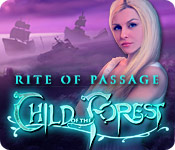 NEW299
The Big Fish Guarantee:
Quality tested and virus free.
No ads, no adware, no spyware.

Reviews at a Glance

Rite of Passage: Child of the Forest
0
out of
5 (
0
Reviews
Review
)
Customer Reviews
Rite of Passage: Child of the Forest
53
53
Just a Bit Different and SO Much Fun!
I have never written a review but I had to for this game. I wish I had seen this as a CE. The story was engaging and the puzzles were not the norm and fun to do. I highly recommend this game! It also has an interactive map.
June 15, 2013
Worth the Purchase
I just completed the whole game and it was purchased from having a full punch card. IMO, this game would have been well worth the price. It wasn't that it was too difficult, actually I found it quite easy, however it was that it was different that made it so enjoyable. They put a little twist in the HOS scenes, and the mini games were a little different as well. It kept the storyline running if your like me and read or listen to all content. I played it casually over two days and was impressed with the length. Towards the end it felt as if the game maker lost a bit of zip that it had in the start as HOS scenes, which had varied more in the start, became too easy.
June 19, 2013
FINALLY something different!
I'm always on a search for an adventure game that's just a little bit different than the same old: put this here, find this, move here, repeat. However the storylines differ, gameplay is still always the same. Someone actually put thought into the HOS's and the puzzles to make this game UNIQUE. For that I am grateful.
June 17, 2013
A brilliantly conceived and executed game!
I have the standard, not CE, edition and I still got to collect acorns while playing. The story line was very unusual, the scenes were quite varied in style, tone and color, and the (for me) most impressive part of the game was that it was just that--a game with games within other games. HO scenes were always interactive and many times a mini-game had to be played to unlock another mini-game in order to unlock a 3rd mini-game. Most of the games were not too difficult, some were amusing, all were a bit unusual. And yet the story progressed logically (if one accepts the premise that trees talk and some hate us). IMHO, this is one of the most creative, unusual, and fun games out there.
February 14, 2014
Really good game!
Excellent game. Storyline is really great. Most times, I will loose story while playing, but not this one. It holds your interest well! Bits and pieces are added, as you progress which makes it very interesting. (I'm still wondering, who the stranger really is?) I'm not a HO fan, but these were very good, great variety and so different. The puzzles were great, makes you use your wits trying to figure out what to do! I worked at this! This was lots of fun and very challenging to me. I really enjoyed it. And it is not short!!! Good length!
January 26, 2014
Absolutely BRILLIANT! Definitely Not Your Average HOPA!
NOTE: Review is based on completed COLLECTOR'S EDITION I've been waiting a while to play this one. It had rave reviews and a ton of CE Extras, so I went ahead and bought the CE, which is something I never do, but I have to say, I'm glad I did! This is a brilliant game, extremely worthy of all the awards it received and will continue to receive. In my opinion, it is not only one of the best games of 2013, but of all time as well. While, in my opinion, the game was gameplay driven, the story isn't that bad either. It's actually quite good once you get in to it, but that takes a while. You don't actually encounter a villain until after the demo, and after the demo is where it gets exciting. Don't get me wrong, there will still some exciting bits at the beginning of the game, but when you get closer and closer to the finish, the action gets more exciting. At first, I thought this was going to be your typical ?avert the disaster? type thing, but it was anything but. What I particularly liked about this story was the villain. Their story is so moving, and you begin to understand how desperate they are and why they are doing what they're doing. In the end, I was think ?Never mind Alan, I want to help this woman. She's the one who needs help.? It may be just me, but I think it takes something pretty special to make you want to help the villain instead of your husband! Overall, the story is decent and does end conclusively. There aren't many twists and turns, but it's still enjoyable. As I said before, this game is definitely gameplay driven, because the gameplay is so much better than the story. The puzzles and the HOS are both unique and both very enjoyable. The HOS were great fun and very unique. Some of them were normal junkpile, some silhouette and others were junkpile with a small twist. In the different HOS, when you found the object listed, you found a piece of another object that you needed to form to get your inventory item. This was great fun for me. In the other HOS, when you found all the items, you had one last item left to find, and that was your inventory item. The puzzles were great. They were so unique, fun and challenging, and I think their uniqueness was what inspired me to try and finish them. I think I only skipped about 3 in the entire game, which is a first for me, especially since it's my first time playing it. One of the standouts for me was the cinematic puzzles. These were so new and fun, I was overjoyed when I got to play more! In these puzzles, you watch a short little scene giving you more details about the story, and then you must place the items back in the scene in order to progress to the next scene. There are about 4 scenes in each one. In the puzzle there is a hint, so if you get stuck, you can use it. I really enjoyed these puzzles. This is a step in the right direction for HOPA games. Adding to the unique gameplay, in this game, there is a feature that allows you to interact with some items already in the inventory to make it in to a complete item ready for use (e.g. lighting a torch, putting holes in something to make a sail, putting something together). This is a great and really fun addition to this game. This game features all the ?regulars? for a HOPA: Diary, Map, hint, etc, so experienced players will not have any trouble with navigation. I wouldn't recommend this for beginners, however. The graphics on this game are outstanding. They are so well drawn and so detailed. You can clearly see the developers have put a lot of time in to it. The character designs are great too. Each scene was clear, nothing was every hazy or fuzzy, it was just great. The only bad thing was that the character's lips didn't move, thus, making it less realistic. The voice-overs were standard, so I really have no comment on them. FEATURES 4 levels of difficulty: Casual, Experienced (Advanced), Masterful (Hard) and Custom. Custom allows you to set the game your way. I played Casual. Hint/Skip- both recharge at a reasonable rate and the hint is helpful outside HOS. Diary- keeps track of events. Is used quite often. Map- the map is interactive and quite useful. It lets you know where there is an objective to be completed and when the scene is completed. Hamster- Early in the game, you find a hamster, which you get to name. This hamster is your helper, but is not used often. I would have liked it more if the hamster had been used more often. Interactive Inventory Items- In this game, there is a feature that allows you to interact with inventory items (indicated by a + sign). This is a really awesome feature that I hope continues to appear in future games. WHAT DO I MISS OUT ON IF I BUY THE SE? There are SO many extras here. MadHead have put a LOT of effort in to their CE! Bonus Chapter- A nice epilogue to the story. You enter the boy's dreams to undo the events of the past and make sure the boy gets home safely, thus, making the events of the main game never occur, meaning there IS no main game, meaning there is no game... (it's a little hard to wrap your mind around the whole concept). All the same, a nice bonus chapter, the second best chapter of them all (behind Chapter 3). Built in Strategy Guide- Very helpful, especially for puzzles. The SG contains a step by step solution for all puzzles. It also tells you where to find all the collectibles. Collectible Acorns (34)- These aren't like your average collectibles, because they actually have a purpose. You need all 34 to unlock one of the other bonus features in the game, Old Lady. Collectible Morphing Objects (11)- Bonus Chapter collectibles. Old Lady- Can only be accessed if all 34 acorns are collected. This is home to the famous 100-object HOS. Achievements Replay HOS (can be used to gain achievements) Replay Puzzles (can be used to gain achievements) Posters- these give character profiles for each character in the game. These have to be earn though. You have to build the posters before you can look at the characters. There are posters for Mysterious Stranger, Ethan, Villain, Alan, Hamster, Tree of Fears, Heart of the Nightmare and Nightmare Creature. Wallpapers Music Concepts- This gives details on how some of the locations in the game were created. There are 6. WHICH IS THE BETTER BUY? The CE, by far, is the much better buy. I never buy CE's because I don't see it being worth the extra money, but when someone puts as much effort in to a CE as MadHead have, you really have to buy it. There are so many extras here, much more than the average CE. The CE is definitely value for money, not just achievements and collectibles like most CE's. Overall, this is an outstanding game. It really is. I'm so glad I got the CE. I can guarantee I'll be playing this again and again, and I'll guarantee you'll love it if you haven't played it already!
January 9, 2014
This game was really interesting and fantastic!
I think this game was really well done because of the five main characters acted serious and had complex puzzles, and hidden objects were easy to find with the "lighthouse hint". The person who created this game should make a second game of this game.
November 23, 2013
Stunning, yet a letdown finale
For most of the game, Child of the Forest was a no-brainer 5/5. In every respect, it's a stand-out, exceptionally well done game, from the overall concepts and settings, right down to details like the interface of your journal and map. Starting from a town besieged by possessed trees held at bay only by the shining of a lighthouse, you explore a variety of locations, HO scenes, and puzzles. While it's yet another quest to find a missing husband, the backstory of the town and its traditions is different and interesting. Some of the minigames were increasingly esoteric in the last few scenes, and I was irritated that in order to solve one late puzzle, you have to not only zoom in on a landmark, but somehow intuit that you can click up within the zoom window to look higher on that landmark in order to see what you need to see. Then came the absolutely infuriating final fight. Throughout the game, instructions for puzzles and minigames only appear when you click a question mark. That's fine when the minigame isn't time-sensitive. The final fight? Time-sensitive. By the time I read the instructions to figure out what I was supposed to be doing, I'd already lost a turn, and while the game probably won't let you lose in any real way, I still found it unpleasant to have to sit through a couple of resets because I needed the instructions and they take a few seconds to appear. I've played several dozen HOPAs at this point but I didn't know how to solve the last fight sight-unseen. And the last phase of the final confrontation seemed comically difficult, since it involves uncovering and choosing several hidden symbols that match an unseen glyph, all in about twenty seconds. Sure, you get indefinite tries, but the symbols appear to scramble every time. I exercised the skip button at that point, and since I was already disgruntled from the final fight, I found the ending anticlimactic, since-- spoiler-- you never actually see Ethan open his eyes, so it's not totally clear if he was saved. I'm still giving the game 5/5 overall because the quality is definitely there and most of it is very enjoyable. But I have to say, that annoying final fight doesn't leave me itching to go find more games from this developer.
November 15, 2013
congratulations for the work done
review based game completed: it is not easy mixing minigame, HO, graphics, plot, a good balance In this game there are successful, I can say that is close to small work of art, I exaggerate? no, even video games you can talk about art work. the narration is done through minishow who are also minigame, that black and white with a touch of poetry, plot is nice (not sure if fairytale already exists) the graphics are well done, my eyes are not tired. some puzzles are complicated than others, positive that there are no pop ups for collecting acorns (I hate pop up in games). the game is long there is much to do, and the bonus chapter is worth new scenes open our eyes with different beautiful colors. and very nice music recommend taking CE worth it.
June 25, 2013
I Bought It!
I really enjoyed playing this game. I thought the story premise was creative and found it fun to play.
June 26, 2013