Rite of Passage: Child of the Forest
Exclusive
The town of Willow Ridge has long lived under everlasting night. Surrounded by a violent, dark forest, its only protection is the Great Lighthouse, which keeps the nightmarish trees at bay. Your husband Alan has been haunted by dreams of a ghostly woman beckoning him, believing she knows how to save the town. As he goes to investigate, a fire consumes the lighthouse! Was it sabotaged from inside the town - or by some darker force? Your search for answers will uncover the history of your town and the Forest Rite that has been a tradition for countless generations. Hold onto the light in Rite of Passage: Child of the Forest, a fantastic Hidden-Object Puzzle Adventure game!
Game System Requirements:
OS:

Windows XP/Windows Vista/Windows 7/Windows 8

CPU:

1.4 GHz

RAM:

1024 MB

DirectX:

9.0

Hard Drive:

789 MB
Game Manager System Requirements:
Browser:

Internet Explorer 7 or later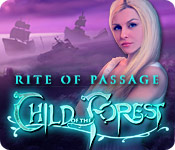 NEW299
The Big Fish Guarantee:
Quality tested and virus free.
No ads, no adware, no spyware.

Reviews at a Glance

Rite of Passage: Child of the Forest
0
out of
5 (
0
Reviews
Review
)
Customer Reviews
Rite of Passage: Child of the Forest
58
58
Worth the Purchase
I just completed the whole game and it was purchased from having a full punch card. IMO, this game would have been well worth the price. It wasn't that it was too difficult, actually I found it quite easy, however it was that it was different that made it so enjoyable. They put a little twist in the HOS scenes, and the mini games were a little different as well. It kept the storyline running if your like me and read or listen to all content. I played it casually over two days and was impressed with the length. Towards the end it felt as if the game maker lost a bit of zip that it had in the start as HOS scenes, which had varied more in the start, became too easy.
June 19, 2013
Stunning, yet a letdown finale
For most of the game, Child of the Forest was a no-brainer 5/5. In every respect, it's a stand-out, exceptionally well done game, from the overall concepts and settings, right down to details like the interface of your journal and map. Starting from a town besieged by possessed trees held at bay only by the shining of a lighthouse, you explore a variety of locations, HO scenes, and puzzles. While it's yet another quest to find a missing husband, the backstory of the town and its traditions is different and interesting. Some of the minigames were increasingly esoteric in the last few scenes, and I was irritated that in order to solve one late puzzle, you have to not only zoom in on a landmark, but somehow intuit that you can click up within the zoom window to look higher on that landmark in order to see what you need to see. Then came the absolutely infuriating final fight. Throughout the game, instructions for puzzles and minigames only appear when you click a question mark. That's fine when the minigame isn't time-sensitive. The final fight? Time-sensitive. By the time I read the instructions to figure out what I was supposed to be doing, I'd already lost a turn, and while the game probably won't let you lose in any real way, I still found it unpleasant to have to sit through a couple of resets because I needed the instructions and they take a few seconds to appear. I've played several dozen HOPAs at this point but I didn't know how to solve the last fight sight-unseen. And the last phase of the final confrontation seemed comically difficult, since it involves uncovering and choosing several hidden symbols that match an unseen glyph, all in about twenty seconds. Sure, you get indefinite tries, but the symbols appear to scramble every time. I exercised the skip button at that point, and since I was already disgruntled from the final fight, I found the ending anticlimactic, since-- spoiler-- you never actually see Ethan open his eyes, so it's not totally clear if he was saved. I'm still giving the game 5/5 overall because the quality is definitely there and most of it is very enjoyable. But I have to say, that annoying final fight doesn't leave me itching to go find more games from this developer.
November 15, 2013
GO FIGURE
bought the CE of the game and decided to buy this with a coupon. go figure that BFG decides what game will be had with a CREDIT (I save these for use with a CE) and not let us use a coupon.. so much for players rights. I would rather choose what I use to purchase a game and not the web site.
June 15, 2013
Very Engaging & Unusual
This was just a lot of fun to play, and the story line and mini-games were clever and engaging. The graphics are very good and the voice-overs help to bring the player into the story. I'd highly recommend this as a nice switch from the typical HOG games! The only slight disappointment - like some other games this one has you collecting acorns along the way with the goal of collecting X number of them. So after being vigilant and making sure to look for these in each scene - and collecting them all - I kind of expect to get something in return, i.e. access to a bonus chapter, etc. But, there was nothing, so really no point in bothering to collect the acorns.
November 2, 2013
a really great game. i liked this one better than the first one.
played casual, low sound. you have an interactive map and a journal. i had problem getting the journal to open. sometimes, a lot of times, the game went to pause. i don't know if that was me or the way it was designed with the triggers too close. it was a great game anyway. you are looking for your husband that has run from you and written you a note not to follow him. the forest is taking over the town and only lights keeps it back. years ago a little boy went into the woods for the "rite of passage" and never was seen again. there are some very good good cut scenes that you have to put things in their proper places and the scenes give you the background information you need. the hint/skip charge fairly fast. oh yeah, you have a little furry friend!!!!!
July 20, 2013
Far and away the best game I've played in ages
This was the perfect game for me. A great balance of HOS and puzzles. Even better than the Perfect Show. Can't wait for the next 'Mad Head' offering.
July 19, 2013
Nice Going
This is one of those games you truly enjoy playing.The graphics are nicely drawn.The HO games are easy and the mini games are OK and you can always skip them if you want an easy out.There is a map which has proven invaluable to those of us who do not like to travel so you can just zap yourself there.Overall,a real nice adventure which seemed to hold my interest more than some.It is a fairly long game with many levels and much to do.
July 9, 2013
Reviews built it up too much!
Lessen learned for me - I'm going to play my games BEFORE I read all the reviews. While the graphics were great & the story was interesting, I was expecting something magical the way that some reviewers were describing this game. I read "the best game I ever played" & "I played this repeatedly" amongst these reviews. But I have to ask why? There are some nice, new elements that I like - new mini-games ...which don't always mean "better"... the "customize" option at the start, etc. But besides that, what is so great about this? It's a well-made but otherwise typical game. I'm actually disappointed enough I felt like giving it 3 stars, but realize that it's just my let-down hopes talking. My advice is to play this without letting the reviews taint your opinion - I wish I had!
June 22, 2013
Rite of Passage
Based on the demo. A game with great graphics and fantastic animations. But that can not disguise a simple game. In parts it is lengthy and uninteresting. The plot is interrupted by boring passages. Shame really.
June 15, 2013
great quality game
This is a top quality game. The graphics are top notch, and so is the storyline. One of its greatest features, is the ability to customize your game play in the beginning. Yes it allows you casual, hard, and hardcore.. like most games do. But where this one differs is that is allows you a fourth option. Customize. This means you can choose to have no sparkles, except on HOS, and whether or not there is a map, or if that map has available tasks, and if hint and skip are disabled. I like this option, that way I can have the hint active in case I need it ( which you will not with the ease of the game ) but disable the sparkles, and black bar tips for a bit of a challenge. These options are changeable anytime in case you need to. The HOS are interactive, and the puzzles are so different from the norm. I really enjoyed the puzzles a lot. The game is very clever and I so recommend this one. Happy gaming gamers!!
June 20, 2013
The Apple logo is a trademark of Apple Computer, Inc.