Rite of Passage: Child of the Forest
Exclusive
The town of Willow Ridge has long lived under everlasting night. Surrounded by a violent, dark forest, its only protection is the Great Lighthouse, which keeps the nightmarish trees at bay. Your husband Alan has been haunted by dreams of a ghostly woman beckoning him, believing she knows how to save the town. As he goes to investigate, a fire consumes the lighthouse! Was it sabotaged from inside the town - or by some darker force? Your search for answers will uncover the history of your town and the Forest Rite that has been a tradition for countless generations. Hold onto the light in Rite of Passage: Child of the Forest, a fantastic Hidden-Object Puzzle Adventure game!
Game System Requirements:
OS:

10.8/10.7/10.6

CPU:

1.4 GHz (INTEL ONLY)

RAM:

1024 MB

Hard Drive:

790 MB
Game Manager System Requirements:
Browser:

Safari 4.0 or later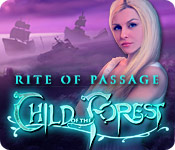 NEW299
The Big Fish Guarantee:
Quality tested and virus free.
No ads, no adware, no spyware.

Reviews at a Glance

Rite of Passage: Child of the Forest
0
out of
5 (
0
Reviews
Review
)
Customer Reviews
Rite of Passage: Child of the Forest
58
58
Just a great game to play they did this good.
Fun and exciting game to play. Has good music and graphics. Good voice over and the game play is pretty good. There is running around to do (they all do now) but has pretty good flow. The HOS are good and not that hard. The puzzles are fun. Some are easy ans some not to me. There are tings to find that gives the game a different aspect and makes it fun. Just as good as the other game they made. Good story and a good game to buy. I will say that the bonus is not really part of the story so buy this one and not the CE.
June 14, 2013
Something Really Special
BASED ON CE GAME COMPLETED TWICE ALREADY! This game really is something SPECIAL. It marks a whole new standard for HOPA games. The BEST OF GAMES will now have to measure up to its VARIETY in GAMEPLAY, GRAPHICS, even MUSIC, the complexity in STORY & DELIVERY, and the sheer INNOVATION of this game. Along with the expected GORGEOUS & BEAUTIFULLY DRAWN graphics of the bulk of the game and the HOS, there are also ?MINI-SHOWS?, which are cartoon-style movie clips that give you BACKSTORY but are also MISPLACED OBJECT scenes! As well, this game offers the BEST SOUND TRACKS I?ve heard. There are 10 MUSIC tracks, UNLIKE anything I?ve heard elsewhere. The AMBIENT SOUNDS, from the thunder crashes to the tweetiest of little bird songs, are DELIGHTFUL & REALISTIC. The VARIETY in the HO SCENES is AMAZING. I stopped counting the different STYLES at about EIGHT. There are LIST styles with DIFFERING levels of INTERACTION, FRAGMENTED OBJECTS, SILHOUETTES, MULTIPLES OF, PAIRS and some I don?t even have names for, because I?ve NEVER SEEN them elsewhere. The intriguing thing about the LISTS is that the item does not disappear when you find it. It MOVES to reveal a piece of a PUZZLE you need to finish off the HOS. The HOS are the bulk of the action, but there are some really fun PUZZLES along the way. Not many, and not hard. Another INNOVATION is the INVENTORY PUZZLES. An item shows in your inventory with a + sign, which means you need to either click it a few more times to get it just right, or you must combine it with something else, or you must solve a mini-puzzle in order to use it. SKIP is quick (on easy), HINT is DIRECTIONAL, and you have an INTERACTIVE JUMP MAP that shows you active zones, and a photo of each location. The STORY starts out fairly slow and a little LOW KEY. A town is surrounded by a DARK FOREST, and their only protection is the LIGHTHOUSE. When that is threatened, the town is in real trouble. Your husband, the lighthouse keeper, enters the forest to investigate, and you follow him. Not for long, though, the TREES attack you and drive you back into town, and your husband disappears. As the game progresses, ANOTHER STORY comes to light, that of a BOY LOST to the forest, whose memorial statue stands in the main square. What really happened to ETHAN? Who is CLARA and what is she up to? And how does any of this CONNECT to your husband? You have a DELIGHTFUL adventure of about 4-5 HOURS in which to find the answers.
June 14, 2013
best game of 2013...so far!!
I purchased the CE version without doing the trial, something I have never done before or since. The buy was based on stellar reviews. It was a wise decision. The storyline is at the same time unique and oh so similar. The baddies here are trees, not some evil person as is usually the case. The cutscenes are among the best I have ever seen and the graphics are crisp and sharp . The only downside and it's a small one is that character lips do not move during the voiceovers. There is a cute little hamster assistant which the player gets to name. The hints recharge quickly and there is a teleporting map in the lower right that some might overlook. The HO areas are a combo of find the objects, find a lot of the same object and some fractured objects areas. Nothing too hard to find overall. The game includes some cutscene/find and place item segments which neatly further the storyline, this is something novel in HO games. The game can be played in various difficulty levels. I said in a CE review that Rite of Passage is ( for me ) a rival to Return to Ravenhearst as best game ever. For those of you who did not get the CE, I wholeheartedly recommend buying the SE. Better yet, trial the SE and then opt for the CE.
June 14, 2013
The very best
I have never wrote a review, but I had to recommend this one, simply because I buy a lot of these HOPA games (64 this year alone). I bought and played the CE of this game, and have already played it 3 times (I usually wait a year before re-playing), simply because this is the best I have played. One thing that hasn't been mentioned is that they have a custom skill level mapping, so you can have no sparkles, but set the help button for only 15 seconds - or how ever else you want set up things. These guys were really trying, and succeeded, in to coming up with original concepts and improving on the tried and true. And it was a whole lot of fun -
June 14, 2013
Great SE! Rite of Passage is Still Just Right!
Pure entertainment! Played the CE and loved every minute. The demo of this version left me wanting to start the adventure all over again. Join the quest and save the Town of Willow Ridge from an ancient curse. Using a family amulet, you alone can dispel the darkness that holds the town captive! The storyline is compelling and there is a strong sense of urgency. The more you play, the more immersed you become. The dangers of the dark forest and your encounters with haunted trees wreaking havoc everywhere will keep you on your toes. This is no ordinary HOPA. Excellent graphics and sound. A good balance of HOS, puzzles and adventure, with some unique gameplay that requires more than just point and click activity. In some spots, you actually battle the enemy, a real hand-on experience. I usually just plod through the HOS to get back to the adventure but the HOS in this game are a departure from standard fare, with enough variety to please even the heart of an adventurer. There are also interesting puzzles and challenging minigames. Have you ever managed to win a game of tic-tac-toe in a video game? A great SE that provides something for everyone. With a transporter map, task list, directional hint and four levels of difficulty, including the option to customize, the degree of challenge is entirely the choice of the player. For those who like animal companions, you will find help from Felix the cat (no kidding) and a cute little hamster who is yours to name. Finally, to my great delight, the devs have retained the collectible acorns for an added bit of fun. This game is totally engaging! Whether you choose the CE or the SE, don?t miss this one. It?s a keeper!
June 14, 2013
A lovely game with that extra 'something'
I waited to buy the SE version and while I'm sure I would have enjoyed the CE, I was very happy with this one. The developers have done a great job on this game. Artistically the graphics are excellent and the cut scenes work well. The storyline is consistent and makes sense (for a world with moving and evil trees...). I felt the story was new (well ok you're saving someone but it's a new twist on that). The length is good and the places you go to are varied. More, there are some quite different puzzles, and you get a cute hamster (which you name) to help you. There are some puzzles which are really quite hard to solve! One particular thing I liked was the way the story was moved on by a sort of newsreel in cartoon format. You had to complete details on these, which I suppose is a sort of HOS. You only get to these after solving some sort of puzzle. And while we're on the subject of HOS, this game uses different kinds of HOS: silhouette (looking for a number of a certain object), the normal kind and one where you move other objects to find a piece to complete the thing you're going to need. Nice! I'll look out for more by this developer.
June 28, 2013
WOOD YOU JUST LEAF 'EM ALONE!
Those horrible evil trees are at it again, only the light keeps them away and the light house is malfunctioning! This game is different than most and even though this is a SE, you still get to collect hidden acorns (without the tree) At the beginning you can choose from 3 levels of difficulty OR you can choose all of your own settings from tutorials, to sparkles on or off and even how fast, if any, the hint and skip meters recharge, it's all up to you. You can even opt the available task glitter on the map. In the beginning you will drop your protective amulet and must replace the broken pieces with new ones you find throughout your journey before you can recharge it. Some of the items you find will need to be examined closer such as a coat hanger that needs straightened out before using it to retrieve a lighter out of reach. There are lot's of inventory items to find and they aren't always used right away and I like that because it makes you think about where to use that item. You will rescue a mischievous hamster to help you and you get the choice to name him so have fun with that name. The HOS are different as well, some are fragmented items to find but most are interactive lists, the twist however is that the items don't disappear they just move out of the way to expose the real item you need such as pieces of a torn note or gears to fix the machine you are working on. There are several mini games and they truly are different, in one puzzle you must guide your ship through treacherous waters and avoid rocks, wind and lightning and you must lure out a sea monster and try to slip past him or start over. Another cool puzzle was trying to match specific flower patterns from your clue in a heap of flowers and if you chose wrong you had to start over. I will say that I liked the CE better because I love morphing objects but this one's a definite winner in my book. Enjoy!
June 14, 2013
A MUST HAVE
Rite of passage: child of the forest Let me just start by saying ?BEST GAME EVER? the only regret is that I didn?t buy the CE so wish I could go back and buy the CE instead of the SE. I never give 5 stars for any game with excellent all the way across but this one deserves 10 stars :) This my new favorite game I only wish that they would make more as good as this one cuz after playing this one I don't think any others could be as good. WTG on the great job and effort that went into this game it was EXCELLENT :# The music was really nice. It was kinda Donnie Darko during game and relaxing during the HO?s it all fit the game very well The graphics were very well done I was very pleased with them The game took me just a little over 4 hours which sucked because I didn?t want to stop playing this one I wish it could have been a little longer. I was so involved I didn?t want to put it down and the time just flew by me before I knew it I was to the end. You can choose from 4 different levels to play casual, expert, master or my personal favorite custom where you can customize whether you want the tutorial, where you want and don?t want sparkles, how long you want your hint button to take to recharge #15-90 sec#, how long you want your skip button to charge #15-90 sec) and much more. It was great to have a customize level so you decide your own game factors something I personally have never seen and I?ve played a lot of bigfish games. There were lots of different HO?s throughout the game. You had regular HO?s, find the black objects, find pieces and a few others so it didn?t feel like you were doing the same thing over and over it kept me from getting bored as I often do while playing cuz most the time you are doing the same HO?s all through the game. This game didn?t have a ton of HO?s like most HO games I felt it had a perfect amount, at least that?s my feeling on it. The puzzles were fun and I felt that they were not ripping your hair out hard nor were they so easy you felt that a toddler could do them, lol. I loved the fact that there were so many things done in this game that I have never seen done before and I?ve never played a game that had so many different things all rolled into one it made it so perfect I mean you could never get bored playing this game. There are voiceovers for those of you, myself included, that really enjoy those. There was not a lot of backtracking which I think is great cuz I hate a ton of back tracking. In this game once you move forward you keep moving forward. There is a map that tells you were things that still need to be done are and allows you to travel by clicking on where you want to go. The journal is very useful and you do need to use it every now and then. Throughout the game you will need to interact with certain items in your inventory which gave the game an even bigger fun factor. I don?t want to give up to much of the game but I could talk about it forever lol In summery this game is AMAZING although a little on the short side still well worth the money and if you have it I would spring for the CE, which I have never suggested before, I only wish I would have. You will not be disappointed with this game at all. THIS GAME IS A MUST HAVE Hope ya all enjoy! Have fun and good luck ;)
June 19, 2013
YOU'VE GOT TO TRY THIS GAME !!
I don't write many reviews because so many others do such a great job, but I definitely read them. I thought the first Rite of Passage game was ok, but had technical problems with it half way through (suddenly got the black side bars that I never had gotten before or since). So I was a little apprehensive about getting this one. However, I read the reviews and just had to try it. I LOVE THIS GAME !! There are such fun things to do that you don't want to quit playing. I've been playing Hidden Object Puzzle games for several years and was getting a little burned out, but this game has brought me right back in. It is full of new types of HOS and puzzles that are so much fun you don't want to stop playing. The graphics are great and the music is some of the best I've heard in these games. This developer will make the "Big Guys" stand up and take notice. Definitely developers to keep your eye on. Thank you devs for such a great job and thank you Big Fish for presenting it to us to enjoy.
June 24, 2013
ABSOLUTELY SUPERB! NEW FAVORITE!
I absolutely LOVED, LOVED, LOVED this game. It was very interactive and a joy to play. The story line was cohesive and made sense. The visuals were beautiful. I enjoyed the hidden object games. They weren't overwhelming and they had different styles of HO scenes. The mini black & white movies were fun to look at because they explained the story line in further detail. But not only did you get to "watch" the movie, you had interactive play WITHIN the movie - hidden object, or should I say, "misplaced" object scenes. After you finished with them, you were given a clue that you would need to finish the game. It was wonderful. The mini games were somewhat challenging. The skip button charged rather quickly if you needed to bypass a game. I cannot say enough about this game! Oh, maybe one or two others. At the end of the game, you get to "fight". The story didn't just end "and they lived happily ever after." No, you had to "fight" for that ending. This game is the best one I have played so far and in a long time! You will not regret purchasing this game!
June 24, 2013
The Apple logo is a trademark of Apple Computer, Inc.
The Windows logo is a trademark of Microsoft, Inc.