Princess Isabella: The Rise of an Heir
After nearly defeating the Witch, Princess Isabella was turned to stone and her child rescued by her trusted friends Fairy and Dragon. Raised alone, with no idea of her lineage, young Princess Bella must rise and take back her kingdom. Join us for the exciting conclusion to the Princess Isabella trilogy. The Heir will rise!
Game System Requirements:
OS:

Windows XP/Windows Vista/Windows 7/Windows 8

CPU:

1.8 GHz

RAM:

768 MB

DirectX:

9.0

Hard Drive:

712 MB
Game Manager System Requirements:
Browser:

Internet Explorer 7 or later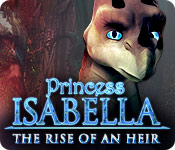 NEW299
The Big Fish Guarantee:
Quality tested and virus free.
No ads, no adware, no spyware.

Reviews at a Glance

Princess Isabella: The Rise of an Heir
0
out of
5 (
0
Reviews
Review
)
Customer Reviews
Princess Isabella: The Rise of an Heir
34
34
Better than the other Princess Isabena
I have played all the isabella games and this one is the best one, just still not great. You can chose how you want to play the game with a custom mode. Cool. The music is good and the graphic are good. Has voice over but still have lots of reading to do. You get a dragon to help you and a flute. Some running around to do but has a good flow. The HOS are easy and so are the puzzles. Seen some of the puzzles before. The game is good just not great.
June 16, 2013
Fun & Beautiful. What A Treat!
BASED ON ONE HOUR DEMO I think most of us will have to admit to being a sucker for CUTE, (judging by the popularity of cute companions), so even though this game is just a little TOO SWEET, and just a little JUVENILE, it is still a very appealing game for grownups with soft hearts. There is an abundance of CUDDLY CREATURES to rescue, feed and get help from in this delightful FANTASY. All are depicted using BEAUTIFUL HIGH QUALITY GRAPHICS that make it a pleasure just to get around. Having acknowledged that this is a game for ?big kids with big hearts?, do not assume it is a simple one. The GAMEPLAY is quite STRAIGHTFORWARD, jumping from PUZZLE to HOS with little ?hunting and pecking? required. It is made COMPLEX, by the many magic abilities you have and your companions with other abilities, all of which are utilised by a different procedure (e.g. dragon?s flute calls the dragon, magic wand performs certain spells), so that it is quite an INVOLVED PROCESS, dealing with each new obstacle. While neither the PUZZLES nor the HO SCENES themselves present any serious difficulty, this extra layer to the ADVENTURE element keeps you busy. Some HO SCENES were quite unusual, requiring you to pick out all the (symbols of) EVIL in a scene. Interesting and fun. The STORY is a sequel to the previous ?Princess Isabella? games, but, while it is obvious that there is BACKSTORY, I did not feel confused by not having played those previous games. You are the famous and brave Princess Isabella?s daughter and it is now up to you to take up where your mother was forced to leave off, and in the process rescue your fairy godmothers, and perhaps your mother herself. One thing I really loved in this game was the way that, once the ?evil? in a room had been dispersed, the entire room was transformed into a beautiful serene version of itself. One thing I really hated was the way the CUTSCENES showed up on my monitor as one third the size, so that I had black strips (normally on either side) above and below. Another thing that just about drove me mad was the fairy?s VOICEOVER. All the others were fine, but ... AGH!! This is a charming game, beautiful and light-hearted, though not very difficult or sophisticated. But they don?t all have to be do they? I?m looking forward to transforming this lovely world trapped in evil to the magical mystical world it was meant to be.
June 16, 2013
HAPPY FATHERS DAY!
Life really sucks when an evil witch lives in your neighborhood! First she destroys your beautiful castle, then your wedding, turns you into stone, and now she is after your only child! Well young Bella has fairy godmothers to save and some magical powers up her sleeve as well. You will need the help of the dragon to lift heavy objects, you simply play the flute and he swoops down to help. The fairy will help you assemble a wand which you will use to break things at first and you will acquire different skills to use in the game. There are a lot of HOS, fairly easy mini games and a custom mode for difficulty. You will help all the forest friends along the way and some will help you when the time comes. Just as in the other Princess games you will come across areas that have been cursed by the witch, dark and evil. You need to remove all the evil creatures hidden in the scene such as goblins snakes and bats and once they are removed the room or scene will transform back into the beautiful bright area it once was. A wonderful fairy tale/magical SE to play, cute and whimsical and relaxing but not necessarily easy. Enjoy!
June 16, 2013
Fun game with nice touches
Nice game with some cute touches. Your mother has been kidnapped by the evil Queen and you have 3 fairy godmothers that also have been captured. You must release all 3 fairy godmothers to have the power to save your mother. There are a lot of HOS and puzzles, but all are easily conquered. Pros: Custom settings for hint recharge. Fun touches like a magic wand that helps you break things open, change animals from inanimate to animate so they can assist you and so on. Also, you have wind and growth powers that you use along the way. The talking mandrakes were a cute touch! Cons: The game was almost to easy for more accomplished players. The game was way to short, I played through without hints in under 2 hours. Over all the game was really cute and a fun easy play for a rainy day. Would love to see the game with longer game play. I enjoyed the story line and the idea behind the story. Great for young teens or children! Definitely not a waste of a game credit or even SE charge.
July 4, 2013
Very Easy to Play but Fun
I enjoyed this game because of the graphics & the amount of small puzzles included. It's very easy (sometimes too easy) but still fun to play. Obviously, it moves along quickly because of the simplicity of the tasks. I would recommend it to anyone who likes a fairly simple game to pass the time.
June 25, 2013
great game
After playing the entire game, I can honestly say that I loved it. It took me quite a while to get use to the wand thing and the correct order to use it. I admit I had to go to the walk thru frequently, guess I was just slow to catch on, but I didn't mind. Loved the story and it was a delight to see a game that wasn't dark. The puzzles were fun and may be too easy for some but just right for me. I would recommend this game highly.
June 24, 2013
Fairy Tale
This is a great game if you don't like big challenges. The puzzles are easy the HOS are clear and there is not an excessive amount of going back and forth. Good game for beginners.
June 20, 2013
Good game.
Liked this game, good game, with a real ending!! Have first and 3rd; missed the 2nd game; but not necessary for this one. Didn't know about the second one until I read reviews. Good fun, different, good puzzles. Graphics are good. No map; could have used one. Overall, a fun game!
January 20, 2014
Avtenture
Overall a good game with lots of fun, and good hints. Graphics, music, colour very good. Too many HOS and far too dark. I had to keep using the hint as couldn't find objects in the dark. Great puzzles, and I did enjoy the game.
July 11, 2013
Interesting, Light-hearted and Fun
This is an interesting game and not as simplistic as you might think it would be with all the storybook characters abounding. The artwork is quite charming and beautiful. I can't remember what the music sounds like now that I'm out of the game, but that probably is a good indication that it isn't terribly obtrusive. The help fairy's voice is like 33-1/3 rpm played on 45. I don't like it, but I can live with it. This game won't appeal to everyone, but I recommend it for those looking for something less dark and convoluted. There is evil to combat, but it isn't horrific. Think Disney, not Steven King!
June 23, 2013
The Apple logo is a trademark of Apple Computer, Inc.