Princess Isabella: The Rise of an Heir
After nearly defeating the Witch, Princess Isabella was turned to stone and her child rescued by her trusted friends Fairy and Dragon. Raised alone, with no idea of her lineage, young Princess Bella must rise and take back her kingdom. Join us for the exciting conclusion to the Princess Isabella trilogy. The Heir will rise!
Game System Requirements:
OS:

Windows XP/Windows Vista/Windows 7/Windows 8

CPU:

1.8 GHz

RAM:

768 MB

DirectX:

9.0

Hard Drive:

712 MB
Game Manager System Requirements:
Browser:

Internet Explorer 7 or later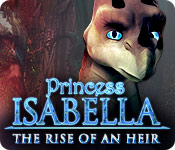 NEW299
The Big Fish Guarantee:
Quality tested and virus free.
No ads, no adware, no spyware.

Reviews at a Glance

Princess Isabella: The Rise of an Heir
0
out of
5 (
0
Reviews
Review
)
Customer Reviews
Princess Isabella: The Rise of an Heir
33
33
Princess Isabella
Based on the demo. This game is graphically not as good as others. That alone would not mind if at least the story would be exciting. Unfortunately, everything is worse than the previous. I'm disappointed. Games with good graphics and good music but boring action are many. But here is also the story boring whatever graphics and music can not compensate.
June 17, 2013
Not worth the money
I enjoyed the other Princess Isabella games, but not this one. I liked the demo, and bought the full version and imagine my surprise when the demo was almost as long as 1/2 the game. As others have said, the graphics are poor and the challenges are super easy. My biggest complaint is that it is just way too short. I wish I hadn't wasted my money on this game. If you are looking for an easy, quick, time passing game, with no coherent story line, this is your game. If you want something more, skip it.
June 21, 2013
A Simple (Really Simple) Fairy Tale
**Review based on playing entire SE. Well, I wouldn't say it's a bad game. I enjoy the occasional break from all the ghosts, monsters, mad scientists, and serial killers, and the Isabella games have always been enjoyable for me. Speaking as someone who played and liked the last installment, however, I found this one a bit of a letdown. THE STORY As you recall (or not), the previous game ended with -- SPOILER ALERT ? the baby princess being rescued, while Isabella is left trapped with the witch. This one picks up a dozen or more years later, with little Princess Bella going to rescue her mom with the usual assortment of cute helpers -- a fairy, a dragon, an owl, and three fairy godmothers. Oh, and there are mandrakes. Ridiculously, stupidly cute mandrakes. THE GAMEPLAY So here's the problem: this game is too easy. I mean, this game is insanely easy, almost as though it were designed exclusively for children. It's not just the puzzles, although they're a breeze. This game provides three levels of difficulty, the third being ?custom?. I played the custom level with everything set to provide the maximum challenge, and the game still had... sparkles. It had sparkles for everything ? hidden objects; places to use your wand; places to ask Dragon for help; places to ask for fairy godmother intervention ? absolutely everything. There is no way to stop it from doing this. The one difficulty it provided was in getting around. There's no quick-travel map, nor map of any kind, in fact. More annoying was a good feature that had been present in the other games that was inexplicably removed in this one. All the Isabella games have featured cursed people who need un-cursing. This is done by accumulating objects (picture pieces; gems; etc.), then returning to the cursed person to help them. In both previous games, once the pieces were gathered, the game provided the option of instantly zapping back to the victim to break the spell. Not this one, and so another layer of slogging back and forth is added. THE GOOD STUFF (there is some!) *It resolves the story from Part II well. No need to buy the CE to get closure. *It's really pretty. Not as well drawn or well animated as the last one, but pretty and colourful nonetheless. *The dragon is back, and he's grown up! *Nice music. Not ?add to my playlist? nice, but pleasant. *It's really cute. I like the cute; others may not. *The voice acting is solid. With one notable exception, mentioned below. THE SO-SO STUFF * I suppose the ease of the game makes it quite relaxing, so there's that. THE BAD STUFF * Easy. So, so, so easy. Easy puzzles; hints you didn't ask for and can't turn off... easy. *The fairy is back. That voice! Arrrgh! The voice of a diabetic chipmunk on caffeine! *There is a giant spider. They don't bother me much personally, but I know that some people have a thing, so I thought I should mention it. It isn't around for long, but you do have to deal with it, and it's kind of gross if you're bothered by arachnids. Should you buy? Well, not if you're looking for a challenge, that's for sure. If you played the first two and want to see it through to the end, this game finishes the story nicely. It's cute; it's easy; it's colourful; did I mention it's easy? If you're a beginner, or you just want to take a fun stroll through a pretty game, this one may be for you.
June 20, 2014
Fun, Beautiful, but ..
I enjoyed it, fun game, but not the quality of the first one (the first one on my top 5 list for fun and beauty factor). It's like they ran out of time to finish it. I liked the graphics. I would give it 4 stars for fun, graphics, new creatures, but I'll give it a 3 because of missing components and bugs. The fireworks were there in graphics but the special fx sounds were almost absent. Sometimes there was vo sometimes not. There was no map. I ran into a couple of snags/technical glitch/bugs/crash. I will mention in the forum technical issues. I was able to finish the game. I missed Tinkerbell but I liked the owl.
June 27, 2013
My Opinion Definitely Hasn't Changed - Cure For Insomnia - Review Based On Demo
7 chapters Widescreen: This did fill my 20 inch monitor just fine as I didn't have to adjust anything but some people just from reading reviews have the black bars. There are 3 game play modes: Casual, Advanced, Custom (in which you can change the refill speed of both the Skip and Hint buttons but not the glints). You can also change at any time during the game. I played custom. There is voice overs. There is a journal however no map. There is also a magic wand that is in between the inventory and the hint button. It can help you to do certain things you can't do by yourself. You will get a Dragon Flute shorty into the game that you use to get help from the dragon. HOS: Found by word list or find so many of any item. Not interactive. Puzzles: The usual run of the mill found in many games. Just to name a couple: Stack the flutes in the center biggest to smallest and rotate the rings. Hint/Skip: Charge up very quick. My overall impression: I've played the demo of the CE and that far from wowed me and my opinion definitely hasn't changed now that the SE version is here. The first "Princess Isabella" is still one of my all time favorites, while I thought the second one was disappointing. I was however very anxious to see what this one might be like. Unfortunately I found this one to be very disappointing. To start with the graphics I found to be very subdued especially the HOS however I didn't find them to be Sanford & Son junkyard. I'm also pretty much into cut scenes but this game had far too many. The game play is similar to the other 2 "Isabella" games (portraits, break things, etc.) which is OK if you're into nostalgia, I suppose. However I would think they would try to come up with something new here. The voice overs I found to be good as they seem to fit the game here. The black bar tips/hints well they are not hints or tips, but instructions on what to do, where to do it, what to use, etc. I'm not sure about the harder mode but the custom no way to turn these off. I thought this was the whole purpose of a custom mode to set the game as you want? Sorry Big Fish and developers. Two stars is the best I can do for this game. I'm afraid it's a no go for me. This was too childish, boring, and even too easy for my taste. I had all I could do to stay awake and make it through the demo time of this so I definitely won't be buying the SE version here. As always, give it a whirl and decide for yourself.
June 16, 2013
What a let down!
I loved the first two Princess Isabella games. I have played them several times. There was a lightness and whimsical quality to them that raised them above the very dark and usual adventure games. It was fun having a map to make it easier to navigate. This last game goes too dark and loses the whimsy that drew me to these games to begin with. The going back and forth constantly ruins many a good adventure game. I got tired of going back forth to the same scenes. Please bring out a new Princess Isabella that brings back the charm of the first two.
July 12, 2013
not the best HO
Briefly, after 20 minutes of game time: outdated graphics, terrible music, stale Storry, just boring. Most pleased with a bad game, the graphics the player. It just pleased to finish the game.
June 17, 2013
Disappointed
I used to like this series but after 30 minutes of playing Princess Isabella: The Rise of an Heir, I'm not so sure of that anymore. The game is dark and overwhelmingly evil. I am sorry but there is only so much one can take before a game isn't fun anymore and it becomes depressing. I was hoping for better.
June 20, 2013
Oops
Should have known from the title, this is geared towards preteen girls. It will make an adult's teeth ache, it's so sweet.
July 6, 2013
oh dear
Ok for kids and thats all...terrible
June 20, 2013
The Apple logo is a trademark of Apple Computer, Inc.