Order of the Rose
Exclusive
Take on the role of a homicide detective as you track down an enigmatic killer who leaves cryptic puzzles on the bodies of the victims. How are the victims related? Where will the killer strike next? At the heart of this mystery lies the Order of the Rose and an artifact that can change the world. This killer is unpredictable and if you're not careful, you'll end up as the next victim. Follow the clues and remember to keep your wits about you in Order of the Rose, a thrilling Hidden-Object Puzzle Adventure game.
Investigate realistic crime scenes.
Solve challenging puzzles.
Uncover the secrets of the Order of the Rose!
Game System Requirements:
OS:

Windows XP/Windows Vista/Windows 7/Windows 8

CPU:

1.2 GHz

RAM:

1024 MB

DirectX:

9.0

Hard Drive:

382 MB
Game Manager System Requirements:
Browser:

Internet Explorer 7 or later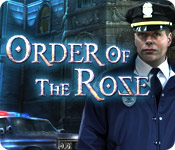 NEW299
The Big Fish Guarantee:
Quality tested and virus free.
No ads, no adware, no spyware.

Reviews at a Glance

Order of the Rose
0
out of
5 (
0
Reviews
Review
)
Customer Reviews
I was very impressed!
This was such a surprise this morning! If I could change one thing about this game it would be to take away the sparkles indicating a HOS. Other than that, just perfect! Really! The graphics are crisp, clean, realistic. The HOS are items that are appropriate to the scene. No radios in the pond, or pineapples under the bathroom sink! The puzzles are actually harder than most! This game takes some time to play, as many inventory items are behind, under, or hidden in some way. This gives the player credit for some brains, as you don't stumble over that pair of scissors you need, or just happen to see a hammer hanging on a branch. Things are much more like real life! This is the first time I bothered to make a review other than on the game forum page, but this game is worth so much more than the current 3 stars! Engaging story. Harder puzzles. Well done HOS. Excellent graphics. What's not to love?
June 17, 2013
order of the rose
Didn't know whether I was going to like this game or not. I really don't like "nothing to do here right now" & there was a lot of it. You just have to move around to different locations & eventually you'll find something else to do. The graphics are outstanding as was the music. Good mystery & storyline & I would highly recommend this game.
June 17, 2013
Far Superior to Most BFG Games!
Dark & dreary is the backdrop to this totally immersive murder mystery. You are the Detective and must scour every inch, every crevice of every scene. Although there are hidden objects, the puzzles and putting together the pieces of this game plays very similar to a condensed Adventure game. Oh, the cries of anguish to have to think puzzles through and have to actually look for hidden objects! And, what, no built-in strategy guide? Ahhhh! The killer has a reason and these are not just random killings. You must find this monster quickly. You must work your way through the evidence presented--the hidden objects, the puzzles--all organized very well. Immersive story line! Thanks and kudos to Gestalt Games! About ready to give up on BFG's mindless array of games that aren't games, but merely lessons in boredom! As HOG lovers even become bored with their own genre in locating hidden objects because Devs make games too easy and gamers become accustomed to everything front and center, bold and in color. Close your eyes and click away! The game will be won! After playing eye-candy games--one half of scissors, the other of scissors, the rivet--woe is me! Finally the meat and potatoes is served up through "Order of the Rose". An immediate purchase for me! Enjoy! -Mama Mia-
June 19, 2013
Better than I first thought!
Actually I liked this game! There is a lot to do. There are many HOS but you have also to find objects anywhere in a location. I like it that you have to look everywhere. The mini-games are sometimes challenging and really interesting. The graphics are very clear. Without skipping, it took me a bit more than 3 hours. All in all, a different kind of game.
July 7, 2013
fun for me
Thank you developer for bringing a good storyline. Honestly, I'm a bit bored about HOPA games because the themes (cute, sweet, supranatural, blablabla). So when I play this game, I'm so excited. I feel like a homicide detective. That's way I really don't care how dark the scenes when I want to pick something or even the hidden object. I just enjoy this game. Some puzzle make me think really hard to figure it out. And now I hope there's a sequel or prequel for this. Good job!
February 3, 2014
Enjoyed Game But Need To Turn On The Light - Review Of Completed Game
Story: You take on the role of a detective that has been assigned a case of a fashion model with a drug habit who has been murdered and you have to try and stop the puzzle-loving killer before he strikes again. Was it a drug deal gone bad? CHAPTERS: 9 2 play modes: Both modes have sparkles and black bar tips. Hint/Skip take about a minute or so for charge up. Hint is not helpful outside of HOS as it will say "Nothing to do here check elsewhere." WIDESCREEN: I had no problems here. Filled my 20" monitor just fine and didn't appear to be stretched. No tech issues. NO VOICE OVERS. Subtitle boxes that you read/click through. JOURNAL: You will find tasks that need to be completed and are checked off as you complete them along with some clues on how to solve some of the puzzles. The tasks also pop up on the screen. NO MAP GAME PLAY: This is divided into chapters. You start off with just a few scenes however once you get what you need and more into the game does open up to new locations Lots of traveling back/forth. HOS are heavy lots of HOS, puzzles are few and far between. You also have to be sure to check over the areas pretty thoroughly as things can be missed as many inventory items are behind, under, or hidden in some way. HOS: All found by word list. They are not interactive however may have to move things or open things to find objects. You also revisit the locations several times. I wouldn't consider them Sanford & Son junk piles however some scenes very dark and objects on the small side at least for me. PUZZLES: These I found to be different than the usual run of the mill and very few thank goodness. I found these more annoying than the usual run of the mill and not making much sense even with the "puzzle clues" like the deciphering of the codes. I did some but some I found too hard for me so I skipped them. If you've read any of my other reviews then you will know I'm not a fan of the puzzles for the most part. If you are a puzzle lover however may be easy for you. My overall impression: I really did enjoy the story and was hooked from the get go and held my interest until I got to the end. I also found it to be a bit creepy/eerie. An excellent murder mystery story. I also enjoyed the game play and was glad there weren't very many puzzles. Sorry but I didn't much didn't care for these at all. I'll even admit I got hung up a couple of times and had to refer to the walk through. I do wish this would of had a transporter map. I love maps that let you travel back/forth and also let you know if there is anything to do in the area or not. The graphics nice, crisp, and clear for the most part except for the HOS. As my title says turn on the light as some areas for me were quite dark along with small items and some hidden in these dark areas. As for game length this was about 6 hours for me as I found the game to have quite a bit to do even with skipping of puzzles. Your time may be more/less. Overall a 4 stars from me. Thanks Big Fish and developer for a very good game here. I hope to see more from this developer but please work on the HOS and turn on the lights for those. Also provide a transporter map. You can also make the puzzles as hard as you want as long as I have the option to skip them which I always do have this option so life is good. As always, give it a whirl and decide for yourself.
June 17, 2013
I Really Enjoyed This One! Very Under-rated Game!
Those wanting an adventure, turn back now. This is a mostly Hidden Object Game with a great story, that produced a great demo. This, for me, is very under-rated! The story is a good old-fashioned murder mystery that gets creepier and creepier. The story progresses chronologically and grips you from the word go, despite there being no voice-overs, so credit to the developer for that. Unlike most games, this game lets you play the entire hour trial. I got through 2 chapters and had just started the third when the game cut off. I don?t know how many chapters there are, but this indicates a short-medium length game. There were quite a lot of HOS that were pretty easy for me. There were no interactive objects in the HOS itself, but rather in the gameplay. I pretty much knew exactly what I was going to get from each scene, but I wasn?t particularly fussed about that. There was one thing that irked me though: Unnecessary HOS. At the end of chapter 2, we have to go back to get the bloody letters. Instead of letting us just grab them, the game decided we would have to go through an entire HOS. The puzzles, though, were anything but easy. I skipped every single one of them. They were a huge challenge for me! It?s got nothing to do with instructions, as they were clear, more just my ability. The graphics were alright. Standard for today, not fascinating, but not dull either. Everything was clear though, so I can?t complain. I must point out that there were some illogical things about this game. In the early stages of the game, we needed to get the parts for a tap. The first part was nowhere to be found in the house, but rather in an alley on the street! I mean, what would that be doing there of all places? I know Hidden Object Games are illogical, but that?s ridiculous! FEATURES - Quick recharging hint and skip. Unlike one reviewer said, the hint is actually helpful outside HOS. - Diary, which keeps track of clues and tasks. - No map. There are hardly any features in this game, and with the lack of voice-overs and lots of HOS, some might be turned off, but I thought this game was really well done, much better than some of the mainstream games we've seen. I might buy this on sale. I highly recommend it!
June 18, 2013
Order Order
This is a good game mostly H.O all over the place some people say its dark well I played the game it is dark in some places but that's the way the game was made it about murders the police have to find how's doing it the game is gritty also some of you find the H.O a wee bit small well I did play the game and there are some small H.O but most of them are well done and you can see them clear the Level of Challenge is spot on knot to hard and knot too easy this is a good filler game.
June 18, 2013
A little change...
Interesting and different. In my family, you are either in law enforcement or the medical field so I have always been interested in a good mystery. Graphics are old school but good. Game play is good, music okay. HOGs fairly clear, although some areas are very dark, and items you find are appropriate to game play. This game could use voice overs. Did not care for the hint system, as it is not helpful. Don't tell me there is nothing to do here, I already know that, why do you think I'm asking for a hint! Hint fills quickly, although not very helpful when you really need it. Not a lot of instruction within the game, so you stumble around figuring things out by clues...sometimes that doesn't work either. Guess that's why they call it a mystery. This is a not a challenging game, but I did find it fun for a change. Yes, there are dead bodies and I wouldn't play this with small children around, but it was not "messy." Demo went quickly and I think I need to know how this one plays out. Off to use a credit on this one. As always, try it for yourself and see what you think. We all have different tastes in games and you may not care for this one at all. Thanks for the reviews.
June 17, 2013
It isn't that bad...
This isn't the best game by todays standards, but it is only a standard edition and if you like a lot of hidden object scenes and don't mind tiny objects then you will enjoy this game. It has a good story, you are the detective (of course) trying to solve the recent murder of a drug addicted model and the murderer is taunting you with disturbing messages and watching your every move! There aren't any frills with this game and the graphics aren't even that great, only a handful of puzzles but as I said before, there are a lot of HOS and they are fun, but there are some items that are so small and fuzzy you just have to click on whatever item seems close enough. I don't know if you will find this worth the purchase price but the demo isn't a complete waste of time and maybe even worth a credit. Enjoy!
June 17, 2013