Order of the Rose
Exclusive
Take on the role of a homicide detective as you track down an enigmatic killer who leaves cryptic puzzles on the bodies of the victims. How are the victims related? Where will the killer strike next? At the heart of this mystery lies the Order of the Rose and an artifact that can change the world. This killer is unpredictable and if you're not careful, you'll end up as the next victim. Follow the clues and remember to keep your wits about you in Order of the Rose, a thrilling Hidden-Object Puzzle Adventure game.
Investigate realistic crime scenes.
Solve challenging puzzles.
Uncover the secrets of the Order of the Rose!
Game System Requirements:
OS:

Windows XP/Windows Vista/Windows 7/Windows 8

CPU:

1.2 GHz

RAM:

1024 MB

DirectX:

9.0

Hard Drive:

382 MB
Game Manager System Requirements:
Browser:

Internet Explorer 7 or later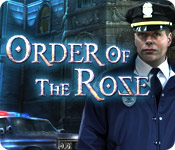 NEW299
The Big Fish Guarantee:
Quality tested and virus free.
No ads, no adware, no spyware.

Reviews at a Glance

Order of the Rose
0
out of
5 (
0
Reviews
Review
)
Customer Reviews
Just OK game
The main thing I liked about this game that it isn't the same-old fairy tale that has been descending on us from BFG like a swarm of locusts. Too bad it wasn't better produced. Game play is OK, but it could have been so much better. Navigation is not always the best (no map) with one place that indicates the "sky" while it takes you to an alley. Huh? HOS are the old standard (no IA), and the puzzles are the same. The in game HINT is not all that helpful - "nothing to do here" for the most part. The story is marginally OK, and the characters are worse - poor VO. Still, I enjoyed playing the game. What a refreshing relief from overcoming evil witches.
June 24, 2013
worth an afternoon
I liked this game. The murder mystery had me interested right from the start. It's kind of dark, both in theme and in locations, especially some of the HO scenes of which there were many. Not too many puzzles and no skip option for those but some were fun.. like the finding of the constellations as well as various code puzzles and a slide puzzle. The old "nothing left to do here" hints but the hints worked well in the HO scenes. I did have a few what to do next moments which is not necessarily a bad thing. You basically have three crime scenes and an observatory to investigate and you move quite freely through each one a couple of times. This was not a huge game nor did it have all the modern bells and whistles but it was a free coupon well spent and I enjoyed it.
July 12, 2013
Overall enjoyable, if not perfect
My feelings on this one are a little mixed. For the most part, I liked it; it was a reasonably intelligent game, one which had some unique puzzles and an engaging (if grotesque) story. I admit that I was surprised by the identity of the murderer, having expected that particular individual to show up in a different capacity. The constant falling snow, cluttered detective's office, and blue overtones in the background gave the whole thing a nice sort of film noir feeling, like an old mystery movie. Also, all of the dialogue, diary entries, and other writings within the game had flawless spelling, grammar, and punctuation; given that I often find myself complaining about writing errors in my reviews, this was a huge mark in the game's favor as far as I was concerned. My chief complaint is with the hidden object scenes. Although I did appreciate the liberal use of hints and the lack of penalty for any misclicks, I found many of the scenes to be unfairly dark and difficult to solve. I also have to gripe about one scene during the last few chapters; I could not locate the final item, a rag, so I tried to utilize a hint... which directed me to a paint can. The rag was in a completely different part of the scene. I also had to skip the majority of the non-H0 puzzles, because they didn't make a whole lot of sense to me and/or they were just too tedious. This was especially true of puzzles where I had to assemble fragments, some of which were flipped the wrong way round; without having any idea what the finished puzzle looked like and having no starting point with a correctly placed piece, I felt lost. The worst offender was the telescope puzzle in the observatory, where I was directed to make constellations. The instructions gave no indication of *how* to make the constellations, and nothing I clicked on seemed to do anything at all, so I just sat back and waited for the skip meter to fill. My other objection is to the fact that in many of the scenes, there were items I could click on which had no connection to the plot. That bugs me. I don't mind it if the player character's observations on such things are at least funny or clever; for one good example, some of the Master Detective's commentary in the Mystery Case Files games (especially with the Snarky option enabled) can be so amusing that it's worth looking for everything that invites a click. But to be told "I have no interest in that" just seems like a waste of the programmer's time and mine. If my character has no interest in it, then don't make it available for comment! The ending was... weird, to me. It seemed rushed, and didn't really explain much of anything. What is the significance of the Spear? Where did it come from? Why does the Order have to guard it so carefully? The final words of the final speaker suggested that a sequel is likely, so maybe a future installment will clear up what this game didn't. Having finished, I uninstalled it; the replay value on this one is low. Overall, though, it was pretty good and I would almost certainly play a sequel game. If I were to hand out a letter grade, I would give this either an A- or a B+.
July 9, 2013
Mediocre
I was really disappointed. It was mostly HO scenes. The chapters were short. But some of the puzzles were a little different and harder than normal. That's why I gave it the OK.
June 29, 2013
Rainy Day Special
Ho's were a little dark and some items to small and sharpness of picture kind of dull. The game was just okay. Would make a rainy day special list.
June 25, 2013
Too Dark
All HOA Scenes are too dark to find a number of items. thankfully the hint recharge time is quick
October 22, 2013
has potential but didn't cut it
This is one of those games I wanted to like but just having trouble getting there. first it has that annoying "there is nothing left to do here" hint button which is just irritating and useless. it was also very dark and some of the tasks were ridiculous. you sort of get the code to the safe but you have to guess the order and just keep trying till you get it right. and trying to figure out the name of a location didn't work at all since the supposed "hints" just didn't make sense and didn't match what they were supposed to match. anyway, unfortunately this is not a buy for me unless some major changes are made to this game.
June 18, 2013
Demo only
Should have been called the Order of the Decaying Rose. I played the whole hour on casual just to see if it would "pick up", but alas it did not. Good Points: Can mute sounds, has two levels (casual and expert), mini games were standard, hint filled fairly quickly and let you know if there was nothing to do in area, journal had task list and clues, some running around but in a smaller and confined area, and music wasn't bad. Bad Points: boring, no voice over, hos were dark and hard to see, gets bogged down with a lot of hos without knowing if something has to open or close, and not a lot of "reading" to find out more about the storyline. I really wanted to like this game, but it just had too much going against it and didn't pull me into the story. It's definitely a try before buy type of game.
June 17, 2013
DON'T BOTHER BUYING THIS ONE
I have played a lot of HO games. too many really. I have never said I "hated" a game but I will say I extremely disliked this one. It was tedious, very boring and if I didn't have a creed of always finishing my games, I would have stopped playing within the first 10 minutes. Way too many hidden object repeats WAY too many. The story line was a good one really, but this game was awful. The only saving grace is I used a "free game" code, so I wasn't totally disgusted. Happy Gaming, well on any one but this one.
June 19, 2013
Boring
This is one of those games that require one item from one room and then another from a far distant one and then back to the first. I would possibly rate it as a five trainer trot, but I can't be sure as I was too disinterested to continue the demo after half time. Didn't think there was much of a storyline and the visuals were that clear.
June 17, 2013