Sparkle 2
A long time ago, five enchanted keys were created to open a lock guarding something of immeasurable valuable. The keys were scattered across these lands forever locked between night and day. Many have tried to search for the keys, but they still remain undiscovered. Will you be the one to unravel the mystery, or will you become yet another soul consumed by the search? Challenge the darkness with your swift orb-matching skills, mighty magical enchantments and earthshaking power-ups. Match the orbs before they fall into the abyss and find your way through mysterious lands of startling beauty!
Explore three game modes
Discover over 90 unique levels
Supercharge with combos and 16 enchantments
Game System Requirements:
OS:

10.8/10.7/10.6

CPU:

1.0 GHz (INTEL ONLY)

RAM:

512 MB

Hard Drive:

59 MB
Game Manager System Requirements:
Browser:

Safari 4.0 or later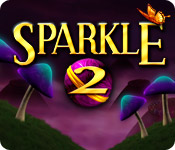 NEW299
The Big Fish Guarantee:
Quality tested and virus free.
No ads, no adware, no spyware.

Reviews at a Glance

Sparkle 2
0
out of
5 (
0
Reviews
Review
)
Customer Reviews
Wow. Just, WOW!!
I have played a LOT of marble popper games and this is the most beautiful, smooth, elegant one I've ever seen. I couldn't stop until I'd played it right through to the end. Even then you can play in different modes, so plenty to do. The music is a hoot. I'd be very surprised if it isn't by the same composer that did the soundtrack for Aqua Bubble. And do check out the credits. I don't know how they did it, but the names appear in 3D, as if I had on the special glasses, but didn't. Very cool! My hat's off to the developer on this one. I liked Sparkle 1, but this one is so much more refined. They didn't just slap on some new layouts, this is a lovely, lovely game. Even the narrator voice is perfect.
June 6, 2014
Love this so much more than Luxor!!
I played the demo, not expected to want to buy it--but I took advantage of the 60% off sale price today and bought it. I can see coming back to this one over and over. The music is fabulous!!! Unlike Luxor games, you don't have to worry about catching a bunch of flying treasures. I don't know why I like this one better, but I just do. I don't care that there's really no story line.
April 5, 2014
FUN RELAXING AND EXCITING
It's simple: a MUST BUY!! try it, enjoy it and have fun!!
June 19, 2013
Awesomeness!!!
You should play this right away but you will not like the sound when you lose.
January 10, 2015
BEWARE..addicting game!
I did not play the first sparkle but I really enjoyed playing this game. The only reason I didn't give this game 5 stars was the fact that it seems to be on the easy side but that is just based on the demo. You must click to launch a matching colored orb at the creature made of orbs of different colors a match of 3 or more will shorten his length and slow him down. There are a lot of power ups to earn that will destroy several orbs or cut him in half for instance. There are achievements to unleash such as a faster orb launcher or a longer slower game. You can right click to change the color of the orb as well, I think you will like this game too!
June 18, 2013
Fast and Furious!
Review based on demo. This is a definite buy, but I'm TRYING to hold out until Monday... May or may not make it, LOL! Like all marble poppers, it's highly addictive. It's colorful, compared to the first Sparkle, and the music is very reminiscent of it. There are extra different play modes to unlock; you start in story mode. I got to the first two extras in the demo, survival and challenge (which gets progressively harder until you fail). I think there are 2 more. I completed two levels out of 5 in the demo hour, but I'm a pretty good player. The levels get progressively harder, so I am not guessing it will be terribly short. In any case, with the extra modes, there is great replay value. Sparkle 2 seems to be somewhat easier than the first - I made it to level 22 or 23 I think, and didn't die. I know I didn't get that far in the first one, LOL. However, I wouldn't recommend Sparkle - either of them - for a first time player. They are the fastest marble poppers I've ever played. (Beginners would do well to try Luxor - Amun Rising, Bengal: Game of Gods, or Atlantis/Atlantis Sky Patrol.) This version gives you helpful powerups, and you accumulate a new set with each level. Most helpful for me are the speed shot and tranquility, which slows down the play somewhat, though you get more strings to defeat per level. If you get stuck on a level, that one may help a lot. I did find it difficult to navigate between powerup boards - each level's are on a separate board - and found out how to do it by accident. (Of course I skipped the tutorial, and it may have told how.) I wish I could give it 4.5 stars. It isn't the best MP I've played, but it's better than most. There isn't much of a story with this, but one really neat thing is that the "cut scenes" are narrated by an excellent voice actor. It's a nice touch. Now if I can just hold out until Monday...
June 18, 2013
Enjoyed Very Much!
I really enjoyed playing this one. It is just like playing Zuma, which I like that one as well. My 7 year old grandson enjoys this one as well. It's nice to be able to just play and relax. There is no timer, graphics are awesome. If you liked Zuma, you will like this one as well.
June 18, 2013
Nice sequel
Pros: ability to vary difficulty, pretty game interface, powerups, secrets Cons: alternate way of ball swapping, almost too easy, minor game design issues If you've played "snake" type MPs, you will be familiar with the gameplay in Sparkle 2. Many, if not all, of the people who designed the first Sparkle worked on this one as well, and there are a lot of similarities to the original. These include the three different play modes, simple but beautiful game graphics, and Easter eggs (secrets) to find throughout the game. A few of the game levels are back from the original, but renamed. The most noticeable changes are that the marbles are bigger and the difficulty level is more variable. It seems that every type of powerup that was ever in one of these types of games appears at some point in Sparkle 2, and players can choose up to 4 "enchantments" to equip their marble shooter with for additional help in popping marbles. These powerups and enchantments gradually unlock in the adventure mode and carry over to the challenge and survival modes. The enchantments can be changed/removed at any time. The adventure mode is now a fixed length of 92 levels (days) instead of the 85-89 in the original depending on what pathway was taken. There is a very marginal storyline with voiced-over scenes when a checkpoint is reached in the adventure mode. What appears at the very end made me chuckle. My actual rating is 4.5 stars, for a few minor things. The alternate way of swapping the balls is to click on the shooter itself (the usual MP strategy of right clicking also works). Because the marbles are so big there are times that they come close to the shooter, and if the player isn't paying attention to where the cursor is being aimed, it will appear that the shooter has suddenly stopped working and is just switching balls around. With all the powerups and enchantments, experienced MP players may find the game too easy--to date, I never finished all the difficulty levels in the first Sparkle, but got through adventure mode in Sparkle 2 in four hours using 4 enchantments. I also did not find the other modes all that difficult with a full set of enchantments, but have noticed that the gameplay gets really fast and furious without certain enchantments, so am curious on how it will replay without extra help. The soundtrack was OK, but got monotonous. Once adventure mode is completed, it cannot be replayed under the same player name. Lastly, I wonder why this developer hides the player profiles as much as they do...I have an entirely different game by this same group, and it has the same problem of the player having to hunt around to get to a player profile creation screen. But overall, this is a well designed game and should provide hours of enjoyment.
June 22, 2013
It was remarkably easy
I loved the original Sparkle. Some of the challenges took days to get through and were often frustrating, but the level of accomplishment felt upon defeating them was awesome. The new Sparkle 2 is similar in many ways to it's predecessor but is easy. I completed the whole game in one afternoon. In the original Sparkle, it would sometimes take upwards of ten tries to get through one called "Tails Bitten", it was a toughie. There is a new one in Sparkle 2 with a very similar layout. I got it first try. I like this game okay, but when I saw the name and set up, I really expected a lot more challenge. All in all, I prefer the original, but that is the masochistic streak in me speaking. Level of challenge is very much an individual choice and if you generally liked Sparkle but found it too hard, Sparkle 2 is your answer.
June 23, 2013
Not as good as the first one
It's a great game for a beginner but way, WAY easier that the first one. I played that for weeks before beating it - sometimes having to play a level many times (15-20) before getting past it. This game I'm past 70 levels, have all the keys and am on the last leg and have only lost 4 levels. I suppose it depends what enchantments you use. I certainly recommend it, but not for those who want a challenge.
June 22, 2013
The Apple logo is a trademark of Apple Computer, Inc.
The Windows logo is a trademark of Microsoft, Inc.