Witches' Legacy: Lair of the Witch Queen Collector's Edition
Exclusive
A few years have passed since you rescued Lynn from Elizabeth, the witch who murdered her family, and now Lynn has grown into a young woman with awakened magical powers. When she receives a letter from Germany about Elizabeth, Lynn opens a portal to chase after her. Her thirst for revenge has enraged her, and an evil force is using that to pull Lynn deep into the darkness. You must find your young ward and stop her before the Witch Queen's evil plan comes to pass in Witches' Legacy: Lair of the Witch Queen, a cunning Hidden-Object Puzzle Adventure game.

This is a special Collector's Edition release full of exclusive extras you won't find in the standard version. As a bonus, Collector's Edition purchases count toward three stamps on your Monthly Game Club Punch Card!

The Collector's Edition includes:
Integrated strategy guide
Earn achievements!
Bonus chapter featuring an extended epilogue!
Replay puzzles
Wallpapers, screensavers, and soundtrack
Game System Requirements:
OS:

10.8/10.7/10.6

CPU:

1.6 GHz (INTEL ONLY)

RAM:

1024 MB

Hard Drive:

1223 MB
Game Manager System Requirements:
Browser:

Safari 4.0 or later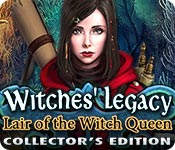 The Big Fish Guarantee:
Quality tested and virus free.
No ads, no adware, no spyware.

Reviews at a Glance

Witches' Legacy: Lair of the Witch Queen Collector's Edition
0
out of
5 (
0
Reviews
Review
)
Customer Reviews
Witches' Legacy: Lair of the Witch Queen Collector's Edition
59
59
Loved It!
Been away from BFG for a while, and this is the first game I chose to play. Man the graphics were splendid, and the storyline really had you going. However, it did feel a bit of a drag to keep having to go back to each place you visited. All in all a great game, the ending even gives them a chance for a fourth game in the series.... Can't wait.
July 6, 2013
The Wicked Witch is Back!
The story begins with a recap of the history of the Charleston family and the witch Elizabeth. This sequel is more or less a continuation of the first Witches Legacy but you really don?t need to play the first one in order to understand what is going on in this game. Your niece Lynn has very strong magical powers and Elizabeth is intent on making Lynn her only heir but to do that, she needs to get rid of you ? the last remaining Charleston descendant. Others have done a great job of listing the game?s technical aspects so I won?t go into those except to note that there are four modes of gameplay casual, normal, hard and custom. In custom mode you can set the game to play exactly as you like with respect to hint recharge time, sparkles and HOS click penalties. Your diary is on the lower left and shortly into the game you will receive an interactive map that will allow you to move quickly from one place to another. The graphics are excellent and crisp with a lot of color. The music and sound effects are good and add to the overall enjoyment of the game, although, there are times when my little Imp helper seems a bit too hyperactive and very vocal. Some of the things that happen with Imp are actually very humorous and had me laughing out loud. The HOS are list type with some minor interaction required to find some items. If you don?t want to hunt for objects, you can switch to a matching puzzle. Since I can switch to the matching puzzle, the HOS don?t seem quite as tedious as they were in the first game. There are more puzzles in Lair of the Witch Queen than in The Charleston Curse and that always keeps me happy, since the puzzles are what I look forward to the most in HOPA games. The puzzles are nothing new but they are fun and maybe a bit too easy for some. So for those who like a real challenge in their puzzles these might be too simplistic. Throughout the game you can you can find morphing or beyond objects and need to collect puzzle pieces. You can also earn achievements. The rest of the CE content is very much the standard screen savers, wallpapers and other stuff that I have no interest in ever using. This developer has brought us some great games in recent months and has really improved their quality and presentation over the past year. Kudos for another great game! Although the story is not new, it is very entertaining and well done and it is a buy for me. I recommend you at least try the demo.
June 27, 2013
I'm On The Fence
BASED ON DEMO But only because, well, oh woe is me, I DON?T LIKE the GRAPHICS! Not the QUALITY, the STYLE. So unnecessarily grainy! And yet the characters are drawn BEAUTIFULLY. And everything else about the game is JUST GREAT! Woe, oh woe! Right, now that?s off my chest... This game has all those little extras we want from CEs. ACHIEVEMENTS, COLLECTIBLES & MORPHING OBJECTS (yup both), a cute but not sickly sweet COMPANION, UNLOCKABLE extra PUZZLES, and a GAME TIMER. PLUS the standard GALLERY items, BONUS CHAPTER, SG. It also has of course, the ACTUAL game, and a STORY. This is a sequel to the Charleston Witches game, with little Lyn all grown up and seeking revenge. While we try to ?RESCUE? her, she is doing everything in her considerable MAGIC POWER to STOP US. A very nice twist on the overdone ?rescue family member? tale. The GAMEPLAY is BALANCED between 27 HO SCENES & 29 MINI-GAMES, with some HOS visited twice. They are INTERACTIVE LISTS, or you can choose to do a MEMORY PAIR MATCHING game instead. This is not one of your easy ones, so you will still work. The PUZZLES are so far EASY & FAMILIAR, with only one that was ORIGINAL in the demo (I didn?t get to finish in the hour). POINT & CLICK ADVENTURE was fairly INTUITIVE, but DIRECTIONAL HINT works outside HOS, and the INTERACTIVE JUMP MAP shows ACTIVE AREAS. Some things I particularly liked: The imp is funny, and you can interact, but not at all sugary sweet. After all, he?s an imp! The silence. For a lot of the hour, there was NO MUSIC, just appropriate BACKGROUND noises. If you SKIP (it?s QUICK) a PUZZLE, the game will play it out for you, so you can see what you needed to do. Best of all, the STORY is DIFFERENT. I guess I'll learn to live with the graphics, but will wait until the next CE sale to shift the balance into the game's favour.
June 27, 2013
Nice addition to the series!
Yep, I have the other two in this series and really liked them both. I was about 30 minutes into this one and decided to not even finish the demo...I bought it! Now for the review....I don't give 5 stars easily, but this one is worth at least 4.5...maybe 4.75. Very nice game play. Graphics a bit fuzzy, but not bad. It sort of fits the setting. Nice voice overs (always a plus in any game#, nice jump map #needed because you visit scenes multiple times). Games are not difficult but fun. I like the change up in the HOGs. You can either play the HOG or go to the memory game...very fun. You find puzzle pieces and morphing objects which keeps the game interesting. The Imp is back and silly as he is, he is fun. Music is nice. The game is pretty quiet as far as sound FX are concerned. Nice helpful SG. Even though the SG shows only 3 chapters, it looks like it is a fairly long game. Hint system is good and has a better than average recovery time. This is a game that I feel will appeal to all level of players. It is fun and relaxing. As always, try it for yourself and see what you think. We all have different tastes in games and you may not care for this one at all. Thanks for the reviews.
June 27, 2013
Help your young friend fight the witch.....
Played 50 minutes, casual - 4 modes, casual, hard, normal, custom. You can change mode while playing - Integrated SG which shows 3 chapters, you access achievements in there and locations of morphing objects - Voice overs - Note book - Shorthly after playing you get an Interactive map showing areas of interest - You get back sweet Imp, who will help you in case of need (climbing on things, etc), you have to name him Throughtout the game : - 45 jigsaw pieces to find - 42 morphing objects - 12 achievements to fulfill - Interactive H0, you can swap to play memory match game instead, you can swap back to H0 if you choose this option - Good mini games, some we have seen in the previous games, (i.e light a path with a certain number of colored circles) - Hint is useful outside H0 - Good graphics - Good music It seems that the evil with is back at work, you follow your young protegee through a portal and try to help her, Will you succeed ?????? This looks like a good game, lots of actions to perform, a buy for me.
June 27, 2013
Good game for a change...
Bought the CE and it was worth the extra money. Nice long bonus chapter. Good graphics, decent story. Very good music. The only reason I did not give 5 stars is the puzzles are on the easy side.
July 7, 2013
4 1/2 stars really!
A really good game. Beautiful graphics, interesting story. Puzzles were fine and liked the fact that you could play match 2 rather than a HO. The reason I marked down is that some of the puzzles and the HO scenes were repeated and the bonus game seemed to contain as many HOs as the main game, which I absolutely hate! Its like they are used as fillers! Please Devs don't spoil really good games by doing this!
July 2, 2013
Great, entertaining game with amazing artwork. Nothing new, though.
I only played a bit of the first "Witches' Legacy" game, and, unfortunately, I didn't liked it. It had beautiful graphics, but the uninteresting storyline and the live-action totally pushed me off. Maybe I'll try it again someday... However, this second installment in the series, "Lair of the Witch Queen" was a pleasant surprise. Not only the live-action is now gone, but the graphics and the artwork have improved amazingly, and the game has a lot for you to do and collect. The gameplay moves very swiftly, and although it's nothing new, it's pleasant. The storyline in this game, however, didn't interest me very much, either. I guess evil witches were never my cup of tea... Pros: - Unbelievably beautiful and crisp graphics. One of the best in casual gaming, no diggity. The characters artwork is one of the best I've ever seen, too. Lynn's hair flowing with the wind in the dialogue scenes is amazing to watch. The locations are beautiful, too, especially the main square of Rothenburg with those beautiful statues; - Marvelous animations. The snow falling in the city is just magnificent; - Nice, unobtrusive music and great sound effects, especially the thunder and rain in the Other World; - The voice-overs were nice overall, except Lynn's. - Your little helper, the Imp is so cute it hurts. His animations are very well made, too. A wonderful and fun addition; - Nice, relaxing gameplay. Typical, but nice, nonetheless; - Lots of extras! Lots of stuff to collect which is always fun; - The hidden objects scenes were beautiful and crisp, too, although some objects were a bit hard to spot; - The bonus chapter had the right lenght and showed some new locations. It was nice, overall, but once again you had to defeat the witch...; Cons: - Typical storyline. Insert tags here: "evil witch", "someone wants revenge", "someone's missing", "teen angst" and so on. Hey I forgot the universal one! "Good vs Evil". It doesn't get any more typical than this. Sometimes, it works well, even if it has been used a zillion times, but this time it didn't conviced or interested me; - Hey, blame me for being picky all you want but I just hate this game's cursor. I just do. I hate it. In a beautiful game like this they could have done a loooooot better. I mean it; And I think that's it. Play it and love it for what it is. A casual game. Beautiful and very entertaining with great extras and artwork, and a filler storyline. At the end of the day, it's nothing new. But great, nonetheless, have no doubt about it!
July 26, 2013
What a fun game
First of all, I love the little Imp, so cute...and he's very helpful. I really enjoyed this demo, fun, challenging for the brain, I liked it, except for the girl wanting to do everything herself and not enlist my help (petulant!). I think I'll buy this game, although I'm not sure if I'll wait for the SE so that I don't have to buy all the extras I never use. I'm frustrated that devs don't offer the SE plus bonus game without the useless extras for a price in the middle...I'd buy them in a flash.
July 4, 2013
Rescue a Family Member, Again!
I like this game. The first one was OK, if I remember correctly. In this one, the little girl from the first game is now a semi-unruly teenager, and it's your job to save her. Pros: + Four game modes, including a custom mode. + Graphics aren't all dark and gloomy. + H0 scenes are interactive. Some things require more than one step, too. They do feel a bit overcrowded, though. + H0 scenes can be played as a tile matching game, instead. + Lots of voiceovers. Documents you find in the game are read out loud by whoever wrote them. Some voice actors aren't great, but it's still nice. + Sounds are good and not annoying to me. + Achievements. (Although most are of the usual kind.) + Collectibles. There are two types of collectibles in this game. One is morphing objects, and the other is *small spoiler alert* puzzle pieces. There are tons of them to collect, apparently. They're everywhere and I really enjoyed how hard they are to find sometimes! + You eventually get a jump map. Neutral: There's a "helper creature." This is a pro or a con depending on whether you like them or not. He's cute in a weird way, and he's useful. Then again, it sort of feels like I'm babysitting a rambunctious toddler than can climb high and dig up things for me. Cons: - Graphics feel a little off somehow? The character artwork is good, but then the rest of it is not quite as good. They're nice enough, though. - Puzzles are a little on the easy side, but not too bad. All in all, it's a decent game. Though it's not the best game I've ever played, I appreciate the custom game mode and all of the random little touches throughout the game.
June 27, 2013
The Apple logo is a trademark of Apple Computer, Inc.
The Windows logo is a trademark of Microsoft, Inc.