Myths of the World: Chinese Healer Collector's Edition
Exclusive
A great myth has enduring power… no matter where the story comes from. In this first game in the exciting new Myths of the World series, your story begins as a Chinese healer who's brought to the Imperial City to save the Emperor's son. But you uncover a devious plot and end up having to save yourself! Throughout the game, you'll use your herbal kit to concoct powerful potions to summon spirits and heal the people you meet. There are also collectible cranes hidden everywhere, and achievements to earn as you play.

This is a special Collector's Edition release full of exclusive extras you won't find in the standard version. As a bonus, Collector's Edition purchases count toward three stamps on your Monthly Game Club Punch Card!

The Collector's Edition includes:
Play the bonus game to track down Master Lei once and for all
Use the integrated Strategy Guide
Play three bonus hidden-object puzzles
Replay hidden-object puzzles and mini-games from the game
Download images from the game
Game System Requirements:
OS:

Windows XP/Windows Vista/Windows 7/Windows 8

CPU:

1.4 GHz

RAM:

1024 MB

DirectX:

9.0

Hard Drive:

1465 MB
Game Manager System Requirements:
Browser:

Internet Explorer 7 or later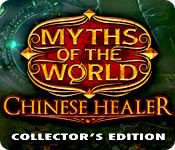 The Big Fish Guarantee:
Quality tested and virus free.
No ads, no adware, no spyware.

Reviews at a Glance

Myths of the World: Chinese Healer Collector's Edition
0
out of
5 (
0
Reviews
Review
)
Customer Reviews
Myths of the World: Chinese Healer Collector's Edition
100
100
Beautiful game but...
...way too many HOS!!! For me that's not a good thing, but for some that's a bonus so I didn't bring down my star rating. There are 2 types of HOS, list with some interaction and shadow clues. However, you could switch to mahjong, which I often did when I found myself groaning, "not another one..." The puzzles were also ridiculously simple (I played the medium difficulty), which was a downer for me, too, since I love these games for the puzzles. For me, this got to the point where I could hardly wait to finish the game. So, for me it was a bit disappointing. However, the length was decent, the bonus chapter is in a completely new area and takes the story further (though the main game ends satisfactorily enough to not make playing it a necessity). I don't think those waiting for the SE will feel cheated, though the bonus does bring the story to completion. Considering it lasted only about 35-45 minutes, though, you have to decide based on the demo if you like the game enough to buy the CE. The artwork is beautiful and it filled my widescreen with no distortion. The story is interesting, if a bit predictable. Game play was not difficult in advanced mode, don't know about hardcore mode. Aside from a dragon and a demon that weren't very frightening, I can't remember anything that was too mature in content, so I think this could be a good family game to play with kids over 5, though check out the demo first and judge if it's right for your family. The CE content was the before mentioned bonus game, wallpapers, re-playable HOS and mini games, music, very few examples of concept art and a very short "making of" movie. The credits were witty, and I enjoyed reading them (since I always read the credits, it's nice when you get a little surprise). There were also achievements and each scene had a hidden crane. A little crane in the toolbar is either filled or empty, depending if you found it in the scene or not. I liked that, however I still managed to miss one...obviously not one of my strengths. So, while this game was not among my favorites, it is a well made game, a beautiful game. It was nice to be somewhere else besides an asylum, abandoned town or haunted whatever. I think you have check out the demo and see for yourself.
July 4, 2013
What?s Next? Dragons?
BASED ON DEMO I?ve played the demo, I?ve read the other reviews, and I?m still not sure how I feel about this game. It is beautiful, that I know is true. I tried playing with the HD option, and it gave an UNFAMILIAR TEXTURE to the GRAPHICS I wasn?t so keen on, but with it off, the visuals were SPLENDID. The drawing of the CHARACTERS was DELIGHTFUL. The ?CHINESE? feel of the game was WELL DONE. Sights and sounds most of us do not often experience. The MUSIC too, was unlike anything else I?ve heard, but in this case I thought it was UNQUESTIONABLY WONDERFUL. The STORYTELLER?S VOICEOVER in particular was GREAT. I loved the way it reverberated. The other VOICES were good too, and I see no point in objecting to accents. They are UNNOTICEABLE if you don?t think about them. The GAMEPLAY seemed heavily weighted in favour of HO SCENES, which come in two types, INTERACTIVE LIST & SILHOUETTES. Each scene is visited twice, once for each type of play. You can also choose to play MAHJONG instead. Maybe it?s time for me to upgrade my status to expert, because once again I found the PUZZLES in this game to be QUITE EASY, with only one that really made me think. All were beautifully integrated into the game?s locale. Getting around is easy too, because there is an INTERACTIVE JUMP MAP, and HINT takes you directly to where you should be. You also have a JOURNAL, and list of OBJECTIVES. It?s all pretty easy to follow. The ?GIMMICK? of this game is the HEALER?S KIT, which is a mini-game where you must click at (almost) exactly... NOW(green bar)... to proceed. It?s an added bit of bling. There?s no telling where this STORY is going, the end of the demo leaves it very much in the air. But the screenshots from later in the game suggest a greater involvement with MAGIC and MAGICAL CREATURES than we saw in the demo. In fact, the scenes look almost to belong to a different game. And I guess that?s where my ambivalence comes from. So where are we going from here? Am sure I will need to find out.
June 30, 2013
Kitty's Thoughts: I've Been Framed.... WOOT!!! ADVENTURE!!
Alright! This review is based off nearly beating the game. Meaning... I almost got to the end, but I had to remove the game because of some issues. So, let this review begin with the bottom of the bar (the story) Alright! You start off as a medicine healer summoned from an old friend's brother to heal his son. However, things do go the way as planned, and you realized you are on the run on an epic adventure to cure the son and save china. Well, as simple as it may be, it's not the best story. However, it could of been better. One thing I disliked about the story is that the bad guy is soo obviously bad from looks down to his attitude. You can already pin point the bad one just when you first met him or by the girl talking about him if you missed that bit. However, The story is not that bad, but because of the obviousness, I have to give it a 4 out of 5 for that. Another is the level of challenge. I had to say, some puzzles were brain scratches, while others were just plain easy. Regardless, I like that not all the puzzles follow the same routine except the opening puzzles. There are hidden object scenes in this game and even a few interactive items, but it is still quite enjoyable because everytime you play it changes a bit. This gives replay value a bit up. Overall, I gave it a 4 of 5 because I was hoping a bit more, and I hope they do even better in the next game. The third is sound and visuals. Very Very nice. I even like it how some scenes would fuzz out. When you put your pointer over it, you can see the city. The detail is very nice, and I do have a feeling like I am in china in some way. They definitely did their research. However, the things that concerned me is the consistency. Sometimes, when you go through hidden object games you sometimes find items that are not related to china. It's a small tweak. but it really doesn't effect the gameplay or visuals all that much. So, final verdict is a 5 of 5. Lastly, it is the fun of the game. I had to say, I did have some fun with some of the missions I had to do like trying to find the eggs, working the medicine box in situations, completing circles. There was a variety of activities to accomplish in this game that kept it fresh in every section you explored. Overall, this game deserved a 5 of 5 for that. In the end, the game is very good. I had to say from the creators of Voyage of the tree of Life, this game is a step up from that. I can't wait to play another sequal of this game and what country adventure to explore next. I hope it is Greek or Egypt, maybe I can deal with native American folk tales. I mean that got some material to work with.
July 17, 2013
VERY NICE ADVENTURE/HOG
Extras in the CE include "the making of" which I always like, replay HOS and movies, a look at the concept art and the bonus game. There are 26 achievements and 3 modes of play: casual, challenging for the seasoned player and insane for the hard-core player. Interesting story with good production values. Gameplay is not linear and, although you know what you need to do, the path is not always straightforward. You have a journal which includes your list of objectives and a map. If you don't care for HOS (which are really nicely put together and everything is easily seen), you can play mah-jong. Graphics are exceptionally good. Although the voice overs are good, for the most part, the male voices are usually too deep. Fair amount of back and forth. Puzzles are not too difficult.
June 30, 2013
Review of a complete game
This was a good game, but I think some were too generous saying it is the best 2013 game. It was easy, too easy and too short. It took me about 3 hours for the main game and less than an hour for the extra, this is not what I am expecting of CE. Still it was pleasant to play, but nothing to call your mother...
July 5, 2013
Nice little story, great game :)
I always play my games in casual mode as I'm not into challenge, but entertainment. This was a good CE, nothing really spectacular, but a good quality, still toooooo short. No major glitches or issues, which is always nice. The characters were good and the graphics of good quality. I really enjoyed playing this game and it is worth CE price, but they are all starting to look the same to me. It didn't deliver the excitement that Rite Of Passage evoked so well, but was still every bit enjoyable and entertaining!
July 5, 2013
A beautiful game
Visually I found this game to be stunning. I loved the chinese scenes. Really enjoyed playing it but towards the end the number of HOs increased. This is real bug bear of mine and has happened in the last few CEs I have bought too. You cannot produce something so fab then decide to pack it out at the end with HO after HO....hence the 4 star rather than 5 star marking.
July 7, 2013
Different angle
A very different interpretation in this game genre. Although I am not familiar with this dev I welcome the attempt to give us a new kind of story and not just fairy tale, or detective, or some dark and spooky stuff. Finally, I have found the game that was not only beautifully presented but also challenging enough not to lose my interest right from the beginning. The only thing that I did not like was the huge size of the game ? I had to wait quite a long to start playing and there?s nothing more awful for me than to wait.
July 7, 2013
Beautful and Well Made
This game was just lovely to look at. The music was also beautiful and really added to the game with out overwhelming it. There are different levels of play for you to choose. The puzzles were fun and challenging without being frustrating. The story was unique and different. This is not a spooky or scary game, in my opinion. There are achievements to win and objects to collect. The addition of the "healer's kit" game seemed unnecessary, but provided a break from the sleuthing, and was not unpleasant. I enjoyed the game, and thought it was lovely. Oh... and don't skip the credits! They are a fun little treat at the end!
July 16, 2013
Rather easy but beautiful
PROS: Beautiful graphics, great animations, intriguing characters and plot. Nice little mini-game of creating potions using collected items. Overall a very enjoyable game. CONS: Not very challenging, and my pc fan ran high throughout. I bought this game because the artwork is exquisite - really beautifully done, conjuring up a fantasy version of old China. Hints are excellent, and I appreciate that 'active' areas close off once all the items have been found. I'll play this again sometime because I so enjoyed the beautiful graphics, but the gameplay was a bit too easy - even for me! I don't think I looked at the Strategy Guide once, and only used a few hints. Also my pc fan ran high throughout the game, which rather wrecked my enjoyment of the fine music and sound effects.
September 21, 2013