Myths of the World: Chinese Healer Collector's Edition
Exclusive
A great myth has enduring power… no matter where the story comes from. In this first game in the exciting new Myths of the World series, your story begins as a Chinese healer who's brought to the Imperial City to save the Emperor's son. But you uncover a devious plot and end up having to save yourself! Throughout the game, you'll use your herbal kit to concoct powerful potions to summon spirits and heal the people you meet. There are also collectible cranes hidden everywhere, and achievements to earn as you play.

This is a special Collector's Edition release full of exclusive extras you won't find in the standard version. As a bonus, Collector's Edition purchases count toward three stamps on your Monthly Game Club Punch Card!

The Collector's Edition includes:
Play the bonus game to track down Master Lei once and for all
Use the integrated Strategy Guide
Play three bonus hidden-object puzzles
Replay hidden-object puzzles and mini-games from the game
Download images from the game
Game System Requirements:
OS:

Windows XP/Windows Vista/Windows 7/Windows 8

CPU:

1.4 GHz

RAM:

1024 MB

DirectX:

9.0

Hard Drive:

1465 MB
Game Manager System Requirements:
Browser:

Internet Explorer 7 or later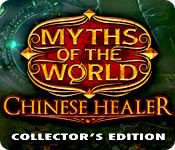 The Big Fish Guarantee:
Quality tested and virus free.
No ads, no adware, no spyware.

Reviews at a Glance

Myths of the World: Chinese Healer Collector's Edition
0
out of
5 (
0
Reviews
Review
)
Customer Reviews
Myths of the World: Chinese Healer Collector's Edition
100
100
A lot of fun but a bit short
In this game we play a healer who has to take care of the Emperor's son and then find the man responsible for his condition. The HOGs were the standard issue mixed with other types. That does make it a bit more fun. The mini games were decent but there weren't too many if you are a fan of those. There is a pain in the neck factor with the transforming some objects to 'Essence of' bottles for the game to go on. The ball moves faster each time which can just be annoying. The bonus game is short but fun and we get three extra HOGs as well. We don't get to find all of the objects which would be nice. I would advise the buyer to get the SE as I don't think the CE is worth it (unless there is a sale). I enjoyed the game and the graphics were pretty good. I just wish it were a bit longer.
September 11, 2013
Heal the boy, Save China!
This is based on full completion of the game. This is good game and really draws well on the spirit of China and the culture and spirit of Asia. As usual with these types of games there are several difficulty levels, which rather frustratingly (or not depending on your viewpoint), can be altered during the course of the game, therefore if you start of on the hardest (where there is no help/hints), but need one to help find a HO item, then you can just flick down and then back up again, thus not really much in the way of a challenge. Having said that though the HO objects were clear and there was not may smaller ones thus making these scenes relatively easy, there were some interaction to get a HO item (i.e need a match to light a candle), thus added a bit of variety to these scenes. Whilst it was billed as an HO game and it is, there were not too many HO's that this detracted away from the overall game-play, indeed those that they were intelligently placed and enhanced rather than hindered (which is sometimes the case for these types of games). The puzzles were good and variations on the usual puzzles in this genre (lights out, memory match, shuffle puzzle etc), but again whilst seasoned players will have played these types of puzzles countless times, they still had their place within the game, and again enhanced the overall game-play as they were placed intelligently in the story-line and not just randomly which is sometimes the case. The music fitted nicely within the theme of the game (China), and was suitably appropriate, both for the overall music and the 'sound bytes' that were played. The VO was good and mouth movement and VO were of a higher quality (IMHO) than some of other HO games. There was a loading screen that said 'best played with sound on' and I would thoroughly recommend it for this game, as I know some turn the sound down, but in this game it did enhance the overall experience of the game. The mouse movements were fluid and there was no jerkiness, it responded well even with the 'game cursor' rather than the standard system cursor. There was a map in the game that was useful and signed posted you for where your current position was and what your current object was (and where), but that was all, it was not as detailed as some other game maps that indicated whether there were tasks left to do in certain game scenes, again this did not bother me as it enabled more exploration. In each game chapter in any case there was usually only around 4 or 5 different scenes so there was not much moving around anyway. The 'extras' on the CO editon was to 'crane spot' and a Bonus Chapter. The game finished fairly satisfactory and the Bonus was just that just an added chapter that didn't really enhance or add anything extra, but was worth playing and added about 1 hour 30 to the overall gameplay. I would recommend the game overall and I am looking forward to further games in the series, whether I would buy the others as a CE is doubtful unless like this one I got on a special promotion deal.
August 26, 2013
liked it!
i really liked this game.it was fun, easy to follow. and just what i was looking for to relax for a little bit. really liked the colors and the music. and i like games like this so you can play at your own pace. if your looking for a game that has soft music, great colors, and a nice story line this is it. happy gaming.
July 17, 2013
Simple and relaxing...
This must be a new dev..or at least, I have never seen this one before. This is not a spectacular game, but..... The lead into the game is quite long, a lot of cut scenes and talking, but you can click through it (I can read faster than they can talk). The voice overs are nice and appropriate for the scene and setting. Graphics aren't bad, but a bit old school and fuzzy in some places. Game play is nice, music is soothing and not the usual high pitch sounds you get with a lot of Chinese music. The story line is a little different, but the same (I know, that doesn't make sense to anyone but me#. HOGs are quite simple and they do change from straight HOG to silhouette and to Majong #I think that's what it is). Games are quite simple. Did not care for the healing kit - too simple, too boring. Needed more of a challenge. SG nice, hint system helpful and fills about average length. Please devs, when you can get rid of a "custom cursor," then get rid of it completely, don't just make it smaller! You can lock the inventory bar (I like that). There are 41 cranes to find and they are not difficult to see. There is a jump map, which is very helpful since you do return to the same location numerous times. This is not a challenging game, but it was nice and relaxing for me. A nice change of pace. With a little more work from the devs, this could turn out to be another "Big City Adventure" type game and go all over the world in time and places. I'm not sure this game is CE worthy, but I liked it and will put it in my puddle for now and see what kind of hot special we have for next weekend. I do not have an uncontrollable need to run out and buy the game to see where it is going, but I will buy it at some point in time. As always, try it for yourself and see what you think. We all have different tastes in games and you may not care for this one at all. Thanks for the reviews.
June 29, 2013
Good Game
I like this game, it has three modes to play; I played causal. The graphics are very beautiful, including the mini games, and the animations are nicely done. A lot of color; if I had a complaint about this game it would be that all the scenes were night time. I like at least half of a game to have day time when colors are brighter and scenery is more beautiful. However, even though this game has all dark scenes it was not hard to see. The cut scenes took a few seconds to load in, so you got a black screen during the length of that. The HOS were not hard to find, and some were interactive. The mini games were ok, some were fun and new, some were hard. I skipped a couple. I liked that you had to put special items you collected in a bag, kind of a doctor/health bag where you mixed items to make a potion...kind of like a mini lab. The music, I had it on for a short time, then I turned it down, so I can't say much about that except that it matched the theme of the game nicely. The hint is very helpful and it has an interactive map that shows where there is action to do. Having a map with a game is a big deal for me. The story line is good, not the usual type we see in so many HOS games. All in all this is a good game. I didn't give it five stars because I would have liked it better if there were some day time scenes. I get tired of games that are always in the dark, and there are so many of them now. In spite of that, I still bought this game, and enjoyed it very much. I think you'll like it.
July 19, 2013
Not a very interesting or gripping game for me to play, unfortunately
Very dissappointed with this one. Bad graphics in some locations, horrible cutscenes and a typical storyline. I will give this game a 3.5 stars rating. Here's why: Cons: - Although the premise of an oriental setting always has me excited since the asian culture always intrigued me, this game didn't represented it in a convicing way, in my opinion. - The whole game didn't felt natural. The sights, the characters and the decorations were only there to fill the landscape. - The storyline was your typical "save-the-world-or-die-tryin'" premise. Been there done that. I became so tired and so detached from the story that I didn't even played the bonus chapter. - The artwork in some locations was breathtaking, but in others it wasn't, it almost looked like 3D graphics, which I'm not very fond of. - The cutscenes were one of the worst things about "Chinese Healer". They were choppy, blurry and, overall, very bad looking. This could haven't been such a problem if there weren't so many of them. Pros: - The healer's kit, some locations artwork and the music were probably the only redeeming qualities this game had for me. Overall, I'm sorry to say that I didn't particulary liked this game, and it's a shame since I had very high hopes for it and a lot of people seemed to have loved it. I didn't though, but you probably will, who knows. Try before you buy!
July 19, 2013
Chinese Healer CE
You are Daiyu called upon to save the Emperor's son from an illness. This game has great graphics; 3 modes of play; lots of hidden objects and puzzles. There is also a "healers" kit to prepare your potions. Good story line.
July 23, 2013
Pretty good game
I like the characters and story in this game. Good paced game with plenty to do. The extras are always fun. Like the chemical kit.
July 13, 2013
Fun overall game
I really liked the music in this game, which I usually mute, the graphics in the scenes were great, and the voice overs matched the characters. I also liked searching for the pelican flamingo in every different scene! Fun!
July 9, 2013
Not too bad, not too good
After playing the demo all I can say is that there are not much particular PROS and also not so much CONS to this game. The game looks quite nice, not something extremely artistic, though the whole setting of ancient China looks quite exotic and nice itself. Characters look really bad, though their animation while talking was quite good. The story didn't drive me, it was quite straightforward with no real threats of any kind during the demo. Game difficulty was also very low, with no real challenges. All these things mentioned above were not that bad either, and the game could certainly get 4 stars for me if there wasn't one thing - too many HOS. From the first moment when I entered the first scene and there were sparkles signalizing HOS I said to myself "oh, I hope it won't be the case throughout whole game", but it was. Extremely boring, and that's why the game gets 3 stars from me. Beside that. everything is average, as I said in the title - just not too bad and not too good.
July 6, 2013