Toy Defense 2
Feel the spirit of World War II in the new action strategy game, Toy Defense 2! Take part in various missions in a range of theatres of war from picturesque Normandy beaches and forests to the North African deserts. Epic battles are waiting for you! Recruit troops, upgrade and manage units to create your own powerful army! Defend your base, fight off the invading enemies and develop your own winning strategy!
Classic tower defense gameplay
72 levels of action packed play across 3 worlds
Two play modes: casual and hard
Game System Requirements:
OS:

Windows XP/Windows Vista/Windows 7/Windows 8

CPU:

1.0 GHz

RAM:

1024 MB

DirectX:

9.0

Hard Drive:

105 MB
Game Manager System Requirements:
Browser:

Internet Explorer 7 or later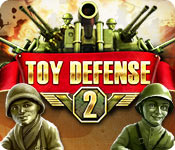 NEW299
The Big Fish Guarantee:
Quality tested and virus free.
No ads, no adware, no spyware.

Reviews at a Glance

Toy Defense 2
0
out of
5 (
0
Reviews
Review
)
Customer Reviews
One of the best out there
This game can be easily summed up in one word. Awesome. You get: - 2 skill levels (casual and advanced) - 3 battle stages with approximately 20 levels on each stage - 4 combat 'weapons' with numerous upgrades accessible by using accumulated points - long hours of game play and great replayability This is a strategic, time based, tower defense game. I could not stop playing the first Toy Defense, so now I know what I'm going to be doing for the next 6 months! This must be in your game collection.
June 20, 2013
Much better this time
I liked the first version, but never bought it do to a few problems, so stuck with the free version. It only took a few minutes to see that those problems were fixed, and a few more minutes before I bought this game. It's always nice when developers pay attention. While the overall gameplay is the same, the challenges are new. And the units have been changed a bit aswell which helps make this a "new" game instead of just more of the same.
June 20, 2013
Nice Game
Much better this time. More slots for heroes.
June 21, 2013
Best Game Ever
This is the best war game ever, I can't wait for Toy Defense 3 to be made. It's the Bomb!
December 1, 2013
Less of the Same
I really enjoyed Toy Defense 1 and looked forward to the next one.... I was sadly disappointed. If it's not broken don't fix it! Seeing the changes made in 2, I'd rather the game had remained exactly the same with new levels. Wait, let me correct that. The only thing I didn't like about 1 were those annoying dying soldier noises. Unfortunately they still live. As with the first game I played without sound. One of my favorite turrets, the flame thrower, was removed replaced by a seemingly useless aircraft interceptor. I tried it once and never used it again. Since the majority of the enemy comes through on the ground, why have 2 anti-air turrets??? The hedge hog upgrade for the infantry turret was clever though. It can be very effective but takes time to learn how/where to use. I eventually put them close to enemy entry points without crossroads as they are wasted if the hedge hog is deployed onto a road with no vehicles coming. Some of the turret upgrades were kinda cool, but also too powerful it seemed. Once several turrets were upgraded to the highest levels, the challenge for that level was over. Put game speed on max and wait til the next level. ZZZZZZ The game offers a lot of levels and upgrades like the first, which is a plus. But overall it fell far short of the fun factor and challenge offered by the first. If you haven't played Toy Defense 1 then play 2 first. And disappointment will be turned into jubilation, haha.
August 3, 2013
Not as good as the first...
I'm actually disappointed with this game. I liked the original Toy Defense much better, it is addicting. I wish they had added the 3rd desert level in the PC version and some of the other upgrades they had planned. The 2nd installment just isn't as fun as the first one. It seems too cold and lifeless. You don't get to see the same gear turning handle like in the original game. You don't get to see the shot from the enemy AI going toward your fighters and then heal them. When you are playing TD2, your always trying to play catch-up and then your fighters are injured. The whole game feels rather disjointed and not as seemless as the first one. Also, I don't like the "Plane" you can add in to your defense. It seems rather useless and random in it's attacks. I would gladly trade this game in for an upgraded version of the original TD. I had much more enjoyment. If I hadn't played the first game and then this one, It would be an acceptable tower defense game. But TD2 just doesn't live up to the original.
August 11, 2013
Another Tower Defense with Little Instruction
I love tower defense games, but this one only got 3 stars from me because it left a lot to the imagination. First off, there's really no toy theme to this game apart from the poor graphics at the beginning to show toys under threat. Somehow, I doubt a kid's bedroom is called Stalingrad and is covered in snow and bridges and bases. It's just a typical army themed tower defense game. There is very little to almost no instruction and it appears to have a lot of components. Being tower defense savy, I was able to figure it all out (to the person who said they couldn't purchase upgrades - that's because it's already highlighting the first upgrade you must purchase. The first tab has at least 2 upgrades to purchase before you can choose from the options to the right of the tab). Still, I wasn't too impressed. I kept wanting to zoom in to see the pieces better and learning the hard way what upgrades are good and what are really ineffective was just annoying. All in all, I'd rate it as an average game that I neither recommend nor not recommend.
June 20, 2013
ok, no more no less
A common defense game. Nothing that would highlight it for many others. It is fun when playing, no more no less.
June 20, 2013
nothing for me
Too stressful. Too much clutter. Too exciting. No or inadequate instructions. Sorry that is not for me.
June 20, 2013
wasnt for me
i love defense games but this was not the best i read the reviews and said who needs instructions if youve played one you know them all well thats true but this one i get without the instructions but others would not and that needs to be changed for them people i didnt care a lot for the game because it was a little blank for me no music people to small and ...... well it was just not for me but i think people should give this one a try its not the worst game just not what i want in a game
June 20, 2013