Dark Parables: The Final Cinderella
Exclusive
For decades, a mysterious witch, known as the evil Godmother, has been hunting maidens in search of the legendary "Cinderella." Play as the fabled detective, rescue the Final Cinderella from the evil Godmother's clutches, and stop her evil plans to conquer the world!
Game System Requirements:
OS:

10.8/10.7/10.6/10.5

CPU:

1.0 GHz (INTEL ONLY)

RAM:

512 MB

Hard Drive:

712 MB
Game Manager System Requirements:
Browser:

Safari 4.0 or later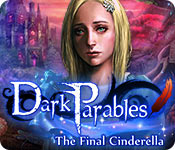 NEW299
The Big Fish Guarantee:
Quality tested and virus free.
No ads, no adware, no spyware.

Reviews at a Glance

Dark Parables: The Final Cinderella
0
out of
5 (
0
Reviews
Review
)
Customer Reviews
Dark Parables: The Final Cinderella
60
60
A "must have" for Fairy-Tale-Lovers!!! :)
This review is based on the complete game: As Dark Parables addicted, it was obvious that I had to purchase the Collector?s Edition of this game!! Played the trial of the Standard-Edition to find any differences? This time the story contains a mixture of elements from the cinderella fairy-tale and from Pinocchio. Beautiful and very enchanting graphics, as expected from Blue Tea Games!! Charakters are very well animated. Facts: 3 modes to choose from, direction giving hint, 10 chapters. There are still 20 morphing-objects to find in this SE, which is not that easy, as most of them are not already active, when you are entering a scene. With every morphing-object, the hint refills faster. There is a map, showing you active areas, but is not able to transport. But what I really love most here are these fragment object scenes: You don't look for certain objects, - you are looking for fragments of an object, which - when set together - you need for the process of the game. These scenes are so beautifully designed! And in my opinion, this time there are a lot more of these scenes, than in the previous Dark Parables!! Minigames/ puzzles are also well made, but on the (very) easy side and there are not so many! Had wished there were a few more and a bit more challenging? The maingame took me nearly 4 hours in the 2nd mode and ends conclusively. (As usual, there is a really short appetizer of what is coming next: and it seems to be a mix of ?Hansel & Gretel? and ?Jack and the Giants?). The bonus-chapter playable in the Collector?s Edition (another hour) is a prequel of the maingame and is more ?Cinderella-themed? than the maingame!!! We don?t have the following CE Extras as those Parable-Notes to collect, with background information of the different characters, Strategy-Guide, wallpapers, screensavers, music etc. This Standard-Edition is still high recommendable!!! :)
June 21, 2013
WILL THE REAL CINDERELLA PLEASE STAND UP!
Wow I LOVE the fact the you still get very well done morphing objects (some items don't morph until you re-enter the area a couple of times, so be on the lookout# even though this is only a SE. You also still get to collect parables #stories or fair tale info) and you also get to collect clothing ensembles for cinderellas around the globe which will get you special items after all 4 pieces of the wardrobe are collected. The only thing you don't get with this version is the use of the strategy guide which you won't really need because the map shows areas of interest and the hint system is good and recharges faster with each morph found, and there is no bonus game. I purchased this game in the CE because I didn't think morphs would be in the SE so this game is certainly worth purchasing! The evil fairy godmother is searching desperately for the last Cinderella, the one with a pure heart, leaving beautiful women entombed in stone along the way. You are once again a detective sent to find and protect the real Cinderella before the evil godmother finds her. This isn't really a challenging game but it is a very entertaining and fun game to play and the storyline will keep you playing to find out more! The HOS are actually FROS where you need to find objects that are fragmented or broken and when you find all the parts they will connect to become a complete object, there are no list finds in this game. Mini games are fun and easy to complete such as switching tiles to complete a picture, then another puzzle opens up beside that picture and you need to flip those tiles to complete that picture. The graphics are fairy tale beautiful, music and voiceovers very well done, making this another Dark Parable winner that you will want to add to your collection. Enjoy
June 21, 2013
Buy the SE!
I got the CE and enjoyed the game very much. I played the bonus chapter and was very let down. I wish I got the SE and saved my money. I played the basic game twice after finishing the boring (IMO) and short bonus section, that's how much I love this game. The colors, story, game play and hours of fun! The places you get to escape to are awesome. It is just BEAUTIFUL! There are a lot of IHOG's, so play the demo to see if this is your kind of game.
June 21, 2013
that old evil godmother is back
Well this one is pretty much like all the others. The graphics are great. Not much for voice over but do not really need it. Music is good. 3 modes to play Hint button works good. Has a map but not really that much help. The HOS are to find items to put a peace together to use. That that hard. No clicking penalty for clicking too much. Puzzles are ok but did not find all that many. There is some flow to the game. You need to go from one area to another to find things and there are lots you need to find to keep going. Pretty good game. Just that they are all getting about the same.
June 21, 2013
Save The Last Dance For Me...
BASED ON ONE HOUR DEMO The fifth Dark Parable in the series, this one follows the formula of the others, a delightfully told REWORK of classic FAIRY TALES into a new and more grownup-friendly story. In this, we find CINDERELLA being stalked by the WICKED QUEEN, but lo! There is more than one Cinderella, and the queen has got her hands on all but the LAST ONE. Near the end of the demo, you will also meet a charming young man from a totally different fairy tale. This is a FRAGMENTED HIDDEN OBJECT game, where you compose BEAUTIFUL OBJETS D?ART out of their FOUND PIECES. The GRAPHICS are AMAZING, and the CREATIVITY that?s gone into designing these objects is incredible. Usually, the pieces are EASY to see, because the scenes are so CLEARLY drawn, WELL LIT and drenched in colour. The PUZZLES did not strike me as overly difficult, and play second fiddle in any case to the HO SCENES. There is not much in the way of ADVENTURE GAMEPLAY. There is a INTERACTIVE MAP, but no jump function. NO JOURNAL. HINT is DIRECTIONAL. Even in this STANDARD EDITION, there are COLLECTIBLES. ? 45 Parable pieces, which give you interesting twisted fairy tales set on beautiful cards that constitute the BACKSTORY. ? Royal Clothing ? 4 pieces each for the previous Cinderellas . What purpose these will serve is unknown. One thing I really liked, the CAMEO MOMENTS of past Dark Parables characters. This and the teaser at the end are part of the TRADITION of Dark Parables and I always look forward to them. The DEMO covers the first two of ten chapters, and the game looks to be a DECENT LENGTH, but not so long as to get wearisome. EXPERTS, I didn?t really see a lot of challenge in this for you.
June 21, 2013
Excellent SE! You Can't Improve on Perfection!
Love this game! For those who have been waiting for the 5th instalment of the Dark Parable Series, you will not be disappointed. I bought the CE sight unseen and thoroughly enjoyed it. Just tried the demo of the SE and have to give it five stars as well. Unlike many SEs, you do not lose your collectibles in this version. There are morphing objects to find, four sets of clothing to collect for the four former cinderellas, and all of the items needed to unlock the parables are also included. Yes, its' a FROG, which some players dislike. I love them, and Blue Tea does them to perfection. The stunning graphics and intricately drawn artwork make the game, and especially the fragmented object scenes, an absolute delight. I won't go into the details of the gameplay as they have been covered by other reviewers. I do want to say that this is the only series I have encountered where the term "same-old-same-old" is actually a compliment! If you watch the credits at the end of the game, a sequel is confirmed with the words "as your journey continues . . . ." IMHO, you can't improve upon perfection so please, Blue Tea, don't even try!
June 21, 2013
Just Brilliant
My review will be short this time: the devs gave us one more good reason to spend our cents. And this is the marvelous part of Cinderella. I enjoyed the fact they preserved the collectibles in SE (morphing objects). And I always appreciate FROGs. My highest recommendations!
July 4, 2013
AWESOME GAME!
BASED ON THE FULL GAME (WORTH THE MONEY!) That game was awesome! The game changed the stories we know (cinderella and pinocio) and matched them togather to a really intanse and cool storyline! The most cool thing on this game is that when u think u finished there's ANOTHER TWIST! TOTALLY RECOMMEND!
June 23, 2013
Demo only
I love the Dark Parable series, probably due to the fairytale aspect of the story line that always grabs me and carries me through as I lose track of time. As with the other in the series, you are required to find pieces of objects to create whole objects that need to in the game. The mini map is not interactive, so there is a lot of running around. SE is as good as the CE because did not need strategy guide as it was pretty easy to follow. You need to locate figurines to open the parable stories and there are morphing objects to find to increase the time on your hint button. The art was beautiful and colorful and the music/ambience followed along with the story to the point it did not detract or annoy. Hints worked outside the hos and did not need to recharge when you are using for directional. Tasks are listed above the inventory bar. I really enjoyed the game, but the fairytale aspect may not suit some. Try before buying.
June 21, 2013
A Must Get
Absolutely love Dark Parable series and this too is a must have.
June 22, 2013
The Apple logo is a trademark of Apple Computer, Inc.
The Windows logo is a trademark of Microsoft, Inc.