The Invisible Man
Griffin's quest for invisibility has left him labeled as a "crazy scientist," and he must leave his sweetheart behind as he flees to escape his persecutors. Unravel the mystery of Griffin's strange experiment in this suspenseful hidden object game! You will solve puzzles and meet a cast of devious characters in your quest to find the truth. Will you be able to find your beloved Griffin before he disappears forever?
Find your sweetheart!
Unique storyline!
Exciting puzzles!
Game System Requirements:
OS:

10.8/10.7/10.6

CPU:

1.0 GHz (INTEL ONLY)

RAM:

512 MB

Hard Drive:

638 MB
Game Manager System Requirements:
Browser:

Safari 4.0 or later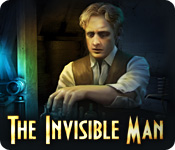 NEW299
The Big Fish Guarantee:
Quality tested and virus free.
No ads, no adware, no spyware.

Reviews at a Glance

The Invisible Man
0
out of
5 (
0
Reviews
Review
)
Customer Reviews
Classic HOS
A recurring bad dream: Grffin in the lab writes a letter ... The "mad scientist" disappears turning real the nightmare of his girlfriend. The graphics are not bad, the problem is, to give a sinister atmosphere, the game is really dark. Good sound, good music, good VO. Few objects are found along the way. Most needed items are in HOS, including collectible: 28 ghosts - who suddenly "flying" by the scene. The HOS are interactive, not difficult, but there is an excess of them, and few mini games - not challenging, It has a journal. Game is not challenging. Worth the free trial. Good for HOS enthusiasts!
February 11, 2013
Interesting story, but invisible HOS items....
Story reminded me at Kevin Bacon's Hollow Man (which I liked:)), eerie atmosphere, but everything's very dark and there's no option to change the brightness... Well, what kind of game do we have here? This one is for those who love HOS!! There are really lots of them... And they are slightly interactive. But: They are all very cluttered and dark. Items were hard to find. A slight help is given, when you move your curser over the item name, you'll see a silhouette of the item. Some minigames are also to solve. Collectables? Yes, 28 phantoms are hidden in some HOS. A detailed journal, tasklist and objectives list, but no map. 2 modes to choose from. No, this time no buy for me: The whole game is too dark and I don't want to spoil my eyes.....
February 11, 2013
Unusual game -- worth a try if not a buy
The Invisible Man is a scientist who created a potion to make people invisible but couldn't wait to sample it before creating the potion to reverse the process. He was interrupted by evil landlords before he could create the potion to change back. For some reason they preferred having their building destroyed to suffering a tenant who was a few months late with his rent. You play as the Invisible Man's girlfriend, who is trying to find out what happened to her guy and find a way to help him. The turn of the century environment was interesting (1899 going by a calendar in the game, though it might have been meant to be an old calendar). I thought the music was a big plus -- setting the mood and ambient enough not to have recognizable tunes when it repeated. The ending wasn't terribly rewarding. The developers seemed to go out of their way to make a cop arrive at the absolute worst time for the sake of putting a "twist" at the end. Also it was never explained whether the Invisible Man was responsible for any of the mischief he was blamed for. Though the game took me 4hr 22min to finish, an hour of this was because of my refusal to skip a 3x3 rotation puzzle (I'm not very good at them). And a lot of time was taken up by waiting for the Hint to recharge. Even though the Hint doesn't take all that long to recharge in "Easy," it doesn't work that well. It will (usually) point you in the right direction to go if there's nothing to do in the current screen, but half the time that exhausts the Hint (unlike other games I've played where using the Hint is "free" when it's pointing you toward another screen). And then there are those times when the Hint points you back and forth between screens, exhausting itself each time, without ever indicating what you were supposed to find in either screen. So besides being stingy with clues, the "Hint" is sometimes a liar and points you in the wrong direction. Unlike many of the newer HOPA's (hidden object puzzle adventures), there are a LOT of hidden object scenes in this game. Some of the hidden objects were dark and blurry and essentially "invisible" -- especially in the last part of the game. If I can't see something even after using the Hint, it's not a hidden object so much as an "invisible" object. If it weren't for the problems with the Hint and the occasionally invisible "hidden" objects, I'd have given it 4 stars for having an unusual plot and an interesting game environment.
March 5, 2013
ALMOST INVISIBLE EVERYTHING
Just finished the demo and not really sure about this game...flying ghosts?..everything is pretty much dark and hard to see..my eyes are bad enough as it is..not much of a challenge really..more like for beginners really..I'm still on the fence for this one...can't say yes or no to recommending it..I really like HOS but some games take it a little to far..I do like a break in between
February 11, 2013
Dark & Brooding, HOG Heavy
BASED ON DEMO FIRST IMPRESSIONS I like it. I know it was panned by the critics, but I like it. Yes, it is dark, and yes, it is mostly HOPs, but if you are into creepy and like HOPs that are challenging, there is a lot to say for this one. SIGHTS & SOUNDS The graphics are good, clean and well drawn, nothing fancy, but competent. The primary colours are brown, grey, green. Dingy brown, grey and green. The images are also very dark, often dirty and occasionally a bit gross. It?s all part of the atmosphere. There are no real cut scenes, just transitions. The sound track is quiet in parts, nerve-abrading in others. The storm outside the village of Iping is tremendous, and thank goodness there are inside locations! Or we?d be overwhelmed. No voice acting, no real interaction with the other citizens we observe from time to time. WHAT?S HAPPENING? Your sweetheart is a ?mad scientist? convinced he can create the formula to make things invisible. He is off in some hotel doing his experiments when you get worried about him (I forget why) and go to see him. He seems to have run away from an avalanche of bad feelings among the people at the Inn. You follow him to the village of Iping, where things are even worse! Seems everywhere he goes, people hate him. Yet he?s done nothing wrong. You set about trying to fix things for him. GAMEPLAY As said, lots of HOPs. They are interactive word lists, with the interactive items indicated on the list, but no cursor change in the scene increases the difficulty. Also, the game ?cheats?. My word for the tendency to hide objects almost completely behind others. Also, there are dark corners where items are hard to see. You have to like a challenge in your HOPs if you are going to enjoy this game. There is also a click penalty! There are few puzzles, and they are easy, with a quick skip button. The adventure play is logical and somewhat linear, although not as much as many other HOP dominant games. There is a directional hint which, when it shows you the final location where you need to be, discharges itself, and so you must wait. But this only happens on the last direction needed to put you in the right place. There is a journal and a task list (separate from the objectives). The inventory system is rudimentary, with inventory on one side, and the objectives ? the items you need ? on the other, and you can toggle between them. COMBINED IMPACT This game appealed to me first, because the atmosphere was indeed creepy and brooding. And secondly, because the gameplay was simple enough to move easily through the actions needed, but challenging in the HOPs. This game is really designed for a sophisticated HOP addict. HOPA fans will find it a bit too easy, with the emphasis on the wrong kind of challenges. But we?re not all HOPA freaks. This one is for the HOP players with a taste for the dark and eerie.
February 22, 2014
Not a bad game.
I've read one review where they said it was better for kids. I don't think they played past the attic level if that's the case. This isn't a game that will hold your hand at those levels. You expect to find what you need in a pile and go on from there. In this game, you had to find the pile and in the case of one item, you had to find it without there being a pile at all--figure it out for yourself. I finished it, I didn't find it too dark or the items too small. Strange game. Interesting but weird.
March 3, 2013
not best...not worst
I agree with the others. The HOS were a bit too dark. Some of the items didn't look like I expected. The snake skin looked more like a half rolled bandage. This game is just ok. I hope you like to do HOS, this game is loaded with them.
February 11, 2013
Not Quite Good Enough!
I was confused by the story but apparently you have been haunted by reoccuring nightmares of your boyfriend writing you a letter and sending it as the hotel he is staying at catches on fire. The story then begins with you recieving that letter you dreamed about and you set off to investigate the hotel that has been burned down. Nothing was really explained so that is the conclusion I came to. The game itself has a lot of different features. During the HO's (there are a lot) a random phantom pops up for you to click on, it's not hidden you don't have to search and it pops up at the beginning every time so there is nothing exciting or challenging about that. The HO's do however show you an image of the list item if you scroll over the list items name. When you click on an item of interest, an item name appears by your inventory list that you will need to complete that task such as a rag, or a key, or pliers. The graphics are good but very dark especially during the HO scenes which makes it difficult to find the items. Because of the fact that the game tells you what you need on every item I was bored, nothing to have to think about just use the item it tell you to use! A no go for me.
February 11, 2013
Not bad, but needs better translation and hints
Played full game in casual. I liked the story overall, though it was a bit on the short side. Good graphics, very nice art. The HOS had an extra "phantom" to catch which gave you window in which to see an outline image of the objects, making it easier to find them. Very nice. Of course, if you click around too much, the screen goes fuzzy as a penalty. That I don't like. The puzzles were a mixed bag. Several were just variations on standards, but a couple were unusual, which I like. Some of the translations are, shall we say, nonstandard. To me, a shoulder blade is a bone. To the developers, it's a knife. The hint system outside of the HOS was a bit annoying. If you ask for a hint and there's nothing to do in that location, it might tell you to go "down" and the hint doesn't get used up. However, if it tells you to go forward, it uses up a hint. Not my idea of consistent. In several places the hints drove me nuts, because it told me to go down, then, when I did so and asked for a second hint, it told me to go right back where I had been. Not helpful. All in all, not bad. I used a free coupon. I'd recommend it either on sale or if you have a coupon about to expire.
February 12, 2013
the invisible man
Too Dark. Why doesn't Big Fish require games to be brighter, especially hidden object games.
February 11, 2013
The Apple logo is a trademark of Apple Computer, Inc.
The Windows logo is a trademark of Microsoft, Inc.