Moai: Build Your Dream
Discover the wonders of an uncharted island and help the natives restore their ravaged land to its former glory in Moai: Build Your Dream! Overcome the fury of an active volcano, hordes of attacking ghosts and the threat of dwindling resources as you guide the hero and a native princess on their quest. Coax the resources you need to survive and rebuild villages out of the earth. Calculate the quickest way to accomplish your tasks in order to unlock dozens of brag-worthy achievements. And learn to use powerful Moai statues to defend your workers as they perform the tasks you assign. There will never be a dull moment as you enjoy the colorful graphics, life-life character animations, and dazzling comic book style story interludes in Moai: Build Your Dream!
Comic book style cutscenes
Over 50 achievements
Step-by-step tutorial
Game System Requirements:
OS:

Windows XP/Windows Vista/Windows 7/Windows 8

CPU:

1.6 GHz

RAM:

512 MB

DirectX:

9.0

Hard Drive:

128 MB
Game Manager System Requirements:
Browser:

Internet Explorer 7 or later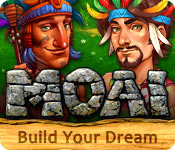 NEW299
The Big Fish Guarantee:
Quality tested and virus free.
No ads, no adware, no spyware.

Reviews at a Glance

Moai: Build Your Dream
0
out of
5 (
0
Reviews
Review
)
Customer Reviews
Moai: Build Your Dream
59
59
Well-crafted TM game
This game is along the lines of My Kingdom for the Princess. The story is cute and full of humor. The controls were easy and allowed for queuing tasks for your workers. The graphics were nice and the music was not annoying. The level of challenge was good - I played on the timed mode and had to replay some levels multiple times to figure out the correct sequence to get 3 coins.
July 3, 2013
one of my new favourites
Love the game, enjoyed the sense of humour of the creators of the game, (the names of the people). Just an all over great game.
July 2, 2013
good timed game
I think this game gives a whole lot of playing time if you are interested in getting gold in each level . You really have to think which I find very interesting and a great concept of the game. I think I will get a whole lot of hours trying to do this....enjoy all!
July 1, 2013
Moai
Absolutely LOVED this game! The graphics, music, strategy everything outstanding!! If you like TM games then this one is for you. Theres NO waiting to assign next task for workers you just check everything you want done an away they go. I haven't gotten that far into the game to see the storyline but you can get an idea from the beginning of it. Very excited about this one I hope that there will be a Moai II in the works. Great job with this game BF!!
June 30, 2013
Unique Challenges
I play most every time management that comes out. I finally managed to get gold on every level, but I had to replay many of them several times. It was wonderful and a very long game compared to most. If you click too many things in the future your resources stop producing so you really have to plan your strategy on a lot of the levels. Loved it as well as the tongue in cheek story line. :-) Very recommended!
June 27, 2013
Very challenging in some levels
Deceptively simple at first, this game gets harder the deeper you go in. Trying to get the 3 coins is really difficult, but not impossible. Gathering resources can be tricky, and vary from level to level. Fortunately there are helpful powerups that will boost the output, giving you more supplies for a time. My only major complaint is having to remember to pass he mouse over the resource instead if it automatically going into the total material. Especially as they won't make more until the previous batch is collected. For one or two this isn't a problem, but if you're dealing with a lot of material generating spots, it can be hard to remember the one in the lower left while you're collecting from the middle right. If you're into this kind of game, I think you'd enjoy it. I think slightly older kids would too, but younger kids might get frustrated at the more difficult levels; or not if they don't care about getting a perfect score.
June 27, 2013
childrens game that is well put together
For a children's game this is well put together. The graphics are really crisp and good. Has voice over and pretty good directions. Music is nice to listen too. The storyline is explained on the voice over which you do not see much of in today's games. You have a map to see where you have completed the levels you need to complete. You are timed and get points at each level. If you do not your score you can replay the level. After completing a level you go to the next one to rebuild you village and get food or money or what you need to do for that level. Well put together game. Would have given it 5 stars but some of the directions are a little confusing.
June 24, 2013
Great Little Game That Gets More Difficult
Like most TM games, it is about gathering and using resources wisely but one of the resources, wood, is a scare commodity right from the start. In some of the early levels you must build a resource producer but then demolish it later because you need the wood from it to accomplish a goal, so you need a good strategy of when to build it and how much resources you need it to produce before destroying it to use the wood elsewhere. The later levels that have a market you can exchange food and stone for wood makes getting wood easier but in most cases that market needs to be built or repaired. I ended up muting the music because it got on my last nerve but to be honest I do that with 99.9% of every game I play. This game is more difficult then you would think at first glance. You really need to play the full demo to see the level of difficulty increase. At first I thought it too easy and not challenging enough but I'm glad I gave it the full 60 minute demo that changed my mind. I found in my first round of play and 11 levels I only got gold in 8 of them, so a good strategy is needed and it is harder than you might think. While I wouldn't say it will be one of my favorites, it most certainly is challenging enough to make it a buy.
June 24, 2013
Awesome game...except for those ghosts.
This is an awesome time management game! The graphics are great, the story line is interesting. Getting gold is challenging, but not impossible. The only negative thing I have and the reason why I gave the game 4 stars instead of five is the ghost clicking. I have had carpal tunnel in the past and clicking too many times can aggravate it. It would be nice to be able to touch the ghost "once" instead of clicking on it constantly or maybe have statues zap the ghosts once and vaporize them. Maybe there could be a game option ("few ghost mode" for those of us that have problems with carpal tunnel or other injuries that can get aggravated because of the amount of clicking). Other than that, I'm having a blast with the game.
June 26, 2013
Very Good Potential
I don't usually don't comment, but I decided to try. At first it took me a minute to catch on, But that's not necessarily the game( I can be challenged on many subjects :) It's seems to be fun and a challenge. It's a TM that's seems to be my forte. It's is on the same track as RE, Kingdom Chronicles,etc, etc. The story is to rebuild, rescue a princess even. Graphics good, the music I didn't pay much tension to for trying to figures out what I needed to do to get 3 stars. Only on the trial right now but it looks like I'll buy it, I'm finished with one game and almost another so I'm on the prowl of something interesting and new. Don't want to waste a credit. TM gamers like me just might like this one, and even if your not who knows you might surprise yourself.
June 24, 2013