Moai: Build Your Dream
Discover the wonders of an uncharted island and help the natives restore their ravaged land to its former glory in Moai: Build Your Dream! Overcome the fury of an active volcano, hordes of attacking ghosts and the threat of dwindling resources as you guide the hero and a native princess on their quest. Coax the resources you need to survive and rebuild villages out of the earth. Calculate the quickest way to accomplish your tasks in order to unlock dozens of brag-worthy achievements. And learn to use powerful Moai statues to defend your workers as they perform the tasks you assign. There will never be a dull moment as you enjoy the colorful graphics, life-life character animations, and dazzling comic book style story interludes in Moai: Build Your Dream!
Comic book style cutscenes
Over 50 achievements
Step-by-step tutorial
Game System Requirements:
OS:

Windows XP/Windows Vista/Windows 7/Windows 8

CPU:

1.6 GHz

RAM:

512 MB

DirectX:

9.0

Hard Drive:

128 MB
Game Manager System Requirements:
Browser:

Internet Explorer 7 or later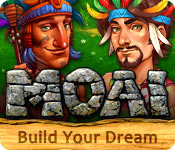 NEW299
The Big Fish Guarantee:
Quality tested and virus free.
No ads, no adware, no spyware.

Reviews at a Glance

Moai: Build Your Dream
0
out of
5 (
0
Reviews
Review
)
Customer Reviews
Moai: Build Your Dream
58
58
Fun and addicting game!
This game is really fun. It is a bit different from the others, but it is nice to look at and provides a great level of challenge, without being impossible. The only thing that got on my nerves about this game is the crazy need for rapid clicking in later levels when facing the ghosts. But overall, it was still very enjoyable and a nice long game.
June 26, 2013
Really fun- quite challenging
I really like this game- it's challenging but not so hard you can't do it. I also like that unlike some other games, I don't always get gold on the first try so I have to figure out the level & replay it- making the game longer for me (but not impossible) Excellent job. Regarding the ghosts- they are pests, but not impossible. I really like the strategy behind this game.
July 3, 2013
Nice Challenge!
This game is such a good challenge. Most of the levels I had to try 2-3 times before I could get a perfect score. I really hope there will be a sequel to this game because I will purchase is it as fast as I purchased this one (10 minutes into the trial). The only thing I hope that gets changed is the amount of levels with ghosts, I'd like to see more variety of evil to fight off :)
July 3, 2013
Good pace!
Made it through 11 levels in my 60 minute trial. This was fun! Love that you can click to skip through the dialogue. Nice pace.
June 27, 2013
Great Game!!!
You can actually check ahead to complete task prior to actually doing the task. Fun characters.
June 26, 2013
Try it and see
This is a building and resource collecting game with features similar to Roads of Rome, The Timebuilders (Pyramid Rising), Island Tribe, Jack of All Tribes, My Kingdom for the Princess etc. If you haven't played a lot of those games, this game could be worth a look. If you have, then this one probably won't be on your must-have list as it's nothing new. I found the music intrusive and annoying, and when the workers are negotiating with the enemy tribesmen, the latter make noises like a gorilla which has just eaten something which has disagreed with it. The game relied too much on frantic clicking for my taste. There was also too much story in between levels, none of it particularly rivetting; man washed up on an island helps out the villagers, warring tribes, captured princess and so on. I found it challenging to beat the timer on each level and I'm giving it three stars for the challenge and the reasonably crisp graphics. It's not for me, but others may like it.
June 24, 2013
Please: Relaxed!
I really like to play these kind of games, but only if it can be played relaxed. I hate to race against the clock
June 25, 2013
Visually appealing but boring
I love TM games but this one does little for me. I participated in the Beta trial and was glad to see they changed some things I really hated, but overall this is just about collecting resources and it couldn't hold my interest.
July 4, 2013
Suggestions for a Sequel
Having read through all the reviews, I found that I agree with most of them, good or not-so-good. First and foremost, this is NOT a children's game as one reviewer called it. There is no way a child (or even many adults) can strategically build, procure resources, and banish ghosts, all while trying to attain gold on each level. Graphics are pretty good; some of the sounds are a bit annoying..... one consistent sound, and I'm not sure which one is doing it, sounds like someone constantly yelling "help". I thought it was only when we need to rescue a trapped worker, but it is on levels that have no one trapped. Many times, a road blockage is very difficult to see, very much like the trading guys coming up next. It is frequently difficult to determine where to go or whom to see next. The guys you need to exchange with blend in with everyone else, and sometimes they are even hidden by upgraded lots. These dudes need to stand out more - LOL. The addition of the ghosts, and in the ridiculous quantities, completely takes away from game play. Every now and then would be fine, but if I wanted a shooter game, I'd download one. I, too, have carpal tunnel and the frantic clicking to banish 200 ghosts in a level is just too much. I believe all of these types of games should offer a relaxed, as in completely UNTIMED, option. I enjoy this genre, but I like to be able to have a few moments to strategize. I will still recommend the game, and hope the developer monitors feedback!
July 12, 2013
Tribal warfare is not for me!
Not to sure about this one as although this is a TM game which is a genre I love, the subject matter of this particular game is one that I have a problem with, in that I have always been whilst not scared exactly by tribes and sharman, but a very healthy dislike for them. This is unfortunate as I am always in the market for another game of this genre. Overall though the graphics were not brilliant if you had a new(ish) computer as the resolution didn't seem as sharp as it could be on modern computers, and there was no option to change the resolution. Music was average, but there was a voiceover which made for a nice change for a SE TM game. I think more could have been done with the charecters in that there could have been more comedic value in the 'script' but as it was it just a standard 'boy meets girl' storybook affair with a bit of 'sharmen magic' thrown in. It was a typical 'road-clearing' game and as the story genre was not for me then from a personal point of view I can't really recommend the game, however if you don't mind the subject matter then you will find a good game, just be aware if you have a modern computer that the resolution will seem a bit sluggish.
June 24, 2013