Moai: Build Your Dream
Discover the wonders of an uncharted island and help the natives restore their ravaged land to its former glory in Moai: Build Your Dream! Overcome the fury of an active volcano, hordes of attacking ghosts and the threat of dwindling resources as you guide the hero and a native princess on their quest. Coax the resources you need to survive and rebuild villages out of the earth. Calculate the quickest way to accomplish your tasks in order to unlock dozens of brag-worthy achievements. And learn to use powerful Moai statues to defend your workers as they perform the tasks you assign. There will never be a dull moment as you enjoy the colorful graphics, life-life character animations, and dazzling comic book style story interludes in Moai: Build Your Dream!
Comic book style cutscenes
Over 50 achievements
Step-by-step tutorial
Game System Requirements:
OS:

Windows XP/Windows Vista/Windows 7/Windows 8

CPU:

1.6 GHz

RAM:

512 MB

DirectX:

9.0

Hard Drive:

128 MB
Game Manager System Requirements:
Browser:

Internet Explorer 7 or later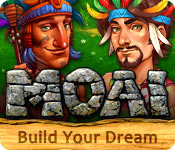 NEW299
The Big Fish Guarantee:
Quality tested and virus free.
No ads, no adware, no spyware.

Reviews at a Glance

Moai: Build Your Dream
0
out of
5 (
0
Reviews
Review
)
Customer Reviews
Moai: Build Your Dream
59
59
Fantastic TM Game!! 5 Stars
Love it when I log on and there is a new TM game instead of another HOG. Love it even more when it is an awesome new TM game! We start out in this story trying to fly around the world in an air balloon. Things go badly for our hero, and his air balloon crashes into the ocean, only to be found by a small tribe of Islanders who have been awaiting your arrival. The Islanders need help fixing their Island, in return, they will help get you home at the end of your travels. This is a building TM game. You plant, fields, build cottages, etc. It is well thought out, has an engaging storyline, nice Islandy music, awesome graphics, and just a whole lot of fun! I had my card out to buy it as soon as the trial was over! Loved this game!
June 24, 2013
Moai-wowwie
Brilliant TM game, i love getting up to see TM games rather than the usual HOG almost every day, this TM game has beautiful graphics, great story line, challenging levels without them being impossible to do, in all a massive thumbs up to this developer, love this game. in this game you have to build fields to provide food and stone, build markets to sell food and stone for wood so you can build, you are not limited to only one man as your only worker, you can upgrade your hut to make space for more workers. a very cute game, a must try for any TM lover
June 25, 2013
MOAI: BUILD YOUR DREAM
I just love these strategy/building games. I believe I own them all and every time a new one comes out I cant wait to play it. It is challenging, but it allows you time to complete the levels even though the timer has run out. Bring them on, this one is a winner.
June 24, 2013
Fun TM Game!
Yaaay! A new TM instead of HOGs all the time! Decided to buy it before my free play was over. I would agree that it is a cartoon based game but disagree that it is for kids. Story line is good with narration for the plot and minimal reading between levels. I almost always mute the music. Collect food by fishing and building farms. Cut down trees, upgrade huts for more workers, build markets to purchase supplies, fight off ghosts who try to destroy your farms as you work toward the goals. If I had to compare it to another game it would be "Royal Envoy" and I bought and enjoyed all of that series. I play TM games timed and did not notice if this game has an un-timed option. At the end of each level a bit more of statue is carved. There are achievements to strive for and 3 gold coins to collect for each level completed within the minimum time limit. So far I am enjoying myself and have had to repeat a couple of levels to finish with all 3 coins. Finding the game fun and entertaining. Worth playing and in my opinion; worth buying!
June 24, 2013
Great New TM Game
When I saw this TM come up, there were only three reviews so I purchased the game based on those and I am not at all sorry. The game has great graphics, a pleasant voice over, sounds that are not overly intrusive, and nice background music. The storyline is not new, but the developers took a lot of time and effort with it. Some may not like the continued story updates between levels, but I have enjoyed following the story. Each level has different tasks, so it doesn't seem repetitive. I have had to play many of them twice to get three stars, so it isn't an easy game, but it isn't impossible either (good thing as I usually find myself consulting the forums for some TM games!). I have been working on the game for almost 5 hours now and am on level 18, so this game will take a while (days :)! to complete. I would definitely recommend it if you like TM games. I don't think you'll be disappointed.
June 24, 2013
Moai Build your Dream
I played it loved it bought it! This game is fun I just wish the story line would continue without you have to press enter I thought it would continue on it's own. I played only few level and decided I want it so I got it. Great story line graphics and game play a must have it now game! Big Fish Fan from the Beginning Caroline
June 24, 2013
same but different
Very similar to some other TM games but yet still different, kind of picking the best of other TM games and putting it together and making it a unique game I haven't finished it, I'm still playing, and I'm been playing for hours ( by now I would finish most of TM games) as there are so many levels. Great fun. I played demo and ended up buying it, so pleased that I did it. Graphics are great, characters are funny, story is a bit too long and can't be bother reading so I skipped most of it. Maybe I read it next time when I play
June 25, 2013
Give me Moai!
I really like this game! Superficially speaking, the visuals and graphics are really well done. The hand-drawn backgrounds have lots of detail to them, the scenery is awesome, and the sound effects don't grate on your nerves after ten levels back-to-back. While it doesn't seem very deep at first, the story has become surprisingly intricate. I find myself looking forward to each new plot progression and related mission because I want to know what's going to happen next. Game-play, I think, is most similar to Jack-of-all-Tribes, but it's a little tougher. I like the fact that some levels have a more open-ended goal of "build something on all spaces" alongside other more specific ones. It doesn't tie me to a single strategy - multiple ways can win. The game is also satisfactory in length - I'm not even half-way done. I do believe there are about 50 levels, and they're of good length and have enough difficulty that you don't breeze through the game in a couple of hours. There are two details I wish were different, but neither is a big enough deal for me to give fewer than five stars. First, I wish that the dotted line showing your path on the map stayed there (it could be really faint brown - it doesn't have to stay bright red). It helps me remember the story better if I can review the map chronologically, which is hard to do without a path. Second, part of the plot is that the villagers are destroying their island because they cut down all the trees... But as of yet, I haven't seen any way to grow trees, and frequently, there are levels where the few trees on the screen must be chopped in order to advance. I don't feel like I'm saving anyone when I'm not solving one of their problems! But it's OK. Maybe trees happen later in the game (I'm about one quarter of the way through). I am having fun. I hope you have fun, too. :)
June 26, 2013
I Don't Like Time Mgt Games - But I LOVED Moai
I'll start by saying that I don't normally like time management games. However, these "build a land" type of games are fast becoming a favorite. "Moai: Build Your Dream" was so enjoyable it just served to make me like these types of games even more. I liked the challenge of each level. There were several where I couldn't reach 3 stars and it took me forever to "win". But I enjoyed the chase of those 3 stars. There were approx 65 levels which was perfect. The only thing I didn't like about this game was the main character. You play The Hero, come to save the island of Moai. Every time I looked at the Hero he looked smug and arrogant. There wasn't anything sympathetic or incredibly motivating about him. I'd rather a bumbling type of Hero.
July 17, 2013
Worth the $$
Excellent TM game I never get tired of. - Mouseover to collect resources, rather than having a unit to pick it up - Pleasant music which is different for each village you advance to - Voiceover storyline - Very nice graphics - Allows you to assign tasks ahead of time - A lot of levels to go through - love that - Timer doesn't start until you assign a task. Allows you to plan your strategy - 50+ achievements - Ranking system that awards you titles per the points scored upon completion of a level - Satisfying challenge to get gold level, yet allows you to complete the level even if you don't obtain gold I highly recommend!
June 27, 2013