Druid Kingdom
From the creators of the groundbreaking My Kingdom for the Princess series comes Druid Kingdom, a new hit game you're sure to love! Continue honing your skills and discover a fantastic new plot in this unique genre that combines time-management, simulator, strategy and resource management in four astonishing and colorful fairytale settings! Embark on a magical journey accompanied by new characters: Jack, the young king of the Seven Hills, and his beautiful companion Etain. Your quest for the Staff of the High Druid will lead you on an incredible adventure through the mysterious lands of the Druids, the sands of Babylon, the alchemists' country, and the rocks of Alamut. You will fight against evil desert genies, rebuild the Hanging Gardens of Babylon, save the alchemists' country from destructive dragons! Accumulate resources and manage them, keep improving your workers' skills, and set new time records as you learn Etain's secret!
Combination of time-management, simulator and strategy
Whimsical and engaging plot line
Superb graphics and sound
Game System Requirements:
OS:

Windows XP/Windows Vista/Windows 7/Windows 8

CPU:

1.0 GHz

RAM:

512 MB

DirectX:

9.0

Hard Drive:

181 MB
Game Manager System Requirements:
Browser:

Internet Explorer 7 or later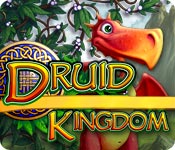 NEW299
The Big Fish Guarantee:
Quality tested and virus free.
No ads, no adware, no spyware.

Reviews at a Glance

Druid Kingdom
0
out of
5 (
0
Reviews
Review
)
Customer Reviews
Mix Feelings
This is the first time I had mix feelings about a game.. On one hand, I do like the story line and the the challenge along with the fantastic graphics BUT on the other hand since there is no relax mode I'm having problems beating the clock (also the clock goes fast). The 60 min demo, I was still on level 1. My computer is not great and there are times I just want to relax. I enjoy both ways, I want a good challenge but other times I just want to sit back and relax and enjoy the story line. Then to top of everything else, If you don't beat the clock, you have to start over and that can be annoying especially when you are an elderly person or if you have a cheap computer. I even was debating on the overall rating. In all fairness to the developers, they really did an excellent job (again the but) but they forgot about the audiences. There are some who just want to relax. People play games for relaxation not to get stress out. Others, love the challenge and getting gold. And there are people who just don't have good computers. So the next question is this: Do I recommend this game? Well, if you love the challenge ( and I mean this game is really a challenge) then the answer is yes. But, if you don't and just want a game to relax then the answer is no. Skip this game. Would I buy this game? At this point of time no, If the game was on sale then maybe. The only advise I could give you is to try the 60 mins demo. If you think is great, then buy it if not skip it.
June 26, 2013
Very Tedious
Very similar to MKFTP. I'm at a loss why these developers who also developed MKFTP would make this game so similar. Cannot click ahead. Very slow going. The challenge level is too high. I love a challenge, however, this game was tedious just trying to finish. I personally didn't care for it. I also didn't care for a developer basically remaking a game and giving it a new title.
June 25, 2013
Epic Fail
After figuring out that I had to actually purchase the ability to click ahead for tasks, the game was pretty decent. But then you get to the last chapter and it says "To Be Contined" ... What the heck is that?!?!?!?
October 26, 2013
Game was OK but nothing Spectacular ...
Cute characters and charming Graphics. Frustrating at times and definitely NOT as good as "My Kingdom for the Princess" - which is the BEST TM Game ever in my opinion! The Game should have a RELAX NO TIMER Option - Hello? When will Game Developers get that message? Got it with my Free Game Credit but I certainly wouldn't pay for it!
June 27, 2013
Meh
I tried the demo to form my own opinion, and have to agree with most reviewers. There are two modes of game play. Easy and Difficult. Easy is just as you think. Easy to complete the level in gold time AND obtain the bonus items without using any power boosts. You can also queue ahead of time in easy mode. Difficult Mode on the other hand is an understatement. It's extremely hard to obtain gold from the earliest levels on and I don't understand why it was made so. I consider myself an expert at normal or difficult timed modes, but this was beyond that. I don't mind having to rethink my strategy and replay a level but having to replay say level 4 over and over again was irritating, even with the use of power boosts. In the end I just uninstalled and moved on.
July 15, 2013
why
its ok good for kids but not really challenging
June 25, 2013
COULD HAVE BEEN
I LOVE TM games. I'm an addict. This one could have been wonderful, if only a few things had been covered. It was frustrating that I couldn't plan ahead. And annoying that there didn't seem any way to improve upon my gold collection. But the big problem for me is that it was TOO SHORT. Come on, developers! We are paying you for these games and to get 4 or 5 different areas when others (MKFTP) have 30-50 levels is very annoying. I would love to play the second part of this game, but please pay attention to what the fans are saying.
October 1, 2013
ok
Game was fun. Easy to play and story line was simple to follow
September 2, 2013
I really WANTED to like this game but...
I was very excited to se a TM game instead of another HO game and I was especially happy to see it might be similar to MKFP. Don't bother. You can't plan ahead and the developers have "gold" achievements timed to the nano second. Even when there is just one solution and pathway and you are clicking asap, the highest achievement is almost impossible to get. Not much fun. Big disappointment. What irks me, is that the players who rate these games make the same comments over and over. We want to be able to plan and click ahead, we want characters that can move quickly in the early levels and we want a challenge but not a near impossibility. Developers please listen, because we will buy.
June 26, 2013
Can't get gold on level 4????
I like a challenge. I play almost all TM games I can and usually don't have problems getting gold until the last third or so of any game. But this one I have trouble getting gold on the early levels. One of the problem is that you can't click in advance. You have to wait for your worker to get back home to give him another order. Just frustrating. With Royal Envoy 3 coming out Friday, I will not be buying this game.
June 25, 2013
The Apple logo is a trademark of Apple Computer, Inc.