Druid Kingdom
From the creators of the groundbreaking My Kingdom for the Princess series comes Druid Kingdom, a new hit game you're sure to love! Continue honing your skills and discover a fantastic new plot in this unique genre that combines time-management, simulator, strategy and resource management in four astonishing and colorful fairytale settings! Embark on a magical journey accompanied by new characters: Jack, the young king of the Seven Hills, and his beautiful companion Etain. Your quest for the Staff of the High Druid will lead you on an incredible adventure through the mysterious lands of the Druids, the sands of Babylon, the alchemists' country, and the rocks of Alamut. You will fight against evil desert genies, rebuild the Hanging Gardens of Babylon, save the alchemists' country from destructive dragons! Accumulate resources and manage them, keep improving your workers' skills, and set new time records as you learn Etain's secret!
Combination of time-management, simulator and strategy
Whimsical and engaging plot line
Superb graphics and sound
Game System Requirements:
OS:

10.8/10.7/10.6

CPU:

1.0 GHz (INTEL ONLY)

RAM:

512 MB

Hard Drive:

181 MB
Game Manager System Requirements:
Browser:

Safari 4.0 or later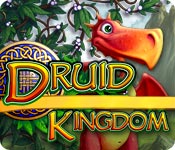 NEW299
The Big Fish Guarantee:
Quality tested and virus free.
No ads, no adware, no spyware.

Reviews at a Glance

Druid Kingdom
0
out of
5 (
0
Reviews
Review
)
Customer Reviews
Potential to be so much better
This is a fun game, but I only play in the easy mode, where tasks can be chained. The hard mode is so challenging it isn't fun for me. I was disappointed to see the game stops after level 4; if you enjoy the story, be forewarned you don't get to know what happens. (If I had known this, I wouldn't have bought it.) I enjoy replaying it and trying different strategies, but you can't dismiss the story line, so characters will pop up in the middle of your game, while it is running. If you are playing that particular area, you won't be able to see it until the story telling times out. They should have put in the ability to skip the story line, which could be easily done. I wish they had just finished the game plot, put in a mid-level playing mode, and allowed skipping the story line. Then the game would have been well worth twice what they are charging now.
December 1, 2014
Needs some changes
While I thought this was a cute game, I really don't like time management games that you cannot que up tasks. In this game, you must wait for the character to return to the house before you can que up the next task.
June 13, 2014
ok
Game was fun. Easy to play and story line was simple to follow
September 2, 2013
I really WANTED to like this game but...
I was very excited to se a TM game instead of another HO game and I was especially happy to see it might be similar to MKFP. Don't bother. You can't plan ahead and the developers have "gold" achievements timed to the nano second. Even when there is just one solution and pathway and you are clicking asap, the highest achievement is almost impossible to get. Not much fun. Big disappointment. What irks me, is that the players who rate these games make the same comments over and over. We want to be able to plan and click ahead, we want characters that can move quickly in the early levels and we want a challenge but not a near impossibility. Developers please listen, because we will buy.
June 26, 2013
Can't get gold on level 4????
I like a challenge. I play almost all TM games I can and usually don't have problems getting gold until the last third or so of any game. But this one I have trouble getting gold on the early levels. One of the problem is that you can't click in advance. You have to wait for your worker to get back home to give him another order. Just frustrating. With Royal Envoy 3 coming out Friday, I will not be buying this game.
June 25, 2013
it fell flat
I don't usually write reviews, but really this game had so much potential. I was greatly disappointed that it didn't meet that potential. The sound was great, the story line intriguing, however the game play not so hot. The power ups for the most part aren't available unless you are replaying the level to get the gold, which for me was a great disappointment. For each level, there is a bonus quest to fulfill, however no instruction on how to fulfill them and some of them definitely needed instructions. I won't go into too much detail, because I find everyone else should form their own opinion. Will I purchase the game? No. Do I recommend it? I can't say that I do as the game is.
June 25, 2013
Unfulfilled potential
Druid Kingdom had a potential to be a great game but it went astray. 1. Someone thought it would be an excellent idea to make the gold time the same as the developers' time. There is zero leeway for gold and only one way to beat the level. 2. You can't get gold without the power ups. Not a big thing but power ups cost coins. 3. You have to use your coins to unlock the next chapter. Shouldn't everything be unlocked to me with the exception of bonus levels? If you didn't realize you had to pay to unlock the next chapter and you spent all your coins in the store then have fun replaying levels. 4. Dialog is drawn out and blocks out part of the screen. My timer started but two folks at the top were having the SLOWEST conversation ever. Ex.I need to find my sawmill and upgrade but I can't see the sawmill because it is behind the speech bubbles. 5. Tasks are not on the screen. If you forget what the tasks are you have to click on the exclamation point which pauses the game. I <3 MKTFP but this is a no way.
June 25, 2013
Not at all what I expected.
This game does not encourage the user to want to play. The game play is stilted and not intuitive. Most time management games allow move stacking but this one does and does not introduce all the bonuses and extra features until after you have already seen them. On level 2, I was able to add a bonus worker because I happened to see the icon not because the game told me that was a feature available. I like the Kingdom for a Princess games and expected a similar experience. Sad to say I was disappointed.
June 26, 2013
Druid Kingdom
Before trying this game I did take note of the negative reviews, but thought I would see for myself. I have to agree with them. I also love this genre of game and like a challenge, but the timing on the levels is quite tight and you cannot queue the tasks. What a shame the developers have not moved with the times with this aspect of the game. The tasks you have complete are not visible, you have to click an icon to check. I also don't like having to replay levels to progress. I got to my first replay then hit the exit button. Not for me I'm afraid.
June 26, 2013
why make what could be a fun game so tedious?
i just dont understand,,, if your going to make abilities, that cost soooo much,,,,why not make beating a level in gold,,,be worth much more then they are,,,,,or when the game is finished the 1st time,, rain a few 100 or 1000,, for replay,,, or not charge to use in level powerups,,,so getting gold is doable..... i finished the game...hoping that later levels would give more crystals....but instead i am simply replaying the level in chap 4 that i got gold for a paltry 12 gems per time,,,have been doing this for days,,, and still the only xtra ability i have to lv2 is chaining.... having to just go in and replay over...and over...and over....(cause i guareentee without the extra abilitys gold is not possible) .is not fun...its boring (another mistake is not letting you go on after timer,,,for many its a auto no buy) ould of been a fun game....but i give up....st not worth it imo well.....off to play Moia,,,,build your dream,,,,,by a dev who knows how to give builder lovers what the want
June 25, 2013
The Apple logo is a trademark of Apple Computer, Inc.
The Windows logo is a trademark of Microsoft, Inc.