Detective Agency 3: Ghost Painting
A terrible chain of mysterious events and cold blooded murders is revealed during the investigation of an old haunted mansion. Investigate the reason behind the disappearance of a painter and solve a cold case that has left a frightening trail to the present in Detective Agency 3: Ghost Painting!
Brilliant in-game videos
Brain teasing mini-games
Game System Requirements:
OS:

10.8/10.7

CPU:

3.0 GHz (INTEL ONLY)

RAM:

1024 MB

Hard Drive:

405 MB
Game Manager System Requirements:
Browser:

Safari 4.0 or later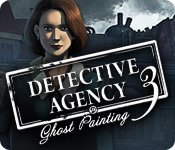 NEW299
The Big Fish Guarantee:
Quality tested and virus free.
No ads, no adware, no spyware.

Reviews at a Glance

Detective Agency 3: Ghost Painting
0
out of
5 (
0
Reviews
Review
)
Customer Reviews
Detective Agency 3: Ghost Painting
42
42
Not Bad
Can't understand why most everyone is complaining. Yes, it doesn't have voice over but I get tired of those and usually shut it off. I didn't find the scenes dark and being my age that can be a problem. Also, the HO's weren't hard to find the items. I sometimes use my magnifying glass and did not have to on this one. The complainers are just spoiled because it doesn't have all the fancy things in it.
June 3, 2013
A Mystery About a Mystery!
The mystery I refer to is what the story is supposed to be about and who hid the dictionary and grammar book from the script writers? Snide remarks (due to wanting to enjoy the game and not doing so due to high frustration) aside, the game is not truly bad but quite confusing as two storylines seem to be trying to converge and only succeeding in confusing the player. There's the missing artist mentioned in the game description and haunting figures, many past murders and a collector who apparently is hoarding stuff from the mansion (stolen stuff?). The technical aspects though aren't as dismal as some have reported. I played 45 min. of the demo and the HO's weren't all that dark considering it's night and no lighting availaboe outside. The objects were clear but almost cartoonish and often blended into the background to the point of invisibility. But the "ghostly" scenes were very well done and some truly disturbing. Who's that frightening boy in the swing and is he following me? The grammar and spelling were, however important drawbacks as it was often hard to understand what the hint was telling me to do. I doubt the writing was edited before the game's release but it does add an unnecessary level of frustration. There are some good things here, however so I'm recommending giving it a try. You may find it worth a play.
June 3, 2013
Vintage game to my taste
On and off I do enjoy playing these old-style dinosaurs. Several modern games are too much sophisticated and show-off in my opinion. I guess the reason the game receives so many bad comments is that fishies do not have enough patience. Given a few minutes of it, I hope, they will also find it rather playable. Quite solid storyline to keep your interest and excitement: you are solving the mystery of the haunted mansion. Some people missed voice overs, but it is for the best, I believe since they could spoil the whole impression of exactly this game. While I agree that the graphics was old school, there was something charming about it, something that complemented the atmosphere of the game. However there was one thing the devs should have taken care of ? proper translation and spelling. This is no way excusable.
June 18, 2013
not as bad as many have said
based on playing the free demo I will probably buy this game when I have a free game. I don't use sound so can't rate that and it is not perfect but not as bad as some have said. I did not find it that dark and the hint button works fine and recharges fast which is nice. there was one misspelling which was odd but not the end of the world.I think it seems intriguing to find out what happened in the house.
June 4, 2013
OK, but try it first
I thought Ghost Painting was OK, though short. It only took me about 2 and a half hours in easy mode. It's a HOPA (hidden object puzzle adventure) that takes place in a slightly dilapidated, though still colorful house. You also enter 6 paintings during the course of the game in order to repair them. The story isn't that hard to figure out as long as you read the journal as you go along (whenever it sparkles). You're a detective called in to find a missing artist. But instead of a missing persons case it turns out to be a ghost story. But the motivations of the characters don't make sense -- unless you assume the evil whatever-it-was is possessing all the ghosts. But even then, the motivation seems to be more about getting someone to fix up the house and the paintings than anything that's pure evil. The ending is rushed, unsatisfying, and hints at a sequel. The graphics weren't terrible, but were often blurry. I didn't have any problem with darkness in the hidden object scenes. I didn't care for the way the camera would swoop in when you zoomed in on something. It would go side to side while zooming instead of zooming directly into the object. The speed and unpredictability gave me motion sickness. I got so I'd look away from the screen while the camera was zooming. The Hint worked reasonably well (a nice change from the previous game I played), and recharged very quickly in easy mode. I'd only recommend it if you have a credit that's about to expire or if you can get it for a reduced price. Since other players have reported the game being too dark to see hidden objects, definitely try the demo on your computer before buying.
June 10, 2013
Detective Agency 3:Ghost Painting
After reading the submitted reviews, I was reluctant to buy the game, but I am glad that I did. There were times when I thought that I would not be able to finish the game, but through perseverance and dogged determination not to let the game beat me, I was able to finish it. Moving from one painting to another was interesting and fun. For those who wrote the early comments, they really could have put some players off from playing this game. That's too bad if they did. I really liked the game and I urge other players to not allow the comments to put them off. RJohn
June 28, 2013
Good on some computers, bad on others
This Hidden Object/Adventure game has a great storyline that I wanted to play. There is a very good journal that gives you information you can't get otherwise. Outside of hidden object scenes, the hint points to task, or in direction you need to travel. No vocals. Your (detective) thoughts appear as large text at the bottom of the screen. Vocals appear as small text. Easy mode is very easy. This one plays like an old game that the developers tried to upgrade. Many reviewers complained of a dark screen, but the game was bright, clear, and easy to see on my 21.5 inch screen. Some reviewers complained of not getting a full screen, but the game filled my screen. Couldn't hear anything at first, so I turned the game's sound settings to full volume. Then I was able to hear the music, but no ambient sounds, so I turned my computer's sound up. Still no ambient sounds. All-in-all, I think more skilled developers could have developed a much better game. This game was ok on my computer, and I'll probably buy it when it's a daily deal. Try the demo to see how it works on your computer.
June 26, 2013
Detective Agency3: ghost painting
Not a bad game. I did't find it dark or hard to find thr hidded objects. No voice overs, no problem with that as I usually skip that anyway.I'm not an expert and I like to relax when I play so this game is a nice treat.The story is OK and I want to know how it ends.
June 3, 2013
Good for a rainy day
Yes, the scenes are dark and yes some of the items in the HOS are small, but I've played worse and all in all not a bad little diddy to spend those free game vouchers on. Try it for yourself!
June 3, 2013
they should have stoped after the first one
The first detective agency was pretty good. This one is not. No voice over. Graphics and music are not. Dark screen and not even full screen. Hard to see anything. The HOS are fair at best. Puzzles are ok but not many of them. The hint button is ok. Just not a good or fun game. Did not last long on this one and will not recommend. DO not need to say much more because the others have also said it is a bad game.
June 3, 2013
The Apple logo is a trademark of Apple Computer, Inc.
The Windows logo is a trademark of Microsoft, Inc.