Crime Line
In Crime Line, you're a homicide detective exploring a wide variety of murders, gathering evidence at the scenes, reconstructing the crime and catching the killer! Dive into 12 complex murders scenes, discover hundreds of pieces of evidence and interview dozens of suspects and witnesses to assemble their stories. Every clue is important, and every witness has a story to tell. Match the witnesses with the evidence to discover who is telling the truth and who is lying. Once you find the killer, you'll reconstruct the murder and find out what really happened. With each case, you'll find out not only who committed the offense, but the motive behind the crime! Solve each case efficiently and you'll be rewarded with more hints and higher rank.

Warning: This game features realistic murder cases and scenes, with images of illegal drugs, tobacco products, alcoholic beverages, and depictions of death.
12 tantalizing murder cases
Dozens of witnesses to interview
Hundreds of clues to find
Game System Requirements:
OS:

Windows XP/Windows Vista/Windows 7/Windows 8

CPU:

2.5 GHz

RAM:

512 MB

DirectX:

9.0

Hard Drive:

74 MB
Game Manager System Requirements:
Browser:

Internet Explorer 7 or later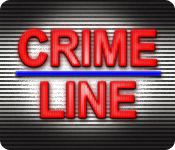 NEW299
The Big Fish Guarantee:
Quality tested and virus free.
No ads, no adware, no spyware.

Reviews at a Glance

Crime Line
0
out of
5 (
0
Reviews
Review
)
Customer Reviews
Had potential...............
I only played 1 "case", enough to know I really did not want to do 12 of them. The game itself had potential - to be different from other HOG games for the story and approach. Liked no jumping back and forth. No voice overs at all but actually, I thought the written dialogue helped retain what I needed to come to the culprit conclusion I did. The scene graphics were ok but the music was repetitive. No hint buttons - none needed. The themes of the cases dealt with real life things so that is good. The caution at the beginning was warranted for younger players. Personally, perhaps from my job background, I felt it just not challenging enough. Or maybe I watch too many crime stories and read too many crime novels. Maybe I just expected more "searching for clues". Overall, it was not bad. It will be a fast game to complete.
June 26, 2013
Extra Release and Nice Surprise
i liked this game average graphics no vos click and drop alot of reading interactive there are several crime scenes and witnesses you locate items they speak about after the locating them then at the end of interview you put use the items with statements. misclicks count. u find out at the end of a case. nice leisurely take your time game altho some might not think this game is very exciting i liked it might get it! give it a chance it is a nice change of pace.
June 26, 2013
Crime Line
Well I must say that Crime Line is much different from the typical hidden object game. There are 12 different murders that you have to solve one by one, each murder is unique. By reading the witness statements, you have to find the correct objects to which they are hinting to e.g typewriter or mobile phone etc. Each murder has different scenes that you can visit as you speak to different witnesses. When you have all the information that has been given and collected you then have to deduce who the murderer is. At the end of each murder you are then ranked; the more objects that you correctly choose the higher your rank will be. This is a nice game to pass the time away.
August 13, 2013
OK Game
I'm on the fence about this game, but certainly it would be great if there were more, but better-made, who-done-its. On the first case, I clicked on some wrong items by mistake, and the police chief told me that I was basically a crummy detective even though I solved the crime on the first "guess". I played two more cases, being certain not to click things incorrectly (by the second person that you interview for each case, you should know what all the objects are because they repeat), and was more satisfied with the results. But I did guess the murderer each time I played - no challenge there. I still had 12 minutes left to play after solving 3 cases but didn't bother trying another one. Will not buy.
September 24, 2014
Good game concept, but repetitive
Overall the game idea is good, but it is too slow and very repetitive. There is little to no challenge in this game. You match the clues in the crime scene with the witness description of the items. Then you re-match those same items with the witness statements. You do this 5 times with the same items in the same crime scene with 5 different witness.
August 13, 2014
Was ok for me until....
This game was ok for me at first. I liked the detective aspect of the game although going through each suspect became a bit repetitive after awhile. However, once I got to the case called "The short walk home" I was immediately turned off by this game. This case is clearly a very bad duplication of the Treyvon Martin case. For me, it was rather disturbing, especially the outcome of the case. The characters in this case even look like Martin & Zimmerman. There is no way this was coincidence and I think developers should stick to fiction when making these cases. Also, the game has no replay value. Once you finish each case they dont change if/when you replay the game. I dont recommend this game.
July 1, 2013
Too repetitive and not very interesting
This review is based on the demo, I didn't like the game enough to buy it. This game doesn't deliver as promised, it is just a staid and rather boring collection of evidence. You collect evidence based on clues given to you, then you take the same items and "assign" them to the clues, then you get a synopsis of the whole thing. There are no penalties for guessing wrong, and the evidence is targeted by your cursor as you pass over it, so it's pathetically easy. Lastly, the developer of the game gave it a 3 star rating. If the developer doesn't believe his game is a 5, why would we?
July 10, 2013
Meh
Before I start: there is drugs, alcohol, smoking, violence, etc so if you don't want to see it, don't play this game. I wanted this game to be better but it just wasn't. I played 1 case and tried to start another but I was too bored. You interview 5 people using the same scene to pick evidence matching statements the suspects make which usually ended up being the same items over and over and over and over again. After you match all the items, the suspect then goes over the statements and you have to match the SAME items once again. In most mystery type games you always still want to know "who did it" but I just couldn't sit through matching more of the same items a million times for each case to find out. Like all the games on here, try it for yourself and don't let me stop you as you might like it, but was not for me.
June 26, 2013
Boring, repetitive - ended the trial early.
The story line on this starts out ok - investigate murders by interviewing witnesses. As you're interviewing them, you have to select the evidence at the scene that corroborates that particular part of their story. Once you get all of the pieces together.... you do it again. Yep - exact same witness, exact same story, exact same pieces of evidence. As they tell their story (again), you match it with the evidence (again). Then they sum up their story (again, again). And then you move on to the next witness. Witness testimonies will conflict, so it's up to you to decide which witness is the most likely culprit. And then guess what you get to do? You get to hear their story (again) and match the pieces of their story with the appropriate pieces of evidence (again). That's it. I think there were 8-10 cases available to solve. After I did the second one, I called it quits. I couldn't stand doing the same work I just did over and over again. It went from mundane to downright annoying. Not bad if you want to kill 30 minutes or so to try out one case. Definitely not worth buying.
July 6, 2013
Did not like it
I found this game very repeative. First you collect "clues" then you take the "clues" and match the clue to a statement from the witness or suspect. I just thought this was a little much. The music was boring and the sound effects got on my nerves. All in all, this game maybe on the level of a kid or someone just starting to play game such as this, but for a seasoned game player pass by this one.
July 1, 2013