Crime Line
In Crime Line, you're a homicide detective exploring a wide variety of murders, gathering evidence at the scenes, reconstructing the crime and catching the killer! Dive into 12 complex murders scenes, discover hundreds of pieces of evidence and interview dozens of suspects and witnesses to assemble their stories. Every clue is important, and every witness has a story to tell. Match the witnesses with the evidence to discover who is telling the truth and who is lying. Once you find the killer, you'll reconstruct the murder and find out what really happened. With each case, you'll find out not only who committed the offense, but the motive behind the crime! Solve each case efficiently and you'll be rewarded with more hints and higher rank.

Warning: This game features realistic murder cases and scenes, with images of illegal drugs, tobacco products, alcoholic beverages, and depictions of death.
12 tantalizing murder cases
Dozens of witnesses to interview
Hundreds of clues to find
Game System Requirements:
OS:

Windows XP/Windows Vista/Windows 7/Windows 8

CPU:

2.5 GHz

RAM:

512 MB

DirectX:

9.0

Hard Drive:

74 MB
Game Manager System Requirements:
Browser:

Internet Explorer 7 or later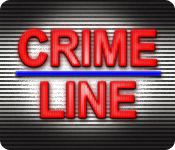 NEW299
The Big Fish Guarantee:
Quality tested and virus free.
No ads, no adware, no spyware.

Reviews at a Glance

Crime Line
0
out of
5 (
0
Reviews
Review
)
Customer Reviews
Wow! Need More Whodunit's Like This - Review Of Completed Game
This is quite different from the usual games offered here at the Big Fish. I would consider this an adventure light type of game. You do have to locate objects in the scenes but there are NO HOS like word list, NO puzzles, NO map, NO journal, NO voice overs, and NO widescreen as I had to change resolution for it to fill the screen. This isn't like other games. You can choose what order you wish to play the game in! The game description says 12 cases but there are only 11. HINTS: You start out with hints and you get more as you "pick up" evidence items. They are randomly distributed. Using the hint will show you an area of where the target item will be. You get only one HINT per witness, but they do accumulate if you don't use them and to use a hint they are at the top of the screen and there is no wait for charge up. There are 11 boxes and you can click on the box the case you want to start. Once you do that there will be 5 locations displayed in front of you and you can chose the location you want to start. No particular order here. You have to question the last 5 people (witnesses) who saw the victim alive. You can skip a statement and come back to it later, if you wish. Once you've collected the evidence, you use it to double check the witness' story. You'll get a more detailed account once you finish reviewing. You will see the same piece(s) of evidence in multiple witness' stories, but this will definitely help you solve the crimes when you get different accounts from different witnesses. When you've interviewed everyone, you will be asked to catch the culprit. Just mouse over the location for each suspect to read their statements, and be sure you don't click until you think you've found the right person. Once you have the right person you also have to fit the items back into the scene and you are shown a reenactment of the murder. You also earn little badges after solving each case and as many as three. As for the game length this was about 4 hours for me as each case was about 20 minutes give or take a bit. My overall impression: Well I must say I almost missed this gem of a game as it was listed under the soft releases and I almost didn't try it because it was listed under the brain teaser genre but when I read the game description and saw it was a "whodunit" type of game well I just had to give this a whirl and so glad I did. The graphics are definitely nothing high tech and dated along with no voice overs but it didn't take away from my enjoyment of this game and I still found them to be quite clear. I didn't have much trouble at all locating anything. The only criticism I do have about this game is no widescreen. I had to go in and change resolution for it to fill the screen. I see this is this developers 4th game. Sorry but still no excuse for no widescreen. The year here is mid 2013. Shouldn't have to change resolution settings. These widescreen monitors have been around for a few years now. Overall 5 stars from me. I'll be honest here. I was going to knock this down a star for the no widescreen having to change resolution to fill the screen but since this is the first developer who has brought me a different kind of game play without boring, annoying, frustrating puzzles that I have to wait for the skip the charge up well this was a breath of fresh air. No not everyone here enjoys puzzles. Has nothing to do with being too hard or too easy. I just don't like them for the most part so THANK YOU! I hope to see more games like this brought to the site and from this developer but please do address the widescreen monitors in your next game offering. Thanks Big Fish and developer for a GREAT game here. Yes I'm going to be in the minority on this one. As always, give it a whirl and decide for yourself.
June 27, 2013
This is a great game-for adults!
Being middleaged this is a great game. Not for children but for us that watch crime series on the telly. The sleuthing has something extra to it and it is a HOG and in the same time not that at all! You have to interview the suspects and confront them with the evidence and make your choice. The game do contain adult material but it also have a serious social claim.I really loved it! Also it is a game you mustn't play straight through, you just solve one of the crimes when you feel like it whitout missing out on the story or forget what you were looking for!
July 14, 2014
Be The Detecfive! Figure out Whodunnit!
I read the reviews after playing the demo and before submitting mine. I feel this game got a raw deal. If you are only playing a game from 7 minutes to 20 minutes, or for only 1 case, you didn't have the time to get a good grasp of what the game was all about - sleuthing. Storyline: Many. All murder, suicide, accident victims and you have to figure out what happened in PERFECT SEQUENCE. Graphics: Could have been better. Disclaimer regarding dead bodies, blood, etc. were not necessary. Sound: Ignored the music because I was too into the game. Game Play: You are at a murder scene. You have 5 witnesses to question. Each makes 9 partial statements. When each partial statement is made, you have to choose among a roomful of evidence which one fits the statement. "Wrong Match" could be frequent. Once you have matched 9 pieces of evidence with the 9 partial statements of the persons being questioned, you get to hear their ENTIRE story (well, read it because there are no voiceovers which I think is GREAT because you can't tell anything by tone inflection). You match the evidence you collected earlier with that particular witness and pay CLOSE ATTENTION to their story because THAT'S when you'll find out who did the crime. After hearing all of the complete stories, you choose who you believe is guilty. But that's not the end. Next, there are 5 essential pieces to the crime at the bottom of the screen. The victim and perpetrator are at the crime scene. You have to put together the crime from beginning to end by placing the correct items, in order, where they were found. At this point, items may NOT necessarily be ones matched to a person's partial statement. You then move up the ladder from a rookie detective/street cop depending on how many wrong clicks you had during the full course of that case. I believe there are 12 cases. This is such an AMAZING game. NO voiceovers was BRILLIANT of the devs - you can't tell what a person's really thinking or feeling if there is no tonal quality to their statements. The cases DO get exponentially harder as each case is investigated. I played 3 during the demo. Yes, there were grammatical errors, which turned me off to begin with, but then I wondered if THAT wasn't intentional too. This Glam-ma had the best time by the time the demo was over. I'm on a limited income and it's on $2.99 special today and I am totally buying it. I recommend highly that everyone should at least try it. And, keep in mind that the things that annoy you could have been done on purpose to make the crime solving THAT much more difficult! Happy Gaming!
June 25, 2014
A Story-based Detective Adventure
Crime Line (Adventure) Don't come into this game with any preconceived notions. I've seen no other games at the casual portals that's anything like this one. The stories unfold as you examine your surroundings, gather evidence, and talk to witnesses. You are the detective. It's kind of like a combination of watching a Criminal Minds (the TV show) marathon and playing one of the old text adventure games. There is a lot of reading to do, but small amounts at a time -- never an overwhelming amount. If you're looking for action, this game wouldn't be a good fit. This one is for those who like to step back and consider what is around you. In the end, only you can find the criminal(s). The game starts with a short video, rather like a commercial showing the basic premise of the game. Unlike most games, there is no separate window for options. You'll find them in the top left corner, with separate sliders for music and sound, plus full-screen or windowed mode. No option for wide-screen, but it still looked great on my monitor. These options can be adjusted at any time during gameplay with one simple click. Also unlike other games, you can choose what order you wish to play the game in! There are 12 crimes to solve (or 11 if you play the Big Fish version), which you can choose from on the title page. They are: A Novel Murder Death in the Suburbs (not available in Big Fish version) Lost Shelter The Open Door The Girl in the Park Graphic Evidence Album Drop Sinking Feelings Unnatural History The Short Walk Home Salon See You Tomorrow The Play's the Thing The witness statements will lead you to examine certain things in the room, almost like a hidden object game. You can skip a statement and come back to it later, if you wish. You get only one HINT per witness, but they do accumulate if you don't use them. Once you've collected the evidence, you use it to double-check the witness' story. You'll get a more detailed account once you finish reviewing. You will see the same piece(s) of evidence in multiple witness' stories, but this is the kind of thing that can help solve the crimes -- when you get different accounts from different people. When you've interviewed everyone, you will be asked to catch the culprit. Just mouse-over the location for each suspect to read their statements, and be sure you don't click until you think you've found the right person. Each case took me about twenty minutes to finish, meaning that the game is about 4 hours long. There are moments when the text can get repetitive, but the cases are both interesting and compelling. The subject matter is NOT for the faint of heart. We are dealing with serious and sometimes sickening subject matter, though the devs do handle this well. Absolutely worth checking out if you enjoy crime-themed drama
June 26, 2013
Solve the murder!
This game is definitely thinking outside the box so for that reason alone I am giving it four stars. You are given the choice of several murders to choose and then you interview each witness individually as they give you the first part of their sentence you must match the item they are talking about by picking that item out of several items scattered about and drag that item onto their quote. Then after all 9 items have been identified you will review the completed statement and once again match those nine items back into the statement. After listening to all of the witnesses statements you can review everyones statements or choose the person you think is responsible by clicking on that person. According to how many mistakes you made during the interviewing you will be given a rank such as Sargent. Like I said before this isn't your typical HOG so keep an open mind and enjoy!
June 26, 2013
Solve The Mystery
This is an enjoyable game, different from most of the other games for sale here at BFG. Instead of your typical HOG, these are pictures of crime scenes. You must hunt for evidence at each scene and question the witnesses regarding the evidence you've found. They are short episodes, maybe 15 minutes each, and each crime is unrelated to each other. There aren't any puzzles, nor as I said typical HOG scenes. But, if you want a good change of pace, this might be a good game to pick up. I know I'm always looking for something different to try!
June 26, 2013
Enjoyable Game
This game had a different twist on seek and find which kept me entertained through to the end. First you interview each witness and look for clues. After you talk to each witness there is a summery of their statement in which you look for items that they describe. You are then allowed to review each statement and decide who the guilty person is.
July 18, 2013
Love a good murder mystery
Very unique gameplay. Fascinating stories to solve. I only had two problems with this. ONE that it doesn't have replay value and TWO that it only has 12 crimes to solve. I only played the demo and solved the first crime but decided not to buy because would be too short. I solved the first crime without any problem but didn't get promoted because during the course of play I chose too many wrong items. I didn't know you were penalized for this so I guess if I were to repeat the level without any errors would be the only replay value but without any variation in the story or who dun it, it wouldn't seem worth it. I liked the way after solving the crime you get to see how the crime actually happened. If you don't mind buying a game that will only last you a couple of days than its worth it for the great stories.
June 22, 2014
Interesting twist on HOG
It does have situations that are not appropriate for all gamers, drugs and violence. I enjoyed playing this game. If you enjoy police dramas and hidden object games, I think you will enjoy this one.
June 27, 2013
I LOVE MYSTERIES
This game deals with solving murders in a very realistic way. In fact, the cases are based on actual crimes. This may turn some people off, but the game gives you a warning at the very beginning about the subject matter, allowing you to stop playing if that is something that would upset you. I read a lot of mysteries and it's always fun to try to figure out who did it before the end of the book. This game is the same way; you are presented with evidence and witness testimony and then have to guess the culprit. You are awarded badges, depending on how well you match the clues and how quickly you solve the crime. The badges range from zero (you have to keep your patrolman job) to 3 (chief inspector). I turned off all the sound, so don't know if any of the sounds might have been too realistic. (I always turn off the sound on games.) The graphics were fuzzy, on purpose, I think, so there is no blood or other details to assault your sensibilities. It is not a hard game, just a little change of pace and a way to see how good you are at deductive reasoning. I'm not going to give it a recommendation one way or the other, again, due to the subject matter. But I enjoyed it. P.S. Big Fish, could we have a third choice about making recommendations? Maybe something like "undecided"?
August 11, 2014