Stray Souls: Stolen Memories Collector's Edition
Exclusive
Guide a mother who pursues a terrifying apparition into a twisted reality to save her daughter. As you explore a strange town in which an evil clown has turned all of the residents into wooden dolls, you'll slowly peel back the layers of a disturbing story that reveals why the mother's husband has never spoken about his past!

This is a special Collector's Edition release full of exclusive extras you won't find in the standard version. As a bonus, Collector's Edition purchases count toward three stamps on your Monthly Game Club Punch Card!

The Collector's Edition includes:
Shocking bonus chapter
High Definition wallpapers and concept art
48 unique locations
Game System Requirements:
OS:

10.9/10.8/10.7/10.6

CPU:

1.6 GHz (INTEL ONLY)

RAM:

512 MB

Hard Drive:

747 MB
Game Manager System Requirements:
Browser:

Safari 4.0 or later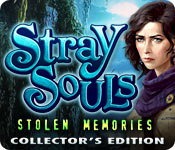 The Big Fish Guarantee:
Quality tested and virus free.
No ads, no adware, no spyware.

Reviews at a Glance

Stray Souls: Stolen Memories Collector's Edition
0
out of
5 (
0
Reviews
Review
)
Customer Reviews
Stray Souls: Stolen Memories Collector's Edition
80
80
ABSOLUTELY BRILLIANT
Thanks BFG for offering a game that is fully touch capable. Love this game!
July 6, 2013
A bit creepy
I enjoyed this game pretty a lot. Good storyline, at some point creepy, no useless speech that you do not want to read, easy but nice mini games and puzzles, I recommend this game if you are in a dark mood. :)
August 20, 2013
Best game ever!
I have played both doll house story and stolen memories, and loved them both! The best part is the bonus chapter, as it makes the two chapters connect. Love it!
August 18, 2013
THIS IS A MUST HAVE!!
this is a top-quality game! the story is really one of a kind, the graphics are mind blowing!they make you wonder how they can make such amazing graphics, this is really great i only know a couple of games that are made like this and thats drawn, phenomenon and rite of passage i must say if you play the demo's there is no way you will not want to buy these game and this is absolutly one of them. this is an award winning game, no doubt about that!!!
August 17, 2013
One of those games you must have.
This is a great game to remind you what it was like to be a beginner. The game not only tells you exactly what you need to solve a problem, in most cases it tells you where you need to go to get it. If that's not enough, there's a map that tells you where you need to go. And I played it in Expert mode :-) In Casual mode the places to look are all highlighted so you don't have to even move your cursor around to figure out what to look at. I think I used the hint once on a HOS, but that was because the item was so dark I couldn't see it ... a complaint on my eye sight, not the game. For a beginner, this game is excellent. For the more advanced, it's worth the price to remember what it was like to be one. I definitely give it a 4 star rating for pure enjoyment on a rainy day.
July 6, 2013
Memories
Of competed game: Pros; cinamatics wonderful graphics nice and clear hos not too cluttery objects not too tiny vos not bad or over dramtic music cannot comment on since i usually turn it off ambiance was nice the game was not too dark (thank goodness) cons: way too short for a CE finished the whole game in under 4 hours you would not be missing much if you wait for the SE the bonus chapter just tells you how the clown got out again and only takes maybe 30 min to complete. all in all a great game would have given it 5 stars if it was not soo short!
July 6, 2013
A Very Good Sequel I Enjoyed It - Review Of Completed Game
This is the 2nd game in this series. The first being: Stray Souls: Dollhouse Story released as a CE February 2011 and as a SE March 2011. If you haven't played the first one it's not totally necessary but I'd recommend it if you want to get a better understanding of the story. This second one here uses different characters for this story however there is reference back to the first in this series. Story: You take on the role of Rose who is out to look for her missing husband whose last known address is a very creepy motel room. When you have arrived to the motel from Hades, Julie (daughter) is suddenly carried off by her father through a portal. You meet up with a creepy looking hand puppet and you both enter a really bizarre world. A town of wooden life size puppets and a mad stalker clown who doesn't look exactly like Pennywise from Stephen King's IT however made me think of this clown all the while I was playing this game. CHAPTERS: 14 bonus review at the bottom PLAY MODES: 2 Casual and Expert. In Casual mode, the hint button takes 30 seconds to refill, in Expert mode, it takes 2 minutes to refill and is helpful outside of HOS. You can change the difficulty setting any time during the game. I played Expert mode. There are no sparkles however black bar tips. WIDESCREEN: I had no problems here. Filled the 20 inch monitor just fine. No adjustments needed. Running on Windows 7 64 Bit no tech issues. There is voice overs JOURNAL: Holds some notes, puzzle clues and the map. MAP: You will get this shortly into the game. This is transporter. The red triangle is where you are. Green areas are where there are things to do. Orange areas nothing to do at the present. DOLLHOUSE: At the bottom there is also a dollhouse where you will add different "doll figures" throughout the game. HOS; Not very many here. No I didn't count but only did 2 during the demo time. They are not interactive but you will have to "move" something to locate some of them. A couple on the Sanford & Son junkyard pile side however no problem. Pretty well done for the most part. PUZZLES: Not very many here either but seemed to be more puzzles than HOS and most the usual run of the mill: Rotate rings, get pieces from one side to the other, slider puzzle, get the bride & groom out of the maze, etc. Skip takes a couple of minutes. The main game does come to a satisfactory conclusion in my opinion. The bonus chapter is not needed. MAIN GAME LENGTH: 5 hours. May be more or less for you. BONUS CHAPTER: Seems to be some confusion on this just reading the game forum for this game. It's NOT 4 separate chapters where you play each one individual. It's also not 4 different stories to the game. This is just divided into 4 chapters. I'm thinking the developer may have done it this way just in case anyone got really hung up in the game and had to refer to the strategy guide. I thought this was really well done and added to the story. This bonus chapter in my opinion REALLY helps you understand the connection between this story and the first in this series. This also has all new locations as you don't use the same map as the main game. Shortly into the bonus chapter you get a new map. This isn't HOS overload but I did more HOS than in the main game. There's puzzles of course. From the ending of this looks like there MIGHT be a sequel and I'd sure welcome it. BONUS CHAPTER LENGTH: 1 hour 15 minutes. May be more/less for you. CE EXTRAS: Bonus Chapter Strategy Guide 12 Wallpapers 12 Concept Art 12 Characters - just shows all the characters in the game. 16 Mini games 12 videos OVERALL IMPRESSION: While I didn't find this game very challenging I still thought it was a really good sequel to the first game in this series. The game play I would consider as an adventure light type of game because while the inventory for the most part pretty much used right away I found this to have more traveling back/forth to it than HOS and puzzles. I thought the graphics were great. Very well drawn and definitely on the creepy/eerie side. I know they won't appeal to everyone but I loved them. Huge kudos to this developer's art department here. I also liked the characters and thought the voice overs and music were really good as well. I also really enjoyed the story and thought it was well told while yeah it's "out there." LOL! Overall 4 stars from me. I knocked this down a star and my reasons are: For having 2 play modes I wish there wouldn't of been any black bar tips on Expert mode. I also liked the doll however I thought the black bar tips and doll were a bit too helpful playing in Expert mode. I do like to try and figure out on my own. Just provide a hint button and I'll decide if I need it or not. Also for being a CE should have all the bells and whistles as there are no achievements, collectibles, morphing objects. Oh and that strategy guide while I didn't need it but checked it out and well that leaves much to be desired. No text just pictures. I only purchased this because of the sale getting it for $8.39 instead of $13.99 otherwise I would of skipped the CE and waited for the SE. Sorry and I hope the Big Fish and the developer is taking note of this. I no longer purchase CE's at full price $13.99 if they don't have all the bells and whistles. I will only purchase on sale like this one was. As I stated earlier looks like there MIGHT be a sequel. If so and this developer does a CE again please include the bells and whistles: achievements, collectibles, and morphing objects. Thanks Big Fish for the sale and to the developer for a very good game here. I still recommend it however because I know some don't care about the achievements, collectibles, and morphing objects. As always, give it a whirl and decide for yourself.
July 6, 2013
4.75 Actually
I would have given this 5 stars if only the little rag doll could be deactivated....I would like him as a hint button as he is creepy and well drawn, but I hate his constant instructions which are totally unnecessary. I also can't stand the voices, except for the heroine...everyone else should go to acting classes! These are my only negative remarks, however. I love the overall spookiness (the pop up cards and pull out are fun extras), creepy clowns, strange children and freaky puppets add a lot of fun. The mini games are really good...colorful and enjoyable..not too difficult. The HOs are not numerous and have slight interactions in them. The journal stays where you leave it and the hint system is pretty useless, as it only shows the map. There are no morphs or collectables other than the doll house characters themselves, so while I really enjoy this scary game, I will probably wait for the SE price. Good sequel though.
July 6, 2013
A Few Tweaks Needed
The game play, music and visual quality are a lot better than the first game. The only real problems I had were that when this first came out it wouldn't even run on my computer so I had to wait till later to play. When I finally could play it the cur scenes and voices kept going out of sync. (The acting wasn't great from the start but it gets worse toward the end) I do like the story being darker than last time but there are a few things that bug about it. SPOILER ALERT!!!!! How could the old town from the first game still be there in this games bonus chapter when we were told there was nothing but ashes left where it used to be? The whole 'getting costume parts' for the doll to fight is just silly and Mathew's death would have been more frightening if the clown had made him jump instead of it being an accident. (the clown could control him after all) Also the boy's mother was too scared of the clown to give our doll the stuff he needed when she had them and never tried to find her missing child?! Really? END OF SPOILERS They could do another game but maybe using another doll in another time with a different demon.
August 8, 2013
Gamester
Ok this one played like all the others, it was ok, no real changes I thought after playing the beta there would be more to this one but there wasn't. It just dragged out and although you reunited a family it was an odd ending no real closure, I actually found the bonus game more interesting. It was short at least to me but I have to say it did at times keep you thinking. I am sure their next offering will be more challenging. It seems to improve with each release.
July 9, 2013
The Apple logo is a trademark of Apple Computer, Inc.
The Windows logo is a trademark of Microsoft, Inc.