Cubis Creatures
Cubis is a match-3 game unlike any other with unique 3D gameplay. Action truly comes at you from all sides - cubes can fall from above, shoot in from the side, and even push other cubes out of the way. Easy to learn yet difficult to master, only the best and most dedicated players will earn the coveted 'Perfect' rating on every level. Are you up to the challenge?
120 Amazing handcrafted levels
6 Curiously cute characters
Endless hours of gameplay
Game System Requirements:
OS:

Windows XP/Windows Vista/Windows 7/Windows 8

CPU:

1.6 GHz

RAM:

1024 MB

DirectX:

9.0

Hard Drive:

110 MB
Game Manager System Requirements:
Browser:

Internet Explorer 7 or later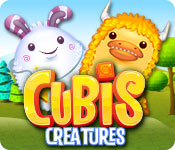 NEW299
The Big Fish Guarantee:
Quality tested and virus free.
No ads, no adware, no spyware.

Reviews at a Glance

Cubis Creatures
0
out of
5 (
0
Reviews
Review
)
Customer Reviews
Match 3 Game With Some 3D Depth
What an addictive and challenging little game! You need to match 3 or more of the same color cube on a checkered board, striving to get all 3 cubes with a star. You have to use strategy as well because some cubes are stacked, and when you launch the next tile it may move some of the weaker cubes to the next square. There are wedge tiles that lift a stack upwards and some cubes are stone and can only be removed with a laser therefor you need to wait until you receive that tool. Meanwhile you get a whole bunch of colors stacking up and blocking the way. The goal is to get all 3 stars by matching those cubes and you must collect a certain number of cubes to complete the level. The game progresses at a good pace and you can repeat the level as often as you want, there are also achievements to earn, enjoy!
November 19, 2013
fun fun fun cubis creatures
i bought this game before i played the full 1 hour, it was a lot of fun and different from anything else: i am in search of different these days, less traditional hidden objects, less games where you have to run down the road and clear the path and build, (they are very cute but also always the same). i own so many games and too many end up being the same old stuff such as tiresome hidden objects, rebuilding and match 3's, so this was refreshing as it was a match 3, which i am also tired of, but with a different twist that made it quite untertaining and fun. By the way, did any of the developpers notice the adult film music that accompanies the game? It cracked me up! How could they not? It gave me a good laugh because it was so unexpected but some may not like it! Overall, I am loving this game and it is addictive for sure! Again, I recommend Plants versus zombies, my favorite ever, if you do not own it, buy it! You will have the best time! Well worth every penny! I keep on returning to it and never tire of it, i think i must have played it over and over 10 times at least and it gets harder each time one starts it over again so it varies each new play
November 20, 2013
Fun but with a timer...
... which will stop a lot of players from buying this - developers pleeeease take note of this. Normally I would be one of them but I have two other Cubis games which I've managed to play with the timer. The visuals in this one are very good; bright and colourful and they don't blend into one another. There are three challenges within each level, one to complete the number of tiles required, the second to try and get rid of all the star tiles and the last to finish with no tiles on the board. This one is the hardest but I've managed it a few times. Each level can be replayed either immediately or later. There are achievements including all perfects for each level of each world section (not attainable by me). Each level has a score but I haven't found where to see the list of them. All in all a good game to while away the hours with enough of a challenge to keep me going onto the next level.
November 20, 2013
Cute and Relaxing fun
Easy to play, gives a bit of a different feel to Cubis. Graphics are bright and cute. Fun, relaxing.
October 27, 2013
Fascinating match 3 game
Great addictive game. Very hard to put away. The graphics are great. But as you play the game you have a tendency to keep moving your cursor up in the screen without noticing it. When you think that you are going to complete a level, the brain who designed this game has put a nice reset button right on the spot where your mouse cursor has moved while you were watching the cubes. When you think that you have put your cube at a spot where you think you are about to accomplish a great move, you press the mouse button, and you have just reset your game. FRUSTRATING/ANNOYING... But love the game no matter what.
December 16, 2013
Great Game!
I must say I am impressed! I am totally addicted to this great game! I think it was put together well, and it is challenging and fun. There should be more match 3 games like this!
February 4, 2014
Hidden jewel
This may look like a kids game and maybe it is. I love cubist1 games but this one has more levels and different game action. Get past the cartoonish animals and have fun trying to get the perfect score.
January 18, 2014
Cute Puzzle Game
This is a puzzle game. You shoot in cubes from two sides to make a match of 3. It is easy to learn and has great graphics. There are different kinds of objects you can shoot into the game, not just cubes. There are tricks and gimmicks built in that are enjoyable. This game is not very challenging if you just want to pass the level but will be tricky if you want to get a perfect score i.e. clear all the coloured blocks. However, it is timed and there isn't a lot of time and I think that is going to put some people off, it would also make it more difficult to get a perfect score because you haven't a lot of time to think about it, you'd have to keep replaying the level. As far as I could tell one cannot play on if your time is up. I do feel that this game is better suited to a mobile target-market and not a pc market as I did not find it riveting or something one would want to play for hours on end like we do with most pc games, it is something fun to play when you're passing the time. I also suspect that it may be on the short side despite 120 levels as I played about 20 levels in 20 minutes. I would recommend you download the demo, you'll play enough levels to get a feel for the game and decide if it is for you.
November 19, 2013
Great game and nearly got 5 stars BUT
This surprised me - addictive and challenging. It reminds me of an old cubis game I had from years ago but it is much better BUT - my big gripe is that sometimes when I am heading up towards the right I hit the restart button - and if I am on a challenging level when I am going well that is soooo frustrating. I don't know if the developers are planning on updating this but I can't believe that the restart arrow is so near where you have to be to play the level. I'm right through to World 5 with three stars and value for money it's been fantastic but I would absolutely love it if they could update that side of it. I still recommend this game, although you do need to be patient if you have to restart a particular screen occasionally (unintended or not!).. Lovely graphics, runs very smoothly and some great ways of making you think hard on how to get to the upper levels. Do give it a try but be prepared to accept it with the odd quirk. Any chance of a fix or upgrade developers???
November 29, 2013
More fun for Cubis fans!
I've been a big fan of Cubis for a long time so I was really happy to see this! Overall i think Cubis Creatures is a fun addition to the franchise and worth giving a try. I'll definitely be picking this one up at some point. There are a couple minor annoyances that have been mentioned, like the restart button location but in general this is another well made Cubis game.
December 26, 2013