Final Cut: Encore Collector's Edition
Exclusive
Your murderous half-sister has escaped, and you've got the last piece of your father's treacherous film projector. The breakout success story returns for an encore as you uncover the truth about your father's dark secrets and find out who's really behind his death and his deadly invention in Final Cut: Encore.

This is a special Collector's Edition release full of exclusive extras you won't find in the standard version. As a bonus, Collector's Edition purchases count toward three stamps on your Monthly Game Club Punch Card!

The Collector's Edition includes:
Step into your sister's shoes in the bonus game
Collect film strips and other achievements
Downloadable soundtracks and screensavers
Bonus wallpapers and concept art
Integrated Strategy Guide
Game System Requirements:
OS:

10.8/10.7/10.6

CPU:

1.8 GHz (INTEL ONLY)

RAM:

512 MB

Hard Drive:

1256 MB
Game Manager System Requirements:
Browser:

Safari 4.0 or later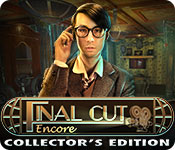 The Big Fish Guarantee:
Quality tested and virus free.
No ads, no adware, no spyware.

Reviews at a Glance

Final Cut: Encore Collector's Edition
0
out of
5 (
0
Reviews
Review
)
Customer Reviews
Final Cut: Encore Collector's Edition
79
79
LOVED IT!
NO Zombies, Vampires, Ghosts, deceased spirits/relatives or whatever strange creature the devs can dream up!! It is a nice straight forward who-done it which I love. The HOS are Not messy, tiny junk piles & they have real actors interspersed among the story which is a nice touch that I appreciate. The artwork is realistic looking & not the usual flat drawings with one dimensional characters. So if you want a break from the zombies, vampires etc. give this game a try. You might like it. I thoroughly did!!
July 12, 2013
Really don't know wether this is a 3 or 5 star game ???
I loved the first "Final Cut" - and was eager to try this one out. The Graphics, collectibles and the plot seems to be of a high standart. There are a lot to find: Filmstrips, morphing object and clovers - The filmstrips were easy to spot, but in the full demo I only found 1 morphing object and 1 clover .... promising CE quality :-) The reason to swap between locations wasn't really clear to me, and confused me more the deeper I dug in. Well - as I only did the demo it might be more obvious later on. I really, really disliked the quick zoom in/out from items and tasks - it isn't pleasing the eye or the gameflow at all, and this is the main factor to my low rating. It was SO annoying and kind of ruined the game experience. I am having an ambivaliant feeling about the oportunity to swap to mach 3 in the HOS - On the one hand it is a fast help when I can't find the items, but on the other hand, it makes me lazy as I know I don't have to work my butt off in order to find them, as I can just swap..... so - am both pro and con ?? Will wait to see how others rate the full game before I buy it, and I also wan't to know how long the game is. - In fact... I'd wish all rewievs of full games would include the length of the gameplay. I'll recommend this game, as it in many ways is of very high quality
July 11, 2013
FUN FOLLOW UP OF THE FIRST GAME
BASED ON COMPLETED GAME AND BONUS FEATURES ON EXPERT LEVEL I liked the way this game picked up it's story from the first game and took me into another layer of the story. I like following the same characters in a series of games. This game is fun, no doubt about it. There are many different scenes and scenery so that if you don't like one area, you will probably like another one further along. I'm kind of blase about what to write for my review because the game didn't leave much of a lasting impression on me. I found the story concept of turning the projectors on and off to take me into movie settings very interesting, but at times, having to run back and forth turning them on and off became an irritant. Another thing I didn't like about this game was that it showed me things I needed to do but did not provide me the object to do it with until way, way down the line. That's a tease, I know, but if it's too long a wait, it's just annoying. In addition to that, often I would find an object and have to hang onto it for what seemed like forever before I could use it. There were two occasions where an item was used for a nonsensical purpose. Those are my only complaints, though. The rest of the game is very nice. It has a jump map which takes you wherever you want to go which is a huge help. The live characters and acting are likewise pleasant. The music is appropriate as well. The IHOS are easy, but there are one or two puzzles that take a little thought,. The bonus chapter was ok, but probably not worth the extra expense of buying the CE, but I really enjoyed the interactive office visit with the devs. That was cool. Bottom line, this is a good game. You'll have fun with it and the story will keep you moving, but it has one or two annoying "habits" I wish weren't in there. If you can ignore these "habits" I think you will enjoy this game a lot.
August 8, 2013
Not a bad sequel!
As usual, another special for a series I already have...except for this one of course. Yes, I have the first two and liked them both. This one is a bit different Don't much care for the combination of real and animated people, but not badly done. I always demo on easy mode, so here it goes. Not much in the way of instructions on this game. Does not tell you that you have extras to find within the game. I just accidentally found them. There is a lot of shoe leather used in this game, as you frequently return to the same location and HOG. Good thing there is a jump map! Naturally, it only shows two chapters, which I don't care for...I want to see how many we have to look forward to. Game play was good, music not too bad, graphics the same as the other two games. Games were simple and not "brain" taxing. HOGs simple and straight forward. Some items very small and hard to see, but mostly not bad. Had some sparkles that weren't HOGs, just sort of there for no reason. Nice, helpful hint system that fills quickly. SG was very nice as well. Story line seemed as though something was missing. Maybe it was the lack of direction or instruction, but the story was different. I believe you weren't being transports back in time, but back into a movie. At least that's what I thought. This game was not spectacular, nor was it particularly challenging, but I do find myself wanting to see it to the end. Yes, I have sworn off CE games, so I will put this one in my puddle and hold for the SE, unless there is a really good special on CE games coming up. As always, try it for yourself and see what you think. We all have different tastes in games and you may find this one to be exactly what you are looking for. Thanks for the reviews.
July 11, 2013
Great Sequel
This Sequel is a great addition. Had a lot to do and lots of fun. Good on characters and conversation. So great cut scenes. Like the interactive map and collectables. This will go on my must buy list.
August 1, 2013
Almost perfect!
Great game. I'm not a fan of non-animated cutscenes, with real actors. I find it cheap. But by the end of this game I didn't care, and as the story got deeper, I felt the acting got better. The storyline became quite moving, especially if you get the CE. My only issue with the game is that the map is not very helpful. Sure, you can use it to take you to previously visited scenes, but it's only prompt is that you need to get to a place you can't get to yet (without a long think or hints). The map is no guide, just a shortcut. However all was forgiven with the extra extra in CE. Cats! Dreadlocked guy with adorable accent, and coffee. If you love coffee and cats, it'll be worth it. Also the main game has lots of bits to look out for. Film bits, clovers, morphing objects and kites (don't forget the kites!). But next time, guys, a better map, please! Sure CE can use the guide, but I'd rather use a hint! No cheating for me. Highly recommended, if you can live with a few hints here and there. The cutscenes are jarring at first, but you'll warm to them very soon.
July 17, 2013
Not quite as good as the original
I utterly loved the first game in this series. The sequel is good, but it suffers too much from "and let's make it BETTER!" It's too wordy, there's more cut scenes, more videos, more conversations. There are tapes to listen to. You can skip through a lot of it, but there's far too much of it. Overall the game is still well done. There's a useful map to help you navigate around. You're looking for a few 'extras' along the way. Sometimes they lead you to some of them, sometimes they don't. Some are cute (hiding kites on the map). Hidden Object scenes don't have you hunting for tiny hard to find things yet manage to still stay challenging. There are no language problems causing you to think you're looking for one thing when they mean another. The bonus section is better than most (usually they are so limited in scenes that there's no real challenge to them). Make sure to play the "office chapter" where you get the lead programmer a cup of coffee, and he explains to you some of the secrets of the game and the company. (Spoiler alert: Many of the actors are secretly not human!) Overall it's a very good game, they just need to sit on their urge to go overboard with the video stuff and remember that we're playing a game, not watching a movie -- even if the game is about movies!
July 19, 2013
Great game, but laggy.
One of most awesome CE ever, but its laggy and I'm playing on high end desktop pc from mid 2010, that can handle games that are much more demanding than this. Even turning off high resolution didn't help, the mouse is still as laggy as it was I think its because vsync that cannot be turned off.
July 15, 2013
I would get coffee for Vladimir Zivkovic all day ;)
This is the first game in the series that I have played. I purchased a second Final Cut game during a promotion. I love the Collector's Editions so I always take advantage of the BOGO or bundle sales. I wasn't really in the mood to play this type of game (it's Christmas time and I just took advantage of the "Christmas Stories" bundle) so i kept coming back to it. I did like the live actors in this series. I hated them in MCF:13 Skulls, however, but I think the idea has grown on me. What I liked about this game was all the extras. There was, of course, an extra bonus game, which is a prequel to the full length game. So it had that going for it. BUT, what I really liked was the little tour/interview of the Eipix office. I thought that was a clever way to humanize development companies. I thought Vladimir Zivkovic, the main developer/programmer (?), was adorable. I loved the interview, because I got to see his personality and how it was integrated into the game. But I don't remember there being that many cats... These extras do double the cost of the game, and sometimes they're not really worth it, but this was a clever way to stand out in a crowd. Keep these little surprise coming, Eipix. And I wouldn't mind seeing more of Vlad!
December 13, 2014
Disjointed & Not So Appealing Storyline...
I loved the first one in this series but this one missed the mark in my opinion. Its such a disappointment too because Eipix are great developers but the demo was very deceiving and had I known the kind of game I was getting, I don't know that I would have gotten the collector's or standard edition. Let me say I am not a person who gets offended by game story lines as Im open minded and it seems like either people didn't care about the theme or didn't get that far in their reviews or maybe they focused more on the gameplay but I really thought the story ruined this game. It starts off with you and your brother unpacking the house and getting things in order after the last ordeal when a general arrives at your house claiming he needs the iris, the last part of the projector that you guys just happened to keep to remind you of your father (REALLY?), because someone is after it and its not safe anymore and you guys believe him and give him the iris and then set off for the barracks to assess the situation. However, once you get there, things aren't what they seem. There is a special feature that gives you two rooms for the price of one which I thought was a really cool concept kind of like the Secrets of the Dark series with the opening and closing of the shades. This is what made me buy the game as I found this feature to be quite interesting and it made the game seem to have lots of depth and character. What the demo failed to show though was the fact the story line has to do with Pearl Harbor and although it wasn't mentioned, the general basically was a Hitler type figure wanting to start a war and only have some people still there blah blah blah. I play games to get away from the horrible things in life and although I was not alive when Pearl Harbor happened or really have any ties to military or war besides my gramma serving in world war II, I really really did not like where this game went in terms of story line. It went to a dark place when the first one had nothing to do with pearl harbor, hitler or any other kind of big real dramatic problem. These are real world dramatic issues unlike a fun loving game so once the game went to this place, I lost interest and it was very hard for me to finish this game. A lot of the achievements were incredibly hard to get. I thought I had gotten them but they never appeared but there are a lot of collectibles and I was able to get all of them. But finding clovers, kites, morphs and film reels while listening to audio tapes about how this general guy has gone over the edge due to losing his son during pearl harbor really killed what could have been a good game. It started good, it had dramatic moments and beautiful cutscenes, fun mini games and hidden object scenes where you had a choice of playing match 3. While Im searching for these clovers, I am listening to tapes about how he's going to make a new world, only some are allowed, a war of the worlds, a domination of everyone. And Im very turned off by this game because of it. Had no actual war been mentioned, I would have been okay with it. I would have preferred the developers to make up something fictional instead of using something so horrific thats all. The main game had a proper ending. There is a cool feature in the extras where you get to see their offices and make coffee and talk to one of the lead producers of this game. I felt bad not liking his game after hearing him explain things and there will be a 3rd one according to him which I hope will be better than this one. I like how these developers have "making of" or videos like this that introduce themselves and let you have a peek of how these games are made and how much work they put into them. It showed how the lead producer was also the actors and with the technologies they have, he was able to morph his face into a woman and play her part too! The way it was shown was very interesting. Its amazing what technology today can do. I attempted to play the bonus game but once the main game was over, I just couldn't bear to keep playing. Im not trying to be overly sensitive but story lines like this are for the history channel not games that are supposed to be relaxing and take your mind away from the world's problems. I give this 3 stars as there are some very good cutscenes, mini games and hidden object scenes. The overall beauty of this game is intact as far as scenery goes. In the hardest mode they took away black bar hints which I really enjoyed. Besides the story line though, my other pet peeve was that this game seemed to be all over the place therefore I could never figure out what to do next and I never have that problem. The map had pictures of the film reels in the button if you hadn't found them in the scene yet which I liked but there is no choice on the hardest mode to have the map show you where to go so because its so disjointed, I found myself using the hint button a lot. There were a lot of times that the game would lead me back to the beginning of the game to do a hidden object scene again even though I hadn't been there forever and would have never thought to have to go all the way back. I know a lot of games make you go back and forth but most games don't make you go back a certain point once you get so far into a game. This one did just the opposite and it made it really confusing. I just am not a fan of this game. I know some love it and I see the appeal but I just can't get over the story and the disjointed feeling of the game. It wasn't for me.
February 15, 2014
The Apple logo is a trademark of Apple Computer, Inc.
The Windows logo is a trademark of Microsoft, Inc.