Final Cut: Encore Collector's Edition
Exclusive
Your murderous half-sister has escaped, and you've got the last piece of your father's treacherous film projector. The breakout success story returns for an encore as you uncover the truth about your father's dark secrets and find out who's really behind his death and his deadly invention in Final Cut: Encore.

This is a special Collector's Edition release full of exclusive extras you won't find in the standard version. As a bonus, Collector's Edition purchases count toward three stamps on your Monthly Game Club Punch Card!

The Collector's Edition includes:
Step into your sister's shoes in the bonus game
Collect film strips and other achievements
Downloadable soundtracks and screensavers
Bonus wallpapers and concept art
Integrated Strategy Guide
Game System Requirements:
OS:

Windows XP/Windows Vista/Windows 7/Windows 8

CPU:

1.8 GHz

RAM:

512 MB

DirectX:

9.0

Hard Drive:

1257 MB
Game Manager System Requirements:
Browser:

Internet Explorer 7 or later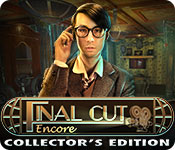 The Big Fish Guarantee:
Quality tested and virus free.
No ads, no adware, no spyware.

Reviews at a Glance

Final Cut: Encore Collector's Edition
0
out of
5 (
0
Reviews
Review
)
Customer Reviews
Final Cut: Encore Collector's Edition
73
73
Great Sequel!!!
Based on SE. Normally sequels don't justify the higher SE price. (of course lately no SE seems to be worth the price.) But i have to admit this one is awesome. It has a little bit of everything. Wonderfully long as in the first Final Cut. Morphing objects, clovers to locate,film strips to find aand match 3 just for the fun. This one takes time but the interactive map is a help. There are no particularly hard puzzles to complete, but based on length of play and everything you need to do to totally complete the game this one is a winner (and I didn't have to pay full price due to by one get one)
August 27, 2013
A quality CE worth buying!
A good follow on from the devs first 'Final Cut' CE. I'm playing hardest mode because the other two modes have sparkles, and I loathe them. In this mode the hint and skip recharge at a reasonable rate. There is a journal with tasks, and a map. But found the map pretty useless as although you can jump scene to scene, doesn't tell you where there are active tasks to complete. The cut scenes and VOs are excellent. HO scenes a bit basic and barely interactive, and maybe a few too many of them. Option of a M3 instead, but I couldn't fathom out what the objective was, so stuck with HOS. Puzzles a bit bog standard in type (jigsaw, turn all the lights on or off etc) and fairly easy. Played about 3 hours of the game, and enjoyed it. There are 12 morphing things, and I've only found one (by accident). Various other achievements pop up from time to time such as playing HO scene or completing puzzles without using a hint or skip... I wasn't overly enthusiastic about the first FC game, and actually prefer this game. Only criticism is that there's not really enough to do in each scene; maybe 3 things in a big room with lots of objects. Certainly has you using your brain, and in the mode I'm playing not a lot of hand holding which makes a refreshing change!
July 11, 2013
NOT a Fantastic Sequel but Playable!
Looks like the Final Cut isn't so final. A good sequel to an interesting story involving mind control, a Psysho half-sister who has apparently escaped and two siblings who are trapped in an army base that morphs into a film set. What is real and what is a hallucination seems to be your biggest obstical. A close family friend apparently betrays you and once again you must find out who is behind the initial plot of stealing the mind control film projector invented by your father. Graphics could have been set at a higher resolution as they are somewhat blurred at times. However live actors are used which make it interesting and voice-overs are well played out. Ambient sounds and music set the tone of the game and adds suspense to your gameplay. Main Menu offers three play modes to choose from ( no sparkles at all) which can be changed during gameplay and features include a journal and a map that allows you to travel and indicates progress. I especially liked the map as it is animated and you can actually look into buildings and see rooms. Well done! These developers get better with each game and they also work at holding your attention with extras like morphing objects, collectables and achievements which is a plus in my book. HO scenes are crowded and slightly interactive, unfortunately graphics could also have been better. Mini-games are relatively easy during the demo and I do hope that they get more challenging along the way. I recall that the previous installments were quite challenging with intricate mini-games that really were fun to play. Unfortunately I have yet to see this in this version. I liked the Final Cut series because I really enjoyed the storyline which is original as well as the gameplay. Unfortuantely I feel mildly dissapointed with this latest installment. Firstly the game crashed on me three times during the demo which is not always a good sign, second the graphics seems to be somewhat iffy at times and the High Definititon graphics did not work on my computor. Also gamepplay was not as challenging as I would have liked it to be. Nevertheless, I am interested to see the story come to an end and solve the mystery. As alway, I think the Developers did a good job and I do applaud them for their originality with some features like the map. It looks like Final Cut will be added to my CE collection but I still think it could have been better.
July 11, 2013
A Good Old Thriller Just Right For A Rainy Day- Based on Demo
Reviewers Note: Level of Challenge for me is primarily based on HOS and Puzzles. Well, Eipix has been making some pretty good games lately, and Final Cut: Encore is added to that list. I really enjoyed the trial, but, once again I will wait for the SE release. The storyline is favourite kind and starts brilliantly, which is what first got me hooked. Then, near the end of the demo, there is another sick twist that leaves you desperately wanting more. The game uses live actors for the cutscenes, making it just like watching a movie. The HOS are great. There was just the right amount for me. The HOS include extra step objects and I found them rather easy, allowing me to collect a number of HOS achievements. For those who do not want to play the HOS, there is an option of Match 3. This is very fun and also easy. The puzzles were great. Eipix took all gamers in to account as some were easy and others a little harder. On Casual mode, the Skip recharges incredibly quickly for those who find the puzzles too hard or just can?t be bothered doing them. The Strategy Guide provides solutions for the puzzles, but only through screenshots. The gameplay was nothing new to me, and I had no issues with getting stuck, which is a bonus. One thing that annoyed me though- You had to switch between 2 different ?worlds? to get things- something which really drives me insane in games. Something that I found to be more useful than usual was the hint. The hint acts as an interactive map, so you don?t have to waste time backtracking or using a map. Well done to the developers on this. The graphics are excellently done. The cutscenes use real actors, and at times it?s like watching a movie. Other than that, the HOS are done really well, as are other scenes in the game. Kudos to the developers for their extra effort. The voice-overs are nothing special, but they were done well enough to make the game interesting. There is nothing really to comment on the voice-overs. FEATURES - Diary to keep track of events. - Map. The map is interactive, although I did not use it as I had the hint. - 3 modes of play- Casual, Challenging and Expert. I played Casual, as I always do when first playing a game. - Hint and Skip- the hint and skip recharge incredibly quickly on casual and the hint is extremely useful outside HOS, acting as an interactive map. - Strategy Guide (CE Exclusive)- Helped me solve a couple of puzzles. - Achievements (CE Exclusive) - Collectible film reels (CE Exclusive) - Downloadable soundtrack and wallpapers (CE Exclusive- Bonus content) - Bonus Chapter (CE Exclusive- Bonus Content) - Concept Art (CE Exclusive- Bonus Content) The demo is a solid 45 minutes and the game is packed full of CE Extras, but the file size is HUGE at 1.2GB. What?s with all the big games lately? If you have limited internet and/or computer space, I would advise waiting for the SE. If you like extras, take the CE. Either way, I recommend this game.
July 12, 2013
GOOD GAMEPLAY
Outstanding story is a continuation of Final Cut - Death on Silver Screen. You caring uncle and the circumstances certainly aren't what they seemed to be. Great graphics; voice overs are pretty good (could use a little more emotion). You have achievements and can play casual, challenging and expert modes. Difficulty can be changed during play. Journal includes your objectives and map. CE extras include the bonus games, movies, picture, HOS and puzzles. HOS are nicely done - well-detailed and not too crowded. Includes an option to play Match 3 if you don't like HOS. Puzzles aren't too difficult. Gameplay is straightforward - you generally know what you have to do next. Carefully crafted environment. Very nice entertaining game.
July 11, 2013
LOVED IT!
NO Zombies, Vampires, Ghosts, deceased spirits/relatives or whatever strange creature the devs can dream up!! It is a nice straight forward who-done it which I love. The HOS are Not messy, tiny junk piles & they have real actors interspersed among the story which is a nice touch that I appreciate. The artwork is realistic looking & not the usual flat drawings with one dimensional characters. So if you want a break from the zombies, vampires etc. give this game a try. You might like it. I thoroughly did!!
July 12, 2013
Really don't know wether this is a 3 or 5 star game ???
I loved the first "Final Cut" - and was eager to try this one out. The Graphics, collectibles and the plot seems to be of a high standart. There are a lot to find: Filmstrips, morphing object and clovers - The filmstrips were easy to spot, but in the full demo I only found 1 morphing object and 1 clover .... promising CE quality :-) The reason to swap between locations wasn't really clear to me, and confused me more the deeper I dug in. Well - as I only did the demo it might be more obvious later on. I really, really disliked the quick zoom in/out from items and tasks - it isn't pleasing the eye or the gameflow at all, and this is the main factor to my low rating. It was SO annoying and kind of ruined the game experience. I am having an ambivaliant feeling about the oportunity to swap to mach 3 in the HOS - On the one hand it is a fast help when I can't find the items, but on the other hand, it makes me lazy as I know I don't have to work my butt off in order to find them, as I can just swap..... so - am both pro and con ?? Will wait to see how others rate the full game before I buy it, and I also wan't to know how long the game is. - In fact... I'd wish all rewievs of full games would include the length of the gameplay. I'll recommend this game, as it in many ways is of very high quality
July 11, 2013
Not a bad sequel!
As usual, another special for a series I already have...except for this one of course. Yes, I have the first two and liked them both. This one is a bit different Don't much care for the combination of real and animated people, but not badly done. I always demo on easy mode, so here it goes. Not much in the way of instructions on this game. Does not tell you that you have extras to find within the game. I just accidentally found them. There is a lot of shoe leather used in this game, as you frequently return to the same location and HOG. Good thing there is a jump map! Naturally, it only shows two chapters, which I don't care for...I want to see how many we have to look forward to. Game play was good, music not too bad, graphics the same as the other two games. Games were simple and not "brain" taxing. HOGs simple and straight forward. Some items very small and hard to see, but mostly not bad. Had some sparkles that weren't HOGs, just sort of there for no reason. Nice, helpful hint system that fills quickly. SG was very nice as well. Story line seemed as though something was missing. Maybe it was the lack of direction or instruction, but the story was different. I believe you weren't being transports back in time, but back into a movie. At least that's what I thought. This game was not spectacular, nor was it particularly challenging, but I do find myself wanting to see it to the end. Yes, I have sworn off CE games, so I will put this one in my puddle and hold for the SE, unless there is a really good special on CE games coming up. As always, try it for yourself and see what you think. We all have different tastes in games and you may find this one to be exactly what you are looking for. Thanks for the reviews.
July 11, 2013
Great Sequel
This Sequel is a great addition. Had a lot to do and lots of fun. Good on characters and conversation. So great cut scenes. Like the interactive map and collectables. This will go on my must buy list.
August 1, 2013
Almost perfect!
Great game. I'm not a fan of non-animated cutscenes, with real actors. I find it cheap. But by the end of this game I didn't care, and as the story got deeper, I felt the acting got better. The storyline became quite moving, especially if you get the CE. My only issue with the game is that the map is not very helpful. Sure, you can use it to take you to previously visited scenes, but it's only prompt is that you need to get to a place you can't get to yet (without a long think or hints). The map is no guide, just a shortcut. However all was forgiven with the extra extra in CE. Cats! Dreadlocked guy with adorable accent, and coffee. If you love coffee and cats, it'll be worth it. Also the main game has lots of bits to look out for. Film bits, clovers, morphing objects and kites (don't forget the kites!). But next time, guys, a better map, please! Sure CE can use the guide, but I'd rather use a hint! No cheating for me. Highly recommended, if you can live with a few hints here and there. The cutscenes are jarring at first, but you'll warm to them very soon.
July 17, 2013
The Apple logo is a trademark of Apple Computer, Inc.