Reveries: Sisterly Love
Exclusive
Celebrate ERS Game Studios' 50th game with Big Fish by taking a journey to a magical world!

Save your twin from a nefarious witch in Reveries: Sisterly Love! In order to save your life, your sister, Monica, traded her soul to a witch. You watched helplessly as Monica grew old before your very eyes and then disappeared through a strange mirror. But you're not feeling so helpless anymore! Monica's sacrifice has given you the strength to venture through the looking glass to rescue your twin. Can you defeat the villainess and save Monica before her soul is lost forever? Find out as you journey through a whimsical fantasy world in this exciting Hidden Object adventure!
Game System Requirements:
OS:

Windows XP/Windows Vista/Windows 7/Windows 8

CPU:

1.6 GHz

RAM:

1024 MB

DirectX:

9.0

Hard Drive:

563 MB
Game Manager System Requirements:
Browser:

Internet Explorer 7 or later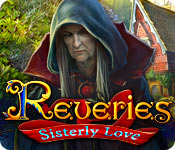 NEW299
The Big Fish Guarantee:
Quality tested and virus free.
No ads, no adware, no spyware.

Reviews at a Glance

Reveries: Sisterly Love
0
out of
5 (
0
Reviews
Review
)
Customer Reviews
Reveries: Sisterly Love
34
34
What a Beautiful Fairy-Tale!!! :)
Played the Collector?s Edition of this game, and tried this Standard Edition to find any differences: This is another ERS-masterpiece!! Beautiful, colourful and welldone graphics, astonishing creatures and animals, very good animated characters with nice voice-overs? Facts: 3 modes to choose from (can be changed during the game), direction giving hint, a detailed joural with a map showing you objectives and allowing you to ?jump?, you may lock the inventory, 6 chapters. Attached to your inventory you?ll have the Amulet of Elements, which helps you to defeat the witch?s evil powers, such as smoke, fire, wind, frost and water?. Lots of different interactive hidden object scenes (played more than once): for example ?find 8 pairs of items that work together?, ?find 15 toys? and those silhouette-HOS, where you must find one item, place it back in the scene to get another, until 1 last item remains for your inventory. Great fun!! You?ll also find a good amount of unique, non-frustrating minigames/ puzzles. This Standard Edition ends conclusively with a happy end after at least 5 hours. Mentionable Extras ONLY available in the Collector?s Edition: Bonus-chapter, 17 achievements to earn, 12 fortune-teller nuts to collect, replayable minigames and hidden-object-scenes, Calendar and strategy guide. If you love fairy-tale themed games, which are not too difficult and don?t care about the mentioned Extras of the CE: You have to add this one to your collection!!! :)
June 28, 2013
Just a great game to play by ERS
Yet another great game by ERS. The graphics are well done and with creatures and animals that are beautiful. The characters are also well done and has voice over. 3 modes of play and the hint button is pretty fast and gives you direction. Has a detailed journal with a map showing you objectives and allowing you to move form one area to another. 6 chapters. You have to find and use 4 Amulet of Elements, to defeat the witch?s evil powers. Interactive HOS which are fun to play. More matching pairs or find 15 toys or silhuettes. They were fun and different than just finding HO. The puzzles were good and not mind bending. This was just a great, fun game to play.
June 28, 2013
Where Dreams Come True
BASED ON COMPLETED CE GAME Dreams come true in this MAGICAL FANTASY TALE about the LOVE OF SISTERS. You are fatally ill when your sister is offered the chance to save you at the price of her youth and her soul. She does not hesitate, and is dragged off to ANOTHER WORLD by the witch who made the offer. Now well, you follow in the hopes of RESCUING her. The netherworld is NOT the DARK HORRIFYING realm you normally expect, but a DREAM WORLD of UNBELIEVABLE BEAUTY, where ANYTHING is possible, and ROMANCE is as real as the SPRINGTIME that surrounds you. Of course, not all is as it should be, because there?s the witch to be dealt with, but you are immediately charmed by it all. The GRAPHICS are indeed MAGICAL, clear, colourful, vibrant. The IMAGES created by the artists take your breath away. The AMBIENT SOUNDS are of songbirds and waterfalls. Nor does the IMAGINATIVE input stop there. The MUSIC is varied, definitely NOT the usual fare offered by ERS, and really ENJOYABLE. And a little musical DIVERSION from the norm I'll let you discover for yourself. VOICEOVERS are a MIXED bag. The WITCH is sooo annoyingly CHILDISH, I can?t tell whether it?s deliberate or just bad acting. Certainly increases your dislike! This game has a number of INTERESTING, UNIQUE, QUAINT & yes, SOMETIMES unbearably CUTE, CHARACTERS. You do not have a single constant COMPANION, but plenty of helpers along the way. And the enemy and her MINIONS are well done too. The GAMEPLAY is involves a number of different HO STYLES, including: INTERACTIVE LISTS, MULTIPLES, PROGRESSIVE SILHOUETTES, STANDARD SILHOUETTES and ?find PAIRS that work together?. You visit them each twice, but that?s cool, they?re well worth a second look. The PUZZLES are very ORIGINALLY & BEAUTIFULLY designed, and while there are some STANDARDS there are also NEW ones and twists on others. The ADVENTURE SIDE of the game is pretty STRAIGHTFORWARD, and there is an INTERACTIVE JUMP MAP that indicates areas that are COMPLETE as well as those that are ACTIVE, and HINT is DIRECTIONAL. There are many EXTRAS available with the COLLECTOR?S EDITION, but the BEST are AVAILABLE in the SE version TOO. There are COLLECTIBLE fortune nuts, for which there is an OPTIONAL purpose near the END of the game if you collect them all. AND you get to CHOOSE THE ENDING. I love games that do that!
June 28, 2013
Never underestimate the powers of twins!
Monica Smith was willing to do ANYTHING to save her twin sister Anna so she bought a magical mirror at an antique store and summoned the wicked witch Sybil. Sybil agreed to cure Anna in exchange for her youthful soul, but the newly cured Anna goes after her sister through the magical mirror portal to a beautiful and magical world. She meets a hansom Prince Addris who is willing to help her defeat the witch, find her sister and restore his kingdom and gives Anna a magical Amulet of the Elements to protect her against evil magic such as smoke and fire. You will have plenty of tasks in each scene to keep you busy and you will help animals along the journey and occasionally help a clever rhyming troll who can't seem to stay out of trouble! The HOS are a bit different some will require you to pair alike items such as a stamp and an envelope, others will have you find 12 toys and some are continuing finds where you find a silhouetted item then you place that item where it belongs to find the next item. The mini games are clever twists on familiar games such as a scorpion in a maze of doors with the goal of getting to the finish line but when you go through the doors, some close behind you and others only open one way so put on your thinking cap! The only complaint is with the map, you have to open up your journal and then click on the map and by the time you do that you could have just walked there. Cudos on this game it's a winner, enjoy!
June 28, 2013
An Absolutely Beautiful Fairy Tale
The creators outdid themselves with the colourful graphics with this game. The journey does keep you involved rather than like the same old seek and find games. It's mostly puzzles, but not the type that make you want to pull your hair out. The hint button recharges fairly quickly which is always a bonus. We all have a child within our adult bodies and this game made my inner child very happy. I recommend this game to anyone who needs to feel like a kid again.
June 29, 2013
Fun game...just different enough
I suppose it must be difficult to come up with a different story line...there are just so many forms these stories can take. That being the case, this game provides interest by NOT being dark and dreary and by having chapters that were DISsimilar enough to hold my interest (even a few minor surprises). The HO scenes are easy, perhaps too easy, and the puzzles were simple too. With an interactive map and hints that recharge quickly enough, some might want a more challenging game. For me, playing for relaxation and distraction, it was just fine. It was pleasant to think through the tasks without having a mental meltdown! Found objects are used quickly enough for the most part, so there is not a lot of shoe leather used up, and I like the map showing finished areas....there is nothing worse than hunting in finished areas for something that isn't there. No real surprises until the last moment....interesting! I enjoyed this and was sorry when it was over!
July 23, 2013
Played the Demo - Bought the game!
The title says it all. I played the demo and enjoyed it so much I bought the game. I am still playing, but thought I should stop and write this. The game is well done, drawn clearly, lots of little helpers join you in the game. The story line is interesting and the hidden object games are fun (little mini-games inside them) and they are varied so you don't get bored. Help button is OK and you don't hold on to things for a long time which is nice. You use them pretty quickly in the area you are in. That saves a lot of back and forth which is annoying some times. The sound and music are good and not distracting. The game has a dark theme but the game itself is not dark at all. As usual, I suggest you play the demo and see for yourself if you like it or not. I will go play some more. Enjoy!!
June 29, 2013
My new favorite game!
I enjoyed playing this game...I wish I would have purchased the CE so I can keep playing! I did, however, choose to skip some games due to difficulty for me, but that does not change my rating at all. One game would not play correctly, and if I would have had the CE, I could have looked it up to figure out if I was doing something wrong or not. (the "3 colored beetles" game) I enjoyed the different HO games...no boredom for me in this game! Thanks to the makers of this for a most ENJOYABLE game!!! Oh, I also enjoy the fun animals...especially the rabbit...I wish he would have shown up more! I like that it allows you to choose the ending also.
July 5, 2013
to adventure through the looking glass
I love this! Another masterpiece from Ers games! The cut scenes are marvellous and the discovery of the hint button beautiful and clever. The characters look natural and the voice overs are clear. The story line is quite unique and un expected things happen! What more can you ask for and adventure into another world!
June 28, 2013
Loved it!
A long and beautiful game, interesting mini games and clear graphics.
August 31, 2013
The Apple logo is a trademark of Apple Computer, Inc.