Dark Dimensions: City of Ash
Exclusive
You've been studying the supernatural phenomenon known as dark dimensions since you were very young, hoping that they will eventually lead you to your missing family, but nothing has prepared you for the danger that awaits you in Phoenix Hill, California. Once a prosperous mining town in the 1950s, a volcanic eruption changed everything. Now its citizens are trapped as spirits of ash, unable to move on. Can you uncover the tragedy that caused this dark dimension to appear? While most of the inhabitants are friendly, one fiery ghost will do anything to stop you. Volcanic tremors are rumbling beneath your feet. Will the volcano erupt again? Watch your step in Dark Dimensions: City of Ash, a sizzling Hidden Object Puzzle Adventure game.
For a more in depth experience, check out the Collector's Edition
Help Phoenix Hill rise from the ashes!
Game System Requirements:
OS:

10.8/10.7/10.6/10.5

CPU:

2.5 GHz (INTEL ONLY)

RAM:

1024 MB

Hard Drive:

731 MB
Game Manager System Requirements:
Browser:

Safari 4.0 or later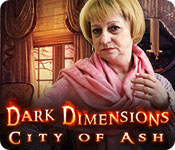 NEW299
The Big Fish Guarantee:
Quality tested and virus free.
No ads, no adware, no spyware.

Reviews at a Glance

Dark Dimensions: City of Ash
0
out of
5 (
0
Reviews
Review
)
Customer Reviews
Dark Dimensions: City of Ash
26
26
It's Short. Who Cares? NOT ME!!
DISCLAIMER: Game review is of completed game. My full rating is 4.5 ~~~~~~~~~~~~~~~~~~~~~~~~~~~~~~~~~~~~~~~~~~~ My trial of the CE was interrupted, so I thought I?d trial the SE, and I?m so glad I did! This is the first Dark Dimensions game I?ve ever bought and I loved it to the end! STORY: Yes, the game is short, but I don?t care! The story was something different from the norm nowadays and was a delight to play. I was gripped from the start, and happily played out my game. While it wasn?t the most exciting story ever, I was compelled enough by the demo, and eventually uncovered the whole truth. The story took an unexpected twist near the end, much to my delight. The ending is conclusive in the SE, but was a little disappointing. Not much happened really. I was expecting to jump out of my seat with excitement, but instead, let out a sarcastic ?wow.? This was the only real disappointment of the story, which was otherwise fantastic. GAMEPLAY: Beginners should have no trouble in this game as the gameplay is very simple and straightforward, with a lot of locations to explore and a lot of things to do in locations. Kudos to the developers for this. There are 3 modes of difficulty: Casual, Advanced and Hard. The differences are listed below: Casual: Fast hint and skip recharge speed, sparkles on active areas, items and zoom in scenes, no miss-click penalty. Advanced: Slower hint and skip recharge, no sparkles on anything except HOS, miss-click penalty. Hard: NO hint and skip, no sparkles. You receive no help at all on this mode. HOS AND PUZZLES: The HOS were honestly my favourite part of the game. Is that wrong? I loved how different they were, and I was delighted every time I ran in to one! I?ve seen reviewers complaining about the amount, but who cares when they are this good! Each HOS is played twice, with the first being the classic junkpile and the second being silhouette. Both were fairly easy, but I enjoyed them. Junkpile scenes contained several ?extra-step? objects, but the silhouette scenes contained none. While I found both to be enjoyable, I much preferred the junkpile scenes. The puzzles were a mixed bag. Some were easy and others were hard. The puzzles at the beginning were the easiest for me, but I did manage to solve a few more after that. The puzzles had clear instructions, which was great. GRAPHICS & MUSIC: The graphics are much more colourful and brighter than in previous Dark Dimensions, which was a welcome change for me. The artwork is extremely well-done, with some scenes almost seeming realistic. I was stunned at how well the artwork was drawn. Well done, developers! However, while I was impressed with the graphics, I had two major issues: My first and biggest issue was that everything seemed out of place. This game says that the town was destroyed in 1956, and from the looks of things, you are returning to the town after it?s destroyed, but to me, everything about this screamed modern. I don?t know, but everything seemed to be too new for the 1950s. There were some things that were from the 1950s, for example, news broadcasts via radios, but everything else to me seemed more modern than the 1950s. My second issue: They definitely were NOT kidding when they called the game City of Ash. There was ash everywhere! Trophies turned to ash, ghosts turned to ash, ash was used in the game, you name it, it had ash in it. A bit to over the top with the ash theme, developers. As for the music, I didn?t pay much attention to it. It was not loud enough to put me off, but then again it was too quiet for me to pay much attention? FEATURES - 3 modes of play- Casual, Advanced and Hard. I played Casual. - Hint and Skip- both recharged fairly quickly on Casual and the hint is fairly useful outside HOS. - There is a map. The map is interactive and shows where there are objectives to complete, to save time backtracking. I found the map to be extremely helpful. - Journal. The journal keeps track of your findings. It is used fairly often in the early stages of the game, but after the first hour, is hardly used again, which is a little disappointing. Overall, I thoroughly enjoyed this game. I really enjoyed it from beginning to end and can?t wait to play it again. It is fairly short, but I honestly did not care as the game was SO much fun! Glad I got this with my free coupon. I HIGHLY recommend this game! You will love it!
August 2, 2013
Dark Dimensions is finding its stride again
This review is based on a completed playthrough of the game. MUCH better than Wax Beauty: none of the typos, numbers that didn't add up, any of that. It's the same premise as the other games, which isn't a bad thing - it's what defines a Dark Dimensions game (Dark Dimension rolls in, we go in to find out what Bad Things(tm) happened to cause it, then we make it go away). The game ends conclusively - no loose ends. So you're not cheated out of an ending for buying the SE. Devs take note: I tend NOT to buy CE's or SE's of games that follow the 'unfinished ending' pattern as I don't want to support it. An SE should be a game that stands well on its own, and this one does. Now on to the review: THE GOOD: It's a fairly easy game (this could just as easily go under THE BAD - personal preference), but that's where Dark Dimensions has decided to place itself in the market. Players looking for a game with a decent story, nice visuals and some puzzles mixed with HOS but nothing really brain hurting hard. There is one puzzle that rises above the challenge level of the rest of the game - it can be skipped (I accidentally did half way through :( ). Other than that one, which is a very good one, they're puzzles we've seen before, easy to light medium difficulty. The HOS were clear, well lit, and didn't look like random junkpiles: no banana peels and old telephones in an armor display case. Some were visited twice: the first time as a 'normal' list HOS with some interaction, the second time as a 'silhouette' type (objects you found the first time are gone). No sparklies for them in advanced mode, so you have to remember where they are and check back over them to get the second screen at times. Voice overs were used sparingly, but to good effect. Most of the voice actors, especially the 'main' one, did their job well. Your journal is there to record the story, not take notes for the game's locks and keys (just like the other two). I didn't take any 'extra' notes, and I didn't need to. It might have made my life easier on one or two occasions but I got through them. Hint button is your standard arrow guiding you to right location then circle what you have to interact with. I used it a couple of times to point me in the right direction. THE BAD: In the beginning, objects are used almost as soon as you find them (sometimes in the same screen). I was afraid that would be the trend for the game, but as the game spread out, so did your inventory. At one point I was carrying about a full bar and a half of items. (so Bad that turned out OK) Black Bar hints that know way more than they should. I hate that. The game was short - I'm a slow player. I love to take my time, enjoy the scenery, etc. I played the game over two sessions on different days, so I had to 'get back into' the game for the second session. I took the time to find every object in the HOS without hints, and solve every puzzle (except the one I already mentioned) and I was done in four hours. That may sound like a good length for a SE, but that means for a more 'normal' player, you're probably looking at three hours, maybe less. THE UGLY: The ending voice over was just horrid - like something out of one of those old dubbed kung-fu theatre movies. The Map: I know some players say they don't like 'scrolling' maps, but if this is the alternative, give me the scroll. To fit the map all on one 'page' they made the locations tiny, to the point that on my 25" monitor I was having a hard time reading the item locations. It did give 'snapshots' for tooltips and was 'jump' interactive. BOTTOM LINE: They've really stepped up their game after Wax Beauty (they needed to) and have pulled off a solid, if short, title here. It's nice, relaxing fun with a dark storyline. Not the most challenging game out there, but a very engaging one that 'pulls you in'. I can guess at what the CE bonus might be, but I'm fine without it. Solid story, good graphics/visuals and sound, nice game to kill a few hours with some relaxing fun. A solid four stars.
January 28, 2014
Ashes to ashes . . . literally
Game flowed quite well. Hint button was very directional. Audrey (main character) herself was intriguing. Did not need map, although journal was good for backup notes. Only had to hit the walkthrough twice, which says a lot for the game. Game was shorter than most, but was put together without a busload of "back and forth" which drives me up a wall. This game was well worth the money and I would like to see more on this series from the developer.
July 6, 2013
Great game...
I'm not giving it FIVE stars because it was way to short! But it was fun and having played in the expert mode I didn't need one hint. There was on snag in the game but I seemed to have found a way around it... The ending gave the player a little bit of closure instead of just ending cold. I appreciated that. If it were a little longer than it would've rec'd five stars. (2013)
July 24, 2013
Good Game.
I enjoyed playing this game. It was easy and interesting.
April 10, 2014
Only 4 stars......
I only gave it a 4 star because it was a short game. If length of a game is important to you then you might not want this game. I did like the graphics and the story line. It wasn't a difficult game but that is okay, I play for fun sometimes too
January 20, 2014
Good addition to the series!
This was about the same level as the others in the Dark Dimensions series...good challenge, interesting art work, and good story to follow. My only issue is that it seemed shorter than others in the series.
October 7, 2013
Disappointed with Dark Dimensions
I enjoyed the game...what there was of it. The shortness came as a big surprise and that affects how I will review this. If length is important to you, as it is to me, then you might not want this game. I don't usually play with the sound on so I can't rate that. I did like the graphics and the story line. It wasn't a difficult game but that is okay. I play for fun and not so much for challenge. I was expecting more length so I am definitely disappointed. I absolutely love the other Dark Dimension games. I recommend this game but with reservations.
July 3, 2013
Short
Shortest game ever!! Ok, you want me to say more...this is the shortest game I've ever played and I'm SO glad I used a credit on the SE and did not get the CE.
July 1, 2013
Boring Storyline...
I really like this series, wax beauty is my favorite as I thought it was well written and unique and I absolutely love this developer's hidden object scenes however this game didn't live up to the hype of the last two in this series. I felt like this game was rushed and didn't tell the story very well because of it. There seemed to be nothing all that worthwhile to uncover and by the time you get to mine, the game is over. I did like the interactive hidden object scenes and actually wished there had been more. The puzzles were okay. Some were really easy, some took me longer to solve and others I just skipped out of sheer boredom. The game mechanics are fun but the story line doesn't hold up well. The visual/sound quality was very nice. I liked the music and the voice overs were done well however the plot just never captured my interest the way it should have so I never got emotionally wrapped up in this game therefore I felt like it was more of a chore to play. Hopefully the next one in the series will be a bit more likeable, longer and have a better plot line. I like these games because they are unique but this one felt cookie cutter and unoriginal. It does have a proper ending so if for some reason this game does tickle your fancy, it will satisfy you without having to purchase the collectors edition. For that alone, I recommend this game but the plot doesn't get better as it goes along so if you like a good story like myself, this is not it.
October 25, 2013