Rush for Gold: Alaska
Who says the time of the great gold prospectors has passed?! You have an opportunity to be one yourself! Explore locations for gold and other useful resources, protect your workers from wild animals and robbers and build the town of your dreams in Rush for Gold: Alaska!
Two game modes - time-limited and free play.
Exciting, dynamic gameplay.
Lots of buildings and units to interact with.
Game System Requirements:
OS:

Windows XP/Windows Vista/Windows 7/Windows 8

CPU:

1.0 GHz

RAM:

512 MB

DirectX:

9.0

Hard Drive:

253 MB
Game Manager System Requirements:
Browser:

Internet Explorer 7 or later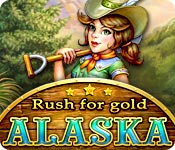 NEW299
The Big Fish Guarantee:
Quality tested and virus free.
No ads, no adware, no spyware.

Reviews at a Glance

Rush for Gold: Alaska
0
out of
5 (
0
Reviews
Review
)
Customer Reviews
Rush for Gold: Alaska
43
43
A Different (and fun) Kind of TM!
Lately the TM games have been pretty much alike but this one is really fun with lot's of things to do. You will travel to Alaska to try to earn some money because your parents family business is going bankrupt. You will become assistant to the Mayor and will need to hire workers to pan for gold, collect food and resources, trade with the local Indians and clear away rocks and patch holes and watch out for the coyotes....they will need to be scared away from time to time! You can play in timed mode or relax mode and the tutorial at the beginning does a good job of explaining how the game works and how to follow the tasks given. You earn 1-3 stars in each level and then use the stars to tidy up and improve the crumbling town you now call home. Good graphics and easy instructions make this game a winner, enjoy!
July 1, 2013
Fun TM Game
Pretty good TM game; can play in timed or relaxed mode. While prospecting for gold, there's lots of chopping, fishing, building, mining and trading going on. After the first few levels, the tasks get more challenging and are harder to complete on time. In the timed format, you get 3, 2 or just 1 gold star for completing each level. Then you can use the stars to purchase improvements for the town. However, I was given an opportunity to do that after the very 1st level, didn't really pay attention to it, and now can't get back to it. After 15 minutes I turned down the volume because the voice-overs were bugging me. Also found that sometimes I had to click a few times to get something to work. Overall, it looked fun and challenging. Compared to other TM games that just came out on BF, I like Moai better; but prefer this one over Druid Kingdom.
July 1, 2013
I think I will buy this one.
So far I only played half the demo, but this one looks very promising. First off they have the click ahead feature. How many times have reviewers commented on this feature? This game has it. Also, on the Adventure setting, you can reach gold, it's not always straight forward easy, but not impossible either. Perfect. Everyone wants a challenge without it being just one route to the answer with manic clicking. You can get to gold and it isn't down to the nano second. Finally a worthy Time Management gamed amongst all the HOGs! I didn't give it an excellent, because I am still on demo.
July 1, 2013
Fun game with a bit of a challenge
This review is based on the trial. This is a fun road building type of game. You need to rebuild your family fortunes by searching for gold in Alaska. There are two game modes: timed and relaxed. I only played the timed version. You get stars for finishing levels in gold, silver or bronze and can use these stars to buy upgrades to your town. Game play is standard, you need to collect wood, food and gold to patch the roads and build gold mines. I had to restart levels a couple times in order to get gold, so there is some challenge to the game which is nice for the time management lovers out there.
July 1, 2013
I'm not a TM fan...
...But I liked this one! I played in relaxed mode, as I don't like timed games, but the next time I'll try the timed mode. I can't add too many details, as others have already described it pretty much how it is, but I had no idea that the stars could be used to purchase things. That was the only down side. Otherwise, I would have to say it was fun for me--and addictive!
July 18, 2013
Go for the Gold!
I enjoyed this game. It could have been a bit harder, only took me a couple of times at a level to get the 3 stars. But it was fun.
July 14, 2013
It's up to you to save your family!
You've run away from home to seek your fortune in Alaska - GOLD country. But, your family has little hope in your adventure. Can you prove them wrong and succeed? The graphics are amazing. All the colors are right on spec - the grass, trees, water. Even the individual people. Can't say much about the background music as I tend to tune that out but the side effects of people talking, working, etc. was perfect. No HOGs but a short mini game to start your gameplay. The premise of the game is to follow the tasks you are assigned. Such as build a bridge, build a farm, cut down trees and collect food to meet all your tasks to pass a level. It really is quite easy as you get instructions all the way through. You even get to speak to the townspeople between levels AND help decorate the town. While this is a game of strategy and time management (unless you choose the "relaxed" mode which isn't timed), it is fun and addicting. I HATED that the demo ended. LOL. This game has it all and is definitely on my wish list. I recommend everyone try this town building, rush for gold and meeting characters everywhere game. As I said, it has something for everyone. I hope you enjoy it as much as I did. Happy Gaming!
August 3, 2014
Cute Little TM Game
Standard time management game. Cute visuals, medium difficulty.
February 2, 2014
On the Wild Wild Fence...
I'm not sure whether I like this game or not. The challenge is definitely there on timed mode. It does have a relaxed mode as well. You're building up an Alaskan Gold Town from disrepair to save your family's fortune. The graphics were ok, nothing to rave about in my opinion. The gameplay though felt...a little off to me. It's a typical chop chop, harvest harvest TM that after a few levels allows you to build lumber mills and gold mines, etc. However, when choosing the amount of resources you wanted to purchase, you had to hover over the options to see which one gave you how much material for whatever amount of gold. Would have been nice to see it on the option button instead, i.e. 40 gold for 80 wood. In timed mode, you can complete a level for gold, silver or bronze stars. The more stars you collect, the more upgrades to the town you can purchase (trees, statues, etc). Overall, it wasn't really that much fun for me and I think I will pass on purchasing, even with credits. Others will probably enjoy it as it's not a terrible game, just not something for me.
July 1, 2013
Pretty Road/Town/Time MGMT
Based on the demo. I would have given it more stars except for the repetitive nature of the game but overall it was good. Graphics are bright, colorful, and clear. The cut-scene in the beginning gives you a nice back story. You're off to find gold in Alaska to save your family from financial ruin. You arrive at your first train stop to play a odd little mini-game that is somewhat confusing. Everyone has lost their luggage and you must find the pieces that are piled around the depot amongst other objects. After this you become the major's assistant and are enlisted to go into the wilds to chop wood, find food, and find gold. Similar to Royal Envoy and the like. The music isn't too bad but the different character noises become annoying after awhile. I love my Royal Envoy but this wasn't as fun for some reason. The best thing about the game is you can queue tasks ahead. But that was about as good as it got. You queue the workers do the chopping, fruit picking, fishing, and building. Your character is only in play when you need to discover a area where there is gold or a wolf that you have to scare off by shooting a gun in the air near it. Now if you have the workers in queue towards a bush that is behind the wolf he will still go there cross the wolf's path but then freak out, scream, and run back to the house. Then you have to re-queue him. First it was hard to tell what you needed to do. It wasn't obvious that you needed food or wood for certain tasks like covering a ditch or building a bridge. If you click on something that you do not have the resources for, it will give you this quick double warning sound that is annoying at first then after the 50th time you want to punch the screen. I also found the challenge mode to be pretty difficult right off the bat. Had to redo a number of levels to get all 3 stars starting from level 2. If you finish with 3 stars you get to fix up the town one building at a time. Seems like you can get as many extra helpers as you want as long as you have the food, which is nice. The levels go by quickly and there is a good bit you have to accomplish every level. Some may find this level of challenge great but I think I'll stick with my other road/building games.
July 1, 2013
The Apple logo is a trademark of Apple Computer, Inc.