Hypnosis
Mysterious circumstances surround the disappearance of a physician from a psychiatric clinic, and police have requested your assistance in the investigation. The patients are behaving oddly as you arrive at the scene, but as an experienced hypnotist, you are able to sedate them and travel into their psyches. As you dive deep into their subconscious minds, you'll discover that this group of patients is comprised of a collection of exceptionally gifted and intelligent individuals: a painter, a musician, a scientist, a businessman and other bright minds. While each mind contains shocking surprises and intriguing puzzles, none are without terrifying phobias and dangerous obsessions which lead you to believe that what seemed like the disappearance of one man might actually be a catastrophe of epic proportions. Can you face your own subconscious to find the answers?
Ever-expanding plot!
Impressive graphics and special effects!
Meet uncommonly complex characters!
Game System Requirements:
OS:

Windows XP/Windows Vista/Windows 7/Windows 8

CPU:

1.4 GHz

RAM:

1024 MB

DirectX:

9.0

Hard Drive:

770 MB
Game Manager System Requirements:
Browser:

Internet Explorer 7 or later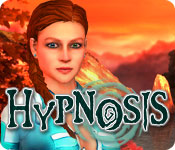 NEW299
The Big Fish Guarantee:
Quality tested and virus free.
No ads, no adware, no spyware.

Reviews at a Glance

Hypnosis
0
out of
5 (
0
Reviews
Review
)
Customer Reviews
Two negatives and a positive
Based on the demo: First of all, this is new. The gameplay is way too easy, but at least it isn't something I've seen a million times before. I like the mini-battles, although they too are too easy. Now for the negative. The loading screens show up every time my character takes a single step, and they last for ages. It breaks gameplay, and although I don't have the best computer, this is just ridiculous! Second: I'm female. This game is very clearly not meant for me. Although you have a female main character, her only mission is to be sexy for the menfolk out there. (Don't believe me? If you spend enough games, you can make her walk around in nothing but a g-sting.) When the first client, who incidentally is also female, ends up naked within the first five minutes, I understand that I'm not this game's intended player. If there had been clothes options besides kinky, kinkier and naked, I wouldn't mind one or two kinky options, but when sexy dresses is all that's allowed, I'm out. So that's money lost from me, not only for this game, but from later releases from this company.
July 18, 2013
Boring, Simplistic, and Repetitive
This game is definitely not for me. The gameplay is a bit confusing at the very beginning because there are no explicit instructions, just sparkles. However, once you catch on it become exceedingly easy. The music and dialogue were just plan annoying. I finished working with the cop and two and half patients before it told me I had finished the demo. With only five patients mentioned I don't think there was more than half the game left. It took me 40 minutes to do the demo, so I expect the rest of the game shouldn't be more than an hour. The final clincher was the constant phobias battles, which were incredibly boring and popped up every couple minutes. Even then, I might have bought the game had the story been sufficient to draw me in, but I just couldn't get into it. I definitely do not recommend anyone purchase this game, at least, not at the $6.99 price.
July 3, 2013
Hmm - a fun game about mental illness!
Not a good start - a game about people's mental illness represented by annoying obnoxious gremlin-type figures which you have to fight..... Copyright issues anyone - an einstein figure who looks remarkably like Einstein, a Grace Jones cop character(ditto) a Richard Branson bum (ditto) and a strange punk-style girl who might look like someone but I don't recognise her. These are the figues you meet in the demo - oh nearly forgot, how could I?, the buxom young doctor who hypnotises people at the drop of a hat. Then you enter their subconscious and discover their fears and phobias. and fight them (you can skip the fights which are quite challenging but you miss out on jewels if you do). This game could have been good if it went for a totally fun setting ('unwell mel' springs to mind) but treats the subject in too serious a manner to be fun but dismisses the problems in an offhand manner that makes you wonder who made this game and why? The outfits that you can buy by collecting gems in the dream world (subconscious) are not sexist at all.... oh yes they are! The last one looks like it could be a totally revealing costume....hmmm why put them in? The game starts in a streetcar which is flying through the clouds with your long-lost boyfriend piloting the vessel but it's (like Dallas) all a dream but you have to perform some tasks to get off the streetcar - that's achieved by jumping into space.......Then you discover that your ex-BF (who is a psychiatrist also) has disappeared and that his patients (the afore-mentioned characters plus others) are going insane.... Sorry - game deleted - cannot recommend
July 4, 2013
What????
This is a weird game, I had to stop after 15 min. Not for me.
July 3, 2013
My...those are some very buxom women!
Well....this must have been developed by lonely men; it's juvenile, the females are nubile and the game is plain vile. Could they have come up with a creepier premise to start with? Not every woman fears she will turn up in public naked....and what is with fighting that goofy phobia guy? Mental illness is not a game, phobias are not funny little things that can be killed, and owning a book of Freud quotes does not make a game developer a philosopher! Not only does the premise stink, but the game play itself is boring and slow....marching from place to place, not encountering very much, then having to listen to the stilted dialogue...blechh. I'll give it a big miss!
July 2, 2013
Once Upon a Time
There was a little game with no instructions, you had to buy hints, with crystals you had to earn....did I say no instructions? This is an adult game, not PG, not T. The main character goes into people's minds clueless. It's not even worth getting with an expiring free game coupon. I would suggest that whoever came up with this game so see a real shrink.
July 2, 2013
tired, Ol, and ill informed
WOW. This is a bizarrely misogynist and ponderous game that seems ten years old in technology and about a hundred years old in theory. The game play is clunky. The story line is absurd and the mixture of problem solving and arcade style game play is awkward and annoying. It was frustrating and insulting. Guess what I recommend?
July 25, 2013
So Glad I Tried the Demo
This game is soooo slow and there are no directions to let you know what to do or how to do it. Challenges are repetitive and the story line makes no sense. I played the demo for about 20 minutes before I deleted the whole thing.
August 3, 2013
Say WHAT!?
I'm clear on the Adventure games being different than HOGS. But This game started in the middle With two characters on a public conveyance of indeterminate type. I tried to go back to a menu, and was asked if I wanted to loose my progress? What progress? I didn't have anything to I've been playing various genres of games for years. I think of myself as a fairly average player. But the time I spent on this one was pure and simple frustration. I came back to the web sight to read some of the reviews thinking maybe this downloaded badly. Maybe it would get better. Surprise! It's not me - it's the game. Goodbye, Game!
July 3, 2013
WHATTTT?
I had no idea what to do and wasVERY annoyed that no tutorial. I have never played this type of game and expected to have some kind of guide.
July 2, 2013
The Apple logo is a trademark of Apple Computer, Inc.