Corpatros: The Hidden Village
Frank Winters discovered an archaeological dig in a mysterious village called Corpatros—and immediately afterwards he vanished, never to return home. His daughter Alice, who was just a young girl when her father disappeared, is now a grown woman on the hunt for answers. When Alice receives a mysterious letter on the 20th anniversary of her father's disappearance, she decides to travel to Corpatros to find out the truth. Though Corpatros appears vacant and deserted at the time of her arrival, she soon advances through the village and discovers a whole new world, and her hopes linger on one question: Could her father still be alive in such a strange place?
Unique and intriguing plot
Discover the secrets of a deserted village!
Investigate your father's disappearance!
Game System Requirements:
OS:

Windows XP/Windows Vista/Windows 7/Windows 8

CPU:

1.2 GHz

RAM:

1024 MB

DirectX:

9.0

Hard Drive:

681 MB
Game Manager System Requirements:
Browser:

Internet Explorer 7 or later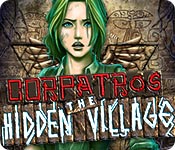 NEW299
The Big Fish Guarantee:
Quality tested and virus free.
No ads, no adware, no spyware.

Reviews at a Glance

Corpatros: The Hidden Village
0
out of
5 (
0
Reviews
Review
)
Customer Reviews
Corpatros: The Hidden Village
48
48
I love this game
I love this game! Because they presented a bit more of a challenge. The music is not bad After I fall into the hole, there is totally difference. Please don't let the initial negative reviews keep you away. Something different from the cookie cutter style of some of the bigger developers. I buy this game
July 3, 2013
Excellent Game Until the End - What??? LOL Review Of Completed Game
HOPA (Hidden Object Puzzle Adventure) definitely more on the "adventure" side. Story: You take on the role of Alice whose father, Frank Winters an archaeologist who discovered the Corpatros: The Hidden Village mysteriously disappeared and never returned home. On the 20th year anniversary of his disappearance she receives a mysterious letter so decides to try to find out the truth. There is voice over. WIDESCREEN: I had no problems here filled the 20 inch monitor just fine. Didn't have to do any adjustment. Running on PC Windows 7 64 Bit. No tech issues. 3D EFFECT: There is an option for 3D but that makes the screen move up/down. That was too weird for me. I had to cut that off and pull the plug on that within just a couple of minutes. PLAY MODES: There are 2 Casual and Expert. No sparkles but there are some black bar tips. ADVENTURE: While there are some black bar tips there are some objects in the scenes that you will need that aren't obvious as you only come across them by randomly "clicking" on the screen. I found this to be a lot of traveling back/forth. HOS: There are no word list. A picture of the object is put down below with a "blue outline" to them.. Some of them are interactive but not obvious and I found very tricky because the cursor doesn't change when going over a hot spot, you have to find those by yourself by clicking around. For me these were pretty well done for the most part but some I did find to be on the Stanford & Son junkyard pile side. I did have to use a couple of hints here. HINT: Is only available for the HOS. Not too bad on charge up. Less than a minute. This is NOT helpful at all outside of HOS as it will only direct you to the map so pay attention to the map. INVENTORY: There are a few objects that you have to combine to be able to use them. It will tell you for the first one you come across that needs combining but then after that you have to figure it out at least that's the way it went for me. JOURNAL: There is a journal and holds notes and the map. MAP: This is NOT transporter but shows where you are, if there is an item to find, game (puzzle), HOS, pop-up if there is something to read. The locations are marked (named) on the map. PUZZLES: The usual run of the mill: Rotate rings, swap pieces to form a picture. slider puzzle, keep clicking until you get the board to light up, etc. The directions to the puzzles is down at the bottom of the screen. Skip is available in 5 minutes. GAME LENGTH: This was 6 1/2 hours for me. May be more or less for you. OVERALL IMPRESSION: Wow! I must be playing a different game. I'm definitely going to rest my fish fins on the minority side of the Big Fish pond. The graphics were really good for me. I had no problem with them. I also liked the long intro into the game and the voice overs along with the cut scenes. Very well done here. What I really enjoyed about this game was the game play having to figure out on my own. Oh and I'll admit at times it wasn't easy as I had to really think and retrace my steps cause as I mentioned some objects that you will need aren't always obvious and then sometimes having to combine objects to use them. I wore out my sneakers on this game traveling back/forth. Overall 4 stars from me. I knocked this down a star as I was really enjoying this and the story till I got to the end. I'm sorry to report but this "story" ending leaves much to be desired. This is by far one of the worst endings I've ever come across in a game. "Bumble, Bumble?" Are you kidding me?? OMG AND LOL! Thanks Big Fish and developer. I really enjoyed this game overall but this developer definitely needs to work on their "story telling" a bit more. As I said the ending leaves much to be desired. As for my "recommending" if you are one who really doesn't follow story and just in for game play then I definitely recommend this but story as I said the ending leaves much to desired in my opinion. As always, give it a whirl and decide for yourself.
July 3, 2013
A very different kind of game
Well this was certainly a different kind of hidden object/adventure game. You must try to see if your father is still alive after disappearing 20 years ago....familiar plot different game. you travel to the jungle after you receive a letter you are off..... The game is part 3-D that moves & gave me a carsick headache & nausea. There is a map & doesn't show much until you finish that section with the right tools to move forward. I didn't like the music which was mostly repetitive drums. The graphics were good, but the hidden objects were pictures & some were too unclear as to what they were. There are things to find, but the challenge was where to look. This was based on the one hour demo I didn't want to finish because of the effects of the 3-D parts. It is probably just me & someone else may be thrilled with the new &different concepts. Judge for yourselves.
July 3, 2013
SOMETIMES IMPOSSIBLE
I felt a little wobbly - tried the 3D only, so don't know if that accounts for it or not. Unlike others, the graphics were fine on my computer. The hint system was questionable. It seemed to work in the HOS, but still there were times when the timer increased or decreased with no discernible reason for it. If stuck outside the HOS, I got a hint saying to combine something, but other times I got nothing when I really could have used an actual hint of where to get something, for example, the oars for the boat, or how to conquer something, for example, the 2 headed snake. I like a challenge but not an impossibility. I'll say recommended but you have to try yourself.
July 4, 2013
The voice of minority
Don?t be deluded by the pool of negate reviews and comments. The game itself has very intricate and complex logic. So I guess that?s why it is not understood by everyone. The story is very original and captivating. Have patience to really get into the game!
July 28, 2013
Really Strange Game!
This is the craziest game, but I did make it to the end of the trial (for me that was in one of the tents in the campsite across the river. I would never have made it that far without reading the posting for the game. I think the reason I kept going with the game was the fact that was really difficult and I like a challenge. Some of the difficulty comes from a lack of direction. The map is worthless, tells you absolutely nothing and helps in no way what so ever, also there is no mention that you can put two objects together in your inventory. The words for items are odd and even some words spelled incorrectly.. I cannot recommend the game due to its "incomplete" nature.
August 4, 2013
Corpatros: The Hidden Village
It's such a shame that what could be perfectly good games are ruined time and again simply by the lack of a walkthrough. This game isnt especially gamer friendly. The hint is absolutely useless. It just gives you your map which only tells you that there's something to do in a given location but doesnt tell you what that something might be. Im going to try and finish it but I wont be buying anymore of this series if it turns out to be one. Not unless they make the necessary improvements to it.
July 5, 2013
Don't Bother
This is awful. The graphics are ten years out of date, usually I can forgive this if the gameplay is interesting but sadly it's not. There are two modes, casual and expert, I can't find much difference between the two. Probably hint recharges much faster, but since Hint is as much use as a chocolate teapot there seems little benefit. There is a 3D option but this induces nausea. There is not necessarily a change in cursor when you stumble across an active object, sometimes I had a magnifying glass or a directional arrow but not always. So this is game of endless blind clicking. I reached a point where I couldn't see where to go or what to do next and that should be a claim that the game is hard. It's not. It's just poorly devised.
July 3, 2013
Disappointed
Well, the storyline seemed like it could have been good, that's the only positive I can give this game. You are Alice, and your father, an archaeologist, disappeared 20 years ago. You receive a letter from him with coordinates, and off you go to a village. There are no voice overs, the story goes by very quickly, if you turn away you will miss it. But, the quality of the graphics is very poor. The HO areas consist of actual tiny pictures of objects and you find those. The objects are hard to identify. The screen doesn't even move in some places, it tilts, like on an axis. It reminds me of games I played years ago. I did not encounter any puzzles in the 10-15 minutes that I played. This game seemed very sub-par compared to the great games they have been making. I definitely wouldn't spend money on this one. I know you can't win them all, better luck next time!
July 3, 2013
Well......
Let me start by saying that just because the camera jiggles up and down during each scene that doesn't constitute calling it a 3D setting. The graphics are cheesy and cartoonish and the introduction video is way too long causing me to tune out the story about her father the archaeologist that disappeared 20 years ago. The very first HOS is interactive yet you had to find the object that matched the picture in your inventory one of those pictures was a scribble wad? and one was I think fries? and the scene is so grainy it is hard to see, there was nothing to alert you that you needed to click on the camera or the glovebox etc, no gears nothing same cursor you just need to guess! I am very sorry to say this but, this game isn't worth even downloading for the demo. Don't waste your time I did it for you fellow fish brethren.
July 3, 2013