Corpatros: The Hidden Village
Frank Winters discovered an archaeological dig in a mysterious village called Corpatros—and immediately afterwards he vanished, never to return home. His daughter Alice, who was just a young girl when her father disappeared, is now a grown woman on the hunt for answers. When Alice receives a mysterious letter on the 20th anniversary of her father's disappearance, she decides to travel to Corpatros to find out the truth. Though Corpatros appears vacant and deserted at the time of her arrival, she soon advances through the village and discovers a whole new world, and her hopes linger on one question: Could her father still be alive in such a strange place?
Unique and intriguing plot
Discover the secrets of a deserted village!
Investigate your father's disappearance!
Game System Requirements:
OS:

Windows XP/Windows Vista/Windows 7/Windows 8

CPU:

1.2 GHz

RAM:

1024 MB

DirectX:

9.0

Hard Drive:

681 MB
Game Manager System Requirements:
Browser:

Internet Explorer 7 or later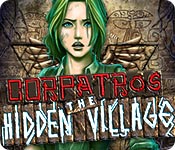 NEW299
The Big Fish Guarantee:
Quality tested and virus free.
No ads, no adware, no spyware.

Reviews at a Glance

Corpatros: The Hidden Village
0
out of
5 (
0
Reviews
Review
)
Customer Reviews
Corpatros: The Hidden Village
48
48
Oh my gawd I finished this game!
It is dark, sinister and compelling. I found it was not attractive. The ending was a bit of surprise.
July 8, 2013
CORPATROS; THE HIDDEN VILLAGE
The hint button was useless except in the HOS. I spent a great deal of time in the forum trying to get started. Surprised to see so many fishies with the same problems. Not a game I would buy, even as a DD.
July 3, 2013
Decidedly below par.
Well, i can't say i really liked this game. The 3D option was great - that is, 10 years ago it woud have been great. Today, it is just simply pathetic. The storyline is weak. After the intro there's really no explanation whatsoever. For instance, you find a newspaper. It tells you it contains news but doesn't tell you anything else! I played the demo and it wasn't convincing. For instance, you're supposed to get to a "village" but it looks like 5 or 6 developers each independently drew their favourite jungle scenes and then all linked them together. No continuity at all. One moment you're deep in the forest next to a river, next scene on a high cliff, next in a jungle again...The very first puzzle i found, too, was totally unlogical. All in all my verdict is: No Quality. Not wotrh the buy.
July 13, 2013
Good Idea - Poorly Executed
The storyline has great potential BUT ... The spelling is horrible. The graphics are horrible. The voice acting is horrible. The soundtrack is horrible. The hint system is horrible. The game interface is worse than horrible. It is dark, fuzzy, difficult to see and the areas where one is supposed to pick up or interact are poorly programmed so that it takes several clicks to complete an action. The HOGs are all pictorial, which would not be bad if the objects were not so horribly drawn.
July 8, 2013
Hidden Object Game Difficult
Even in Casual Mode it seemed quite difficult. The hint button didn't give you any real hints, it only took you to the map which showed icons flashing at different locations that you could travel to and find more clues or items to use. The hint did not give you clues on what you were looking for or where to go next. Didnt like it at all. Deleted after only 10 mins.
July 5, 2013
Corpatros: The Hidden Village
Hint button is useless. Sounds/music awful.
July 3, 2013
shocking
Could have been a great game but as many have already said it was Pathetic played 20 min couldnt get any where with out help so deleted it as soon as possible the movement of the screen was very annoying
July 4, 2013
I agree with dwa115
That is to say, did anyone from BF,really play this game? If they did, why did you pass it along to us? Sorry, bad game. You will not be missing anything.
July 3, 2013
Poor game
graphics are ok, plot is ok. hint key worthless. I would not invest in this game as there are too many problems.
July 3, 2013
Took A While To Find Any Good Points...*
BASED ON DEMO I was desperately trying to think of something POSITIVE to say and failing miserably, when I shifted to WINDOWED MODE. GRAPHICS were PATCHY. There were some scenes where it was OKAY. Others it was so appalling you couldn?t make out what you were seeing. With the smaller screen, I couldn?t see the BAD GRAPHICS, and the game was EASIER to play. It is still NOT a good game. The intro VOICEOVER was okay, a bit overwrought, and less than perfect English, but clear and understandable. The CARTOON INTRO was okay too, but went on for too long and became boring. The STORY has been done a thousand times before, although at least this one was in the JUNGLE, so lots of green. Your FATHER was an archaeologist who disappeared 20 years ago, and you suddenly get a letter from him. So off you go to the wild of somewhere South American to find him. The village he sent you to is deserted, no sign of Dad or anyone else ? alive anyway. You have the option of 3D EFFECT, which was fun briefly. On a better game, I?d have enjoyed this more. HO SCENES were TRICKY INTERACTIVE. By which I mean, you had to find out the hard way that some items required extra steps. No INDICATION given in the LIST. The list was in fact PICTURES of items, surrounded by a BLUE OUTLINE (which was weird to look at but a GOOD IDEA, because it allowed you to see the items clearly against a grainy background. HINT was SLOW. Outside HOS, HINT was useless, it referred you to a MAP, that was far from helpful. It showed where you were, where there were ITEMS still to be collected, and whether there are HOS or MINI-GAMES to do there. No JUMP feature of course. The MUSIC was seriously ANNOYING, and I usually like music. The SOUND MADE when you did something unproductive and got a black bar comment was REALLY annoying. And you got that A HECK OF A LOT, because the game was NOT doing enough hand holding. For the EXPERTS, if they could suffer the LOW PRODUCTION values on this game, there might be some merit in it. It is MOSTLY HOS (I did 5 in 30 minutes, 15 of which was spent trying to guess what to do next), BUT the ADVENTURE play takes some REAL THOUGHT. And much as I found the game TOTALLY UNDOABLE, when I found the answers at the FORUMS, they made sense. I just was NOT IMAGINATIVE, PERSISTENT & PERCEPTIVE enough. So maybe there?s an audience (experts on laptops bored to tears with easy HOGS?) but it certainly won?t be the vast majority of us, and I really can?t recommend this game.
July 3, 2013