Fierce Tales: Marcus' Memory Collector's Edition
Exclusive
Solve the mystery of a seaside town and uncover your lost memories in Fierce Tales: Marcus' Memory! After waking up on a deserted beach with no memory of who you are, you set out to find the one person who can help you. But when you arrive at the nearest seaside town, you learn that memory loss isn't your only problem. The village is buzzing with reports of terrifying "sea people," and uncovering the truth behind these strange creatures might just be the key to recovering your own lost memories. Hold your breath and dive into this thrilling Hidden Object Adventure game!

This is a special Collector's Edition release full of exclusive extras you won't find in the standard version. As a bonus, Collector's Edition purchases count toward three stamps on your Monthly Game Club Punch Card!

The Collector's Edition includes:
Face a deadly threat from the deep in the bonus game!
Gorgeous wallpapers, screensavers, and concept art
Downloadable music from the game
An integrated Strategy Guide
Game System Requirements:
OS:

10.8/10.7/10.6

CPU:

1.6 GHz (INTEL ONLY)

RAM:

512 MB

Hard Drive:

1234 MB
Game Manager System Requirements:
Browser:

Safari 4.0 or later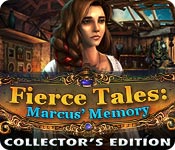 The Big Fish Guarantee:
Quality tested and virus free.
No ads, no adware, no spyware.

Reviews at a Glance

Fierce Tales: Marcus' Memory Collector's Edition
0
out of
5 (
0
Reviews
Review
)
Customer Reviews
Fierce Tales: Marcus' Memory Collector's Edition
64
64
What a tale !
I played the game a lot and I've been very suprised by the quality of this one ! Arts are really nicely done, interesting and give you a really good feeling when playing the game. Also music is nice, and the whole story is quite interesting too, the background story made me buy this game instantly. Mini games and hiddens are fun and kind of a challenge sometimes ! Great game, and great extras too.
July 5, 2013
decent game
Fun game, not too hard very interesting
July 4, 2013
Join in aquatic adventure!
The second game in the series of Fierce Tales by Blam Games ------------------------------------------------------------------------------------------- This game surely beats the first one in the series! In this game adventures awaits for you, with lots of interesting scenes and the presence of the very helpful Dolphin. The story is different than the first one so you don't have to play it if you don't have it. It is an aquatic adventure. You play as Marcus himself, and you need to find Delores, your girlfriend to restore your memory. VO is great, and overall graphic is also fine. Cutscenes are a bit blurry and grainy at times but body movements are natural. The map is useful and handy, the hint also, but it was pretty easy so you won't really have to use it. The HOG scenes are of different variety, find objects and combining them, which is fun. The dolphin can be called at times with the whistle and it's great to ride one! There are lots of extras in this game, divided into two parts: the usual stuff and Sea World, with sea creatures album, decorate your own aquarium and a Dolphin's Pool which I like. Very well made game, IMO. I hope they make another sequel of the series soon!
June 10, 2014
Best Game of the year?
I love, love, love, LOVE this offering from BLAM! games!! It was a pleasure to play and it shows just how creative developers can be when they want to. I also love the first one in the series which was about a dog/human half breed type thing. This one was all about the ocean but it was done bright n cheery with no depressing scenes and the voiceovers were superb as were the highly interactive hidden object scenes and the unique puzzles (some of them). There are a bunch of collectibles including finding 19 sea creatures, 35 MORPHING turtles (didn't catch onto the morphing until way later in the game lol) and 44 seashells that calculate much higher than 44 because you use them to build a proper aquarium in the bonus play and to buy your dolphin some toys. I usually don't care for animal helpers or dressing things up and down but it wasn't out place for the game AND it wasn't done all cutesy either. It was just the right atmosphere especially the dolphin because you get a dolphin whistle throughout the game and YOUR dolphin (which you don't name, thank god) will take you places you can't go without a boat. I thought the extras in this game were awesome. There are also achievements and I liked that you didn't have to complete all the puzzles without a skip to get them. There were some story based ones but there were others like 10 hidden object scenes with no hints or puzzles. There were way more than 10 puzzles, so even though I skipped one I was still able to get the achievements for doing the puzzles. I was able to do most of the game without hints. The only time I used the strategy guide was for one code as it was hard to see what the symbols were in the diary and also to make sure I was on track with all the collectibles. I made sure to write them down on paper so every time I came back to this game, Id know what I was looking for. The turtles are hard to spot in some locations! The game ends completely in the main game (standard edition) and there is no need for the bonus so getting the standard edition would do you just fine unless you like all the collectibles, achievements and such, then I really, really recommend you get the CE as this game is outstanding. I don't usually give 5 stars but I loved every minute of this game. The bonus chapter is an epilogue of what happened after the story with the 3 people. The villains in these games always seem to have a change of heart whereas real villains in real life never seem to change their mind so quick. I did like the bonus game in the first Fierce Tales better but this one was good too. The only negative thing I have to say about this game is that after I played an hour, the game just quit. This sometimes happens so I thought nothing of it until I couldn't get back into the game. I was so scared it wouldn't ever come back to life but I uninstalled it and then reinstalled it and it had my profile saved from where I was when it abruptly quit! (thank you!!) and I was able to play smoothly from there. My game manager never alerts me when there are updates to games (isn't it supposed to??) sooo maybe that was part of it since I didn't realize there was a patch. Otherwise though, the game played smoothly and I spent 6+ hours enjoying this little gem. BLAM! games you have such great story ideas and great executions of them at that! I am always so amazed at how you can take an old plot line aka love triangle and turn it into something so original that I am left speechless. Thank you for continuing to make such awesome games! Im pretty sure I own everything you have put out! Kudos!
December 27, 2013
Loved this game!
Really enjoyed this game, played and played. Even my partner was lovin it and he usually hates these games : ) Can anyone recommend a similar game, would love to find one : ) x
August 9, 2013
LOVED IT:)
I thoroughly enjoyed it. I will be buying this game for sure so I can finish it:)
July 30, 2013
Help Marcus Regain His Memory and His Love
This is the story of a friendship that develops into a love triangle between Marcus, Vasco and Delores. As the story begins Marcus (you) is being tossed into the ocean by Vasco who tells him ?you lose, she is mine.? Marcus regains consciousness on a beach holding a portrait of a young woman who looks familiar but he has apparently lost his memory. Now begins your journey to help Marcus find out who he is and to regain his lost love. Others have done a great job of listing the game?s technical aspects so I won?t go into those, except to note that there are three modes of gameplay ? casual, advanced and hardcore. Another nice option is that you can set your interactive map to indicate where you have an objective to accomplish. So if you would rather figure it out on your own, you can set the map so it does not indicate active areas. Graphics quality is excellent and the artwork is gorgeous with a wonderful color palette. Although the graphics for the most part are crisp and exceptionally clear, the cutscenes have a foggy, muted appearance. I don?t see why the developer did this in the cutscenes because they look like a lower quality resolution. The game has voiceovers that are very good and the characters actually move their lips when speaking. The musical score is standard fare but is not too intrusive into the gameplay. I do keep my music volume lower because I don't want it to be distracting. Overall the sound quality is very good and goes well with the theme of the story. There are different types of iHOS including list and the progressive silhouette type where you must find one object and then use it to find another. The puzzles in the game do not seem difficult but they do increase in difficulty and challenge as you progress through the game. In this game you have an area called Sea World that includes a Sea Creature Album, Aquarium and a Dolphin Pool. As you move through the game you can find collectible items that include dolphins, sea turtles and shells that will be added to your Sea World. There is a store where you use the shells you have found to purchase items for your aquarium and dolphin. Also, there are 22 achievements to be earned and some of them relate to finding the collectible items. Included in the extras section you will find concept art, wallpapers, music, videos and mini puzzle that can be replayed. The CE is loaded with extra content and although I am generally not interested in some of the extras, I think the wallpapers are beautiful and with them being available immediately, I?m going to put one on my laptop now. Since the SE version won?t be here for a while I don?t know if any of the extras, such as the Sea World, will be available in that version of the game. Overall this is a very nice game and I recommend that you at least try the demo. For me it was an instant buy simply because I loved the first Fierce Tales and also it is a great value given today's sale.
July 4, 2013
Enjoyed this game very much
I played the one hour demo and found this game very pleasant and fun to play. The graphics are very pretty and the voice overs done very well. I really like the interactive HOS and the story line also enjoyable. The puzzles are not real hard but does have challenge to them. Map and guide are easy to use and it has achievements, and finding shells and turtles has rewards also. I am buying this game because overall it is very well put together. I think the developers took their time with it and did a great job.
July 4, 2013
Even Better Than The First!!!!!!!!!!!
I really loved this game, and all the extras make it that much better. The graphics are great, and the storyline just as good. There are things for you to find during the game for extras, and there is options in the beginning that allows you to decide which game you want, like easy, advanced, hardcore, and interactive map, if you want one. The items are not difficult to place, and the HOS are interactive, and allow you to place items in the scene. I liked the entire game, and was so happy it was much better than the first installment. Happy gaming gamers!!!!!!!!
July 4, 2013
Beautiful and entertaining game with lame storyline, however, the bonus chapter makes up for it.
"Fierce Tales: Marcus' Memory", proved to be an equally good game as its predecessor, "The Dog's Heart", however, the storyline wasn't half as good or interesting. Pros: - Very smooth gameplay. The game plays like a charm; - Amazing graphics and artwork. Very colorful, detailed and crisp. These developers always surpass themselves in this area; - The music was equally beautiful, too. Very calm (except for the one in the cutscenes), and very relaxing; - Interesting, fun, and exquisite puzzles. A pleasure to play and I pratically managed to solve them all; - Lots of great extras. Very fun to buy stuff for your aquarium and for your dolphin. Finding the sea animals and reading information about them was really interesting, too. As for the achievements, they weren't hard to be earned, and they also looked beautiful; - The bonus chapter was amazing, really. Not only the story was way better than that of the main game, but you play from Dolores point of view, and, in my opinion, she is a better character than Marcus and as such, far more interesting. It was really worth to play and to be a part of Vasco's redemption. I think it was so good probably because the main characters of the bonus chapter are only Dolores and Vasco, no Marcus in it, which was a very typical and lame "hero" and also because there is no love story whatsoever in it. The locations, especially the temple were you assemble the crown, are breathtaking. This time, saving Aquapolis was a real pleasure. Cons: - Lame storyline. The premise of a love triangle is already bad enough, but they decided to make one of the guys the bad one. "Bad" as in always trying to kill the main character, which unfortunately doesn't die. Marcus is a bland character and a completely uninteresting one, and, since he is what the main game is all about, I couldn't care less were the story was going. And that's it. I would have gladly given this game 5 stars, if it weren't for the awful storyline and the even worse main character. However, the bonus chapter is totally worth the trouble of completing the main game. A very beautiful game with amazing puzzles and wonderful extras. A joy to play as long as you ignore Marcus.
August 15, 2013
The Apple logo is a trademark of Apple Computer, Inc.
The Windows logo is a trademark of Microsoft, Inc.