Off the Record: Linden Shades
Exclusive
A mysterious figure in red... Something's driven everyone away from Linden Shades. No one's been back since that time of terror when the kids drew startling images of blood-red ghosts, and the police were no help. Your editor's sure there's a story hidden in the Shades. Can you get the truth, off the record?
Game System Requirements:
OS:

Windows XP/Windows Vista/Windows 7/Windows 8

CPU:

1.4 GHz

RAM:

1024 MB

DirectX:

9.0

Hard Drive:

437 MB
Game Manager System Requirements:
Browser:

Internet Explorer 7 or later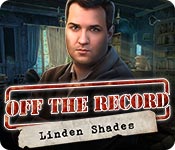 NEW299
The Big Fish Guarantee:
Quality tested and virus free.
No ads, no adware, no spyware.

Reviews at a Glance

Off the Record: Linden Shades
0
out of
5 (
0
Reviews
Review
)
Customer Reviews
Off the Record: Linden Shades
30
30
A Game That Exceeds All Expectations
This game comes from game developer Eipix and I am incredibly impressed with their games; most recently, this wonderful HOPA that I can foresee being a contender for one of the best HOPA games of 2013. Compared against the same old and tired cookie-cutter games that the casual gaming market seems to be flooded with as of late; this game from Eipix stands apart from the rest. I won't go into much detail about the game mechanics as others have already covered that area thoroughly. What I will say is that everything from the opening cut-scene to the final credits (which are hilarious by the way and I recommend reading through them) were done exceptionally well. 5 stars all across the board as far as the game mechanics, voice-overs, storyline, atmosphere and ambiance. The game is bright and colorful while still maintaining a chilling experience and can be enjoyed by a variety of players as it does not delve into the occult; it is a mystery to solve and is extremely well-polished. It is obvious from the start that the developers put a lot of hard work into this game, which, as a player, I really appreciate. There is a perfect balance of adventure, HOS, mini-games and mystery to keep the player entertained and invested. The puzzles were just difficult enough to provide a challenge but not so difficult that players will get frustrated and hit the 'skip' button. All skill levels will most likely find the mini-games and puzzles both fun and solvable. CE versus SE: The CE does include 3 different types of collectibles that are very well hidden. I liked the extra challenge of trying to locate all of the collectibles due to the difficulty level of trying to locate some of them. The fact that their locations were not blatantly obvious really increased the fun factor. There are also achievements, an enjoyable bonus game, the usual wallpaper and concept art, a rather enjoyable 'making-of' video and a few other extras that aren't often seen packaged with CE's. Even without the bonus chapter or all of the extras, this game would still be well worth the CE price tag if you are able to afford it. Otherwise, the SE will be just as enjoyable as the game wraps everything up nicely at the end so all players, regardless of game version purchased, can enjoy it which I find admirable on the part of the developers.The length of the game is just right. It's not a short game by any means, nor is it too long to the point where a player may begin to get bored. You will get your money's worth of playing time with this one. I spent at least a solid 6-7 hours on this (roughly 5 hours on just the main game) and consider myself an expert player. I did read the journal, watch all cut-scenes, find all the collectibles, attempted to earn as many achievements as possible, did not skip any dialog, puzzles or HOS, or use the hints or the map. The interactive map that let's you jump from location to location is nice to have, but not really necessary as there is not a lot of backtracking in this game, which means less filler and fluff and more actual game-play, which is also appreciated. I look forward to more games by this developer as they have definitely set the bar high in the HOPA genre. Very well done game. Bravo to those that worked very hard on this enjoyable game; your efforts paid off. I highly recommend this game to players of all skill levels.
July 10, 2013
Demo Only
Played demos (SE & CE) and actually finished the demo for SE. I thoroughly enjoyed the SE and did not miss the achievements and collectibles. The game was crisp, clear and colorful. The games were not difficult and the hos had a twist, at least each hos had one item that needed to be filled or put together. I also enjoyed the safe mini game (reminded me of other puzzles games that I enjoy). The recordings helped move the story along and whetted my interest to continue on to find out what was happening. There was not a lot of running around, most items were used within a short distance of where they were found. The story of an older journalist giving you a cold story that had been niggling at him because he never had the chance to find out what happened. As you enter the now abandoned orphanage, you meet the neighbor, talk with him after which you begin your journalist journey. It's up to you to find out what happened. It was an extremely enjoyable hour spent on a quiet Sunday morning and I defintely recommend this game.
July 7, 2013
Story-driven gem
Based on the completed game, this goes on my short list of all-time favorites. Thank you developers for making such a fun and different game. Beautiful, pastoral setting, suspenseful plot that never sours. A Mystery to solve rather than occult gobbledygook. Quality is maintained throughout. I also appreciate that gameplay took place among a few scenes at t time so no long treks to find stuff. An antidote to the tiresome clones out there.
December 12, 2013
What a game
My experience with this game, was just AWESOME... The visual affects, the storyline, and the entire game, was a JOY to play.. Not too often do, I leave a review, BUT THIS GAME WAS SO WORTHY, that I had to give credit, to this game...Try it... You will like it..
September 12, 2013
i enjoyed playing this game!!!!!
played casual. low sound. hint/skip charge fairly fast. there is a diary and a map that is interactive. the hints also tell you where to go next. the graphics are really great!!!!!!!! not hard to see at all. you are a journalist that has been sent out to findout why an orphange has been abandoned and to solve the mystery behind the "ghost" in the red robe that has scared the children so much. sequel.......possible.
August 26, 2013
Mind Relaxer
This was a refreshing game to play after playing so many horror themed games. It has it share of HOS which were very easy and interactive. There are couple of HOS that are repeats. The objects that are collect are used in game play. There is some adventure that is typical with any HO game. There are three game play options. The puzzles were not very challenging but did cause to you to think. This is the first game that was not stressful. The story line could have been better but it will keep you guessing. If you are into crime dramas you will figure it out but I warn you it has it share of suspense. I recommend this game for those who want to play
August 22, 2013
love this creative team!
This is the same team that did 'Final Curtain'. I think they're Russian which is cool because this game translates very well. The creators play actual characters in the game. I like their graphic alot. It's not the most challenging game...but it's lots of fun!
July 7, 2013
A really good game that is worth playing
Great game with lots going on. The graphics are great. Good music and voice over. Pretty good storyline that keeps you interested in wanting to keep playing. The HOS are good and some are interactive. Pretty straight forward and easy. The puzzles are also good. Some easy some needs some thought. Most are easy. There are lots of achievements and things to find in the CE and not in this one. The hint button works good and not too slow to recharge. Just a fun game, you will love it. Which one do you get the CE or SE? This one is good but easy. Both have great graphics and music. Both have voice over. I got the CE.
July 7, 2013
Great for HOG Fans!
I actually missed the CE version of this game due to my absence and had a chance to play it only today. The difference between the two versions is that with the SE version you get no extras including the series of collectables and achievements. Bonus section also gives you extra HO scenes to play along with mini-games. I loved the graphics, real actors, live footages with great art-work. Wonderful use of colors and there is the creep factor which I loved. Voice overs are nicely done and the music adds suspense to the story. There are three modes to choose from and you can change your level of difficulty as you play. Sparkles are totaly eliminated in the Insane level. You have a journal and a map. As our story begins, you take on the role of a journalist who is sent out to investigate an old case of an orphanage that was shut down due to rumours of a haunting. A mysterious red figure had terrorized the children and now you need to unravel the mystery. HO fans will love this game as there are plenty of them throughout the game. All were interactive and easy to play. Adventure whereby you collect your inventory items and work your way around the orphanage and surroundings. I enjoyed the mini-games, mostly easy but had a fun factor to them. If like me, you enjoy collecting paticular items ( three sets in the CE version) and gunning for achievements, then you are better off with the CE which I believe scored high with many gamers. Although not very challenging to play and a bit on the short side, this version is pretty straight forward but the story line and visuals are quite captivating. It really comes down to budget but I do recommend you wait for a CE sale of some sort to get the latter.
July 7, 2013
Nice Locations, Easy Gameplay
BASED ON DEMO Such a treat to play a game in a SUN-DRENCHED ENVIRONMENT, particularly when that game is a GHOST STORY of sorts. You are a REPORTER out on your first solo assignment, looking into the case of a ABANDONED ORPHANAGE with a FRIGHTENING HISTORY. The kids began drawing a MYSTERIOUS FIGURE in RED, and only the school principal believed that the figure was real. Eventually, everyone was driven away, and the place now stands empty, its TRUE HISTORY untold. I found this game not at all difficult to play. The HO SCENES were drawn with very good GRAPHICS, CLEAR, COLOURFUL & PLEASANT to look at. Some of them involved SOLVING A MINI-PUZZLE, but the objects were easily seen, and the INTERACTION required was fairly obvious for the most part. There were A LOT of HOS, so if you?re not into them, this game probably won?t be for you. I also found the PUZZLES & MINI-GAMES fairly EASY, but they were ENJOYABLE to do. Likewise, no ROCKET SCIENCE needed for GETTING AROUND, most INVENTORY items had an OBVIOUS USE, which you came upon at about the same time as the item. There was an INTERACTIVE JUMP MAP & a VERY HELPFUL HINT that showed you exactly where you needed to be. I particularly liked the VOICEOVERS & AMBIENT SOUNDS, but didn?t think much of the MUSIC. There is a long list of extras with the CE version (Collectibles, achievements etc.), but I am happy to have waited for the SE VERSION. This game seemed just a little too simple and straightforward for me to want to pay the extra money. So, of the two (CE & SE)...
July 7, 2013
The Apple logo is a trademark of Apple Computer, Inc.