Off the Record: Linden Shades
Exclusive
A mysterious figure in red... Something's driven everyone away from Linden Shades. No one's been back since that time of terror when the kids drew startling images of blood-red ghosts, and the police were no help. Your editor's sure there's a story hidden in the Shades. Can you get the truth, off the record?
Game System Requirements:
OS:

Windows XP/Windows Vista/Windows 7/Windows 8

CPU:

1.4 GHz

RAM:

1024 MB

DirectX:

9.0

Hard Drive:

437 MB
Game Manager System Requirements:
Browser:

Internet Explorer 7 or later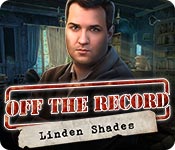 NEW299
The Big Fish Guarantee:
Quality tested and virus free.
No ads, no adware, no spyware.

Reviews at a Glance

Off the Record: Linden Shades
0
out of
5 (
0
Reviews
Review
)
Customer Reviews
Off the Record: Linden Shades
29
29
FAST-PACED GAME
Found this game to be quite wonderful - a pleasant surprise considering I was expecting average. You are a new reporter who has been sent by her editor to investigate a supposedly haunted orphanage which has been closed. Its former inhabitants claimed to see bloody red ghosts floating around. But it's not really bloody - more of a ghost story you told as kids at camp. Story and gameplay are fairly fast paced and quite enjoyable. This is a buy for me. 3 modes of play. Voice overs and actors are very, very good. Map shows where there are areas with outstanding activities. Journal shows your objectives and the evidence collected. Good ratio of HOS to puzzles. The puzzles are not too difficult, although I had to think a bit on what to do for a couple of them. I didn't find any instructions, but maybe I just missed them. The HOS were lists of distinctly detailed objects that were not too difficult to find and the scenes weren't unnecessarily crowded.
July 7, 2013
WATCH OUT FOR THE BOOGYMAN!
An investigator's first assignment is to find out what was haunting the children at the Linden Shades orphanage, a red boogyman that was so scary they abandoned the beautiful estate! The cutscenes are very well done with real actors, but some are horrible actors. This is a very easy game to play but quite enjoyable, bright and sunny yet still a bit of spooky thrown in. There are a lot of HOS and within each is a mini game such as finding and putting tools back into their correct spots. The mini games are easy as well such as spotting the differences between two alike photos or changing the color of a pie chart to all blue by clicking on one button that moves one space clockwise the other button moves two counterclockwise. There is an interactive map and a good hint system but most of the tasks are easily figured out and it is easy to figure out where to use your inventory items.
July 7, 2013
Fun game to play!
Just finished playing this game and thought it to be well done although it played very fast. The ho's were plentiful and the graphics were very well done. The other puzzles were varied enough to hold your interest. The use of live actors and the voice over made for a game that was out of the ordinary Glad I purchased it, thank you Big Fish game team.
July 21, 2013
Great game.
I really liked playing this game. It had a great story line and interesting scenes to interact in. The mini games were not too difficult and I completed the game quickly.
August 30, 2014
Fun and Easy.
This review is based on completion of the SE in the most casual mode. It's not a very long game, as it is so very easy. I never got lost. There are many HOS and a few puzzles, so if you're really not into lots of HOS you won't like this game. The sound and visuals are great. Lifelike actors are used which adds some credibility to the game and of course they have great voice overs. The hint button recharges quickly and works outside the HOS with directional arrows or zooming into the object of the hunt. The HOS are typical junk piles with very clear objects. The puzzles are typical and easy with a quick skip button. There is a walk through, but I don't think you'll need it unless you have trouble with a puzzle. Using the walk through can teach a newbie how to work the puzzle. This game is not very challenging, but it's nice to play a game that flows and things are easy to find. I thought the story line was very good. I really couldn't wait to find out who was in the red cape and exactly what was going on. The story really flowed. I'm glad I bought this game. Read some reviews and play the demo to make an informed decision.
June 3, 2014
Brilliant storyline, enjoyable gameplay
TITLE Off the Record: Linden Shades Standard Edition full game DEVELOPER Eipix Entertainment (produced by BFG) GENRE Interactive Hidden Object Puzzle Adventure scary mystery STORY Linden Shades was once an unusual orphanage, a place where the children were happy and the staff was caring. Then the children began drawing images of a blood red ghost, and Linden Shades became a frightening place for everyone. The principal was certain someone was responsible, but the police were no help, even when she had proof. Decades later, your editor offers you the chance to solve the mystery of Linden Shades. He believed the principal, but his career drew him away from the orphanage and the enigma remained unsolved. Are you brave enough to explore an abandoned orphanage? Can you reveal what happened at Linden Shades? Or will the blood red ghost frighten you away? GAMEPLAY Lots of HOs with simple interactions, including many where you zoom in to place items into a case (like chocolates into a box). Many people had technical issues with this, including me, until I discovered you must click and drag the items into the case. If you just click on them, they disappear and you cannot progress. Just a heads up. Puzzles are familiar and relatively easy: spot the differences, restore the image by swapping pieces, turn on all the lights, etc. The beauty of Linden Shades is in the way the story unfolds through the game. There are moments that will startle/frighten you, so this isn't one for the kids. INTERFACE ? Map - shows active areas and transports ? Journal - gathers clues and tracks storyline ? Hint - identifies object in iHOs, I didn't use in adventure mode ? Lockable Inventory ? Black Bar Tips - gives clues in casual mode ? Other - collect the principal's cassette tape diary to learn the story SETTINGS ? Sound Effects Volume ? Music Volume ? Voiceover Volume ? Fullscreen ? Widescreen ? Aspect Ratio ? Custom Cursor ? Toggle Active Area Sparkles ? Toggle Navigation Sparkles 3 Difficulty Modes GRAPHICS & ANIMATION Cutscenes were done with live actors?and well done at that. In game animation was smooth and characters were well drawn. Background graphics were beautifully textural and moody. Objects were well rendered and clearly recognizable. MUSIC & SOUND & VOICEOVERS The music was suitably creepy, but a bit repetitive. I would have like more ambient sounds?creaking doors and the like. Voiceovers were excellent. ANALYSIS Excellent storyline-driven game. I played through without a break. It was not a long game (perhaps the CE is longer), but still well worth the SE price, IMO. Enjoyable gameplay, although a touch heavy on the HOs, though many will like that aspect.
July 29, 2013
My Opinion Hasn't Changed - Not Eerie/Creepy Enough - Review Of Completed Game
HOPA (Hidden Object Puzzle Adventure) Story: Your news editor sends you off to Linden Shades to look around a now long ago abandoned orphanage rumored to be haunted by the red hooded boogeyman The editor had once investigated the story but never had a chance to bring it to any conclusion cause he ended up getting assigned a different case. 7 Chapters along with 7 cassette tapes to be found throughout the game. I play all my games running on PC Windows 7 64 bit and this had widescreen for me. Filled my 20 inch monitor just fine. No tech issues. There are live actors in some cut scenes, otherwise voice overs. There are 3 modes of play. Regular, Expert, Insane. I tested out before I started actually playing. The easier two modes have sparkles/black bar tips, hint/skip quick on charge up. The Insane mode is really slow. Hint also helpful outside of HOS on all modes. If you are not in an area where there is something to do a portal box will come up and just click there and it will take you. You can switch between modes at any time during the game. I played on Insane mode and didn't use hints/skips once I actually started playing the game. Journal: This is the typewriter down at the bottom. Click on that and inside you will also find Objectives, Evidence. Map: Is transporter and shows where you are on the map for all play modes along with objectives which also pop up on the screen however the 2 harder modes don't show active task indicator at least it didn't for me. HOS: Found by word list and very interactive here and there are quite a few scenes. I didn't find these to be Sanford & Son junkyard. I thought these were very well done. I had no problem here locating anything. Puzzles: The usual run of the mill found in many games just to name a few: Get the cats and snails from one side to the other, get the emblem out of the maze, slider puzzle, etc. The challenge varied for me. Usually in most games I at least skip a couple however didn't skip any in this game. My overall impression: I purchased the CE and rated that 4 stars and the reasons were because it was on sale for $8.99 at the time and I enjoyed trying to earn/find the achievements, collectibles, and letters. I found that to have a lot to do however while the voice overs and live actors were really good along with the graphics but for an orphanage that is supposedly haunted by the red hooded boogeyman well past the intro to the game I didn't find the game eerie/creepy at all really. I also had my suspicions early into the game who the boogeyman was and confirmed for me by the half way point of the game. If this would of been $13.99 although it has the extras I would of skipped this and waited for the SE here and rated the CE 3 stars as well but because of sale I wanted to see where the game would take me. The main game here comes to a satisfactory conclusion. The bonus chapter not needed in my opinion unless of course you are interested in earning the achievements and finding the collectibles and letters cause those aren't included in the SE version here. No eerie/creepy feel to this bonus chapter either. As for the game length this would probably be about a 5 hour game for me. The CE was longer for me and that was because there was more to do. No complaints on the length though. So you take away the extras this is just an OK game in my opinion. Sorry but I don't get all the hype over this game. So overall I rate this 3 stars. Thanks Big Fish and developer. As always give it a whirl and decide for yourself. I still however recommend it. It looks like most really like this game and you may too however I wasn't that impressed with it.
July 7, 2013
It was fun, but not difficult
BASED ON COMPLETED GAME IN "INSANE" MODE I'd actually like to give this game 3.5 because it IS fun. I really enjoyed the intro, the real actors, the music, the atmosphere, and the brightly colored graphics. Since I played on the most difficult mode, the map did not give me indications as to where something needed to be done, but I could jump to wherever I wanted to go. That's very good. I think the reason people are saying that the game was too easy is because the developers kept the running back and forth TO A MINIMUM. When you found an object, you used it relatively close to the area in which it was found. I appreciate that a lot in a game. I hate it when devs make games APPEAR difficult by having us collect items and hang onto them for what seems like forever. All that does is challenge our memory, it's not an indication that the game is smarter. These devs also added some new ideas, such as finding the cassette tapes, which made the story more interesting. As for people saying the red ghost is too bland, I say kudos to the devs for focusing on linear movement rather than gore. Perhaps the ghost could have been a tad more interesting, yes, but I hate to play games with monstrously ugly characters. I also found two of the puzzles on insane mode to be a bit challenging. So much for it being "too easy." IDK maybe I was just having a dumb day ;-) Bottom line: I think you'll enjoy it and it's safe for kids. Pros: Live actors 3 levels jump map with indicators for where tasks can be done tells you step by step which task you're working on many interesting predicaments to think your way out of scenes used the entire color palette instead of the usual dull grays and browns in most games just enough HOS which were NOT junk piles Mini games were doable Kid friendly Minimal running back and forth Linear progression of the story Jump map Many interesting places to go Good ending Enjoyably relaxing Cons HOS were easy Story has been done before Too easy for an expert
July 9, 2013
Just OK!
Pretty much the same review as what I gave for the CE version. Graphics aren't bad, but nothing special, and a bit old school. Game play is nice. Music was very annoying. HOGs are fairly clean and items are very easy to find. Hint is helpful and fills quickly. There are a lot of achievements in this one and a lot of items to find (not sure what they do for you, but you find them anyway). This game is quite simple and there is no challenge at all. It is a nice game for a beginner, or someone who just wants a no brainer day, which I do occasionally. I wasn't excited about the CE and really haven't changed my mind about the SE. To me, it is just too boring and I lost interest in playing any further, so no buy for me. A game has to be extremely bad for me not to recommend to others. As always, try it for yourself and see what you think. We all have different tastes in games and you may find this one quite enjoyable. Thanks for the reviews.
July 7, 2013
It was okay.
After playing the demo, I can't say I am exactly overwhelmed with the desire to purchase. I am curious to see where the story goes, but not enough to buy. The puzzles are mostly repetitive based on the few I played. The graphics are fine. The music not really enough to give the atmosphere they want to convey (in my opinion). A lot of the negative reviews are a bit harsh. I won't say it was horrible because it isn't a bad game, just not one for my skill level (not challenging enough). I would suggest it for beginners. Try the demo.
March 30, 2014
The Apple logo is a trademark of Apple Computer, Inc.