Off the Record: Linden Shades
Exclusive
A mysterious figure in red... Something's driven everyone away from Linden Shades. No one's been back since that time of terror when the kids drew startling images of blood-red ghosts, and the police were no help. Your editor's sure there's a story hidden in the Shades. Can you get the truth, off the record?
Game System Requirements:
OS:

Windows XP/Windows Vista/Windows 7/Windows 8

CPU:

1.4 GHz

RAM:

1024 MB

DirectX:

9.0

Hard Drive:

437 MB
Game Manager System Requirements:
Browser:

Internet Explorer 7 or later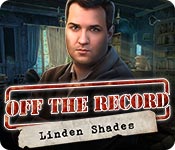 NEW299
The Big Fish Guarantee:
Quality tested and virus free.
No ads, no adware, no spyware.

Reviews at a Glance

Off the Record: Linden Shades
0
out of
5 (
0
Reviews
Review
)
Customer Reviews
Off the Record: Linden Shades
29
29
Not Bad, But A Bit Short!
The game was okay for me. The puzzles were easy, and sometimes fun. The HOG were a bit too frequent for me though. The graphics were okay, using a mix of real people and fake. The only real issue I have is the length. It was VERY short for my taste. There is a map, and its interactive if you choose. There is a lock for your inventory, which I need! All in all , not too bad. Happy gaming gamers!!
August 16, 2013
Off the Record
Again, one of the usual HO games. Good graphics, easy tasks, simple puzzles (too easy for me). The story is coherent but not more. Nothing unusual, I expected more.
July 8, 2013
too easy
I bought it. I played it, but I can't say I really liked it. It was way too easy and I played in "insane" mode. I can't recommend this because it wasn't challenging enough. #2013#
July 11, 2013
Good for children, disappointing and unpolished for adults
I love the developer's other games, but (assuming they intended a teenage or adult audience) they really dropped the ball on this one. * While the game supports widescreen, at 1920x1080 the graphics were unacceptably pixellated. The edges of rounded objects were sawtoothed. * The list-based hidden object scenes were simplistic and only one step above rudimentary. - Many objects made no sense for the setting - example: the first scene had you find fresh, unmelted chocolates that had been sitting in the sun outside an orphanage abandoned since 1969. - As is standard for the genre, colored item names meant an extra step was needed. These extra steps seemed designed for toddlers: e.g. click on a jewelry box to zoom in and place variously shaped gems into the slots corresponding to the correct shape. - Annoyingly, some hidden (well, fragmented) objects had to be found scattered across the entire scene, a-la the old Gypsy Tower game. * The graphics were amateurish. It was blatantly obvious that a bunch of photographed items had been inexpertly clipped and then cut-and-pasted into the scene without regard to matching the lighting, coloring or tone of the rest of the setting. * The plot was presented as if it were geared towards adults, while being too simple for anyone beyond elementary school age. It honestly played out like a Scooby Doo episode, and not one of the good ones. * There was very little effort to make genre-standard gameplay (find odd-shaped keys to fit locks, find the scattered pieces of complicated puzzle locks and then assemble them, search through junk piles of improbable objects) fit the setting. This is a common pitfall of this type of games, but in this case the separation between gameplay and setting was jarring enough to destroy immersion. In short, this is a surprisingly weak entry from the developers behind the fantastic Final Cut games. It may be worth a purchase if you have a toddler or youngster you wish to introduce to hidden object games, but I can't imagine most adults playing the game on their own would find it worth their time.
October 1, 2013
Maybe Okay For a Very New or Young Beginner
There were too many annoyances for me. *The very large and completely unnecessary new objective/ objective completed box popping up all the time. *The music was just awful. *Teeny tiny objects to pick up outside of the HOS. *Busy artwork. That's the only way I can explain it. *Too easy. There's nothing left for the player to figure out. The story seemed to have potential, but the execution left a lot to be desired. I'm amazed that it has four stars at this point. It seems that people who don't like a game won't review it.
July 9, 2013
Only for the beginners
Sorry to say this one is only for the beginners. HOS are Sooooo easy and present no challenge. Puzzles are the same. An out of date game this one
July 17, 2013
A good story gone bad
A game by Eipix ------------------------ Claimed as a spooky game by Eipix, this game has a lot of promise. However I have never seen Eipix presenting a dark game so I was doubtful at first. Only that I know their previous games: Myths of the Worlds and Final Cut series are ones of the best out there, I decided to give this game a try. Well I was wrong! There are 3 levels of difficulties. Although scary in the intro movie, it was at first and gradually it became just a regular game, which is a pity. I expect there will be ghosts or shadows pop out of nowhere in some scenes but it didnt happen. Instead we had to go around the farm, doing annoying tasks and lots of HOG before finally getting into the house! There are lotsss of HOG scenes here and annoying ones at that. By the time I got into the house the feeling of spookiness had gone and replaced with annoyance. Too bad, a game that should have been great but was ruined with the dev's too ambitious plan to make it scary. Well, better luck next time.
June 16, 2014
Actually a Game for Children or Teens
Unless the other reviewers were children, I'm not sure how any game-playing adult could give this a high rating. I played the demo for an hour and was able to acquire 4 out of the 7 cassette tapes -- which tells me the game can't be very long. The storyline sounded inriquing, but it's geared more for children. It's not creepy or scary. There's no ominous music or things jumping out at you. It's very obvious all along that the "red ghost" the orphan children are seeing is actually a person in a red hooded cloak. The music and sound effects were okay, but the graphics looked more like sketches or drawings. Puzzles are simple and the hidden object scenes are extremely basic and easy. The only thing I liked about the game was the was the video at the beginning and the great voiceovers. I would not recommend this game for adults unless they were new to computer gaming. And I wouldn't pay full price for it. Wait until it's offered as a Daily Deal or Catch of the Week.
July 12, 2013
Off the Record: Linden Shades
This was one of my least favourite hidden object games due to the nature of it
January 15, 2014
The Apple logo is a trademark of Apple Computer, Inc.