Strange Discoveries: Aurora Peak Collector's Edition
Exclusive
Uncover the secrets of a picturesque mountain resort in Strange Discoveries: Aurora Peak! The town of Aurora Peak was a wonderful place when you were growing up – the locals were friendly, and the mountain was peaceful and inviting. Things have changed since you were kid. When you come back to town years later, you see that an ominous cloud hangs over the mountain, and plants and animals in the area have started to… change. It seems to be natural phenomenon connected to some strange local crystals. But the devious plot you start to uncover could endanger the entire world! Discover the truth behind Aurora Peak's deadly secret in this thrilling Hidden Object Adventure game!

This is a special Collector's Edition release full of exclusive extras you won't find in the standard version. As a bonus, Collector's Edition purchases count toward three stamps on your Monthly Game Club Punch Card!

The Collector's Edition includes:
A bonus game where you must make Aurora Peak safe for good!
Gorgeous wallpapers and concept art
Downloadable music tracks
An integrated Strategy Guide
Game System Requirements:
OS:

Windows XP/Windows Vista/Windows 7/Windows 8

CPU:

600 Mhz

RAM:

512 MB

DirectX:

9.0

Hard Drive:

1025 MB
Game Manager System Requirements:
Browser:

Internet Explorer 7 or later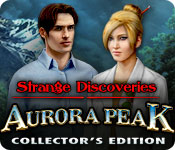 The Big Fish Guarantee:
Quality tested and virus free.
No ads, no adware, no spyware.

Reviews at a Glance

Strange Discoveries: Aurora Peak Collector's Edition
0
out of
5 (
0
Reviews
Review
)
Customer Reviews
Strange Discoveries: Aurora Peak Collector's Edition
49
49
Must Buy For Me
I have only played the demo but this is a buy for me. A good story line with good graphics. You are trying to rescue your brother at your grandfather's mountain resort. Someone is using crystals to change the plants and animals so you also need to help with that. - Puzzles are challenging but not impossible. - Achievements to be had and morphing objects to be found. - Encountered three types of HOS: standard HOS, IHOS where you place the object where it belongs, and IHOS where you find the outlined object to find the next needed object. Not too many HOS, just the right amount in the demo.
July 13, 2013
Grandpa would roll in his grave...
Grandpa was financially well off so he built his own garden of Eden for all the world to enjoy called Aurora Peak. Now that he has passed away, his grandson and granddaughter are restoring the resort. The game starts out with the grandson crashing the helicopter into a magical mystical mutated forest and a person in a hazmat suit has taken him! You play the role of the sister who is a geologist now searching for her brother but getting very distracted by the beautiful glowing flowers and mutated wildlife. The graphics are beautiful and crisp and the production is professional with good voiceovers. There is so much color and detail in every plant and animal! This is more of an adventure because the HOS are few and far between but they are interactive and a mixture of list, progressive find and silhouette. what it lacks in hidden objects it makes up for in the puzzle department, there are a ton of puzzles some complicated but most are simple and fun such as moving puzzle tiles to form 2 separate pictures on the left and right columns storing some of the pieces in an empty slot while you fill the bottom and top of the pillars before filling the middle pieces. You will have a map and an objective icon and can earn achievements. But my favorite part is the morphing objects which are very well done and not so easy to find with all the glowing crystals and colorful plants! Trust me, you can skip the demo and go straight to the purchase with this one, enjoy!
July 13, 2013
A Visual Feast and Excellent Game!
As the game opens we see a drab woodpecker mutate into a beautiful strange species after drinking from a water dispenser that contains an odd pink crystal. So the first thing that got my attention with Aurora Peak is the spectacular use of color. Wow, from the opening cut scene to game?s title page we get a glimpse of how beautiful the environments in this game will be. At the request of your brother Alan who is checking out the renovation of your grandfather?s resort ? Aurora Peak, you are on your way to join him to investigate some of the odd mutated plants and animals that he has noticed. As a geologist, you are the expert in the family but your helicopter crashes upon arrival to the area and that is where our journey into this strange and beautiful area begins. Will you be able to save your brother and get to the bottom of what is really happening at Aurora Peak? Others have done a great job of listing the game?s technical aspects so I won?t go into those except to note that the graphics, voiceovers, and sound are all excellent. There are various types of HOS including the progressive silhouette type where you locate an object and then use it to find another. The puzzles are fairly standard but have their own unique twist. None of them seem too difficult but nevertheless are fun. During the game you get to find morphing objects and earn achievements, all of which add to the enjoyment of the game. As far as the extras go we have the usual collection of wallpapers and artwork that will be nice to have since this is such a visually gorgeous game. We get to replay the HOS and puzzles which is something I like to do. I buy CEs mostly because I like having an integrated strategy guide and so all the other little things that are thrown in are icing on the cake for me. The game seems to be more of an adventure rather than a hidden object game, which is fine with me since I enjoy roaming around in a game and discovering what needs to be done (especially when the environments are so beautiful), and I don?t mind that there are not too many HOS that I need to complete in order to move forward with the story. I love puzzles and am quite happy that I encounter them more frequently than I do the HOS. For me this game is a winner. As always, I suggest that you try the demo first to see if it is a game you like.
July 13, 2013
Five stars? Five wows! Beautiful, fun, enjoyable game.
TITLE Strange Discoveries: Aurora Peak Collector's Edition full game DEVELOPER Vast Studios produced by Big Fish Games GENRE Interactive Hidden Object Puzzle Adventure strange science STORY Your grandfather developed a gorgeous resort at Aurora Peak which your brother Alan is now running. But strange changes are happening to the flora and fauna, and Alan has found some eldritch crystals he thinks are responsible. Since you're a geologist, he calls on you for help. Upon your arrival, you see Aurora Peak undergoing mysterious changes. A bizarre energy field causes your helicopter to crash, a figure in a hazmat suit kidnaps Alan, the veterinarian's wife has gone missing, the resort manager is behaving oddly, and the plants and animals have undergone unnatural changes. Bonus Adventure: Deactivate the crystals and make Aurora Peak safe for good. GAMEPLAY Beautifully-rendered HO scenes include interactive list, sequential silhouette, and put the items back where they belong. Puzzles are largely unique, require thought and planning, and are pure eye candy. Mini-games include mixing solutions and building needed items. There's quite a lot to do in this game, with something for everyone. INTERFACE ? Map - shows major objectives and transports ? Journal - gathers clues and tracks storyline ? Hint - identifies object in iHOs (didn't use in adventure mode) ? Lockable Inventory ? Black Bar Tips - gives clues even in medium difficulty EXTRAS ? Collectibles ? Achievements ? Morphing Objects ? Bonus Adventure ? Replay Puzzles ? Replay Hidden Object Scenes ? Strategy Guide ? Wallpapers ? Screen Savers ? Concept Art ? Music SETTINGS ? Sound Effects Volume ? Music Volume ? Voiceover Volume ? Fullscreen ? Widescreen ? Aspect Ratio ? Custom Cursor ? Toggle Active Area Sparkles ? Toggle Navigation Sparkles 3 Difficulty Modes GRAPHICS & ANIMATION Wow. Amazing use of color and texture, light and shadow to create a realistic mountain landscape with those elements of the surreal the story requires. It was a pleasure to search each scene for needed items and morphing objects. Animation was smooth and, I'm glad to say, they didn't bother with lip-synching at all. I'd rather have no lip-synching than bad lip-synching! MUSIC & SOUND & VOICEOVERS Beautiful music?unobtrusive and in the background for the most part, but rising to a crescendo to match turning points in the story. Very well done. Ambient and game sounds were thoughtfully done as well, and voiceovers were professional. ANALYSIS This is close to perfect for me. Some might complain about the length, but I'd rather have quality than quantity. And this was quality in every area. Fun Factor was superb. Level of Challenge was perfect. Storyline was unique and engaging rather than another rehash. And the production value was high. As a bonus, there was a very subtle hint toward a sequel. I definitely recommend this game.
July 14, 2013
Those are some fast mutant termites!!
Beautiful Setting! Captivating Storyline! Awesome balance of puzzles, interactive HOP and potion making! Achievements & Souvenir Collections! Angry Mutant Animals!
July 13, 2013
Highlights on a surprisingly great CE!
I remember when I played the survey for this game before it was released. The game lacked focus and didn't have an impactful story, though the art in the game was great. Now I see that the developers worked hard to improve the game since then because so many things have changed, and all for the better! A lot of people have reviewed this game so far and pointed out all the collectibles, puzzles, HOs, and discussed the story. So I'm just going to add a few points that haven't been mentioned so far: - There are two major STORIES going on in the game (you are looking for your missing brother, and a man is looking for his missing wife). This sounds like something we've all seen a million times, but there are LATE GAME PLOT TWISTS that I really enjoyed! I find most of these games have more predictable story as you play them, but this one was refreshing. One twist actually made me really mad at one character for being so awful!! - The HO scenes are VARIED throughout the game. Some will be TRADITIONAL, some will be SILHOUETTE, and some will be PLACING the object into the scene. I loved that the HO scenes had this much variety!! - Many ORIGINAL PUZZLES that I hadn't seen before. The puzzles are mostly challenging, which I enjoyed. - COLLECTIBLES are everywhere, and I love that the ACHIEVEMENTS are integrated with the STORY (you collect precious stones because you are a GEOLOGIST). Clever idea and made me think of all the precious stones I have in my jewelry collection! :) - The BONUS CHAPTER is an extension of the MAIN STORY, and I love when developers do this because I am still attached to the characters. Aurora Peak would be a lovely place to visit! These are just the highlights for me. As with all games, try it out for yourself and see if you like it, but as a player who was only 75% sold on it during the demo, I was pleasantly surprised with the entire game and happy I purchased!
July 14, 2013
This one look like a real good one to me
Now this one is a good well put together game. Looks more like an adventure game than HO game. I did not get too many HOS or puzzles but still was a good game. The graphics are crisp and beautiful scenery. Music is nice to listen to and has voice over. 3 modes of play. Has a map and hint button works good if needed. You get achievements and have morphine's to find. Flowers and there are lots of them so you have to try and find the correct ones. Really good storyline what is reveled at the beginning of the game. Looks like a good buy and you get 1/2 off today.
July 13, 2013
C'mon Vast, I know you could do better than This!!
Well this is the 5th CE from this developer and they did a good improvement . firstly, the storyline is about a crystal that causing mutation in flora and fauna at Aurora Peak. well I like the story . The gameplay just like other HO game, play HOS, puzzles, and complete the task. The HOS are quite easy and Puzzle are somewhat challenging (few) and Beautiful. Graphic in the game Crisp and clear while Music , sound, Voice over are great! There are 20 morphing objects and achievement. In the game, There are hint button, The box - "Discoveries" , interactive map, and inventory lock. Plus Task button - "!" the game can be quite short and bonus chapter add up half of an hour . P?s - Try it first, Then you know ! :D
July 15, 2013
Strange Discoveries: Aurora Peak Collector's Edition..LOVED IT!!!
I REALLY ENJOYED THIS GAME..I HAVE A FEELING THERE WILL BE MORE TO THIS SERIES (fingers crossed) THE GRAPHICS WERE BEAUTIFULLY DONE..VOICE OVERS WERE WELL DONE..OVER ALL I THINK THE DEVS OF THIS GAME DID AN OUTSTANDING JOB..I TOTALLY RECOMMEND THIS GAME!!!
July 27, 2013
Great game
I love beatifully drawn and designed games such as this one is. The fast transition from one place to another allows for a smooth game play and the story was imaginative and fun. The hidden objects were so beautifully drawn yet clear and easy to see. For an older player this is the ideal game. Want a whole lot more like this.
July 18, 2013
The Apple logo is a trademark of Apple Computer, Inc.