Monument Builders: Notre Dame
With almost 200 years in the making, the grand cathedral in Paris inspires as one of the finest examples of French Gothic architecture. While many stand in awe of its magnificence, very few know of the dedication and passion it took to construct such a brilliant structure. Here's your chance to experience this great feat first-hand! Journey back to the Middle Ages and lead the construction of the iconic cathedral in this fantastic challenge. Break ground on the building site, construct quarries, and improve the neighborhoods as you witness the structure rise from the ground. Build the gargoyles and bells, feed your workers, and meet key objectives. With great new graphics, unlockable videos, and even more exciting challenges than previous games in the series, Monument Builders - Notre Dame de Paris is the best Monument Builders game yet!
Build the Notre Dame Cathedral!
Lead the construction in 50 levels
Learn many fun facts about the historical landmark
Game System Requirements:
OS:

Windows XP/Windows Vista/Windows 7/Windows 8

CPU:

1.8 GHz

RAM:

512 MB

DirectX:

9.0

Hard Drive:

272 MB
Game Manager System Requirements:
Browser:

Internet Explorer 7 or later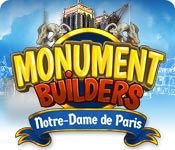 NEW299
The Big Fish Guarantee:
Quality tested and virus free.
No ads, no adware, no spyware.

Reviews at a Glance

Monument Builders: Notre Dame
0
out of
5 (
0
Reviews
Review
)
Customer Reviews
Monument Builders: Notre Dame
28
28
Build the most famous cathedral in the world!
This is the fourth and best game in the series. Previously you got to build the Eiffel Tower, the Titanic, and the Statue of Liberty. In this game, you are the Site Manager for the Master Builder, who is constructing the Cathedral of Notre Dame. Like the other games, each level starts with a salient fact about the monument you are building. This game, however, randomly asks you bonus questions about the facts, and rewards you if you get the answer correct. The graphics are the cleanest and the objectives quite clear. You still clear and fix roads, build quarries, chop down trees, build farms and workshops. In the workshop you create floorboards and cut stones and ironworks. You get a gold star for finishing within the "expert" time limit, but there is still plenty of time left to finish the level. I play slowly, so I only achieved the gold star twice, but the only thing I received was more points. Of course you have some characters to "fight off" -- the initial ones are troubadours. The thieves show up later. You do not get to choose the level of play, but there is enough to do on each level to challenge even the experts. This game is a buy, and can be replayed without getting bored!
July 9, 2013
I LOVE THOSE DONKEYS!
This game is really fun, and donkeys deliver the goods as you hear clip clop clip clop, how cool is that! The goal is to get the tasks finished before the time runs out, and you get stars for how fast you complete the level for bonuses. They will tell you fun facts between levels about Paris AND during the game an occasional pop quiz multiple choice question. You get to improve paths build mines, farms and banks while collecting resources then you click on the men or the donkey to deliver the goods. You must cut stones before delivery or cut wood into floorboards etc. You are gonna love this TM building game, enjoy!
July 9, 2013
LOVE IT!!!
What a joy to get a game that runs smoothly, graphics are great, game play fun, runs in full screen with no problems and the music isn't too intrusive. Still along the same lines as all the other Monument Builders games but improved. Simple to learn how to play and enjoyable. Increases in challenge as lvls progress but doable and love the info on the Notre Dame.Kudos to the developers!
July 9, 2013
Break Out The Hard Hats We Got Some Building To Do
Good morning everyone Shut the front door another Monument Builders I was beginning to wonder if we were gonna be getting this one I've been looking for it and BAM here it is hot dog a definite buy for me. I really like this one the graphics are much improved from the others the fun history facts are still there and the game play is fun. Your building the cathedral so there is lots of stone, wood, and other resources to gather along with building farms, rock quarry's, banks etc. granted your little donkey buddies aren't lightning fast but they get the job done well enough. Later in the game you'll run into some bandits that you must deal with. You'll notice a question mark or exclamation point above the foreman's head once in a while that means he has something to tell you or has a special task to be done. It is timed I didn't notice in the options if there is a relaxed mode I don't think there is but you may want to just double check on that I could be wrong. Also in the top left hand corner of the menu screen you'll see a bonus tab if you click on it you can see a replay video of the level and the little history facts which I think is cute. I really like this one the graphics have been improved quite a bit from the other Monument Builders the colors are nice and bright the buildings look much better and there seems to be a little more detail in them so kudos to the dev's for that job well done. You have your daily goals to meet which are listed in the top right corner and if you don't get the gold the first time around you can always go back and replay the level. You are able to hire more workers and upgrade your buildings so you can complete your task quicker and you can chain your task as well which helps get things done quicker. All in all this is a really nice little builder game with lots to do and it appears to be rather lengthy. I bought it and so far I'm really loving it I think the dev's made some really nice improvements on the graphics and the game is just plain fun and that's what it's all about anyway. So I'm grabbing my trusty hammer and hard hat and I'm setting off for a day of building fun ! Now when can we get the latest Monument Builders Colosseum that one looks really fun as well so I'm hoping we'll soon get that one as well. Oh yeah so far Quassimodo hasn't shown up to ring the bell and say "she gave me water" Give the demo a try. Thank you dev's for a great game and thank you Big Fish. Have fun everybody !
July 9, 2013
Another great sequel in this TM Series!
I love each of these Monument Builders TM games! One of the best things about each of these sequels is the attention to detail and storyline. I have learned more about these great monuments from the fact blurbs throughout the game than I did in school! As this series gets better and better graphically, it still remembers that we all want to have fun just playing the game. I can't wait to see which monument they will do next. Maybe they will come to the USA and tackle DC's famous monuments! Bravo Monument Builders!
July 9, 2013
Relaxing yet challenging fun
This is so nice. Real history, no super dark themes, challenging, yet doable sans frustration. Relaxing background music. The bad guys are a bit silly, but a relief from all the uberdarkness present in so many games. This is one of the few games I would let my minor children, had I any still, play sans conditions, supervision, or talks re: values, etc.
October 4, 2013
Great Game!
This is the first one of these I've played. Really enjoyed it! Challenging levels, nice graphics, fun story. Good game controls. Also has "plan ahead" for those who like to plan their moves ahead of time. Good replay as well. Really enjoyed reading the facts about Notre Dame too! The only thing I couldn't figure out was how to make the Master Builder ask the questions?? Didn't take away from the game though. Will go look at the earlier games in the series. Good job!
July 22, 2013
An easy game
I have played other games like this before, and this game seems not as hard to finish a level as the other games like this type are. I recommend this game. I liked seems like it is easer to see what to do then it is in the other games like this. I would recommend this game.
July 10, 2013
Vive le France!
The 4th installment of this series has us building Notre Dame de Paris. The premise is the same as before with an added feature of earning bonus points with random trivia questions, testing your knowledge of the fun facts provided between levels. Good challenge to the levels, crisp graphics and overall fun to play.
July 9, 2013
Disappointed
Was really disappointed with this one not as challanging as the other monument builders. but fun. did have to use the brain once or twice to figure out the order of winning the level but got all the gold without to much coming out of my mouth.
July 21, 2013