Fitness Bustle: Energy Boost
Exclusive
Daisy's nemesis, Mr. Gristleman, has a brand new business in Fitness Bustle: Energy Boost. He's started selling dangerous energy pills and has conviced the people to stop exercising! Help Daisy develop a nationwide chain of fitness centers and undo the damage that Mr. Gristleman's pills have caused! Do you have what it takes to expand Daisy's business and create the ultimate chain of fitness centers?
Wonderful graphics
Engaging gameplay
Tons of fitness fun!
Game System Requirements:
OS:

10.8/10.7/10.6

CPU:

1.0 GHz (INTEL ONLY)

RAM:

512 MB

Hard Drive:

182 MB
Game Manager System Requirements:
Browser:

Safari 4.0 or later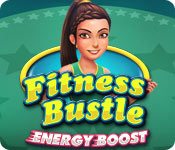 NEW299
The Big Fish Guarantee:
Quality tested and virus free.
No ads, no adware, no spyware.

Reviews at a Glance

Fitness Bustle: Energy Boost
0
out of
5 (
0
Reviews
Review
)
Customer Reviews
Fitness Bustle: Energy Boost
27
27
Hooray!
I don't see many "typical" time management games any more, and I have to say that I'm THRILLED that one came out today! I wish there were more of these. Thanks!
April 21, 2013
GET YOUR FITNESS ON!
What a fun game, it starts out a little slow but quickly becomes action packed after the tutorial. Basically you have just purchased a fitness gym and you have to keep the customers happy as indicated by the yellow smiley face above the customer that turns to blue and then red and angry. When the customer comes in he or she has a picture of the equipment they want to work out on and you click and drag them onto the equipment and press the button to give them personal training. They may want water or a shower or to work out on another piece of equipment. You have to hire employees or have something fixed. If things get behind you need to put a customer in the relaxing chair to keep them happy while waiting, because more and more customers are coming in. This is a game worthy of a purchase, enjoy!
April 21, 2013
I liked it, but I wish I could LOVE it
*The review is based on after finishing THE WHOLE GAME* I was craving for good TM "customer serving" games, which are so hard to come by nowadays, so as soon as I saw "Fitness Bustle" popped up, I didn't even hesitate to buy it. The format is exactly the same as Burger Bustle franchise, you are given a specific goal in each level to earn trophies. You drag and drop customers to the appropriate exercise machine, help them training, serve towels and drinks, hire extra staff, and repair broken machines. Unfortunately, the gameplay doesn't flow like Burger Bustle where majority of the tasks are done automatically by your designated staff. Dragging and dropping customers to each station and assigning your staff each time can become tedious after a while. The only consolation is that you can right-click to send customers to shower, or throw towels and drinks at them! It starts off as fun, nice and easy, and you quickly move on to the next levels. But here is the problem. Once you finish the tasks (with Gold, Silver or Bronze), the shop closes automatically. Since most of the challenges needs to be completed within 2-4 minutes to achieve Gold, if you do well, you advance very quickly. As the result, I finished the game with all Gold in one day, and today I'm playing Survival Mode (I'll talk about it later). I think they should have set the number of customers for each level so you can carry on playing even after you reach 'Expert' or 'Gold', then assess your performance based on the time you took to complete the tasks and add extra bonus accordingly. Another problem is the difficulty setting. You win each level by completing the tasks, but some tasks are totally dependable on what customers choose, which is nothing to do with your TM skills. No matter how many customers you bring in by advertising and serve them as quickly as possible, unless they order specific machines you may not meet Gold. Because of this, the difficulty levels are randomised throughout the game, rather than steadily becomes challenging. There are generos eight stages to unlock (68 levels in all), but they all look the same. You are supposed to be expanding your fitness empire against Mr Gristleman, but you don't feel you're in charge. Every time you start a new day in the same stage, the place has a different layout, so you never feel you 'own' the place, but rather, you feel as though you're controlled by Mr Gristleman! As for upgrades, you unlock new upgrades automatically as you progress, but I wish we are allowed to make strategic deicision on what you buy, rather than make do with existing ones. To use the uprades, you can only choose 3 of them at a time, and you can change them only on the Map screen. I wish they give you the option right before you start the level, rather than having to go back to the Map screen. You can also unlock Survival and Relaxed Mode after you unlock certain levels. In both modes, the initial goal is to earn 1 million dollars! As I write this review, I'm in the middle of playing Survival Mode and I would only recommend to play it if you have absolutely nothing to do. Overall, my rating is 3.5, closer to 4 stars because I really appreciate to play a new TM game, although I really wanted to love the game and wish I could give 5 stars. I still hope the developers make descent 'Customer Serving' games in the future as we are seeing less and less of them now. As the previous reviewers say, I'm just happy to see a new descent TM game!
April 26, 2013
Well done.
What starts as a funny, slow game, becomes after a few levels a fast-paced challenge. At the beginning there are a few costumers only, each requiring maybe two exercises / machines. The levels are getting much harder when you have to start juggling with 15 or more customers asking for 3 or more exercises. Thanks for the extra shower and helpers! Keep an eye on the goals - if there's no money requirement, hire the helpers as soon as possible. If you have to buy equipment and you have usage requirements, try to fulfill those without extra helpers. Time is of essence here if you like to get five stars for each level. Great mechanics; sounds could have been a little better but they are not annoying. Maybe the clicking system (picking the customers and dropping them at their equipment) could see some improvement. You send the customers (at the end of the exercises) to the shower with the right click - that's absolutely helpful. Overall a great and challenging game, really enjoyable.
April 21, 2013
Not as fun as Burger Bustle, but a good TM game!
When I opened this game to play my free trial I realized this was from the same company who created the great series "Burger Bustle". I loved both Bustles so was excited to see if this matched up. It's not a bad game, there is a lot of picking up and dropping movement which can become stressful on your wrists after a while. As for the game, it's definitely fun & a homage to original TM games. (Drag and dropping) The beginning levels are easy- but it quickly grows challenging! I think most TM fans will enjoy this game
April 23, 2013
oldies but goldies
Yup, they dug one out that will give your hand a cramp for sure. Constant dragging from one place to another will do that.The gym setting is not new either and yet...not being saturated with really good TMG this one appeals to those that played the burger settings before and now find themselves in a gym (makes sense). The constant comments from the customers could make this one annoying real quick but it also gets challenging very quickly as well, so maybe that evens things out. I kinda like it but it feels a bit old and dated to be honest and my hand is still recovering.Made me think though that I should be in the gym rather than sitting and only exercising my hand in front of the PC.
April 22, 2013
Fitness game
This was a lot of fun especially as the levels get harder.
May 10, 2013
Challenging
This game is a bit slow to begin with but it gets more challenging as the game goes on. I have still not managed to get top score on all levels. Would recommend you at least have a go of the free hour to see if you like it... i did
June 30, 2013
High energy fun!
From the mysterious and macabre world of 19th Century France to the modern day corporate world of the business of pharma and fitness, we are going to lighten things up with Fitness Bustle: Energy Boost! As with the modern day world of GMOs and quick fixes in the forms of pills and energy bars, we are going to be a little more wise to the ways of old fashioned work outs in a high energy environment. When Daisy and her friend run into a salesman trying to push Gristleman's Energy Pills on them while jogging in the park one day, and they see how worn down the young man is, Daisy's friend says that she had tried the pills, too. She just felt worn down after using them. (GMO corn additives, anyone?) As they go further along, they find a local gym for sale, and soon, Daisy opens up the gym, and suddenly, everyone is curious to see if real exercise is better than Gristleman's pills, and then starts the crazy train. We now have people of all ages coming in to try out the equipment, from a merry-go-round treadmill to stationary bikes to boxing dummies, the patrons take to the gym very well, but they can become impatient if they have to wait around for very long, but there are ways to take care of that with upgrades, as simple as upbeat music and misting fans to very soft and luxurious relaxation stations with soothing music via headphones while they wait for a new workout area to open up. Daisy and her personal training crew are very supportive and with our help can attend to everyone, but they don't always need help, which is not so bad. Keep everyone hydrated, happy, and healthy, and you'll get a great score per level. Also, this game has realistic time goals, so you might find it to be very satisfactory. If only a real workout could be as much fun as Fitness Bustle.
May 20, 2013
Typical drag & drop TM
The basis of the story is you open a gym in a city where the population is taking energy pills instead of working-out. The game play is similar to other clothing store/salon/pet/diner type of TM games. You drag the customers to their desired machine and you can train them which speeds up their time spent on the machine. Once they are finished with one or two different machines you send them to the shower. You will need to drag every customer to a machine but you can right click to send to the shower or give them water. You receive upgrades every couple levels to increase customer speed along with a water cooler. After a few levels you have the option of hiring extra help in the form of trainers. There was a good deal of clicking involved which became redundant early on. The graphics were bright cartoon style and cute. The music was unobtrusive along with the occasional vocal comments from customers. Over all this is a decent TM game but the format has been done many times over. I didn't finish the trial as I wasn't in the mood for such an over abundance of repetition. The difficulty was minimal and though you had some choices in upgrades most of the ones you receive were automatic. I enjoy TM but there wasn't enough goals and variances in game play to keep my interest.
April 21, 2013
The Apple logo is a trademark of Apple Computer, Inc.
The Windows logo is a trademark of Microsoft, Inc.