Baking Success
As her grandparents' bakery faces financial ruin, Fay Cloud decides to set out on the journey of a lifetime! She renovates an old, rickety zeppelin into a fully functioning, flying bakery and takes to the skies! On her journey she meets Reid Wood, a young mechanic. As they visit strange lands together, Fay upgrades her bakery and serves an ever-growing selection of delicious baked goods to eager customers. Help Fay save her grandparents' bakery in Baking Success, a challenging time-management game filled with the joy of baking!
Fairytale-inspired visual style
Bakery upgrades and decorations
Achievements to show off your skills!
Game System Requirements:
OS:

Windows XP/Windows Vista/Windows 7/Windows 8

CPU:

1.6 GHz

RAM:

512 MB

DirectX:

9.0

Hard Drive:

156 MB
Game Manager System Requirements:
Browser:

Internet Explorer 7 or later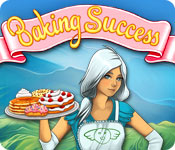 NEW299
The Big Fish Guarantee:
Quality tested and virus free.
No ads, no adware, no spyware.

Reviews at a Glance

Baking Success
0
out of
5 (
0
Reviews
Review
)
Customer Reviews
fun
very fun game loved it had fun playing it
September 28, 2013
Buying Success
I've enjoyed the game immensely. The art is terrific and the gameplay is difficult enough to make it fun but not so hard that it's stressful. Money well spent.
August 5, 2013
Cute Baking TM Game
Along the same lines as GoGo Gourmet games - you prepare desserts using the correct dough, cooking apparatus, and toppings. Cute story with some HO and connect the pipe levels intermixed that give you bonuses in the TM levels. Controls include a right-click option that whisks an item away to the correct available machine or customer. Big time-saver for meeting time limit. Unfortunately, toppings are a one use click. Once you use a selected topping, it goes back to its location - you can't keep clicking the same topping on multiple items (you have to pick it back up each time). Multiple play modes. The expert play mode is actually a continuation of the story mode (which you have to finish to unlock expert mode) story. Plus, the expert mode includes dessert combinations that were not in the story mode and you get access to appliances in a slightly different order.
July 14, 2013
Nice TM game
I'm not sure what some other reviewers mean by "too slow", I found it keeps you pretty busy clicking. I hope it doesn't get as frantic as the Diner Dash games, which I am sorry to say I loathe with a passion. The basic story line is a bit ho-hum. Why is it always the grandparents' bakery or farm that is in trouble, can someone tell me? It reminds me very much of the original Cake Mania. They've dressed it up a bit by creating the bakery on a zeppelin and the main character, Fay, picks up Reid, a mechanic, on her travels. In between levels there are two mini games, one is a sort of hidden object where the objects are pretty much hidden in plain sight. However I found this difficult and frustrating because they are tiny and even with my glasses on I couldn't make out some of the objects. The other mini game is lining up the pipes in the machinery, I found this easier to cope with although you are on a time limit. You can skip the mini games if you wish. I like the right-click (well, left-click in my case - I'm a leftie) to send the goods to the frying pan/oven or the customer and I also like the omission of the money collecting bit common in so many of these games. I do agree with others that it would be better if you could use the toppings more than once without having to go back and pick them up again. Nice stylish pastel-coloured graphics and the music is not too bad. So far I have completed the trial and I will consider using a credit on it.
July 15, 2013
Too hard at Challenger games
I completed the story level with perfect grades the first time through, but no extra trophy. The expert level was fun, but the same game, just more people and less time. The challenger challenges were too much for me... I must be doing something in the wrong manner. I liked the mini games, but the seek portion was a little lame, and I never needed the cookies, anyway. The cookies disappear if you do not use them - I think they should pile up...
August 19, 2013
Love this game...But...
If it was possible, I would give this game 4.5 stars. I purchased this game after completing the demo, finished the main game and headed into the expert mode. I love games where it is frantic clicking to get to your goal...keeps me on my toes...The ONLY downside to this game, and the one thing i have seen mentioned elsewhere in the reviews, is the precision of your cursor, Extremely frustrating to have to click on something more than once to pick it up, or go to pick up a topping and pick up the one next to it...even though your cursor was directly on top of the topping you needed. If the devs could fix that then this would be an awesome game. Yes the minigames are a little boring after a while as it is the same thing time and time again. but I really did enjoy this game despite the issues.
July 25, 2013
Sweet and charming game
I thoroughly enjoyed this game, it is a lovely little game with a cute and bright art style. Gaming was fun and reminded me of Yummy Drinks Factory and I only have one complaint. I am a completionist and even though I completed all of the story mode with expert scores I still don't have the trophy for it.
November 9, 2013
A few rainbow sprinkles short of Awesome
I bought this within five minutes of the trial. It's fun; it's cute, it's addictive! Even the storyline, boring it may be to some, was actually quite good. It's more about friendships and family... and feeding an entire bunch of demanding customers. The mini-games are quite a nice touch, if rather repetitive. My only gripe about this is the Extreme Clickfest required. First it's challenging, then it drives you nuts. Yes, there's an in-game warning about using a mouse, but it should say it requires these ultra-precise devices. And no matter how fast you are, the response is rather slow. There's also not much in terms of power-ups. Given the Japanese anime-ish graphics, I was hoping for a few kamehamehas or double kodachis, maybe even a Bakerbot (TM) but no such luck. Just a few cookies and time boosts. If you use these up, your chances of a Perfect Score goes zilch. For the trophy OCD, this ain't.
August 1, 2013
Over way too soon...
After reading the reviews, I decided to try the game. I really enjoy great TM games, but challenging ones with an excellent storyline are few and far between. Currently, my TM go to game is Farm Up. After my trial game was up, I was excited to move forward with this game. I enjoy cooking TM games, but only the ones that are challenging, with great graphics and at least a half way decent storyline. Here is the kicker, the game moves pretty fast after the trial (only for experienced TM gamers). Pros: - a new challenge at each level (new items added) - new characters (either patient or impatient) - level of difficulty Cons: - storyline is predictable and boring - mini games are redundant - expert level can be played by a beginner - game was over with a soft lead up (a bummer) - challenge games are impossible to win Overall, I enjoyed the game. It should have been tweaked before releasing. I believe this could have been an excellent TM game. I am glad I used my freebie to play. I would have been disappointed if I paid for it.
July 28, 2013
Uniquely beautiful, challenging
This is the prettiest time management game I've ever seen. The little things--such as the blinking animation for Fay at the level screen, and the customized animations for the customers, only add to how impressive this game is. I loved the constant level of challenge and change. Every level gives you the chance to upgrade your shop, earn power-ups through minigames, or introduces new elements of gameplay. No time is wasted trudging through endless cutscenes, or playing filler levels. The storyline is as usual (Talented young woman sets out to save family business) if you just ignore the part about...I dunno, a woman creating a flying bakery and traveling the world with a humble mechanic, keeping the shop open until the zeppelin breaks down, or until her journey is complete. The ONE part I didn't like is how vague the upgrade descriptions are. They say "baking speed plus 1", but don't specify whether thst extends to other machines.
July 26, 2013