Baking Success
As her grandparents' bakery faces financial ruin, Fay Cloud decides to set out on the journey of a lifetime! She renovates an old, rickety zeppelin into a fully functioning, flying bakery and takes to the skies! On her journey she meets Reid Wood, a young mechanic. As they visit strange lands together, Fay upgrades her bakery and serves an ever-growing selection of delicious baked goods to eager customers. Help Fay save her grandparents' bakery in Baking Success, a challenging time-management game filled with the joy of baking!
Fairytale-inspired visual style
Bakery upgrades and decorations
Achievements to show off your skills!
Game System Requirements:
OS:

Windows XP/Windows Vista/Windows 7/Windows 8

CPU:

1.6 GHz

RAM:

512 MB

DirectX:

9.0

Hard Drive:

156 MB
Game Manager System Requirements:
Browser:

Internet Explorer 7 or later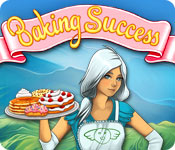 NEW299
The Big Fish Guarantee:
Quality tested and virus free.
No ads, no adware, no spyware.

Reviews at a Glance

Baking Success
0
out of
5 (
0
Reviews
Review
)
Customer Reviews
So glad to see this game!!
I was excited over this game from the moment I looked at the pictures from it. I thought: finally a time management game that moves away from the My Kingdom for a Princess and Build It clones. It is a hark back to the style of games I love. I am 10 levels in and I know that I will buy it. I don't know how many levels there will be but there is also a challenge mode, an expert mode and a endless mode. So I can see this lasting for a long time, unlike the usual bfg releases that end within an hour or two of the free trial. I can also see this game getting very frustrating, which is what I desire the most in a time management game. I want to have to work for the perfect score and already there is a lot of TM stuff going on - glazing donuts, cutting bread, baking and frying and serving drinks. I have only unlocked 3 of the 8 (?) breads and I look forward to being further challenges. Thank you BFG for finally releasing the kind of game I have been longing for. I haven't been this thrilled over a game since I started playing Turbo Pizza oh so many years ago.
July 10, 2013
A great TM game!
I have been waiting for a good TM and this is it! Graphics are cute and I like the story too! Sometimes it gets fast-paced, but I always breezed through if I tried my best. The tutorials are good and I didn't have problems with playing. Right-clicking really helps to get the pastries to the customers faster. I don't really like HOGs so the minigames weren't my cup of tea, but they can be skipped. I played through the test and I am going to buy the game. This game reminds me of Burger and Cake shop. I would recommend it warmly!
July 10, 2013
Great Little Game
Baking for Success is reminiscent of Hotdog Hotshots where you're behind the counter filling orders as the customers step up and order from the counter. Instead of 6 customers, you have 3, and the ability to right click to send a finished product to the customer and/or send products to the oven. You'll need that right clicking to keep up later. I found it helped to have items already cooked and ready to go with toppings added as the customer ordered them and that helped immensely with not getting too far behind. The tutorial is absolutely great in introducing new items and how to use them. It walks you through it with a play through before moving into the level. The mini-games were HO & fix the pipes. The HO's were pretty easy but fixing the pipes required a second try on a couple on my part but you can retry a mini-game to get the bonus, if the time runs out. Once you exit out of or skip the mini-game you are done with it and can't go back to replay it. You also get to buy patience for your customers and faster machines, which helps as you reach the higher levels requiring more actions. Great little game with future replayability that many TM players may find very challenging and fun. I think the Devs did a great job of using the KISS method, Keep It Simple Stupid. The game gets progressively challenging, so don't let what appears to be the simplicity of the game fool you. You'll be pulling your hair out in no time trying to keep up.
July 10, 2013
Excellent TM game
With smooth gameplay and controls, this is one of the best TM games I have played in months. Good tutorial, and the difficulty level ramps up at just the right pace. Fifty levels in story mode and an expert mode with another 50 levels. There is also a challenge mode with 5 different challenges as well as an endless mode that gets harder the longer you play. So, it looks to be a very replayable and long-lasting game, and there are achievements to be earned as well. Highly recommended!
July 10, 2013
THIS GAME MAKES ME HUNGRY!
This is a very well done TM game that is very different than most. There is a tutorial that does a nice job teaching even the most novice player, there are achievements and bonuses available as well. Customers will arrive at the bakery window with a picture above them telling you what item they want and a meter to show how happy they are, if they start to get mad for waiting too long you can offer them a free cookie but they are limited. You will place the ordered item onto the dough machine which allows up to 3 orders and when the dough is ready you right click to send it to the oven only one per oven. Some of the baked goods will need iced or sprinkled or even both before serving and there is a coffee machine as well. After each level there is a mini game some are hidden objects some are repairs like connecting pipes to allow water flow. You can also trade the postman baked goods for upgrades. A really fast paced and fun game to play!
July 10, 2013
Cute game
Fun game with lovely graphics, very pleasing to the eye. You're running a bakery and start out with the basics, a bread maker and an oven. As you advance in levels, you're given new type of bread to make as well as things like a cutting board to slice bread, butter, and jam and sprinkles and powdered sugar, etc. You'll have no more than 3 customers at one time and the option to right click bread to the ovens and finished products to waiting customers. You have a trash can to toss things, but you'll lose money if you do. You won't lose money for leftover items still hanging about your kitchen, so that's nice. Every so often in between stops, you'll play one of two mini games that aren't difficult, but can be skipped. This review is based on 20 levels of the demo and I had no problem getting perfect scores on all of them, but it did get challenging as I progressed. 4 different modes and about 50 levels of play, I recommend!
July 10, 2013
Good Game
It starts off slowly then gets you running. Storyline is all right. Has two mini games. One is hidden objects the other is connect the pipes. You do have the option to skip mini games. There are four items you can purchase. Not a great selection. I found it entertaining I purchased it.
July 10, 2013
AWESOME "real" TM game
I love this game I have been waiting for so long for a real TM game this is why I haven't left yet...now it is here good job BF I hope to see many more like these...great job
July 10, 2013
I loved the game
I loved this game. Everytime you start something new, the game gives you very good instructions. I liked the graphics. I would recommend this game.
July 10, 2013
Excellent
Very good, challenging, which is good for time management game. Really enjoyed playing this, good graphics.
July 10, 2013