Beware Planet Earth!
"Beware Planet Earth!" Heed the warning from the red planet, Earthlings! Our beloved globe is about to fall victim to a Martian strike against our single most valuable resource: cows! Protect Barney's bovine beauties in this colorful and whimsical tower defense game. Build an effective defense using towers, traps and objects, and fire your raygun at the green men. Help us repel the Martian invasion!
Full Story Mode with 18 bonus challenges!
20 whacky machines, including the Helicowpter!
Over 20 quirky Martians, from the Metalhead to the Ninja!
Game System Requirements:
OS:

Windows XP/Windows Vista/Windows 7/Windows 8

CPU:

1.8 GHz

RAM:

512 MB

DirectX:

9.0

Hard Drive:

281 MB
Game Manager System Requirements:
Browser:

Internet Explorer 7 or later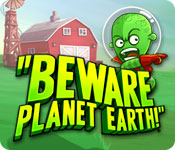 NEW299
The Big Fish Guarantee:
Quality tested and virus free.
No ads, no adware, no spyware.

Reviews at a Glance

Beware Planet Earth!
0
out of
5 (
0
Reviews
Review
)
Customer Reviews
Beware Planet Earth!
21
21
Good Fun!
I've never played one of these games before, and I have to say for a first-timer, this is really fun. What a silly way to waste a morning! Cute story line, determined enemies, apparently lots of weapons to fight them off - I'm hooked and have already bought it after 20 minutes play.
July 10, 2013
Save the Cows!
I am new to tower defense games. I've tried the last few to come out, but the lack of tutorial made it difficult to decide whether to buy the game as I wasn't quick enough to figure the game out before the hour was up. This game is totally different. I played in the easy mode and the tutorial and directions were clear enough I was thoroughly disappointed when the hour was up. Since I didn't try the harder mode (probably perfect for TD players with more experience) I can't comment on that level of play and will leave those comments to others who have played lots of TD games. The graphics are cute - both the Martians and the cows- and easy to see.. I always turn the music down, so I can't comment on that. The play is smooth, and if you find the difficulty on easy too slow, you may change to the harder mode at any time. If you want to try a game of this type, I recommend it highly.
July 10, 2013
Best since PvZ
It's similar to Plants vs. Zombies but instead of lining up your defense in rows you arrange it along a path. Aliens try to steal your cows! There's an added danger element as if an alien gets to a cow and starts hauling it back to their ship and you blast it, it drops the cow but the next alien to come along will pick it up. This makes it a bit less casual than PvZ. It does have a very similar basic game concept, different aliens and different weapons mean you really have to strategize about weapon placement/combinations. There are two difficulty options, regular and veteran. For me, veteran is quite challenging after the first several levels and non-veteran is too easy, so the choice is bored or stressed! But overall a lot of fun.
July 15, 2013
DON'T TOUCH MY COWS!!
I really enjoyed this game for many reasons: The graphics and storyline are a really good point (there's a lot of humor with the farmer in the outhouse), and it's really polished. The pacing is great (even if the first levels are a bit long) but there is a lot of different martians and you have to fight them with the right towers, which is a good thing for a strategy game (placement is also important for towers)... Last but not least: there is two difficulty levels and that's perfect for childs! ...so I think I will buy this game ! :D
July 12, 2013
Super Cute!
Hooray! A very cute, well-made game. If you loved Plants vs Zombies, you'll love this one too. Great graphics, great music, nice storyline. Beginner mode is very easy, glad they have a veteran mode as well for added challenge. I hope we see more like this one!!
July 11, 2013
This is the best game I've played!!
I bought this game a week ago and found it challenging but fun and have been playing it every moment I can ever since. Once you've completed it in normal mode you can play it in veteran mode. There are so many combinations of tools you can use to destroy the aliens that working out the best combination is part of the fun. I've definetely had my money's worth from this game and look forward to more from these developers - well done!
August 2, 2013
Fun and a bit of a challenge
Pros- graphics, sound, and production are first rate. But the thing that works the best is it's fun. Cons- it isn't all that easy and like a previous reviewer said, it plays fast. It is fast-very fast. Overall, though, always very good to see a game that the makers took care with details and one that doesn't end in a couple of hours.
July 14, 2013
Don't steal my cows!
Some Martians have hit Earth and their only goal is to steal my cows! I just wanted to try this game... and I found myself still playing after a couple of hours. It's just so addictive! The graphics are really cute, the cows are really nice, and I mostly played in veteran mode so I had quite a lot of fun and it wasn't too hard. I just tried it a bit, and there is a lot of challenge so try your luck if you're used to this kind of games. There is also this guys who creates the towers... where did they get that idea?? It really made me laugh... The music is nice. Reminds me a lot of Plants versus Zombies, so if you liked it try this one.
July 11, 2013
WHEN MARTIANS ATTACK!
The Martians are stealing the cows and the farmer is conveniently locked in the outhouse, so it's up to you to defend the pasture! The farmer is an inventor and has made several crude weapons to defend the cows. You must choose where to place the water barrel shooters to best defend the path as well as refridgerators to slow them down and you must build new weapons with cog machines, the more cogs you produce the more defense weapons you can build. There are different kinds of Martians and some may require different weapons or strategy. There is an easy tutorial mode to bring you up to speed or you can choose normal mode if you are familiar with this kind of game. I had fun playing this humorous strategy game, enjoy!
July 10, 2013
Fascinating game
Same creators who made Plants vs Zombies. Same cool cartoonish graphics and such. Only this time, you have to save your cows from marshians by placing shooting barrels, freezing machines and bombs along the path. It can be somewhat repetetive though. Hence the 4 stars instead of 5. This game is weirdly fascinating and addictive. If you loved Plants vs Zombie, you have to try this one!
July 10, 2013