Mystery Trackers: Silent Hollow Collector's Edition
Exclusive
There are screams heard in Silent Hollow... Trouble at the Mystery Trackers headquarters means you're called in to help. With a few extra abilities, not to mention your trusty sidekick, Elf, you just might save the day!

Uncover the treachery of a centuries-old turncoat in this incredible follow-up to the bestselling Mystery Trackers series.

This is a special Collector's Edition release full of exclusive extras you won't find in the standard version. As a bonus, Collector's Edition purchases count toward three stamps on your Monthly Game Club Punch Card!

The Collector's Edition includes:
Learn Morpheus' secrets in the bonus game
Collect fun achievements as you play
Downloadable soundtracks and wallpapers
Bonus screensavers and concept art
Integrated Strategy Guide
Game System Requirements:
OS:

Windows XP/Windows Vista/Windows 7/Windows 8

CPU:

2.5 GHz

RAM:

1024 MB

DirectX:

9.0

Hard Drive:

1084 MB
Game Manager System Requirements:
Browser:

Internet Explorer 7 or later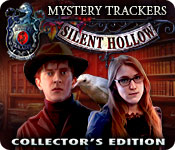 The Big Fish Guarantee:
Quality tested and virus free.
No ads, no adware, no spyware.

Reviews at a Glance

Mystery Trackers: Silent Hollow Collector's Edition
0
out of
5 (
0
Reviews
Review
)
Customer Reviews
Mystery Trackers: Silent Hollow Collector's Edition
108
108
Really Liked it!
After an initial hesitation starting the game, it finally fell into place. Graphics are great, and you really have to hunt around for your clues. It's a nice new challenge. I really liked it!
July 18, 2013
I recommend this game.
So far, based on the demo, this is an interesting game. The hint button does give you a sentence instead of highlighting the solution, but it tells you exactly what to do. The map shows where you need to go for an active site. The Graphics are clear and the play is fun. I recommend this game.
July 18, 2013
More Elf!
I don't know if it's a good thing that I spend as much time with Elf as with the game! I just finished the demo and bought the game, so I have to be quick so I can get back to it. Buy this game. Great graphics. Great puzzles. Good sense of humor from designers. Okay, gotta go.
July 18, 2013
Based on Demo Only
Great addition to the franchise.
July 18, 2013
An Intricate Game
Mystery Trackers is back with a tale that takes you to their headquarters. As always with Elephant games you get: Long playing time Really beautiful graphics Strategy guide (which I used several times) Appropriate music Collectable animal critters Good mix of HO'S and puzzles The one sort of con for me was the storyline - a bit of a yawn there. I liked the 2 bonus games, all though not necessary to end the main story. I think the CE is worth it for this game. Lots of extras
August 1, 2013
Not What I Was Waiting For
There are often so many five star ratings on games on this site, but I usually select the "Lowest Ratings" first to try to get an accurate view of the game. I'm a huge fan of this series. I LOVED Raincliff. Black Isle was great as well. I was waiting for another great game in this series, but this one definitely failed to deliver. The visuals are merely ok. I found at some points that the visuals had actually gotten a bit worse than previous instalments in the series. Some people may not like music in a game, but I like the consistency of music in Raincliff the best. Silent Hollow offers nearly NO music whatsoever throughout the vast majority of the game. A huge disappointment. I found the map wasn't accurate in same details. At one point, I was stuck and the map suggested I still had something to do in a certain area; however, there was actually nothing to do in that area (as I later found out). The biggest disappointment was the storyline. Now, I've really enjoyed the first three instalments. The fourth as a bit weak since it somewhat mimicked Raincliff, in my humble opinion. Silent Hollow is a very weak sequel. I did not enjoy the storyline at all. The voice acting is usually a bit off in these games, but I found it to be the worst overall in this instalment. The story of supernatural powers bestowed upon the Mystery Trackers Order was weak, unoriginal, and boring. What's worse, I didn't feel it was honest to what the series has become. Overall, I was very disappointed with this sequel. If you can get it on a discount, I suggest to buy it at that time if you're a fan of the series. I sincerely hope that Elephant Games does not make this a habit with this remarkable series. It had so much potential and I have so much respect for this developer. They had a huge MISS with this one. Sorry guys, but it's true! Unfortunately, I can't recommend this game. But I would STRONGLY recommend Raincliff or Black Isle.
August 2, 2013
Pyrotechnics; Cyrogenics; Cutesy Dogs...give me a break!
I gave 5 stars to a game this week. First time in years. When I saw a new Mystery Trackers was out I thought I'd be doing two in a week. I couldn't get it above three. I'm quite disappointed; I was hoping this series could maintain its edge, as MCF as. It was presented a great serious but has opted for some of the features other games have brought in to be different and frankly I haven't been buying those. I bought this and am half way through and it's all I can take tonight. Normally, I'd play past bedtime when a new great game, but not this one. Specifics: in addition to not wanting to dress my animals or provide them with a beautiful home, I don't want to dress up my screen. I just used some of the ducats to buy some things I had no idea what they were. They decorated the inventory bar! If I wanted that kind of game, I'd be playing in another genre. If it's a tiny part of the game, find but really this is too much. And if anything is tough to do, you just send in old Elf. Or, in this game, you just roll up your sleeves and set flame to it, or freeze it. It was more fun when I had to jerry-rig something in order to overcome an obstacle. Storyline is chaotic. So far with a couple of hours played, I'm just gathering talents like fire and hypnosis and freezing things. I solve puzzles to gain access to rooms (that's good) and then get these ridiculous masks trying to get me but I'm not allowed to zap them. (Not good sportsmanship! Are you kidding!) Terribly disappointed. This is a tiresome game. Very unlikely I'll replay until maybe a year's past and I've forgotten how little fun I had playing it. Developers....please go back to the beginning. Collectibles that were hard to find or morphing objects. Not collectibles that parade in front of you. Get serious.....we could collect the trash too maybe?
July 19, 2013
Very underwhelming after all the high reviews
This review is based on a complete playthrough of the game plus bonus content. This was my first Mystery Trackers game, and it may well be my last. I've read all the great reviews, I love MCF which this gets compared to, so I decided to take the plunge. So first - the Bonus Content (or why should I pay double for this game?): The bonus game lasted a bit over an hour, but the story didn't really grab me. I was 'hinting' through it near the end so that I could get to the finish. It has nothing to do with the main game. The achievements were normal stuff - most of them you HAD to 'earn' in order to finish the game. There was a 'shop' where you could buy a few cute things for your dog and his family and change the screen interface. Then there's the secret room, that let's you go from puzzle and HOS to the next back through the game. That's probably the best part of the Bonus pack from where I'm sitting. Really it's just a different presentation of replayable puzzles we get in lots of other CE's. And you the other standard stuff: SG, wallpapers, etc... I didn't feel cheated by the CE content, but I wasn't overwhelmed either. If you want to save a bit and get the SE, you're not missing much. Nothing that would affect your enjoyment of the main story and game. Now on to the main review: I knew I was in trouble when the first 'puzzle' *very slight spoiler* requires you to enter a four digit number, and the number is written down RIGHT THERE (I even got an achievement for 'solving' it in under a minute). Not even on the main screen, or hidden somewhere. Right. There. At first I thought that must be because I was still in 'tutorial land', but that pattern persisted through the whole game. THE GOOD: Visually, the game was great. The music wasn't terribly intrusive, so it did have a fairly nice "feel" to it. I loved the way your character develops as the game goes on. The story was engaging. Probably even more so if you played the previous ones and had a 'rapport' with some of the characters. It was an 'average' length game for me, about four and a half to five hours on advanced. Didn't need many hints during the main game - the "adventure" part had the right amount of challenge to it. THE BAD: The puzzles. There's easy, and then there's what we get in this game. Not all of the puzzles were that bad, but enough of them were. The ones that weren't were either normal easy with a few 'medium' challenge. There was one puzzle in the bonus game that I really had to work at - what a breath of fresh air. Too bad I had to finish the main game and half the bonus to get to it. No lip movement. This wouldn't be so bad, but because the graphics are so "realistic" in the cut scenes, things that like really stand out a lot more. After the main game, the 'story' to the bonus chapter just didn't hold up at all. Somebody was 'phoning it in' on that one. THE UGLY: The HOS weren't junkpiles, but they weren't stuff that really fit in either. They were interactive in that you had the same simplistic 'code' puzzle in every one, and you had to put two things together. Other than that, straight lists. Things like a TV breaking and finding a candelabra inside. Little things like that really break you out of character and remind you you're playing a gme. Bottom line: Maybe I picked the wrong installment of the series to jump into, but I really felt let down after reading all the glowing reviews. It's not a _bad_ game. But it doesn't rise up above the sea of other 'pretty good' ones out there now, and certainly not to the level of the best. Probably better as a SE than a CE, but I'll still give it a recommendation, because it is better than a lot of what's out there.
January 15, 2014
Disappointing
I have played and enjoyed the other Mystery Trackers games but sadly right from the start this one was lacking. The story was silly and the fun factor was low. I'm so over all the spooky supposedly scary games out lately. They're not scary they are just annoying & repetitive. I wish they would make something a little less "ghost" like and have a real story behind them. Just my opinion :-)
August 24, 2013
elf is up to mischief again!
These games are good and I have others in the series, however I think in my mind this seemed to suffer more with using 'real actors' within the game-play then others in the series. I felt it was perhaps and is a backwards step as it didn't allow the game to 'flow' properly, other games that I have played that are just computer graphics are more inclusive of the overall game play, these live action characters just seem to give the overall game a 'dodgy' early 90's feel (remember phantasmagoria!), The other thing with these type of live action is that they will be on a cycle of doing the same thing over and over in a particular scene (Jason in 'The good Shepherd' for instance where near the start of the game all he is doing is washing the same glass over and over, and if you watch carefully you can see when the clip ends and restarts, this happened in other games and was also one of my bug-bears in others. Sorry rant for now over. The game-play itself is good as usual from this series, this series (bar the above), can never get boring as there game developers can always create new crimes for the 'mystery trackers', and they have had diverse crimes thus far from helping 'celebrities' to this latest one of finding a missing woman. If you have played others in the series then this game is pretty much set-out the same way in that you have 'elf' your ever faithful canine partner, the map where you can see what needs to be done and where, and also the task icon to indicate what current tasks need to be completed. With regards to the main character you can gain several 'abilities' such as 'fire-starting' (always useful), which will be needed throughout the game, this again added to the game and made you think as to where you could use them in order to move the story along. The HO scenes are intuitive as you have to use inventory items to help with HO scenes (this is an 'elephant special'), so this adds another dimension in that you have to think about what it is that needs to be done, and think it through logically. The story-line is strong and the voice sync/actors I have already 'touched' upon. The music is ok and comes more in 'waves' then continuous music. One final 'bug-bear' and this has been mentioned by others, is that if you did get the SO edition, then the 'collectables' (such as owls), would still be 'on-screen' as it were, this to me is a bit 'lazy' of the producers in that it didn't remove these for the SE version, especially when people may have not for whatever reason wanted the CE version and this 'constant' reminder throughout the game is not particularly fair. Overall based on the free hour and the fact that there is an '2for1' offer this weekend then I will probably purchase this game as I do like the storyline and the intuitive way of using various
July 21, 2013
The Apple logo is a trademark of Apple Computer, Inc.