League of Light: Dark Omens Collector's Edition
Exclusive
The year is 1866. You've travelled for days to reach a castle hidden deep in the Carpathian Mountains only to discover you've been asked to join the mysterious League of Light, a secret group dedicated to fighting dark forces. You've barely said yes before you're sent on your first mission, to investigate a beast that is terrorizing the mountain village of Sorrow's Well. Is this beast real? Who's behind it? What's really going on in the Dark Lord's castle on the hill? No one ever said being in the League would be easy! Face supernatural beasts in the League of Light: Dark Omens, a dark Hidden-Object Puzzle Adventure game.

This is a special Collector's Edition release full of exclusive extras you won't find in the standard version. As a bonus, Collector's Edition purchases count toward three stamps on your Monthly Game Club Punch Card!

The Collector's Edition includes:
Bonus chapter featuring the kingdom of the dwarves
Downloadable Soundtrack
Concept Art Gallery
Downloadable Wallpapers
Game System Requirements:
OS:

Windows XP/Windows Vista/Windows 7/Windows 8

CPU:

1.6 GHz

RAM:

1024 MB

DirectX:

9.0

Hard Drive:

1223 MB
Game Manager System Requirements:
Browser:

Internet Explorer 7 or later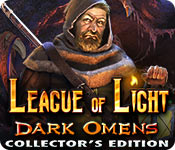 The Big Fish Guarantee:
Quality tested and virus free.
No ads, no adware, no spyware.

Reviews at a Glance

League of Light: Dark Omens Collector's Edition
0
out of
5 (
0
Reviews
Review
)
Customer Reviews
League of Light: Dark Omens Collector's Edition
75
75
Very good HOPA, but...
I personally think the game is good, but not great, 4 stars. I'll try to explain why I think so. This game has everything to play with a pleasure: nice graphics, good sound and voiceovers, interactive HOS and map, cute puzzles, a lot of cutscenes... BUT! The storyline is tooooooo familiar. All this we have seen, and, more than once! I want something fresh, some new ideas in the storyline. And we see a hackneyed plot that is easy to predict. A little after playing this game I was bored. I think the storyline is the weakest point in this game. But if you have not played a lot in these games, then you'll love this game. Technically, she's done very well. A few words about the mini-games. It seemed to me that they are too simple. Almost all of the puzzles are solved in a minute, and sometimes less. Although playing them quite interesting. And more, the light in the castle turns off periodically, I was very annoyed! I think it is a bug. Despite this, the game is very good. And I recommend it ;)
July 26, 2013
Most Professional & Interesting
BASED ON HALF HOUR DEMO This game is DIFFERENT from the START, but in subtle ways. Our INTRODUCTION to STORY has us arriving at a castle to which we have been summoned, where we meet the LEAGUE OF LIGHT. This part is QUALITY CUT SCENE graphics, VOICEOVERS very good, almost LIP SYNCED successfully. Further BACKSTORY is provided by way of sepia toned comic-style art, and then we are off on our mission, shown in first person, riding a beautiful white steed. There is a lot of these cut scenes and backstory inserts but I did not find them at all annoying, there is MUCH we need to KNOW and the information is interesting. I like the story, and didn?t find it distracting to find out more of what was going on. There is lots to do in this game. We have some PROGRESSIVE SILHOUETTE HO SCENES, with the silhouettes actually being pics rendered in GREY SCALE. The GRAPHICS are CLEAR & DETAILED, the mini-puzzles that are part of the HO scene are engaging. The somewhat-original PUZZLES are LESS FREQUENT and so far NOT DIFFICULT, but then the HOS are NOT NUMEROUS EITHER. We do visit some of them twice. Mostly this game is about FIGURING OUT solutions to obstacles, i.e. ADVENTURE GAMEPLAY. But it is NOT at all DIFFICULT, the progress is LOGICAL, and we have an INTERACTIVE JUMP MAP, and a JOURNAL. HINT is not much use outside the HO scenes. The LOOK of this one is VERY PROFESSIONAL, if not mind-blowing artistically, and they have done an excellent job on the BANSHEE ? she is REALLY CREEPY. The DEMO took me only 30 minutes, which has me wondering if this is a SHORT GAME? BONUS CONTENT Plenty here too. As well as the STANDARD offerings, gallery items, strategy guide and bonus chapter, we have: ACHIEVEMENTS, not many, some easy to get, some related to the COLLECTIBLES. There are 11 BESTIARY SCROLLS to find, and the information they provide about the enemy is useful. They can be read from the JOURNAL. There are also COLLECTIBLE OWLS (34), and they are NOT EASY to see. One ACHIEVEMENT includes answering 20 TRIVIA QUESTIONS about the game. COOL. Also, as we get achievements we get FRESCO PARTS, which can be put together if we get them all. I like that idea. I?m impressed with this one, no schmaltz, no extravaganzas, but what looks like a darn good tale well told.
July 20, 2013
Good Game BUT......
Our story takes place in 1866 where you have travelled to reach a castle hidden in the Carpathian Mountains only to discover you have been asked to join the mysterious League of Light, a secret group dedicated to fighting dark forces. Immediately you are sent off to investigate your first case, a sighting of a beast flying over the village of Sorrow's Well that lies below the Dark Lord'Castle. Upon arrival you are greeted by Elton Finch whose daughter has been kidnapped by a strange beast and is now kept locked away in the Castle. It is up to you to save her and battle the dark forces that now are getting stronger. A Dark Fairy Tale with a winged beast, creepy looking dwarf and a evil Dark Lord all wrapped up in this entertaining HOPA game that also offers extras like collectables and achievements. The graphics are sharp, hand-drawn cartoonish artwork that often goes blurry during th animation scenes. Music and sond effects are mediocre and voice overs are relative good. There are three modes of d?ff?culty, adjustable during gameplay and only in hard-core mode do you NOt get sparkles. Unfortunately you are stuck with the black bar tips throughout the game which makes game play less challenging; A bit too much handholding at times. Game features include a map that allows you to teleport to areas of interest and also indicates game progress. Puzzles are relatively easy to solve and the mini-games that I came across during the demo were very simple that I did not have to read any instructions to solve which also is part of an achievement. Hidden object games are not our traditional HO scenes, rather you need to find the silhoettes and using items on another which actually I enjoyed playing. Collectables include locating 34 owls throughtout the game and finding 11 scrolls. There is a list of 20 achievements to earn and some are actually interesting. Overall the demo went by quickly and my only gripes were the graphics which looked at times a bit dated and the lack of challenge in the gameplay. Nevertheless, I liked the story and the extras make up for the rest. A Good CE which unfortunately misses the mark of being a great CE and therefore gets only 4 stars from me. I expect many will take advatage of the sale today which will make this game a good choice. Also I wonder, does anybody notice the Dwarf (or rather the Snoggle) looking like another similar evil dwarf we have come across? Have a good week-end!
July 20, 2013
Fun Afternoon Game!
This review is based on playing the CE game on Advanced. This was a beautiful, well-thought out game. Graphics were crisp and the game ran without any glitches or problems. I will not recap the achievements as the other reviewers did an excellent job of listing your objectives. The only reasons why this isn't rated at 5 stars is that you can skip the cutscenes, but can't advance one screen at a time. I like having the capability of reading the dialog and moving from screen to screen at my own pace. Also, puzzles seemed a little easy.....bring on the frustrating stuff! Puzzles were nice, but nothing that you haven't already seen in other games.
July 22, 2013
TERRIFIC; INTRIGUING
Beautifully constructed game with terrific graphics and very pleasant music. 3 modes of play with achievements and collectibles (34 owls and 11 scrolls). Your diary includes the story and clues, as well as information on the various creatures you meet. Your map includes notations of where tasks remain to be performed and provides a means of fast travel. Interesting and well-written story with lots to do - you join the League of Light and are charged with investigating the possible appearance of the Dark Lord. As you arrive, the daughter of your host is stolen by a winged creature and off you go to the castle. But why is she sitting outside of the castle shivering, until the winged creature reappears and takes her inside? You learn that previous League of Light investigators have met an untimely death. Interactive HOS are uncrowded and very distinct. Puzzles are not too difficult. Inventory is used near where it was discovered. A very good production.
July 20, 2013
A Really Cool Game
I had become really bored with most of the new HOG/Puzzle/Adventure games that have been released within the past six months. This one actually held my interest! It's been a while since I played a game that I would play for hours but I did with this one. I enjoyed looking for the hidden owls. The puzzles weren't hard. What I liked most was the story line. I could have done without the annoying little minion. All in all, it was a really cool game to play.
July 12, 2014
Better Than I Expected!
This is a good game. I wasn't sure I'd like it because playing the demo it looked like it was dark and gloomy. But by time the demo was over I decided to buy it afterall. Even though there was a lot of darkness it wasn't hard to see things. Just the right amount of light made it so. The final thing that sold me was the fact that it has an interactive map! YAH! When you go to a different spot on the map it shows you a picture of the scene, and it also shows where there is action to be done, and also shows a blue owl head on the scenes that you've found the owl in, so you know if you missed any or not. It has a good storyline, the HOS are interactive and not hard to find, and the mini games were good, some new and some old with a different twist to them. I enjoyed them and only had to skip two. You collect 34 owls, and the owls are not hard to spot in each scene...they aren't teeny tiny. A couple of times the owls were animated and peeked around at you and you had to wait until they popped out again to click them. That was neat. The hint was good, but I played all the HOS without using one, but used it a few times to point something out in a scene. I really liked the art work, and in the HOS you didn't find modern items like you do in some games...I like it when the items match the time frame of the game. Some of the HOS were shadows of the images you had to find, and you could put your cursor on the shadows and it told what the item was. Those were interesting because you had to find each item to find the next one. I would have liked seeing more of those. It was different. It has a guide, which I only had to check out once. That was because I still had one item I needed at the ending and for some reason it didn't show which scene you still had action in. That threw me a little. I decided to visit each one, starting at the last ones and working my way up,and then ask the hint if anything was in each scene. After doing that, about six scenes later, I finally got in the correct scene, and then the red exclamation mark showed up again showing me where there was action to do?? Did that happen to any of you? I don't know if it was a glitch or what...making you work harder, toward the ending? lol.Thankfully I didn't have to visit every one.I was a little disappointed in the ending. Kind of a let down, which is why I gave it four stars instead of five. I will play this game again. I still have the bonus game to play, so maybe it will make the ending better. I see by the other comments that you guys like this game, too. It's a good one!
July 27, 2013
The greatest hidden object game I've ever played
This game is without a doubt the best game I've played in a long time. It had everything. I had to really knuckle down on the puzzles. The plot had a lot of twists and turns but I was still able to keep up with a little patience and thought. It has great artwork and characters, the scenes were really well detailed and constructed. I loved this game. I played it in casual mode, I think I'd like to try this in a a more challenging mode at a later date. I'm keeping this game forever. Kudos to you Big Fish Club for getting these games for me to play.
July 29, 2013
Great Fun!
Very entertaining game, but it only gets 4 stars for a glitch that allows you to get all BUT 1 bestiary. Very frustrating for OCD gamers like me. Other than that the game played very well, great story line and not too many back umpteen plus screens to solve the puzzles and most were just challenging enough to hold my interest. Great fun overall, truly better than most adventure hidden object puzzle games. Hope you enjoy it, too.
July 26, 2013
Not a bad game
Unfortunately, this will have to be a review based on a truncated demo experience - about 30 minutes. I experienced some technical glitches which locked up my machine and I wouldn't go back into the game and try again. First of all, this is a good game. The graphics are great. I went into the extras and listened to all the music pieces, and they were all very nice. With the amount of demo I was able to get through, the music was excellent and did add to the atomosphere of the game. There are voiceovers, and they are well done. The animation was excellent - the character's mouth moved properly with the words they were speaking and stopped when they were finished. The dialog made sense and wasn't cheesy. There are also achievements. Owls to find, and the usual assortment for different actions in the game (finding 3 hidden objects in 3 seconds, and the like), and there was a nice twist: you get an achievement for answering an "easy question". There are not an overabundance of them, about 10. "Black bar" info is helpful, and tiered. That is, if you click the area more than once, you'll get different info that is helpful for what you need to do. It's like a mini-hint system. Nice touch, I thought. Interactive map, and looks to be a very nice sized game. Strategy guide is helpful, and stays where you left it. This may be my experience only, but I found the game to be glitchy. Infrequently, when I would zoom in on an area, only half of the scene would show, the other half would be blacked out. However, the full scene would be active, so if I needed to use a key in a door and clicked on a door zooming in on the lock, only half of the lock would show, but the key would still work and the door would still open. Before the game froze up, this began to happen in the main scenes as well. Also, things would just disappear though they would still be there. A painting would disappear from a scene, but my cursor would still change to a magnifying glass, and I would still get the black bar info when I clicked on it. Similarly, items would also disappear from my inventory, though they would still be there and identifying text would appear when I hovered over the item. I could still use it and it would still work. However, usually what you can't see, you forget it's there. That could be an issue. Lastly, for those that this matters to, this game is full of demonic imagery. There is quite a bit of darkness associated with the story, with the backgrounds, with the drawings in the books you see in the game, with the paintings you see in the game, even with the wallpapers offered in the extras, and with some of the characters you interact with during the game. There's also a number of skeletons and other death images. And I only got through about 30 minutes of the demo. Take it for what it's worth to you, and don't say my review wasn't helpful because I mentioned it. All that being said, for the game play, the storyline, the *overall* look and feel of the game (sans my glitches which you may not even experience), I would recommend it. There's a lot of bang for the buck, and... it's a bogo weekend. :o)
July 20, 2013
The Apple logo is a trademark of Apple Computer, Inc.