Untold History: Descendant of the Sun
Exclusive
Confront an ancient evil and uncover your true destiny in Untold History: Descendant of the Sun! You spent your whole life believing that you were an orphan. But one night, your world is changed forever when an unexpected visitor arrives with a startling revelation – you are the fabled Descendant of the Sun, rightful heir to the most powerful artifact in the world! But as you set out to retrieve it, you find yourself confronted by an ancient evil willing to do anything to get the artifact for itself. Each step of your journey will bring you closer to your true destiny in this gorgeous Hidden Object Adventure game!
Game System Requirements:
OS:

10.8/10.7/10.6

CPU:

1.8 GHz (INTEL ONLY)

RAM:

1024 MB

Hard Drive:

474 MB
Game Manager System Requirements:
Browser:

Safari 4.0 or later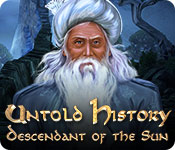 NEW299
The Big Fish Guarantee:
Quality tested and virus free.
No ads, no adware, no spyware.

Reviews at a Glance

Untold History: Descendant of the Sun
0
out of
5 (
0
Reviews
Review
)
Customer Reviews
Untold History: Descendant of the Sun
21
21
Descendant of the sun what magical fun.....
Oh my heavens what an epic adventure. I loved this game. I haven't played a game like this since Myths of the world. I really like the Hindu culture setting and the scenes are gorgeous. Your quest is to find 4 talisman and by the end of the game you'll know what to do. Something tells me I should have splurged for CE version. I really recommend this game even if its challenging.Bravo!!! (hands clapping).
September 21, 2013
lovely places
completed game the very nice graphics locations shown do not often see them really beautiful, a few hidden object scenes, well done, my Case Study mini-games are too often difficult and frustrating, of course there is the explanation, but were not for me . the rest of the game is ok
July 29, 2013
YES! FULLY TOUCH FRIENDLY
This game rocks! I'm tellin' ya, if it is touch friendly, I will buy it................totally awesome game.
July 14, 2013
Brilliant game
I loved the game, but it was way to short, it's got an interactive map, so that's speeds things up, and on the map, there were loads of locked areas, so perhaps there maybe a sequel, I hope so, I'm disappointed it's over
February 11, 2014
VERY GOOD ADVENTURE
Great adventure with HOS thrown in. You collect and carry a lot (and I mean a lot!) of inventory items which will not be used until later. And there will be backtracking to use some of the inventory. HOS are finely detailed, so it's not a problem finding things. Puzzles are varied in variety and in difficulty (also some will take a bit of time even though not very hard). Voice overs for the characters are natural sounding and very nice to listen to. You get a map of the approximate 24 locations, as well as a journal. Hint system works in and outside of HOS. Casual mode has sparkles and it takes about 1 minute for hint to recharge (but there's so much to do that you won't notice that it takes that long). Harder mode takes 2 minutes for a recharge and there are no sparkles. Story is well developed for the heroine. Very substantial game.
July 14, 2013
The SE Here Get 4 Stars - Review Of Completed Game
HOPA: (Hidden Object Puzzle Adventure) - More on the adventure side. STORY: You take on the role of Aarya and you are the fabled Descendant of the Sun, rightful heiress to the most powerful artifact in the world! You set off in search of 4 talismans to save mankind. WIDESCREEN -- Deselect aspect ratio in options. This did work for me and filled my 20" monitor just fine and didn't appear to be stretched for me. This may or may not work for you. 2 PLAY MODES: Casual/Expert Mode - I played expert mode. There are sparkles and black bar tips on both modes. Hint/Skip take 1 minute for charge up on Casual and 2 minutes on Expert mode. HINT: is helpful outside of HOS. JOURNAL: You will get this shortly into the game as this keeps track of story. MAP: A total of 25 locations. This is transporter and shows where you are as there are circles on the map and the one with "yellow" is where you are. Areas with "green" exclamation points are areas where there are things to do. HOS: Not a whole lot scenes in my opinion. All found by word list and some on the list are interactive. I didn't find these to be on the Sanford & Son junkyard pile side. I also had little to no difficulty here. Just used a couple of hints. PUZZLES: At first not too many but then more as you move along and the usual run of the mill such as: slider, rotate rings, repeat sequence, etc. I did skip a few of these. The rotate the rings and repeat sequence with the mole got on my last nerve. SKIP: Available in 2 minutes for puzzles. My overall impression: I've played and reviewed the CE version and gave that 3 stars since it didn't have the bells and whistles: collectibles, achievements, morphing. I only purchased this as a CE because Big Fish had their buy 1 get 1 free sale when this was released as a CE. I really welcomed a different location and culture. I found this refreshing and different from what I usually play. The graphics for me were quite well done. I had no problem with them. I also liked the balance of HOS, puzzles, and adventure though I will say I didn't find it very challenging as far as the HOS and getting lost in the game on what to do or go to next as every game I play doesn't have to be very challenging but I still wished there wouldn't of been any sparkles and black bar tips on the Expert mode. I do like to figure out on my own. I mean what's the purpose of having 2 play modes if they are both going to be the same with the exception it takes a bit longer to use the hint/skip on Expert mode? The story started off very intriguing but was getting way too "out there" for me when the talking animals started popping up. This could of been worked on some more. I thought the voice overs were really good except for one lady and the few animals I found downright annoying and glad they didn't last very long. Oh but no fellow fish in the pond if you are not into the "dress up" of animals well you can relax no "dressing up" animals here. The ending of this game came to a satisfactory conclusion for me and while I overall enjoyed the bonus chapter I didn't find it was needed. GAME LENGTH: The main game here was 4 hours for me and it was long enough. No complaints here. May be more/less for you. So overall I give the SE here 4 stars. I found this to be a very good game but story could of been worked on just a bit more. I also wish all developers would have a CUSTOM mode and let the game player decide and choose if they want sparkles, black bar tips along with the hint/skip charge up. Once we have chosen the options we want then have them apply to the game. As always, give it a whirl and decide for yourself.
July 14, 2013
SE Is The Better Buy
BASED ON BOTH CE & SE DEMOS I did not recommend the CE version of this game. As a Standard Edition game, though, it is VERY GOOD. The INTRO is toned down a bit on what we?re used to now, but well done, dramatic and well acted. The VOICEOVERS throughout are indeed all WELL DONE, and never mind the accents. This game is a step OUT of the ORDINARY for most of us. Set in a HINDU ? LIKE culture, its legends and locations are new to us. The STORY starts with us discovering we are a CHILD OF PROPHECY, and that we have a destiny to fulfill. The grandfather we have only just discovered is MURDERED in front of our eyes before he can give us more than a word of advice and a MAGICAL TALISMAN, which he says will protect us. (Is it just me, or did the murderer bear more than a passing resemblance to SEAN CONNERY?) There is COLOUR and LIGHT in the GRAPHICS, although they are not exceptional. They are of a style I personally don?t like (kind of 'copy and paste'), but I found I soon got over that, as my interest in the game picked up. The GAMEPLAY is as expected. HOS are of the INTERACTIVE LIST type. The PUZZLES are less frequent, but are EASY so far. There is a card game played early on that is a RIDDLE game. Getting about is helped by a INTERACTIVE JUMP MAP that gives you tasks, a DIRECTIONAL HINT and a JOURNAL. This would be just another game were it not for the very DIFFERENT FEEL the change of setting gives us, but that really does make the game far more INTERESTING. And while I don?t think it will have much to appeal to the EXPERTS, I enjoyed both the demos, and will be adding this to my collection.
July 14, 2013
Not a bad SE!
I did not recommend the CE version..did not feel it was CE worthy. However, after playing this again, I have found this to be an interesting game. Graphics and game play are very nice. Music and sound FX are very nice and appropriate for the scenery and setting. HOGs are clean and clear. Games are not simple and take some thought to complete. Voice overs are well done and make a game far more enjoyable for me. There is a lot of running back and forth to the same location and HOG, but there is a map that is quite helpful and indicates where there is something that needs to be done. The hint system is very helpful, but does not fill quickly (60 seconds seems like a long time). The story is a little vague, but you get more information as you play more of the game. The game is not simple, but challenging enough to keep me interested. I still do not feel that this is CE worthy, even with the special today, but the SE is worth a credit and I am going to use one for this game. I have the need to see where this one is going and how I get there. As always, try it for yourself and see what you think. We all have different tastes in games and you may not care for this one at all. Thanks for the reviews.
July 14, 2013
A Baby Girl Born by the Midday Sun..,..
You find out that you are the Descendant of the Sun and must embark on a journey to save the world! This is a game that has okay, but simple graphics, and starts out very slow but picks up once the journey begins. The HOS are just barely interactive and somewhat difficult because of poor graphics. The puzzles are different and some are fun such as matching medicine bottles on a shelf but the bottles are in dark cubicles and only light up when you click on the bottles. This is not a bad game but if you don't use the map to know where and what to do it will be a difficult game with a lot of back and forth traveling. Enjoy saving humanity!
July 14, 2013
Just not a well put together game
They need to go back and remake this one. The graphics are not that that great. The HOS are ok and some are interactive. Hint button works good and has a map. The puzzles could be better and new. There is just a of thing missing to make this a good game to buy. The CE was not worth the money and neither is this one.
July 14, 2013
The Apple logo is a trademark of Apple Computer, Inc.
The Windows logo is a trademark of Microsoft, Inc.