Apothecarium: The Renaissance of Evil
During the Middle Ages a terrifying, mysterious disease raged across Italy. It killed thousands of people, and whole towns and villages perished together, swallowed whole by this ravaging and perilous plague. Everywhere the disease touched, death followed, and the masses were consumed in hoards. There were legends of a mythical town where the secret to defeating the disease was hidden—a town by the name of Apothecarium, built by Italy's foremost scientists. The brightest minds in the country came here to conduct research and collaborate with other scientists—engineers, mathematicians, artists, sculptors, writers, and even alchemists. Survivors thrived here until a mysterious discovery fell into the wrong hands, and now it's up to you to free the survivors from the clutches of an insane and cold-blooded lunatic!
Interactive map
Achievements and coins to collect
Morphing objects
Game System Requirements:
OS:

Windows XP/Windows Vista/Windows 7/Windows 8

CPU:

1.4 GHz

RAM:

1024 MB

DirectX:

9.0

Hard Drive:

1141 MB
Game Manager System Requirements:
Browser:

Internet Explorer 7 or later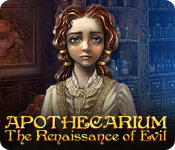 NEW299
The Big Fish Guarantee:
Quality tested and virus free.
No ads, no adware, no spyware.

Reviews at a Glance

Apothecarium: The Renaissance of Evil
0
out of
5 (
0
Reviews
Review
)
Customer Reviews
Apothecarium: The Renaissance of Evil
62
62
Outstanding (and a real surprise)
This one wasn't what I expected. As others have commented, it is loaded with things to do. There were so many rooms that I was beginning to think I'd never reach the end. "What?! ANOTHER one?!" I don't buy games unless there's a jump map. Here we have one that is beautiful and clever -- even with this, they went to the max with the design. The game takes morphing objects to a new level -- they're within the HOS! Clever, charming and fun. I loved the artwork and the wildly imaginative world it depicted. Surrealistic! Soooo much attention to detail. Even the deep backgrounds have things to look at. I wanted to linger on each scene to take it all in. This one has way more in it than many so-called Collector games, so it's well worth the price of an SE. You'll get hours and hours of fun. And it's not always easy. Pay attention to your surroundings. Some of the objects you're seeking are well hidden. I wasn't familiar with the devs before this. I'll definitely watch for their games in future. I hope they keep to this standard of excellence! Wow!
August 7, 2013
Unique scenery awaits you....
I really enjoyed this game, especially the scenery. It had very imaginative rooms and there were plenty of rooms to work through! If you like puzzles, the mini-games will keep you entertained. You also have the option of switching your HO scene into a match 3 which is good. Overall, a great play.
August 5, 2013
Possibly a little gem (for those with patience)
I think I love it because: * it's an SE with all my favourite CE features - - 20 achievements - coins to collect to buy hints (hint does not refill) - map to obtain which is interactive and informative - morphing objects - inventory objects to combine - surprise boxes to win by solving puzzles * it's really quirky and unique - - morphing objects are within the HOSs - new puzzles that I haven't encountered before - a villain who goes "Mwah ha ha!" BUT, and here's why you need patience and understanding: * there ARE glitches * some of the words used are odd eg "clutch" for "C-clamp" * free hint to travel but you have to buy the rest so have to keep popping to the shop * the characters' voices and the music can get on your nerves * no full screen so some things eg the map are a bit hard to see. HOWEVER, I can put up with that for the sheer novelty of the game and (since I have a coupon) will buy it. DEFINITELY try before you buy and persevere. This is a 'marmite' game - you'll either love it or hate it!
July 13, 2013
What a drugstore!!
Usually soft releases are laughable and/or forgettable. Apothecarium is neither. Based on the demo only I can attest this game shows lots of promise to be a very fine addition to the HOPA genre. It's not the best drawn game that I have ever seen and there are some little issues that I have which keep me from bestowing 5 stars on it. The most glaring issue I have is with the mini-puzzles. Unless I just have not seen it, there are no how to's as an aid to solving the puzzles. Some of them really need instructions. There are voiceovers which is practically a must these days. I like that the HOG scenes include morphing objects that are integral to the scene. The storyline is nothing new. Some baddie is terrorizing a town, this time using a plague to dominate the world. Our task of course is to defeat him. There are powerups which can be purchased by acquiring coins strewn about the village. They can be of assistance either in HOG scenes or in alternate Match 3 games that can be used in lieu of the HOG's. I think there is a map but darned if I can find it. If the puzzles had instructions this would be a stellar addition to the genre. The lack thereof demotes it somewhat. That it is available as an SE version from the getgo is a plus. Apothequarium outshines lots of CE's out there. I have a game credit running out in a few days so I will get it as a freebie. All HOG and HOPA addicts should certainly give the game a trial as it will not disappoint.
July 13, 2013
Two parts, or two games?
This one is hard to review because I felt like there were two different games happening, or at least two very different design teams. The first half of the game was one of the creepiest games I've experienced. There was alchemy recipes to create, puzzles to work through, and battles to fight. The second half of the game was a strait forward hidden object adventure that brought nothing new to the table and on it's own was a mediocre example of the genera. If the entire game was like the first half, this would of been a five star game all the way. If the entire game was like the second half, then it would of barely merited three stars. Either don't get rid of your development team halfway through game design and have to hurriedly hire replacements, or if there were two teams working from the start, have a few meeting where they can communicate with each other.
July 30, 2013
Could have been a CE but great SE!
I was late getting to play this but still wanted to review it because it is a really good game. The graphics are what draws my attention to most games and to me this one does not disappoint. I really like the animated fantasy type graphics it has. The cut scenes, voice overs and music are all well done. The story line is routine but with new games each day how could you come up with something different?! There are notes and a map - one reviewer stated they never could find the map, it's a tab on the top of the notes. The map will transport you to locations you have been to, notes are as usual and HOS are good - they do have morphing objects. I did find that sometimes I would click on objects, nothing would happen - for example the straweberry in one HOS I clicked several times and it wouldn't take but finally it did - this was a little annoying. Mini games are good but unfortunately the devs decided we didn't need instructions so there were some I wasn't sure what to do so had to skip. Hints don't recharge, you have to win coins through mini games and buy hint recharges from the store - didn't overly care for this either. All in all though a good challenging game with graphics that made it all worthwhile.
August 21, 2013
A Nice Enjoyable Game ...
Good Graphics, Sound, Story, Voice & Video Bits ... A Lot Of Game For Your Money (I Got Mine For Free) ... More Games Should Be Like This One Without Being Expected To Pay A CE Price Tag ... Loved The Morphing Objects In The HOGs, A Nice Variation I Have Not Seen Before ...
July 20, 2013
Need lots of patience!!
Wow, interesting game! Graphics were nothing special, nice game play. Music not bad but got old real fast. HOGs were quite different and fun, but take some time to complete. There is a lot of running around, while trying to figure out your next move. Did not care for the skip button. Found myself getting anxious when I couldn't figure out where to go or what to do and the hint was not charged. You can buy extra items, but they didn't make much sense to me. The instructions at the beginning of the game were not very helpful. This game definitely needs a walkthrough! You have way too many things going on at the same time, so you really need to pay attention. I did not dislike this game, but it was frustrating. You need a lot of patience and an orderly mind for this one, which I usually have, but I don't have it today. I will put this one in my puddle and wait to see if there is a WT coming. As always, try it for yourself and see what you think. We all have different tastes in games and you may find this one to be exactly what you wanted today. Thanks for the reviews.
July 13, 2013
Apothecarium: The Renaissance of Evil
Review of demo. Interesting storyline that kept my interest. Morphing objects in HOS, collectables, achievements.
July 13, 2013
Very Complex HO Game
BASED ON DEMO This one is a very complicated little game and you?ll need your wits about you to get anywhere with it. It is not going to be to everyone?s taste, but it definitely has appeal. And there is no other game out there like it. (To my knowledge) The STORY revolves around a plague-ridden medieval Europe suffering the ravages of an UNKNOWN DISEASE. There are rumours of a town where SURVIVING SCIENTISTS have gathered to FIND A CURE. You set off for this place, but are stopped by a STRANGE PERSON in a very ODD HELMET, and end up overturning the carriage outside the gates. The GRAPHICS are REASONABLE, PLEASANT & CLEAR, though sometimes a bit too DARK. The MUSIC is VERY EXCITING & SUSPENSEFUL and therefore becomes a BOTHER even for me. It is the GAMEPLAY that will tie you up in knots. There is SO MUCH to KEEP IN MIND! It is PRIMARILY a HO GAME, with HOS being of the INTERACTIVE LIST variety. BUT they are so much MORE! Some of the ITEMS are MORPHING OBJECTS! Sometimes the HO scene is the general LOCATION, other times it is an IDENTIFIED AREA (bubble sparkles) within the location. If you want you can CHOOSE to play a MATCH 3 game instead of the HOs, but it is a tricky game, and I found I spent less time finding the objects than erasing them. There is roughly an equal number of HOS to PUZZLES, although halfway through the trial I still have not encountered a PUZZLE yet. The HOS are TIMED, and depending on your time, you receive GOLD COINS. There are also TALISMANS scattered throughout the LOCATIONS, to be collected and used to get gold coins. These COINS can be used in the STORE to BUY POWER UPS, for example, FASTER SKIP. Once you have played them PUZZLES, HOS & CHESTS are unlocked, and you can replay them to improve your time and EARN MORE COINS. CHESTS can be opened by a SIMPLE PUZZLE, and contain a SURPRISE. You can save these until you want to use them, without knowing what?s inside. For instance, I clicked on mine in an HOS, and an item was identified and removed from the list. There are also ACHIEVEMENTS, which can be found in the TROPHY ROOM, accessed through the NOTES (or main menu). The INTERACTIVE JUMP MAP & TASK LIST can also be found there. All up, I?d have to say that this game has a lot going for it, in terms of UNUSUAL & VARIED GAMEPLAY, but I found all the EXTRAS a bit much. I DID think putting morphing objects in the HO LISTS a really EXCITING idea.
July 13, 2013