Apothecarium: The Renaissance of Evil
During the Middle Ages a terrifying, mysterious disease raged across Italy. It killed thousands of people, and whole towns and villages perished together, swallowed whole by this ravaging and perilous plague. Everywhere the disease touched, death followed, and the masses were consumed in hoards. There were legends of a mythical town where the secret to defeating the disease was hidden—a town by the name of Apothecarium, built by Italy's foremost scientists. The brightest minds in the country came here to conduct research and collaborate with other scientists—engineers, mathematicians, artists, sculptors, writers, and even alchemists. Survivors thrived here until a mysterious discovery fell into the wrong hands, and now it's up to you to free the survivors from the clutches of an insane and cold-blooded lunatic!
Interactive map
Achievements and coins to collect
Morphing objects
Game System Requirements:
OS:

Windows XP/Windows Vista/Windows 7/Windows 8

CPU:

1.4 GHz

RAM:

1024 MB

DirectX:

9.0

Hard Drive:

1141 MB
Game Manager System Requirements:
Browser:

Internet Explorer 7 or later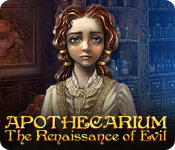 NEW299
The Big Fish Guarantee:
Quality tested and virus free.
No ads, no adware, no spyware.

Reviews at a Glance

Apothecarium: The Renaissance of Evil
0
out of
5 (
0
Reviews
Review
)
Customer Reviews
Apothecarium: The Renaissance of Evil
53
53
GOOD GAME
BEAUTIFUL SCENERY....SOUNDS ARE GREAT...ARE WE GONNA HAVE A SEQUEL??...GOOD JOB DEVS!!
August 4, 2013
Why Did I do It?
I wasn't going to write a review on this, but I purchased it because of the great reviews it got. I didn't get very far in the Demo, so I wanted to give a review that perhaps wasn't so special. I don't regret buying it but it changed from a really good game to one I couldn't wait to end. So far as time, you do get your money's worth. The fun factor just wasn't there for me. It got so bothersome that I got frustrated with the mini games especially. I do like the morphing hidden objects though. Toward the end the story took a deep left turn to fairy tale land. That is what turned me off. You have a map, but it isn't the best in the world. I would click on a location and ther4 would be nothing to do and the hint button would take me where something needed to be done. The sound was fine. Some of the voice overs were a bit on obnoxious side, but all in all the visuals were great. Hidden objects were well drawn and the music was good also. There is a level of challenge which should be of interest to everyone. The morphing objects in the HOS were really fun and challenging and the mini games were a bit on the hard side. I did use the skip quit often. Storyline skipped around and I either missed something or they left our part of the story at the beginning. I am going to play it again. If you like longer than normal games and some difficulty getting around, you are going to love this game. I do recommend it.
July 17, 2013
Left me confused
I'm going to have to go against the tide with this one. I just did not enjoy it, although it was a fine game. Perhaps it was just not the day for me to play this one, I'm not quite sure. I felt befuddled, rushed, and impatient during the game. While the graphics were clear and it is a nice soft game release, I'll not be purchasing this one. Perhaps if I really wanted a day where I needed a thinking game, this would be the one. Not today however. :)
July 14, 2013
Left me undecided
I found that I never knew what the objectives were, and the elixir recipes were ambiguous, All in all - this left me confused and I didn't really enjoy the game play. Too bad - it is nice to see a new game, but I felt like I blundered into understanding the goals only by accident.
July 13, 2013
Annoy
It may just be me but, i don't like timers, i prefer to come and go without timer timing me. I also don't get that constant morphing in the hidden objects that really bugs me, otherwise not a bad game.
August 9, 2013
Tedious and Confusing
I really wanted to like this game. The rave reviews swayed me to purchase it without doing the demo, what a mistake! The story is confusing, what to do next is confusing, the goal of the game is confusing. The story begins abruptly and seems to revolve around a plague in Italy and you needing to go to one town to find the cure. The town is under the control of a madman or an alien or something. The graphics are nice, the voice overs are acceptable, the music is annoying (but can be muted). The iHOS are interesting in that some of the objects morph and you have to search and wait for them to morph back. The downside to this is you can't always click on an object even when it shows the "correct" morph'd item. On one of the iHOS scenes, one item could only be collected when it was the "incorrect" morph'd item. The mini games are so-so and get tedious. There are surprise chests you can click to play additional mini games and collect coins or hint refills. There are also two coins in each scene that you can collect. You can use the coins in the "store" to buy hints (although I never did this). You do earn achievements which is a nice touch in an SE game. The journal/map combo is clever in that it is a scroll. However, the map is awful. It is confusing and doesn't always show where "to do" items are located. It is interactive, but that doesn't help much when you can't rely on it to give accurate information. The walkthrough is helpful and I used it a lot since it is so difficult to figure out what to do next. There are several potions you have to make, but the recipes you have to follow are not clear. I realize I'm in the minority, but I do not recommend this game. I slogged through it because I was determined to see if it got any better. It didn't. As soon as I finished the game, I uninstalled it.
October 2, 2013
so so
this game was ok got bored after a while
July 13, 2013
meh, at best
Extremely disjointed - not a fan at all of the interface. No logical linear story. Even using the map function you have no idea where to go. I am a hidden object lover for life and I bought this - but am shelving it indefinitely.
November 21, 2013
Missed the appeal of this one!
My comments are based on the DEMO only; I could not possibly have slogged through the entire game - yikes. So goodness, color me confused! This game has gotten rave reviews, so I assumed I would enjoy it. Um, well - NO. I was confused from the beginning, with a feeling that I'd somehow missed some of the opening 'set-up'. This was such a strong feeling, that I went back & started once more, thinking I'd clicked through on dialogue accidentally and somehow missed something. Nope, it was just an incredibly sudden opening to the story. Said story, as far as I could tell, was that people were dying from a mysterious disease, and my mission was to find somebody in a town called Apothecarium, where apparently Someone knew the cure. Or how to create a cure. And I think the town was supposed to be have been the Good Guys, except that it was really only one Bad Buy, who was taking people captive & making them slaves. But, a tiny innocent soul managed to be waiting for me outside the gates of the town, to dash in and become a hero. Or something. I had to do a hidden-object scene right at the beginning, and couldn't find everything so had to use a hint to finish, but the hint didn't work in the very first scene. Hm. So I finally get into the town, & am faced with the Bad Guy, who has The Tiny Innocent in his dastardly clutches, and I do a bit of hocus-pocus and The Innocent develops an evil expression and melts through a nearby door. Um, what? In the course of the next few scenes, I had to traipse back & forth, attempting to discover my goal. There were sudden, inexplicable changes in my viewpoint, which I understood to be showing me that *here* I've fallen, and *there* am underground watching plants grown. There were unsettling odd accompanying sound effects to certain scenes which were actually nausea-inducing, in all seriousness. As I was trying to determine my goal, I was traipsing back and forth, repeatedly, trying to guess at what this game wanted me to do next. And in each scene change, the lag time was incredibly slow. I've tolerated that quite well in other games which I loved otherwise, but not in this dud! lol! If that was the only glitch, maybe it would be forgivable, but my screen also had areas of nothing but broken color lines, and the intended picture/background was simply scrambled in those spots. Add those technical problems to all the other things, and it makes for a real stinker. I think I'll go play something now that actually has some appeal, since this turkey is definitely NOT it! LOL! Of course, my opinion is just that - MY opinion. Clearly, somebody out there likes this mess, but I certainly wouldn't recommend it. Oh, lest I forget - the visuals seem to be pretty good!
July 16, 2013
Apothecarium: The Renaissance of Evil
This game had a good story line but the hunt and finds took to long for some of the things you need would change to something else and you would have to wait for them to change back. The puzzles had no info on what was needed to be done for then. I didn't care for this game at all and it is one I would never buy.
August 12, 2013