Apothecarium: The Renaissance of Evil
During the Middle Ages a terrifying, mysterious disease raged across Italy. It killed thousands of people, and whole towns and villages perished together, swallowed whole by this ravaging and perilous plague. Everywhere the disease touched, death followed, and the masses were consumed in hoards. There were legends of a mythical town where the secret to defeating the disease was hidden—a town by the name of Apothecarium, built by Italy's foremost scientists. The brightest minds in the country came here to conduct research and collaborate with other scientists—engineers, mathematicians, artists, sculptors, writers, and even alchemists. Survivors thrived here until a mysterious discovery fell into the wrong hands, and now it's up to you to free the survivors from the clutches of an insane and cold-blooded lunatic!
Interactive map
Achievements and coins to collect
Morphing objects
Game System Requirements:
OS:

Windows XP/Windows Vista/Windows 7/Windows 8

CPU:

1.4 GHz

RAM:

1024 MB

DirectX:

9.0

Hard Drive:

1141 MB
Game Manager System Requirements:
Browser:

Internet Explorer 7 or later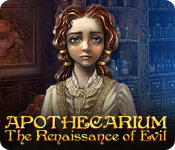 NEW299
The Big Fish Guarantee:
Quality tested and virus free.
No ads, no adware, no spyware.

Reviews at a Glance

Apothecarium: The Renaissance of Evil
0
out of
5 (
0
Reviews
Review
)
Customer Reviews
Apothecarium: The Renaissance of Evil
60
60
A REALLY GOOD GAME!
Wow...this is a surprise: an SE that packs a lot of punch! This is so different. The HO scenes, to start with, are great fun. The highlighted items must be located in a different way...not saying how. The mini games are different and fun and are kind of drawn in an HG Wells style, which I love....and you can switch to match 3 to collect coins and to assist with locating really hard to find objects in the HOs. The coins can be used to buy upgrades for M3 and for hints, etc. There are achievements to get and coins to find scattered amongst the scenes. You need to use your brain a bit to figure out what to use where...not very much handholding, also a good thing. The story is entertaining and there is enough of a creepy element to entertain. The hint button refills quickly, the music and VOs are quite good (except for maybe the little girl type voices), and the artwork and graphics are very good....overall, an excellent buy!!
July 13, 2013
What a surprise
This could easily be a CE, it has it all, even better than a lot of CE's nowadays. It starts out a bit confusing but after 30 min or so I was very much involved and before you know it I was hooked. Yes, graphics are not the best but there is so much to do. Collectables, morphing objects in the HOS, so you better be on your toes to catch the objects, You can switch to match 3 and use the coins to buy upgrades for the match 3 or HOS games. You earn little surprise boxes , how fun You find little newspaper clippings telling you about the town and people. It just blows my mind with everything that is going on here. You have a map, journal, replayable puzzles etc. Outstanding little gem. I can't comment on the length, I'm not done yet. You need to use your magic glove to get by some of the monsters. Some objects found need to be combined before you can use them. I absolutely love games that have a lot going on within a game. This is definitely a little gem and has everything a CE would offer but it is only a SE. Go figure. My compliments to the devs. Very captivating and has so much variety within the game. Never gets boring. Love it.
July 13, 2013
Fantastic Game! How Is This Not a CE!
Seriously? How did I almost miss this game and how is this not a CE? Our story takes place during the dark ages when the plague has struck most of Europe, causing great havoc across the land. Scientists, Alchemists and artists along with other great minds decide to come together and build a town which they name Apothecariumand use the premises for research and an exchange of knowledge. You are entrusted with a great task given by the Duke Medici; to find his daughter and granddaughter, last seen on the outskirts of Apothecarium where they mysteriously disappeared. Evil lies inthis town and it is now up to you to save them and fight the battle of your life. Ok so the graphics are not mind blowing but you have voice overs, three game modes and that is just the beginning. You have a journal with a map that will allow you to travel. Still there is more, you have achievements and collectable, coins that you will need to purchase some power-ups. You have fantastic HO scenes that can be switched over to Match 3 game and by the way, you also have morphing objects within the HO scenes to paly. You have intricate puzzles to solve, items to combine and mini-games that are challenging. So my question is, where did these developers come from? Perhaps the game is too short but I really dont care because I am having a blast playing the demo. This is a definite buy and guess what, IT IS A SE GAME! And to think I almost missed it! There must be something wrong but who cares, I have enough free game awards and comapred to today's CE, this game has enough juice to earn a sale. Kudos to the developers!
July 13, 2013
Great little game
This game has a ton of little things to do throughout the whole game. It even has a place where you can replay HO games or puzzles over again to improve your time to earn more coins. Not sure yet what the coins are for because I have only played about 30 min but loved every min that I have played so far. I have never played a game where there is so much going on all the time. Great fun. I agree that this could have easily been a CE.
July 13, 2013
A Unique, Awesome Game
The game takes place as Italy is being ravaged by plague, and it is said that there is a cure in the town of Apothecarium that is inhabited by scientists. As the game begins you are ordered by Duke Lorenzo Medici to travel to Apothecarium to find his daughter and granddaughter who have gone missing after his granddaughter was sent there to keep her safe from the plague. Others have done a great job of listing the game?s technical aspects so I won?t go into those except to mention that the graphics are terrific. The thing I did not like about this game is the music that sets a mood of suspense and urgency. I had to turn the music off as it put me a bit on edge and I found that I wasn?t enjoying the game. I almost don?t know where to begin when telling you about this game because it is so different than almost any other game that we have recently seen. There is just so much going on here that I am amazed it was not released as a CE. Apothecarium has all of the components to be a CE (even more than are included in some CEs that have been presented) with the exception of a strategy guide. So many BFG members are always asking for innovations and something new in a game and now they have it. Over the past year or two we have seen the advent of progressive silhouette and interactive objects included in hidden object scenes (HOS) but I have never before seen anything like the HOS presented in this game. I don?t want to spoil your fun so I won?t elaborate on the exact mechanics but will say that they definitely are different. Although there is technically not a timer for the HOS, the faster you complete the scene the more coins you will earn for doing so. Your coins can be spent to purchase ?advantages? in the HOS and game. Not only do we innovative HOS we also have some wonderful, challenging and different puzzles. This game just keeps getting better the longer I play. As a general rule, I never use the tutorial but I because there is so much to learn in this game I did use it and found it very helpful. I recommend that you take the extra few minutes and go through the tutorial so that you have a bit more understanding of how the game functions. In the end, Apothecarium is a unique and wonderful game. As I mentioned, I am so surprised that it was not a CE ? what a treat it is for us to have a game of this caliber that is released as a standard edition game. I wholeheartedly recommend this game and hope you find it to be as much of a treat as I do. THANK YOU BFG!!!
July 13, 2013
WHOA.....WAIT A MINUTE, WHAT IS THIS??
I'll tell you what it is, it is a cheaply produced game with so so graphics, BUT, what a fun game! It is only a SE but you get to collect hidden coins, you earn achievements and best of all the HOS are the coolest ever! Items in the hidden object scenes morph and you must wait for the item to morph into the correct object to click on it and there are several morphing objects in each scene I must be dreaming! The mini games are also fun and a few of them are new as well. There is a map for traveling and you have a powerful alchemist glove to help you in battles. Oh there's more...you will come across a surprise box, if you complete the puzzle inside correctly you get an extra hint because they do cost you if you use them. The story is really obsolete and the characters are ugly and cartoonish but who cares? This game is fun, enjoy!
July 13, 2013
FUN game with some new twists!
Great game with morphing objects in the hog scenes and a choice of Match 3 - a GOOD match 3! - if you don't want the hog play. Graphics are gorgeous and the play rolls along from one thing to another - always something to do. I have yet to hit a spot where I couldn't find something (unlike some games where i sit there scratching my head wondering what the next move could be). There are hidden treasure chests to find - unlocked by tanagram! - coins for buying items at the store. Yes a store! Useful items to buy such as hint refill speedups or match 3 bombs etc. FUN game! There is a story but it's not overwhelming so you can concentrate on the puzzles and other fun things. Two thumbs up! :)
July 13, 2013
Almost missed this diamond of a game.
I didn't see this game yesterday, but I am glad I spotted it. I think it has quite a few differences that makes it interesting. The graphic's are very good, clear HO scenes and the morphing objects fun to watch. It takes a few minutes to understand what is going on as lots of objects change and change again. Some of which you need to complete the HO items. The puzzles got me thinking for a change, and the rewards you receive are given on the time you take to complete, so a bit of extra incentive is added to the fun of solving quickly as possible. All I can add is that this game was a nice surprise and it is a buy for me.
July 13, 2013
Another hidden gem
Wow is this game creepy, macabre and just plain great! So unique, even the HOS have a special feature I've not seen before. The graphics are dark,weird, and gothic, I couldn't wait to see the next scene. The hardest mode is truly HARD, no leading, no black boxes, finally a challenging game, The only minor complaints I have are: 1.although there is a control to turn off voices, you still get voices in the cut scenes, and the voiceovers are awful 2. the transistions between scenes are a little slow HIghly recommended, but not for children.
July 24, 2013
Deserved to be a First Rate Collector's Edition
Instead we can grab it for a song, or even for free! Somehow this game slipped by without my noticing....I am thrilled I didn't miss it altogether as it's one of the best games so far this year. Visually stunning, it's filled with hours of delightful game play; everything from hidden object [and the objects are relevant to the time period, and to the game and some of them morph!], to match 3, to slider puzzles and tetris-type puzzles, and of course we're tasked with goals we need to achieve in order to save the day. It's an innovative, gorgeous game. The developers offer nice surprises to keep us engaged and give us variety in our approach. With coins we collect along the way, we can purchase fun upgrades to the hint button and to the Match 3 option. There's an interactive map, a notebook that collects important information and a task list to keep us on track. Definitely not the same old HO, adventure puzzle; it has all the elements and then some! I was just sad when it ended as I wished I had at least a bonus game left to play. IMO this would have made an excellent CE. Congratulations and thanks to these developers, and, more please.... Sheila
July 17, 2013