Rescue Team 3
Save the day as the leader of the Rescue Team, a group of life-saving pros trained to swoop in and sweep up in the wake of a natural disaster! Figure out the quickest way to complete your goals, make good use your resources and unlock every achievement. Easy to play, challenging to master and packed with fun, Rescue Team 3 is the best one yet!
40 levels
Ten buildings
3 rescue assistants and kinds of transport
In-game tutorial
Game System Requirements:
OS:

10.8/10.7/10.6/10.5

CPU:

1.0 GHz (INTEL ONLY)

RAM:

512 MB

Hard Drive:

53 MB
Game Manager System Requirements:
Browser:

Safari 4.0 or later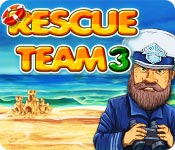 NEW299
The Big Fish Guarantee:
Quality tested and virus free.
No ads, no adware, no spyware.

Reviews at a Glance

Rescue Team 3
0
out of
5 (
0
Reviews
Review
)
Customer Reviews
Not what i expected
So i played the free trial of the game and thought it would be great like the 2 before it, which it was but it also changed ALOT, and not all for the better. Firstly, all in all the game its self was fine, levels fun, slighly challenging at times and not much different than before, but the part that really had me , you got NO rewards, what i mean is in the other game you earned money after every level to fix up the storm-struck house. For me that was one of the great things i liked about this game and they took it away, and for that
July 29, 2013
Agree with most of the other reviewers
Why are the rescuers so slimy? Usually I do not pay a whole lot of attention to the story line, but this one is awful. If you haven't played the other Rescue Team games, do not start with this one. The instructions aren't clear about hiring the rescued workers and I am still not entirely clear if hiring them makes a big difference. It doesn't seem to hard to get through levels. This is an ok game and if you need a new TM game it isn't horrible, at least you can chain the actions.
July 16, 2013
fun but short
I love the time management and strategy games so I bought this one. Plus I have bought the previous 2. I was disappointed with this one it was boring and very short :(
May 19, 2013
Fun, but too short
Great time management game, the Rescue series is one of the best, but I played this in about an hour which is way too short for the price.
May 27, 2014
Disappointing Sequel
Without any sidequest (ie the houses/land to repair) the game got kind of tedious pretty quickly. I thought the 1st 2 were a lot more fun. Wouldn't buy/wouldn't recommend.
April 16, 2014
This is one you really must demo before buying
I have the other Rescue Team games. They aren't as enjoyable as other TM/Strategy games but playable. Pros -I liked some of the features that were added to this one; the upgradeable buildings on some levels and that you could send a free citizen to work there to increase that resource for a brief time. -The level of challenge was adequate and required a good strategy in order to get gold consistently on every level without replaying it. Cons -Like others, I too became frustrated by having to find the 'sweet spot' for the check marks for tasks. -More frustrating was not knowing if you were upgrading a building or sending a citizen to work at that building, because you couldn't put a check mark in either and you couldn't tell if either were sent, unless you were watching. With everything else to do while trying to get gold, you don't really have time to watch every miniscule detail and you really didn't know until you saw it happen. -I found many times that I didn't have a free citizen but there was nothing to check to see if I had one or if one was available. By clicking on a building that I thought I was sending a citizen to work at but didn't have one available, it sent a worker to upgrade it, if it hadn't yet been upgraded. Many times that wasted a resource, wood, that I wasn't ready to waste or use and shouldn't have. -After playing the full 60 minute demo, I found it hard to invest in the Rescue Crew, making the storyline not one I really wanted to be part of. Maybe it went further after the 60 minute demo and made them more likable but to me they just came off just as despicable and greedy as the corrupt Mayor. I won't recommend or not recommend this game. Other players may be willing to overlook some of the game play problems I found to be too much of a con so, I think this is a game each person really needs to demo themselves before buying. For me the actual game play was more frustrating than enjoyable and why it won't be a buy at any price or credit. I'm not that desperate for a new TM/Strategy game and can wait for something better.
May 10, 2013
Worst Rescue Team yet!
I really liked Rescue Team 1 & 2 and have played them over and over, so I was excited to see a third. After playing the trial, I am really disappointed. Even with the 50% sale this weekend, I'm not buying it. 1) The graphics are fancier, which is nice to look at, but it also adds some lag to the game since there is no option to turn off the custom cursor. 2) The rescue team is suddenly creepy bad guys instead of good guys? What's up with that? 3) They added a new feature to this version, where you can "hire" your rescued villagers to run your buildings. I think you're supposed to get more supplies from them, but I never figured out exactly what the benefit is, and it was really more annoying than anything. 4) The workers wander aimlessly when not assigned to a task, rather than staying at home base. And now, instead of seeing how many workers you have available, you can only see how many villagers you have available for hire. 5) There's no house to repair with your earned cash from levels like there was in previous versions. (Which frankly, is fine with me. I never understood the point of those in TM games.) I would still recommend Rescue Team 1 & 2 for a fun TM game, but definitely not the 3rd.
May 11, 2013
Not as good as the first two
Okay, the graphics and some gameplay aspects were much improved in this game (you can now chain actions, new types of characters like firefighters and cops, new kinds of tasks, etc.). However, the storyline was AWFUL - our cute rescue heroes from the first two games are now burly construction men with mercenary attitudes. Hardly satisfactory good guys. And the number of levels was just sad - the first two games had 50 to 60 (approximately), this one had just 40. And there was no house for me to fix up, which was very disappointing. I bought this without a demo because I enjoyed the first two so much, but I definitely (sadly!) won't be doing that with the next installment.
June 23, 2013
What Happened???
Loved Rescue Team and Rescue Team 2 - this one just turned me off. The crass wokers and the big chested blondes just don't do it for me and if you liked the first and second installments, make sure you demo before you buy.
June 21, 2013
Rescue Team 3
I love part 1 and 2. Part 3 is by far the worst. Boring and too short.
June 10, 2013
The Apple logo is a trademark of Apple Computer, Inc.
The Windows logo is a trademark of Microsoft, Inc.